Monolithic brick cladding and a modern interpretation of the Roman arch powerfully define this Toronto residence by Batay-Csorba Architects.
The vault's modern form punctures, cuts and peels away dynamic geometries that define the program organization and demarcate areas with different atmospheres. The geometry of the vault extends the length of the lot, moving from façade to interior. An isolated dormer, which mirrors the proportions of the neighbouring house, is the other key element of the exterior.
The monolithic façade focuses on the materiality of brick coursing. Covering the façade, the brickwork wraps the ceiling and walls of the carport in a nod to Toronto's history of masonry detailing, dating back to the 19th century when many of Toronto's Victorian homes were built.
Here, the single repetitive material ornamentation - an adaptation of the Flemish Bond - is an even but striking texture that nevertheless emphasizes the vaulted profile. The profile of the brick results in stark shadows during the summer and shelves for snow in the winter.
In a departure from the typical suburban garage-front street, the carport shapes the formal organization of the project. Carving out the front façade and creating a processional entryway reminiscent of the portico, the carport here creates a transitional space between street and home, like the porches that often punctuate homes in the area. In this sense, the carport can be seen as an inverted porch.
A lightwell cuts through the height of the building and is located at the depth of the carport, thus washing the space with light and drawing visitors towards the entry.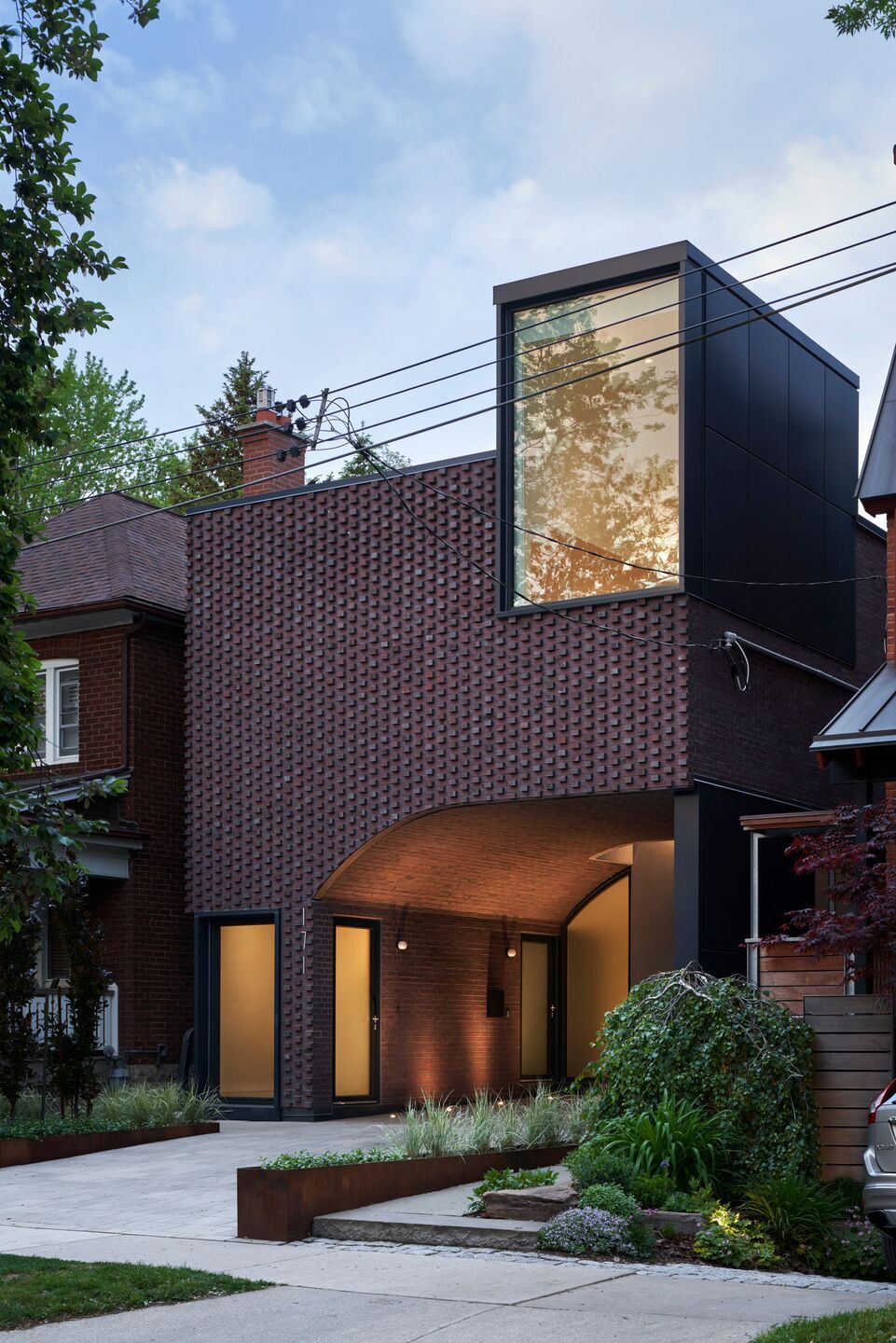 Emphasizing the geometric simplicity of the project, the main circulation and services are located in a linear bar that runs adjacent to the vault. Upon entering the linear bar, the floor plan opens up into the expansive living spaces of the ground floor. Through the length of the ground floor, the barrel vault's geometry connects spaces, with moments of articulation found through the tangential peels and cuts in the vaulted ceiling.
Connecting, yet differentiating space and allowing for a play of natural light, the vault remains intact in the dining room, is cut the length of the kitchen, becomes intact again in the living room and then unfolds and peels into the backyard.
The second floor varies considerably in nature, divided into discrete rooms that are connected by bridges. This strategy allows for rooms to be stacked in the narrow lot with natural daylight reaching each room and the ground floor below.
The slice between the bedroom and study allows both rooms to share natural daylight brought in from the lightwell and the façade's dormer window. The master suite is lit from both the house's back façade and the skylight above the kitchen.