In the vein of a learning centre, Le Studium at the University of Strasbourg by Jean-Pierre Lott combines the function of a library and a student union building. Fostering sustainability, sociability, and sharing, the facility includes traditional reading rooms alongside modular rooms with easy-to-move furniture.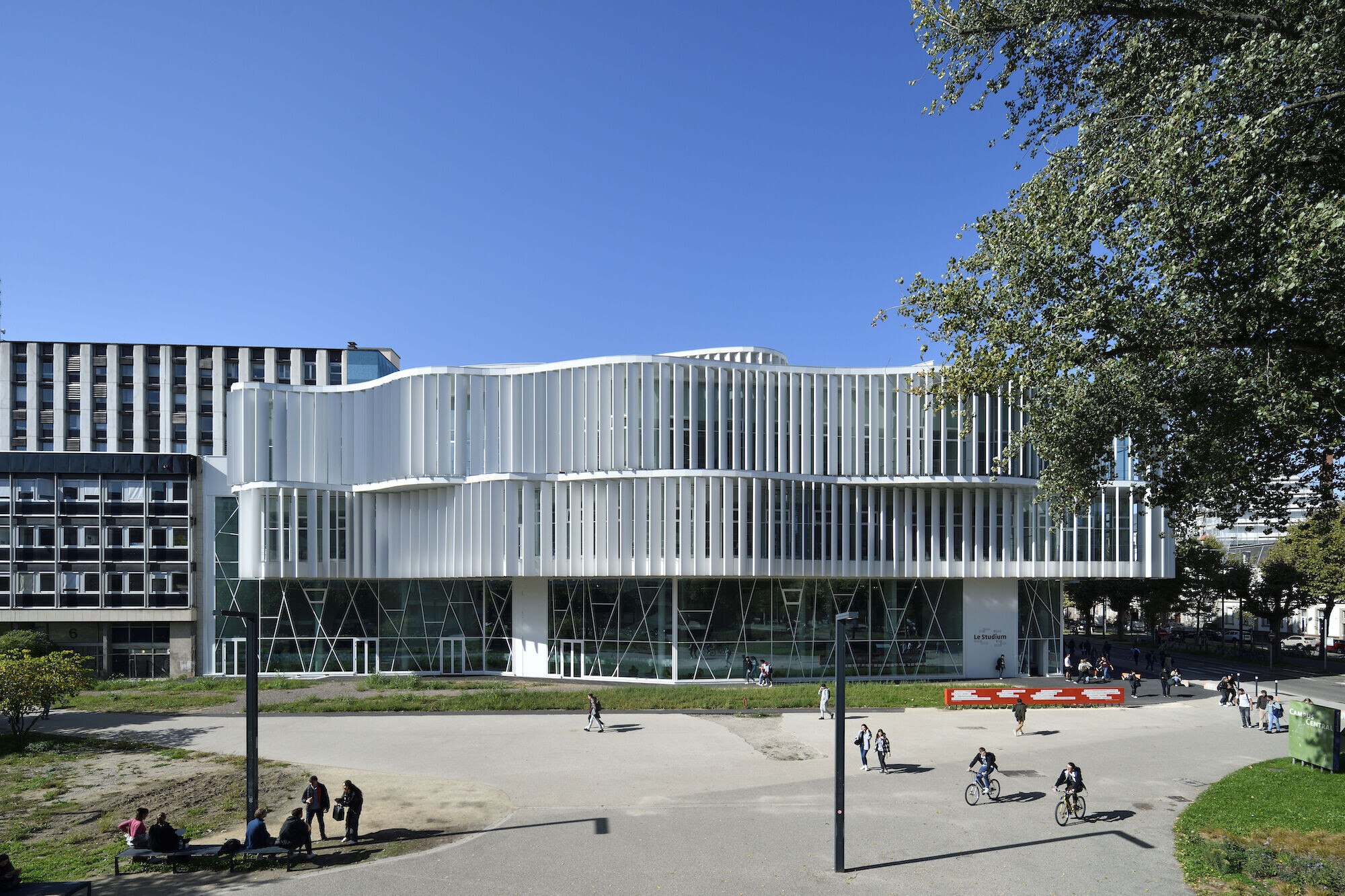 Prominently located at the interface between the historic centre and the Campus de l'Esplanade, the project announces the entrance to the campus from the city. In response to the urban condition, the architects present two different conditions to the outside world: a largely transparent ground floor that invites passers-by to enter and a main body above, which takes on a sinuous form that expresses lightness and movement.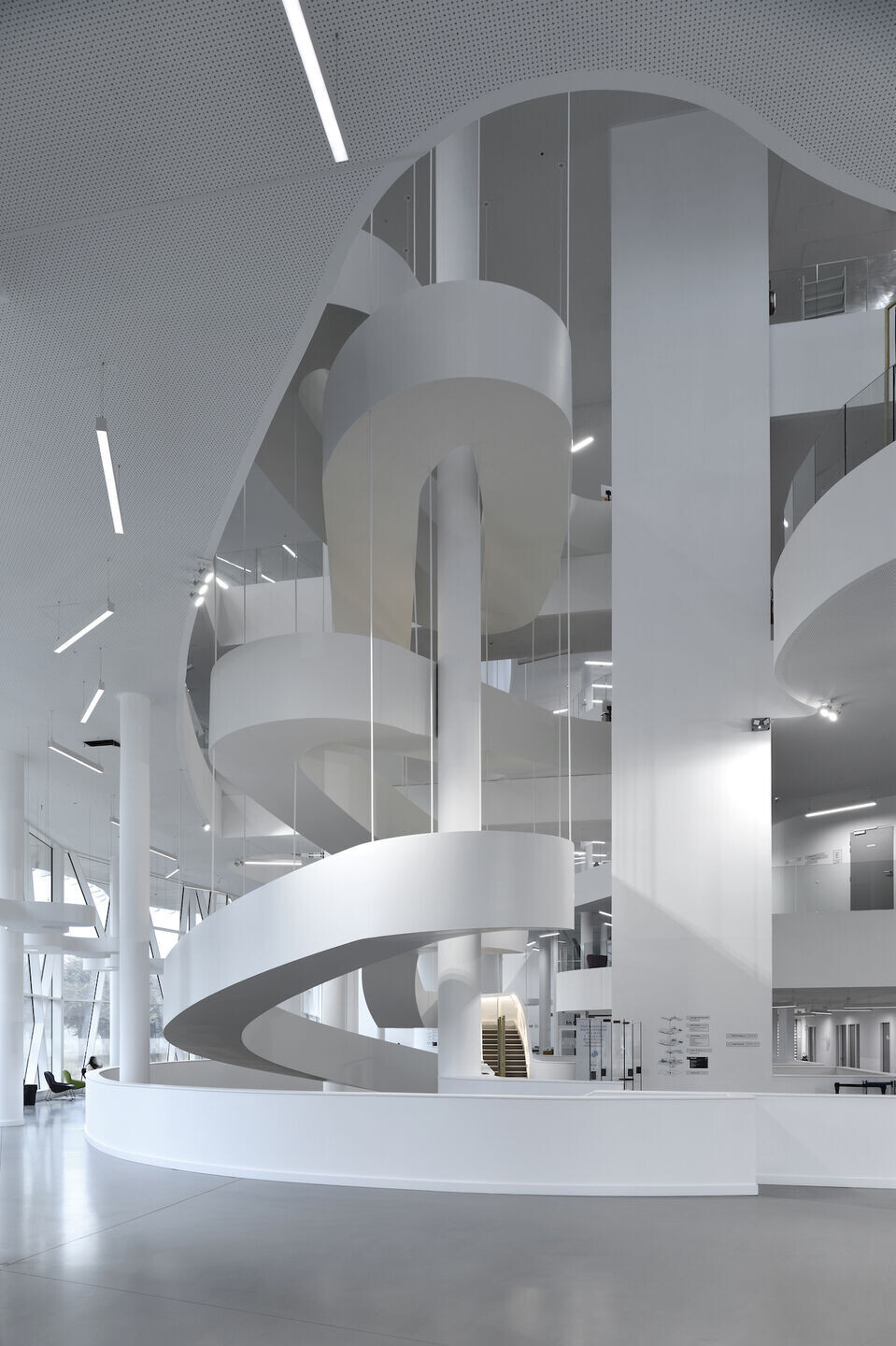 Inside, a transparent podium overlooks the public spaces of the ground floor, lobby, student union, and cafeteria, while the upper floors are dedicated to stacks of collections and reading rooms.
The design of the façade is derived from light control concepts. The cantilevered floor blocks sunlight, while large sunshade brise-soleils protect glazed bays and filter natural light. The location and orientation of these elements are based on rigorous sun path analysis, guaranteeing the required amount of natural light and views over the city.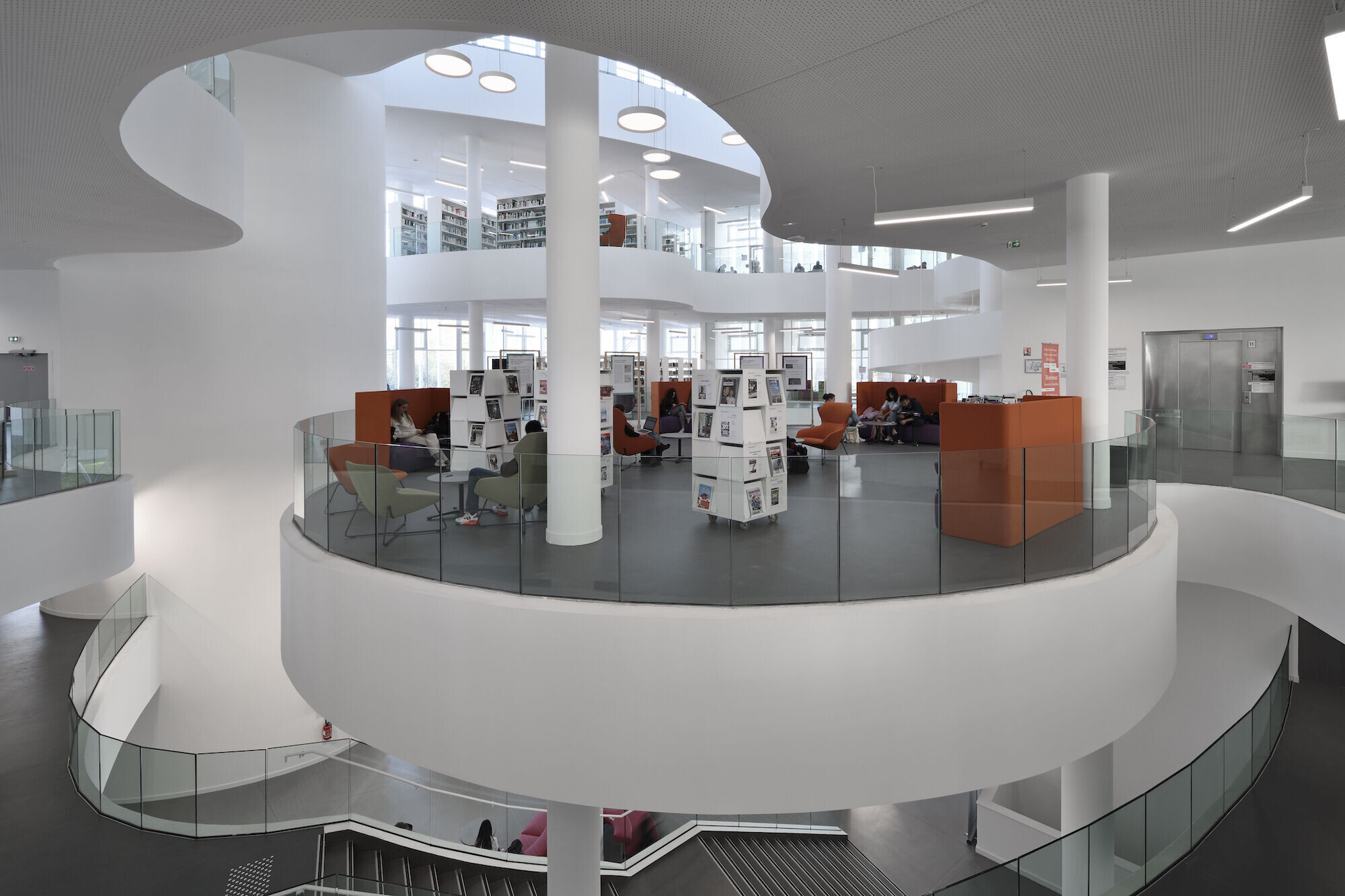 For the East and West façades, the architects opted for sun protection composed of fixed, oriented vertical strips. In winter, sunlight reaches the façade and is captured to heat the building. In summer, sunlight is blocked on the exterior to avoid overheating in the building and user discomfort. Furthermore, kinetic veils add dynamic elements with changing forms that respond to natural light and time of day, transforming the building in response.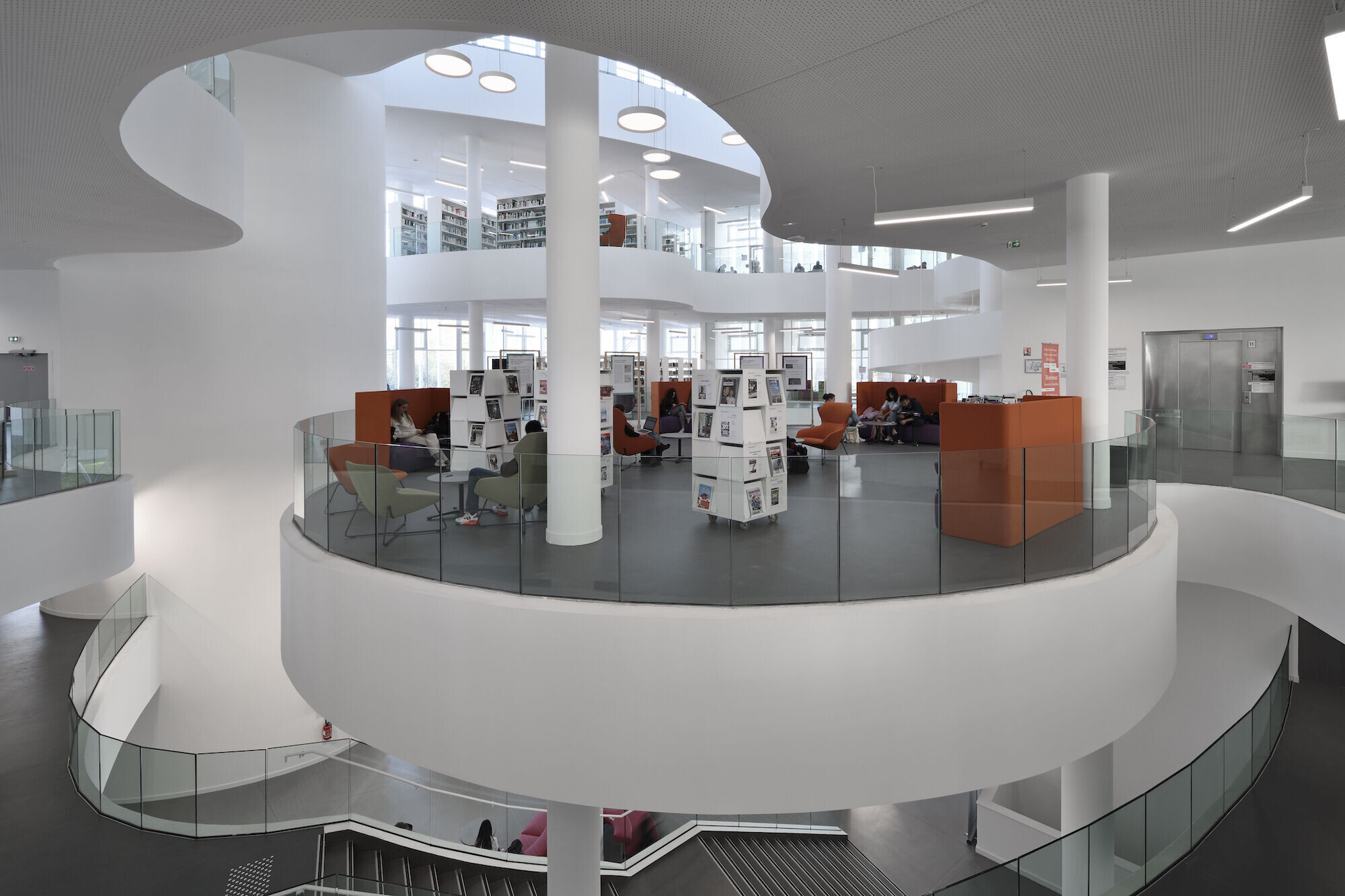 Upon entering the building, visitors find themselves in a large atrium flooded with light. The atrium provides an overview of activities in the building and includes a grand ramp with a bank of stairs and elevators that determine flow through the building. The lack of corridors further ensures optimal diffusion of natural light.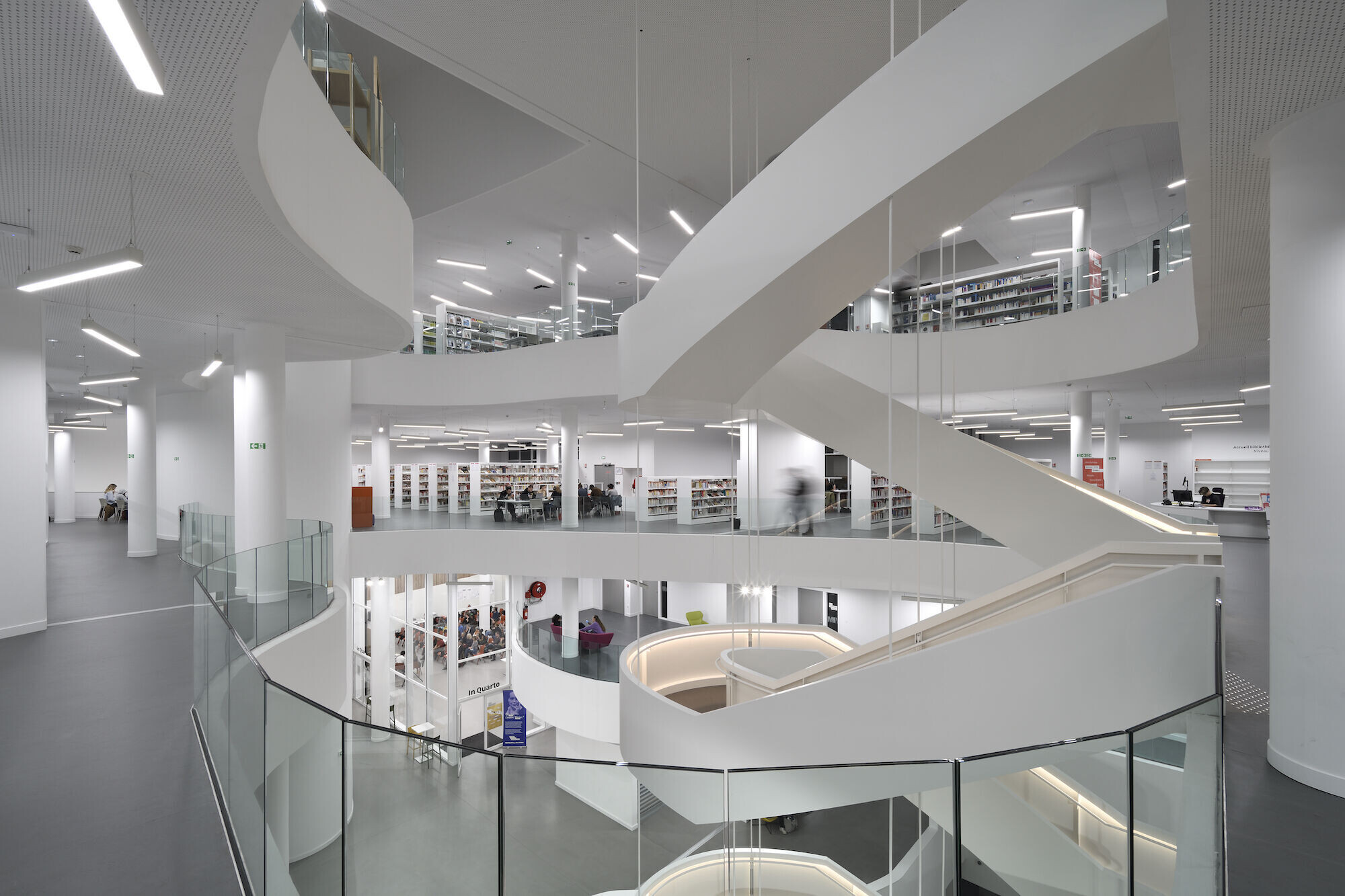 In addition to the selection of high-performance renewable energy systems, such as a heat pump system that uses the site's water table, a high level of thermal inertia in the design is achieved by specifying floors and beams made of raw concrete. By storing cool night air, morning air temperatures remain low without active cooling machinery.