An exercise in excavation and retention, Mole House by Adjaye Associates is a vision for tying together historic building fabrics with personal stories and contemporary design.
This detached Victorian house has a peculiar history as it was left vacant and derelict after being owned by a resident locally referred to as the Hackney Mole Man. For years, the resident burrowed networks of tunnels beneath the property, ultimately causing serious issues with the structural integrity of the house. The first step in the house's renovation was thus re-establishing structural safety by plugging the burrows with aerated concrete. Further to this, over 33 tonnes of debris were removed from the site.
The reinstated building includes an expanded basement level, with newly configured open plan living spaces surrounded by a sunken landscaped garden. Multiple entrances are retained, thus preserving the network like nature of the Mole House.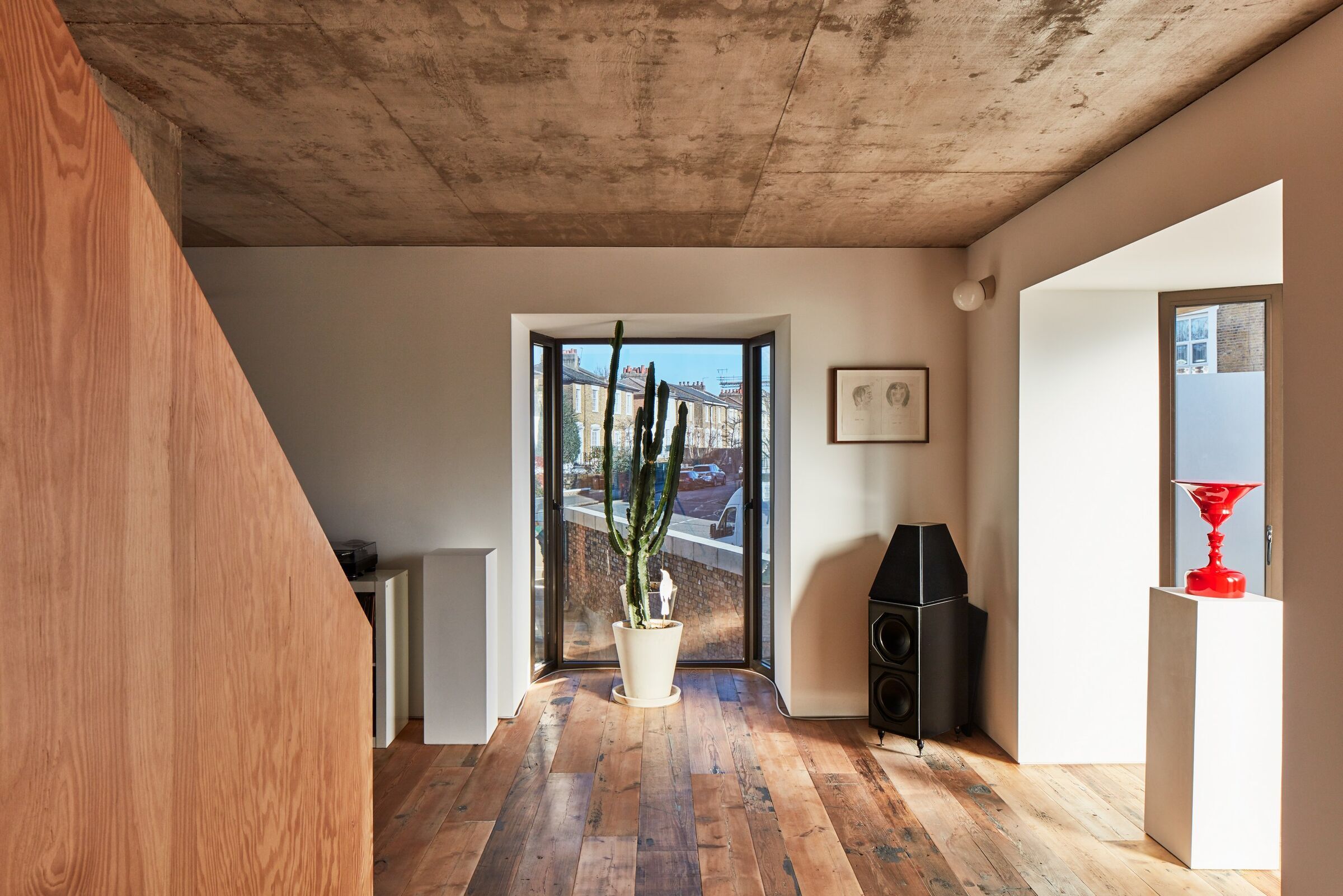 In keeping the materiality of the building in its found state, the exterior masonry is preserved with the use of 15,000 reclaimed London bricks. An expressing the building's derelict bunker-like appearance, the exterior render is also retained. In contrast, new concrete bay windows bordered by patinated bronze frames protrude beneath a concrete band.
Internally, a cross-shaped concrete structure in the centre of the plan divides each floor into four zones, supporting new floor slabs and bracing external walls. Original internal walls and floors have been removed completely, having either collapsed or eroded beyond repair. An existing party wall that once divided the property into two houses has also been demolished, creating a more expansive, flexible and unified space.
Interior volumes are characterised by a minimal material palette of exposed concrete and timber, with a cantilevered staircase descending into a lofty, light-filled basement studio.
The upper floor, which has been heavily reinforced following fire damage and corrosion, is punctured by a large, openable skylight. Natural light permeates throughout the residence, filtering in through full-height windows that line each storey. The building has been excavated to below street level, solidifying existing foundations and providing extended contemporary living space. A singular slate sheet replaces the building's original gable-end pitched roof, providing material contrast with external brick, whilst tonally conversing with the window and door frames, as well as the fencing introduced within the site's landscaped garden.