OMA's latest project in China is complete. Prince Plaza is a 200-metre mixed-use podium tower housing offices and retail space. The building is located in the 'Sea World' area of Shenzhen's bustling Shekou district.
The site offers a diverse and rich range of reference points which have informed the design process. Framed by the backdrop of the undulating Nanshan mountains and facing picturesque Shenzhen Bay, land and sea enclose a cluster of recently built skyscrapers, themselves an extension of the ongoing industrialization of the area. Formerly a largely pastoral area, the city borders Hong Kong and was designated a special economic zone and prioritized for development in the early 1980s, which led to rapid urbanization and population growth. The Sea World area was in turn recently redeveloped as an entertainment precinct. Prince Plaza, located along a prominent view corridor between the mountains and sea, serves as a dynamic link between nature and industry by taking advantage of the majestic sightlines whilst not obstructing them, and positioning itself squarely as a commercial enterprise, but incorporating motifs from the natural surrounds into its architecture and including public functionality within its design.
The tower comprises four bars adhering to a central core. Three 'sky decks' contain viewing platforms to mountain and sea vistas which are accessible to both tenants and members of the public, lending an inherent community feel to the project. The sky decks also serve to break down the structure from a monolithic tone to a more distinctive, scaled style. Two bars are set back on one side in order to increase the perimeter of each floor plate, which in turn increases the natural light filtering to the office spaces inside. Light is also maximized through the structure's fluted façade, which offers extra wide glass panels to maximize tenant views and enhance a sense of connection to the natural environment.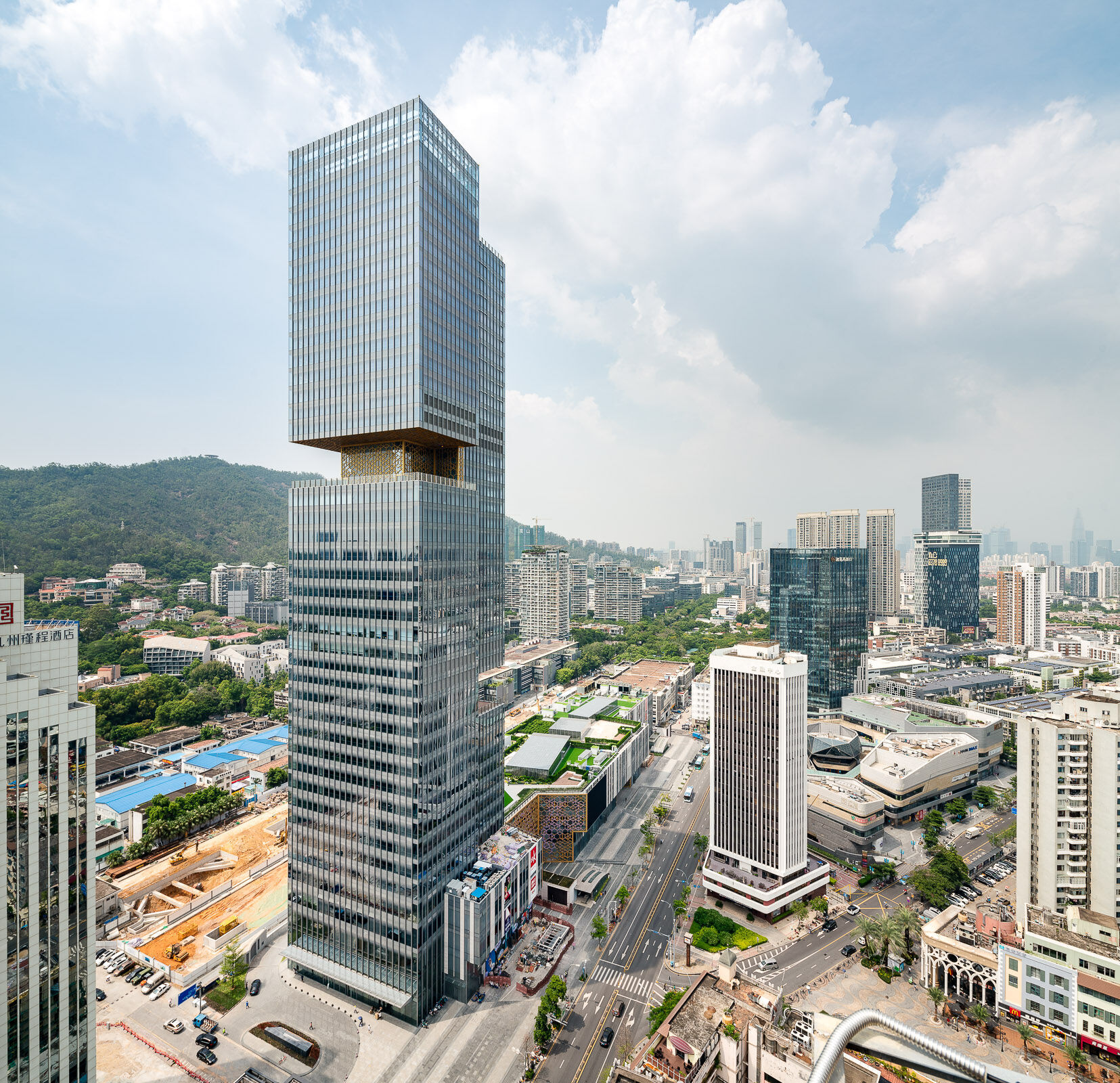 The sky decks are highlighted with a hexagon-patterned façade evocative of the hill and wave forms of the mountains and sea, and this motif is repeated in a prominent opening through which the view corridor of the site runs. The overall effect at once maximises the office and retail density of the available building envelope, but does so within the parameters of a respectful reverence for the natural beauty of the surrounding geographic envelope.
Of the 60,000 m2 tower, 40,000 m2 comprises a podium mall occupying the full length of the orthogonal site, maximising retail frontage at street level. A porous façade and roof terrace atop the podium mall blur the distinction between outdoor and indoor spaces and differentiate and elevate the Prince Plaza shopping experience from the typical enclosed mall experience. Below street level, underground mall levels integrate with two metro lines connecting the Plaza to other parts of Shenzhen and anchoring it within the wider neighbourhood.