Surrounded by picturesque olive groves in the Greek village of Kalamia, Peloponnese Rural House by Architectural Studio Ivana Lukovic is a family dwelling and retreat from urban life for a nature-loving young couple. The entire 141 m2 of habitable, custom-made space, was built within the strict site restrictions.
The 6m slope difference across the site lends itself to a low, humble, stone-like appearance that blends with the village neighbourhood on the street side of the site, which then expands into a two-level construction on the garden side.
A comfortable ramp representing the public area of the building forms the entrance to the home. Generous openings to the outdoors, including an observation platform space, allow the family to star-gaze or appreciate distant views of the sea. Additional openings in the roof, as well as the southwest and northeast building elevations, improve natural light and ventilation.
At the garden level, perforations in the slab give a cave-like atmosphere to private areas including bedrooms, bathrooms, and a guest suite. Direct access from these places is generated with two courtyards that also serve as contemplation spaces.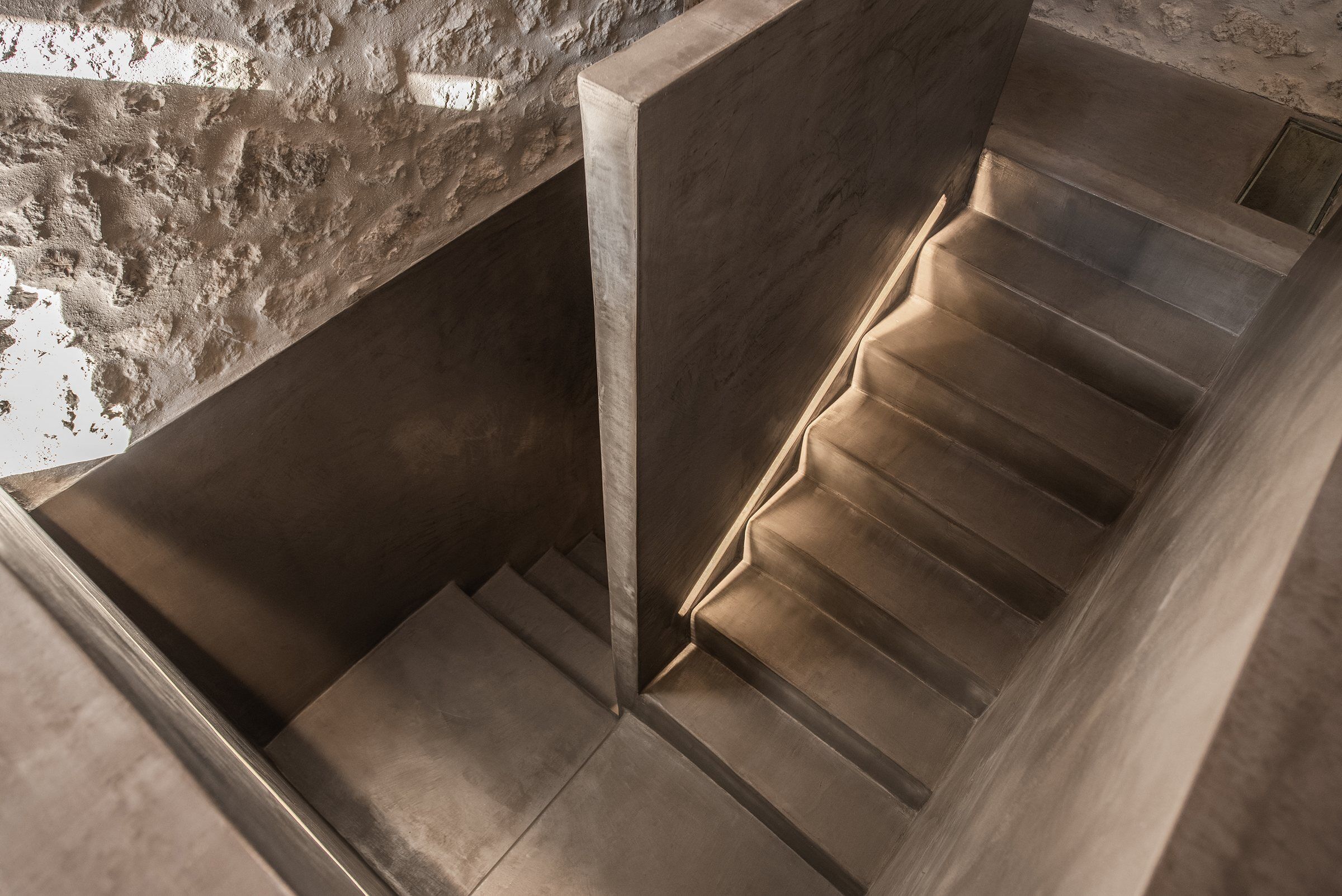 Natural materials specified for the exterior and interior are inspired by the industrial feel of the traditional stone stables of the region. Reclaimed local stone was used alongside new, grey roof tiles, black aluminium façade window frames, washed-wood handmade shutters, black metal railing, white-oil treated OSB, and cement mortar in two differing shades.
Finally, a separate stone and metal construction that features a variety of Mediterranean plants offer a place to experience cooking and dining 'al fresco'. On the southwest section of the metal construction, a solar vacuum tube was specified to avoid solar panels on the roof of the main building.
In line with contemporary sustainably standards, the architects note that the house played a major role in the 2020 pandemic situation with the home providing safety and comfort that was more difficult to achieve in the dense Athens urban fabric.