A concept by Woonpioniers, Indigo aims to make architecture and sustainable building techniques available to a wide audience. Design freedom combines with an efficient building process and little environmental impact.
Each Indigo home comprises separate, prefabricated elements assembled on site. The elements are made of laminated wood beams filled with cellulose and include a feature 'moment resisting' bend that allows for a free layout of the floorplan alongside a beautiful, curving line between wall and roof. Within certain margins, the size and inclination of the roof elements can be adjusted. Endless options are available for finishing the roof, façade and interior.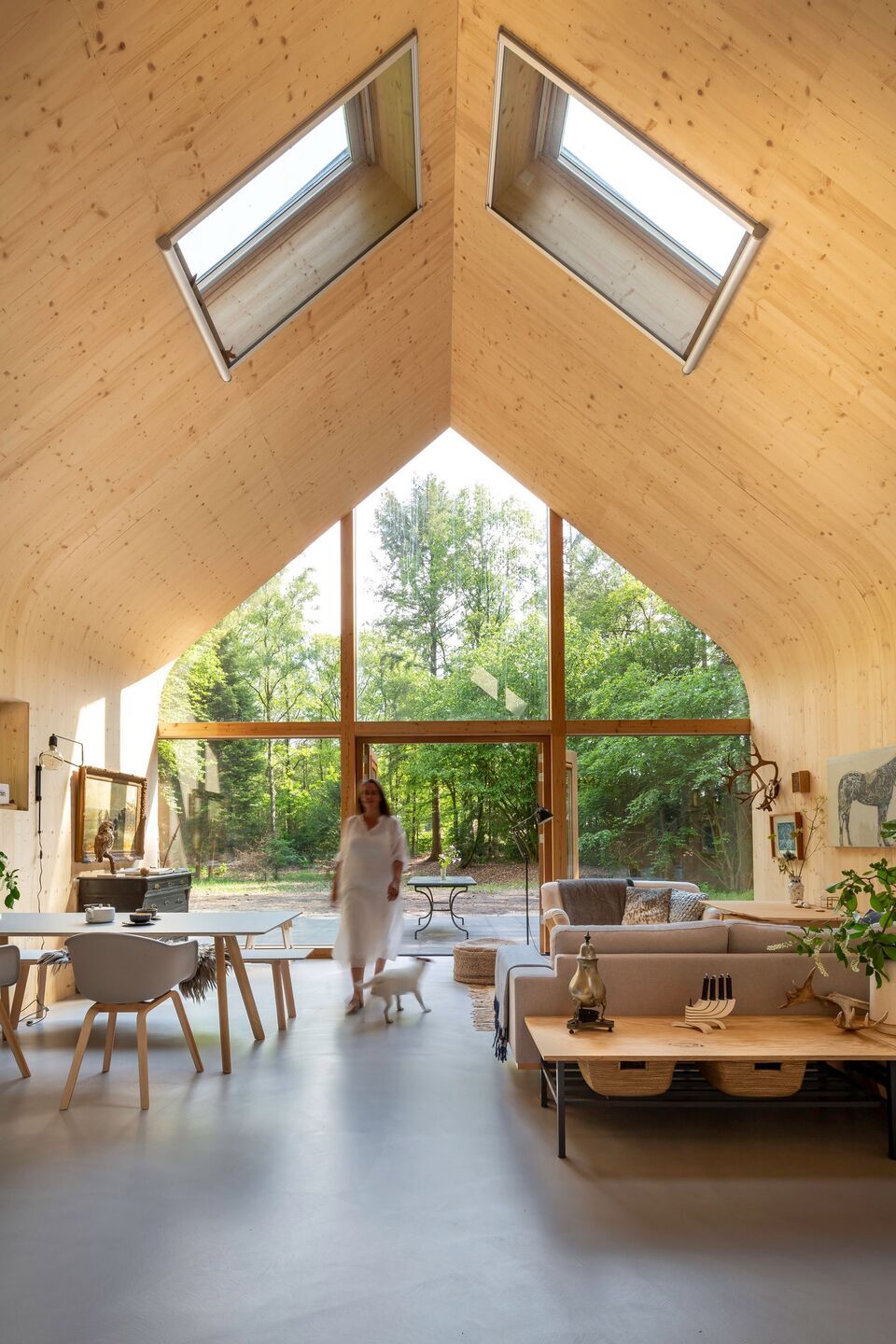 The free layout of the floor plans means that Woompioniers can develop custom designs for their customers. With each design process, these innovators develop an energy plan at an early stage to determine the optimal balance between passive interventions and smart technology.
This particular Indigo home was designed for clients Tanja and Jos, who enthusiastically sketched alongside Woonpioniers during the development process. The house has a clever layout, with the living area and 'the sleeping house' separated by a spacious hall where Tanja and Jos can host cosy events. This separation also yields smart, separated climate zones.
The foundation of the house consists of prefabricated concrete beams and pier blocks that are placed on the underlying sandy soil. In this way, should the house ever be removed, it will leave no trace on the land. Further to this, the top floor below is insulated around the edges only, so that the thermal mass of the ground under the house is utilized. This provides extra cooling capacity in the summer and flattens out the heat curve in the winter, due to the buffering capacity of the sand.
This Indigo runs fully on electricity, a clean choice. In this situation, the energy is generated within a collective project nearby. Underfloor heating, which can also cool, is powered by an air-to-water heat pump.