In Palm Springs, California, the Ridge Mountain House by EYRC Architects arises from the austere beauty of the desert landscape. With colossal views over the Coachella Valley to the east, the tranquil weekend home harmonizes with the colours and rhythms of the land.
Embedded into a craggy hill, the ground floor of the houses comprises two cast-in-place concrete volumes with 12 ft ceilings. The smaller volume contains a den and service spaces while the larger volume includes a main living area, kitchen and dining room. A pure square in form, the larger volume includes a glass wall that opens up completely to a large deck with an infinity pool.
The two volumes are separated by a double volume light-filled atrium, which includes a black steel and walnut slatted stair. The stair leads to two upper floor bedrooms. With exterior decks shaded by roof overhangs, the bedrooms feature wood floors and cabinetry, oval-shaped bathtubs, and panoramic views.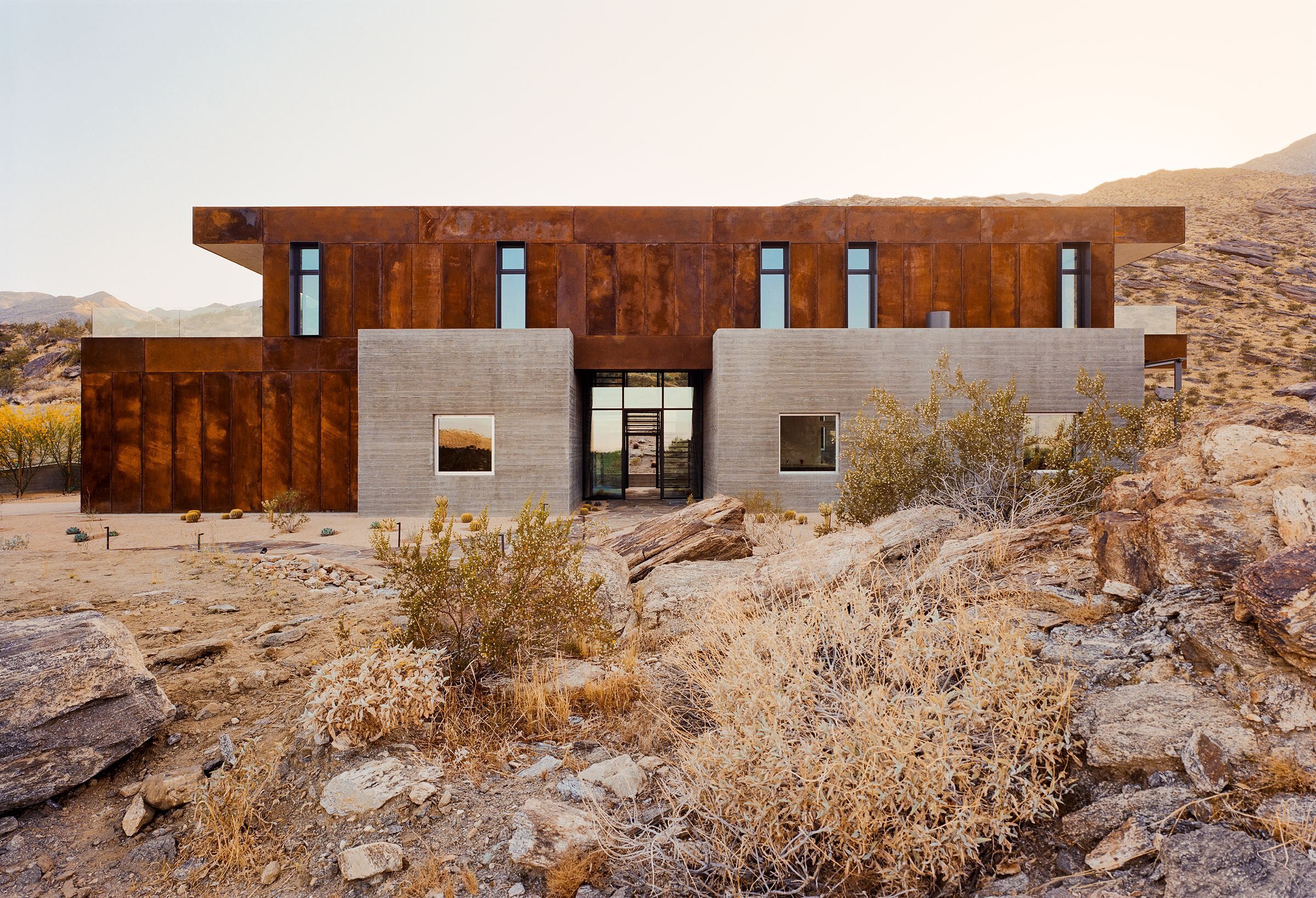 Exterior materials are low maintenance and include a rusted steel rainscreen as well as concrete. Inside, grey concrete goes alongside plaster and wax walls. No paint is used.
Sliding doors and operable windows dissolve barriers between inside and outside and facilitate natural ventilation. Photovoltaic roof panels produce electricity and mitigate the heat of the sun.
To the side of the house is an ovoid guest casita that transforms into a shaded pavilion with disappearing glass walls. With special LED lights, the casita and pool area can be washed in a choice of colours at night. The casita's terrace of irregular flagstone continues through the atrium floor and entrance walkway, linking the structures together.