Sydney, Australia-based architecture practice Benn & Penna recently renovated Henley Clays, a freestanding brick cottage on Sydney's lower North Shore. The renovation involved two intertwined goals - adding additional rooms whilst simultaneously opening the interior up and letting the exterior in to integrate and fuse natural and built landscapes. Benn & Penna thus conceptualized the project as an intermediary between house and garden, blending the two forms and maximizing lifestyle elements in order to allow the occupants to utilize the full breadth of the site.
The home is located in a heritage conservation area and thus subject to very strict planning bylaws which can be challenging to innovation. The designers worked with the site by using an earth-toned palette across building materials, finishings, and interior design accents as well as creating overall forms reminiscent of landscape.
A series of gently rising brick platforms now spring from the rear of the existing brick bungalow, giving the space a robust, earthy, almost geological energy . Using a graduated approach allowed the designers to play with spatial proportions to create different moods and atmospheres - a horizontal living room, vertical stair tower, and a raised main bedroom.
Earth colored, silver-hued brickwork was used for both the walls and floors of the new extension, creating a monolithic style feel. The mortar was meticulously matched to the brick color to amplify this effect. Living spaces are robustly enclosed and together the forms appear as earth-like volumes, with openings carefully designed to puncture the building's mass and bathe the otherwise cave-like interiors in natural light.
The widest space is the living room, which is framed delicately by the structure enclosing the stair tower. Viewed from the garden, the open framework appears almost ruinous around the base of an archaic masonry form. The stairwell rises dramatically to reach 8m, the building's highest point.
Aside from the striking sightline of this verticality, the volume is also functional: hot air expended at the apex provides natural ventilation, and the stairwell doubles as a buffer between the hawk's nest style main bedroom coming off the stairwell and the family living spaces below. Views of Sydney's famous harbour are visible from the main bedroom, framed and contextualized by the existing bungalow's roofline.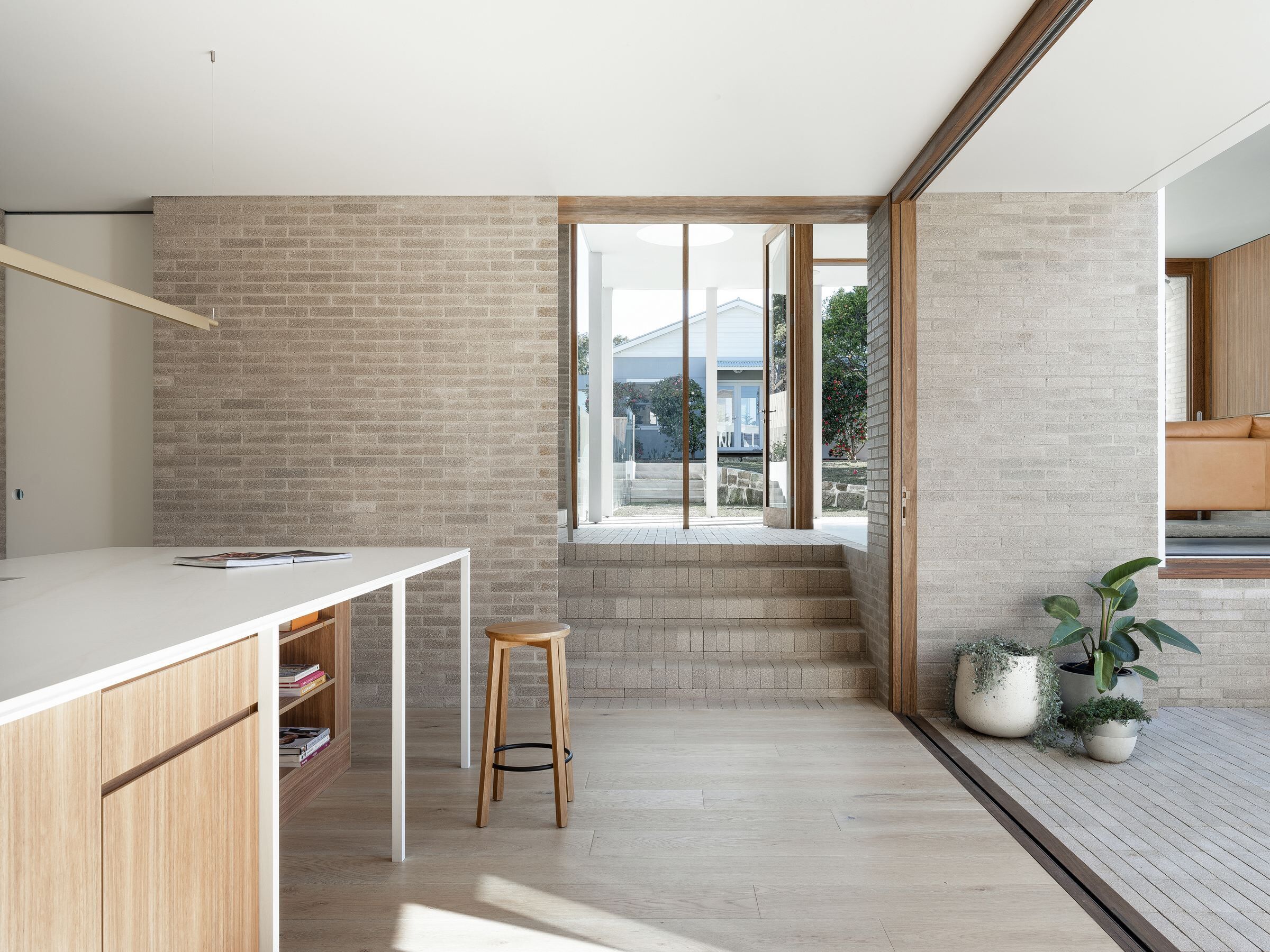 A new kitchen was also added, and new openings and finishings added to offer a more seamless connection with nature. The new volumes sit atop a brick plinth which extends from the sandstone base of the original bungalow. A courtyard between the old and new areas has been landscaped to further dissolve boundaries between outside and inside and anchors the original and new build into the earth, rooting them in place and allowing the home to function as a seamless, contemplative and timeless entity seemingly rising from the landscape.