A look at the architecture projects that will define 2022, including OMA's much anticipated Taipei Performing Arts Center, the central stage for the 2022 World Cup and a multifaith complex on Saadiyat Island.
1. House of Hungarian Music by Sou Fujimoto Architects, Budapest, Hungary
As part of Europe's largest cultural urban development, the Liget Project, comprising five new museums in the heart of the City Park of Budapest, the House of Hungarian Music will be a place for concerts, exhibitions and features a striking roof with many punctuations.
2. Taipei Performing Arts Center by OMA, Taipei, Taiwan
Bold volumes of primary shapes form the new Taipei Performing Arts Center that will include a 2,000-seat auditorium, a 1,500-seat theatre, and a black box. The design experiments with the internal workings of the theatre. The three theatres, plugged into a central cube, can function autonomously and allow for unsuspected scenarios and uses.
3. Nanjing Zendai Himalayas Center by MAD Architects, Nanjing, China
The "Nanjing Zendai Himalayas Center" is a city-scale mixed-use development with an overall building area of approximately 560,000 sqm, comprised of commercial, hotel, office, and residential programs. The scheme seeks to restore the spiritual harmony between humanity and nature through the integration of contemplative spaces that, while immersing inhabitants in nature, still meets the conveniences of modern day living.
4. San Pellegrino Flagship Factory by BIG - Bjarke Ingels Group in collaboration with West 8, schlaich bergermann partner, Atelier Verticale and Studio Piero Castiglioni, San Pellegrino Terme, Italy
BIG proposes an architecture that offers a fresh take on an ancient wisdom, revisiting the classic elements of Italian architecture and urbanism: the arcade, the viale, the piazza and the portico create an architectural environment where production and consumption, nature and architecture, outside and inside, and making and enjoying are integrated to elevate the experience for visitors as well as S.Pellegrino staff.
5. Abrahamic Family House in Abu Dhabi by Adjaye Associates, Abu Dhabi, UAE
Sheikh Mohamed bin Zayed Al Nahyan's plan for a multifaith complex on Saadiyat Island, with worship spaces for Christian, Islamic and Jewish religions. Adjaye Associates unveiled a design for the four-building complex—including a temple, a church, a mosque and a secular gathering space—joined by a shared garden. The buildings have similar volumes but different facades, a variety of colonnades distinguish each structure and inspire the interior architectures.
6. Torre Rosewood by Ateliers Jean Nouvel, São Paulo, Brazil
Part of the large Matarazzo Park real estate development, the tower with 122 suits will sit at the park edge. The concrete structure will be clad with redwood grills in a variety of different grids.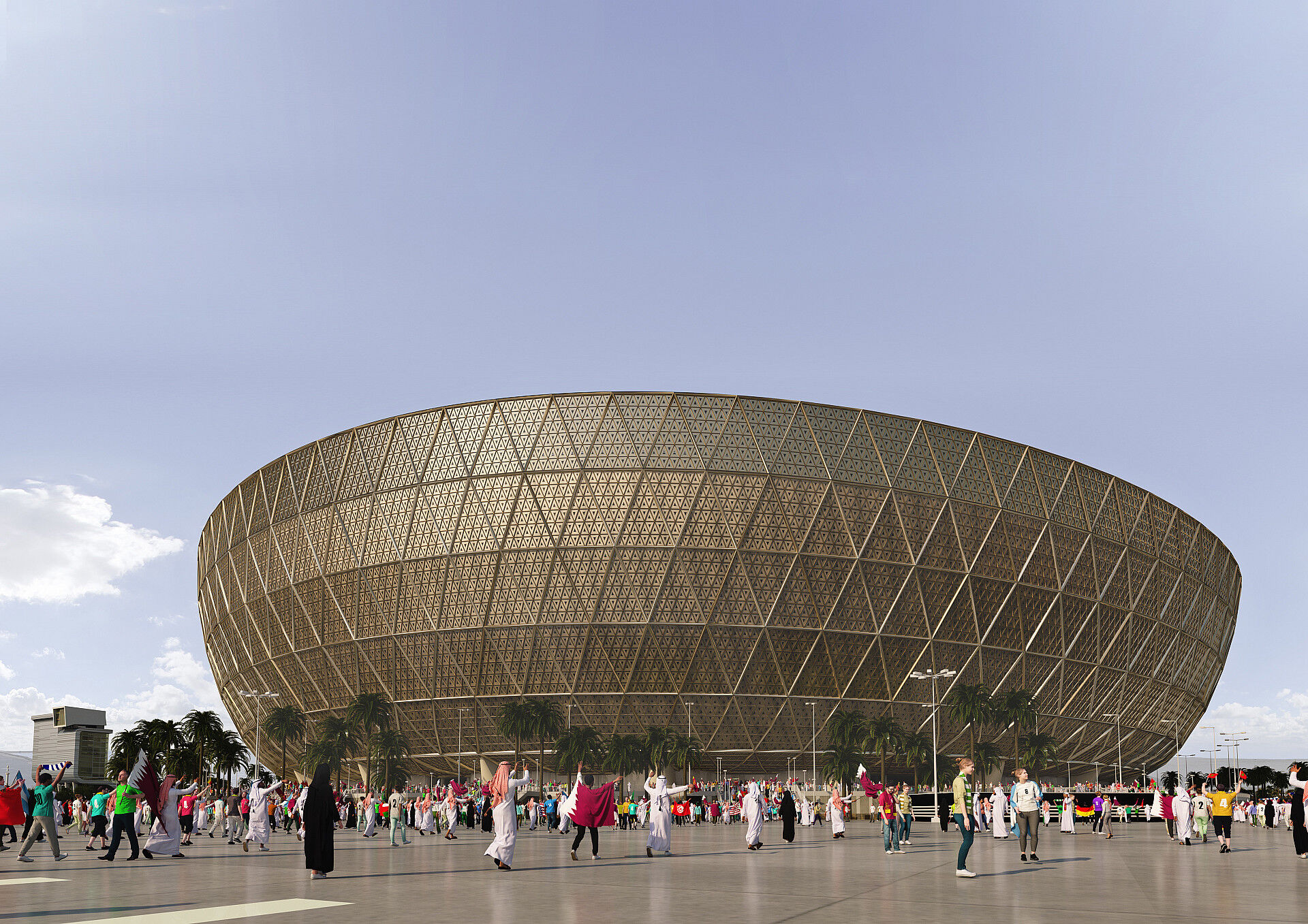 7. Lusail Iconic Stadium by Foster + Partners, AFL Architects and Populous, Lusail, Qatar
The 80,000 Lusail Stadium will host the final of the first FIFA World Cup held in the Gulf. The design alludes to the decorative motifs on bowls found across the Arab world.
8. Sydney Modern by SANAA, Sydney, Australia
SANAA designed an open and accessible home for art, sensitive to the beautiful parkland setting overlooking Sydney Harbour. The new building will almost double the exhibition space with seamless connections between indoor and outdoor spaces, delivering a rich and diverse experience.
9. The LSE Marshall Building, London, UK, Grafton Architects
The form of the building is modulated and adjusted so as to form elegant junctions with neighbouring buildings. Entrance doorways, screened terraces and gardens, solid gables, rhythm of windows and screens all come together to form a unified dynamic form. After construction started in the beginning of 2019, the building is expected to be completed in the spring of 2022.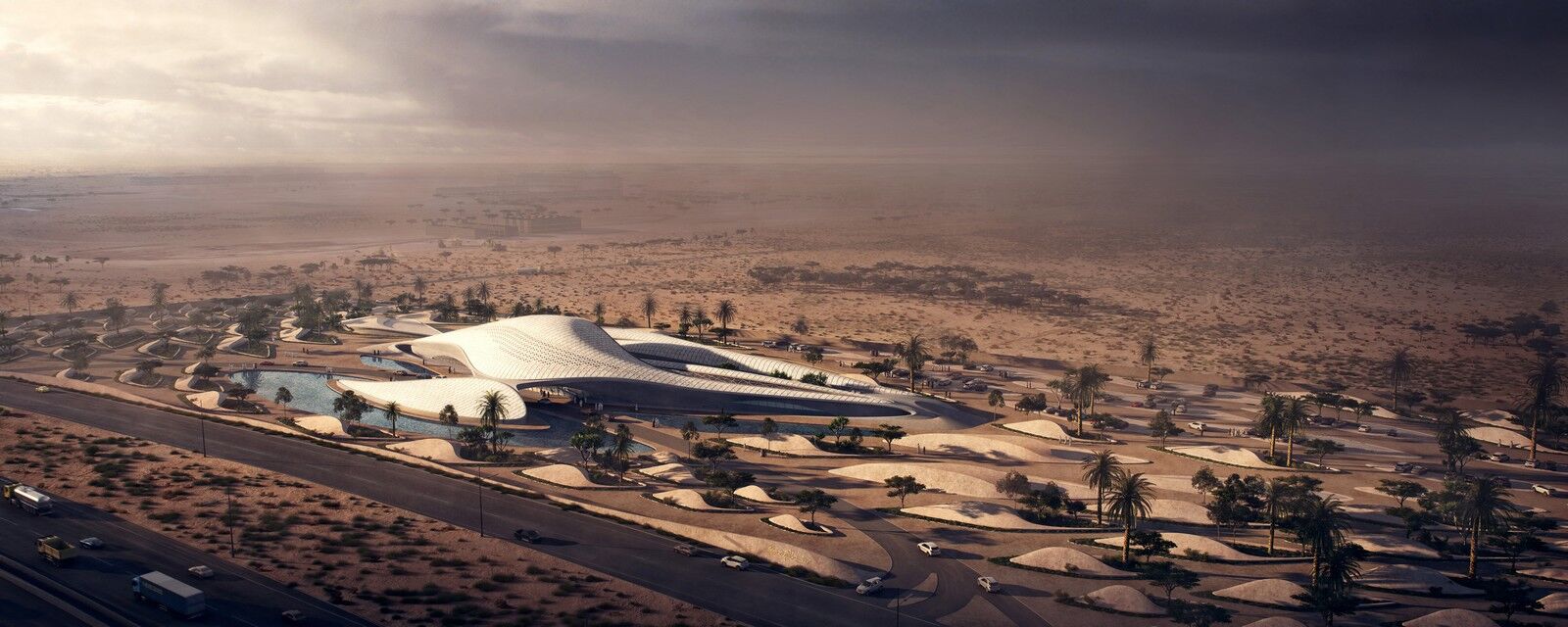 10. Bee'ah headquarters, Sharjah, UAE, Zaha Hadid Architects
The waste management company Bee'ah commissioned Zaha Hadid to design their headquarters after a competition in 2013. The design is inspired by sand dunes and aims for low carbon and water consumption in operation and minimised material consumption in construction.
11. Bezalel Academy by SANAA, Jerusalem, Israel
Bezalel Academy is constructing its new 45,000-square-meter campus, designed by SANAA, atop a hill in the heart of Jerusalem, Israel. The campus design of nine academic departments, administration offices, galleries, a store and a cafeteria features glass walls and stacked exposed concrete slabs that allow visual connections between different spaces, and activities.
12. Jiaxing Railway Station by MAD Architects, Jiaxing, China
Drawing inspiration from Jiaxing's historic and cultural contexts, MAD's proposal includes a 1:1 rebuilding of the historic station building, while creating a new train station underground. The new station will be bright, efficient, and human-scaled, with a flood of natural light to create a friendly, comfortable environment. The main transportation and commercial functions are to be located in the basement level, allowing the ground-floor space to be given back to nature. A shared space between Jiaxing's citizens and travelers, this new green urban center will transform into a "train station in the forest."
13. Far Rockaway Library by Snøhetta, New York, USA
The new Far Rockaway Library will replace the existing library building, while also doubling the area of library spaces. The new building seeks to increase the services needed by the neighborhood, and it is hoped that along with other revitalization efforts, it will serve as a catalyst for community transformation.
14. The National Museum of Art, Architecture and Design by Kleihues + Schuwerk, Oslo, Norway
Designed with the perspective of housing artworks for centuries, the museum is built with clean and robust materials that will age with dignity, like oak, bronze and marble. The entire facade is covered with Norwegian slate.
15. Arkansas Museum of Fine Arts by Studio Gang, Little Rock, USA
Conceived as a stem that blossoms to the north and south and anchored by major new visitor amenities, the design mediates between the museum's existing architecture to define a new public gallery and gathering space that provides an unprecedented axis of connectivity linking the museum's disparate programs and also serves as a focal point for extensive renovations that help AMFA meet its growing visitor needs.
16. DJI Headquarters by Foster + Partners, Shenzhen, China
The twin towers combine sensitive research and development spaces with office and other public functions. The floors are arranged in floating volumes cantilevered from central cores by large steel mega trusses – creating large, column-free spaces throughout, with unique quadruple-height drone flight testing labs. The towers are linked by a sky bridge, which will become another platform for showcasing the latest drone technology.
17. Rwanda Institute for Conservation Agriculture by MASS Design Group, Bugesera, Rwanda
The campus design includes landscape, housing, academic space, barn storage, and processing space for the institute. Each academic building across the campus is dedicated to one of the six different agricultural enterprises, both plant- and animal-based, that students will study and engage with throughout their three years at the institute. More mechanized practices are situated on the West end of the campus, and smallholder first-year student farms are placed on the East end. The campus uses pivot irrigation and will be energy independent, with its own solar farm and water treatment plant.
18. The Spiral by BIG - Bjarke Ingels Group, New York, USA
The 1,005 ft high-rise is a unique hybrid that intertwines a continuous green pathway with workspaces on every level. The chain of amenity spaces and terraces originates at THE SPIRAL's main entrance on 34th street and Hudson Boulevard. The spiral wraps around the tower, which becomes gradually slimmer towards the top. This creates unique floor configurations that will cater to a diverse community of tenants making the building a lively place for businesses of different scales – giving tenants a stake in the building's iconic skyline presence.
19. Almere Floriade 2022 by MVRDV, Almere, The Netherlands
Selected to design the site of Floriade 2022, the world's largest horticultural expo, in Almere, MVRDV imagines the area as a green extension to the city centre, a lasting Cité Idéal. From jasmine flower hotels and orchard houses to a restaurant in a rose garden and lily pond swimming pool, Floriade 2022 will be the most urban and most green Floriade to date.
20. Sundby School by Henning Larsen Architects, Sundby, Denmark
New School in Sundby has been prepared with a clear vision to create a school that will be able to strengthen and build a bridge between the local community, Sundby's associations, sports and cultural life as well as create space for valuable teaching and form the optimal framework for the school employees. The new school will have additional functions such as a library, café, sports activities and a music school that are centrally located and outward facing and invite the local community inside, after school hours. The school forms the setting for cultural and social events around the clock.
21. Morland Mixité Capitale, Paris, France, David Chipperfield Architects
The project comprises the refurbishment, remodelling and extension of an existing city administration complex from the 60's. The design that includes vaulted arcades opens up the previously introverted complex to the public, transforming it into a lively and open place with the character of a campus.
22. Orange County Museum of Art, Costa Mesa, USA, Morphosis
Morphosis aimed to design an open and inviting urban presence for the museum with flexible exhibition galleries, dedicated space for educational programming, and areas for public gathering.