Office Link, a new co-working space inside the Piazza Shopping Center in Istanbul was designed by KONTRA Architecture to respond to post-pandemic demand for spaces that offer flexible workspaces, have access to open areas and the outdoors, and provide a range of amenities and options to appeal to a broad range of users.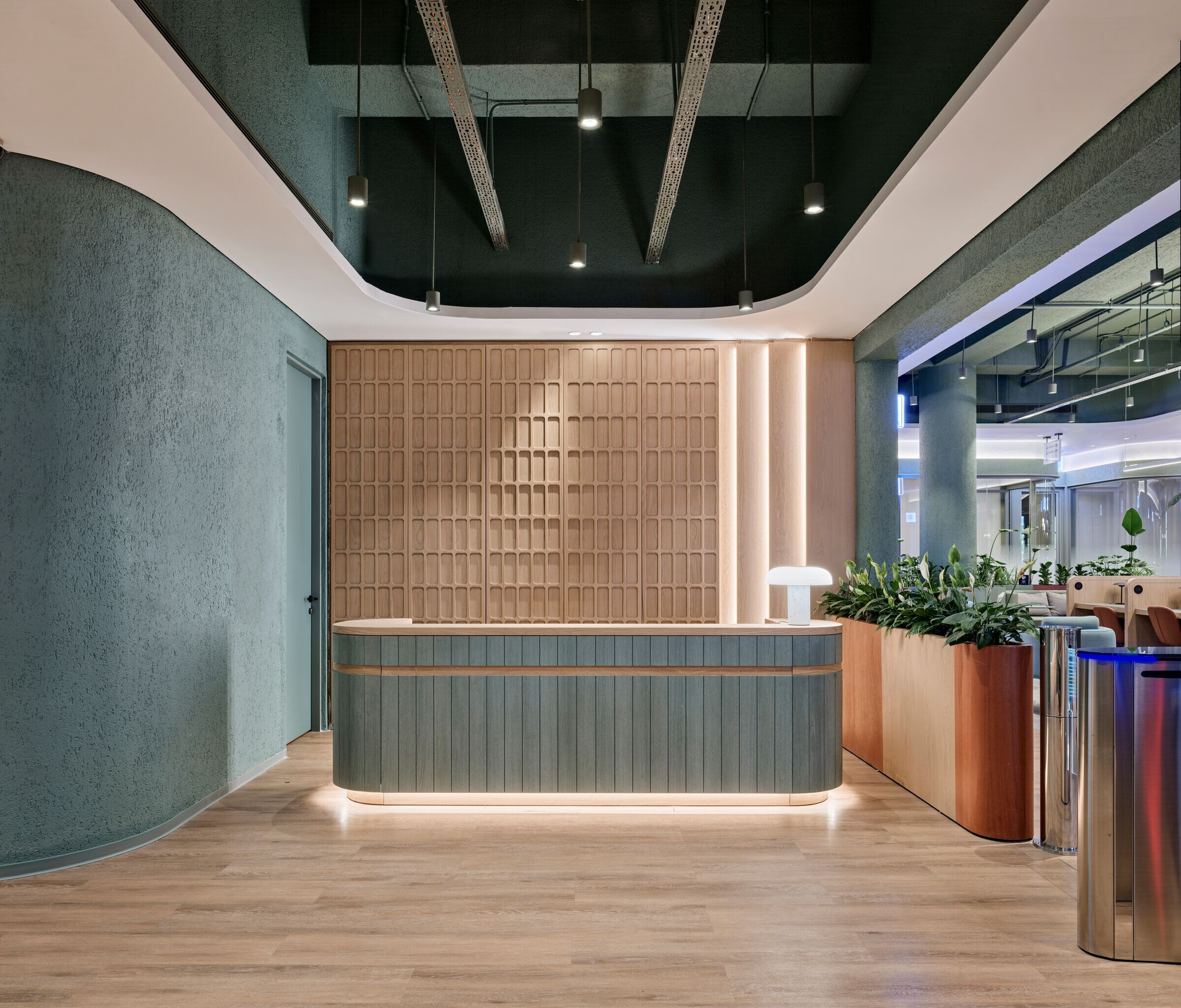 Located in the lively Maltepe district, the space caters to young professionals looking for workspace that is both stylish and functional. Visually arresting shades of bright terracotta and peach contrast against more subdued shades of sage, mint, and seafoam, lending the space a funky, energetic feel that is thoroughly contemporary while offering a sense of connection to the outdoors with verdant green detailing throughout in light fixtures, wallpaper and art, and furnishings.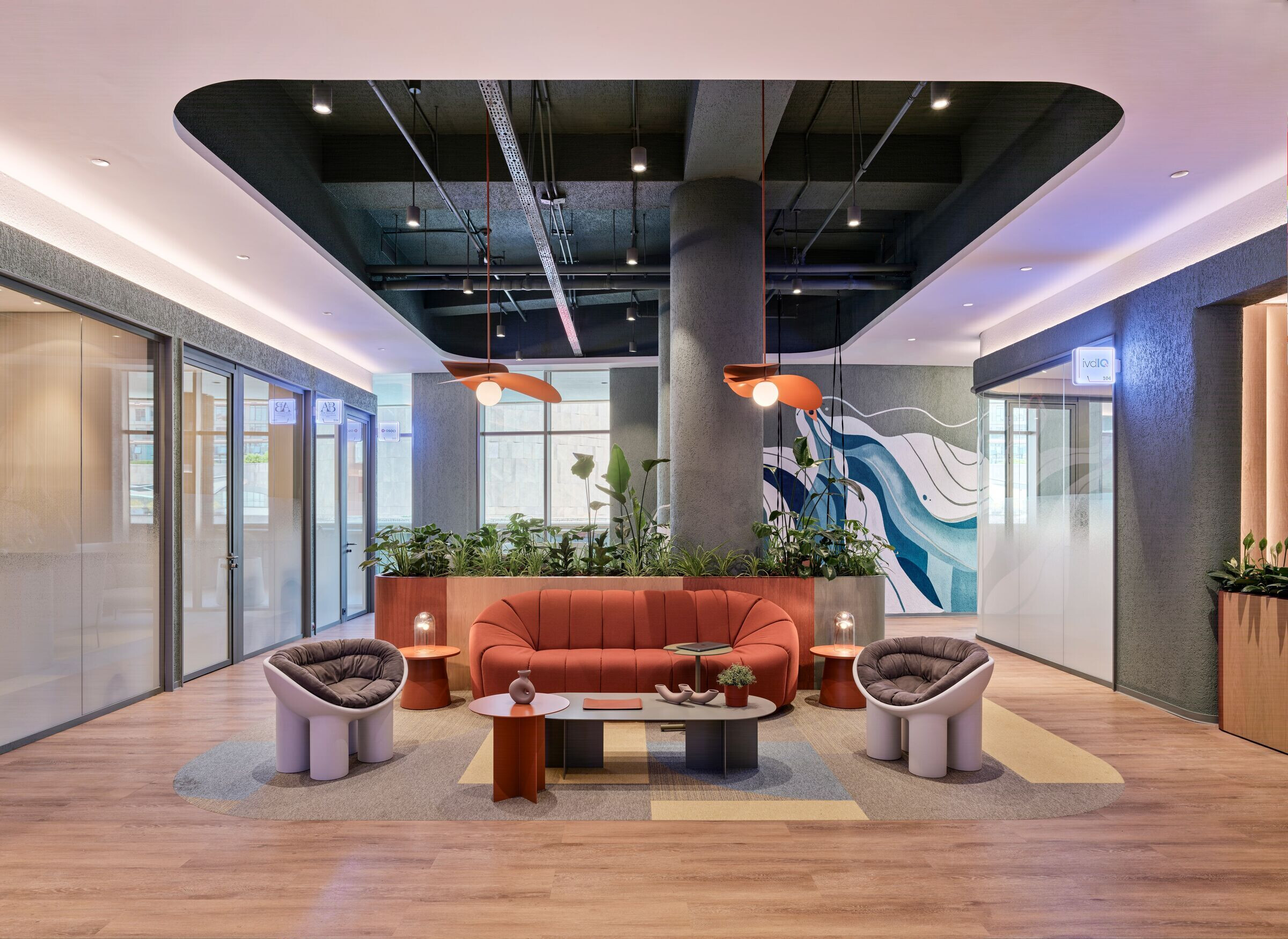 The space caters to all manner of workstyles, with individual carrel spaces and hotdesks, group desks, breakout rooms, lounge areas, meeting rooms, and terrace areas. Specialty rooms include a content studio, game room, podcast studios, and phone call pods allow room for creative expression across a range of workflows without sacrificing efficiency or cutting edge technology.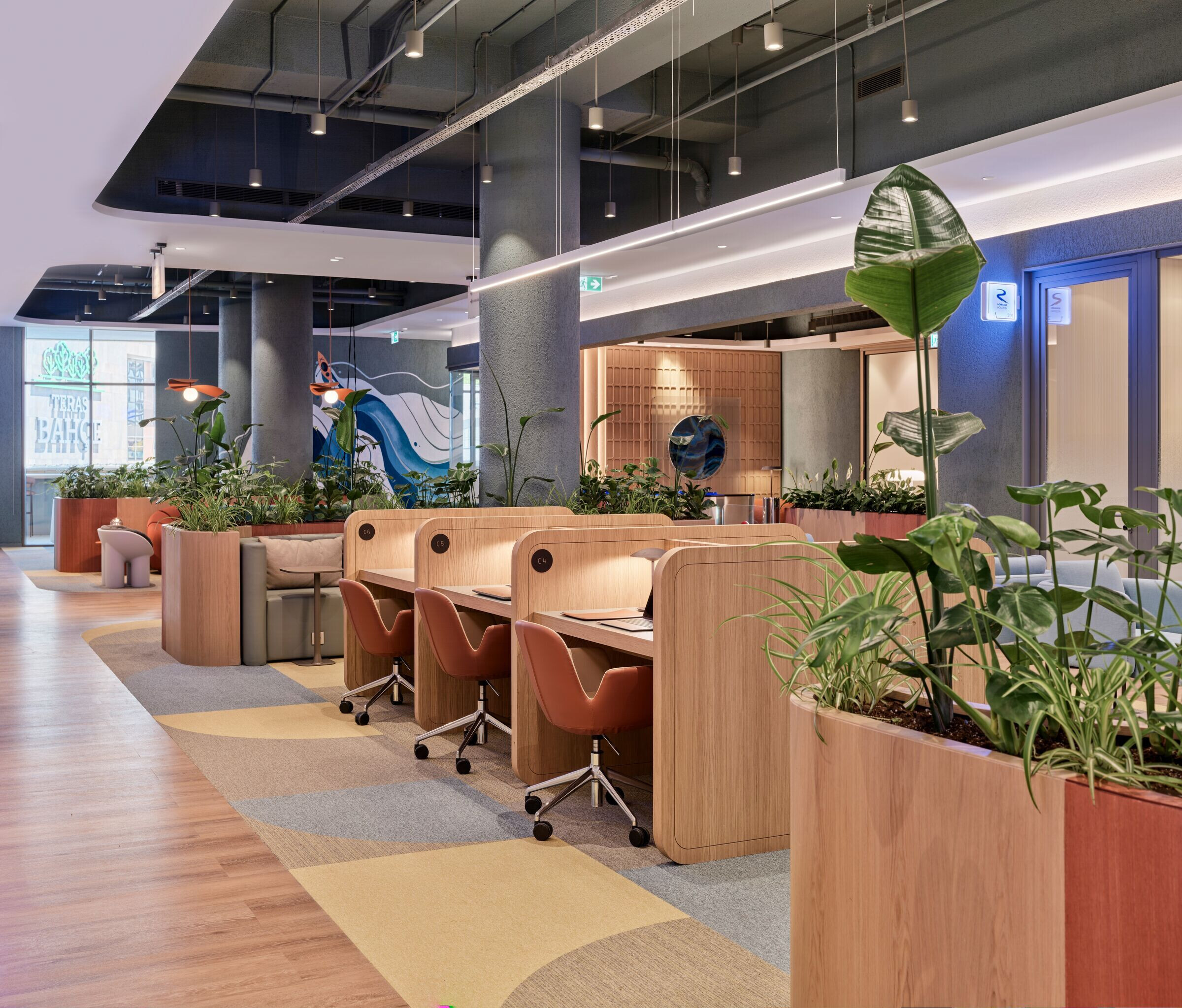 The lower floor of the three story space holds a campus-like atmosphere, connected via a food court to the shopping centre beyond, continuing the flow of circulation within. Here, smaller spaces are eschewed in favour of larger, amphitheater style seating areas and lounges. These do double duty as spaces that can be utilized for social gatherings, collective events and meetups.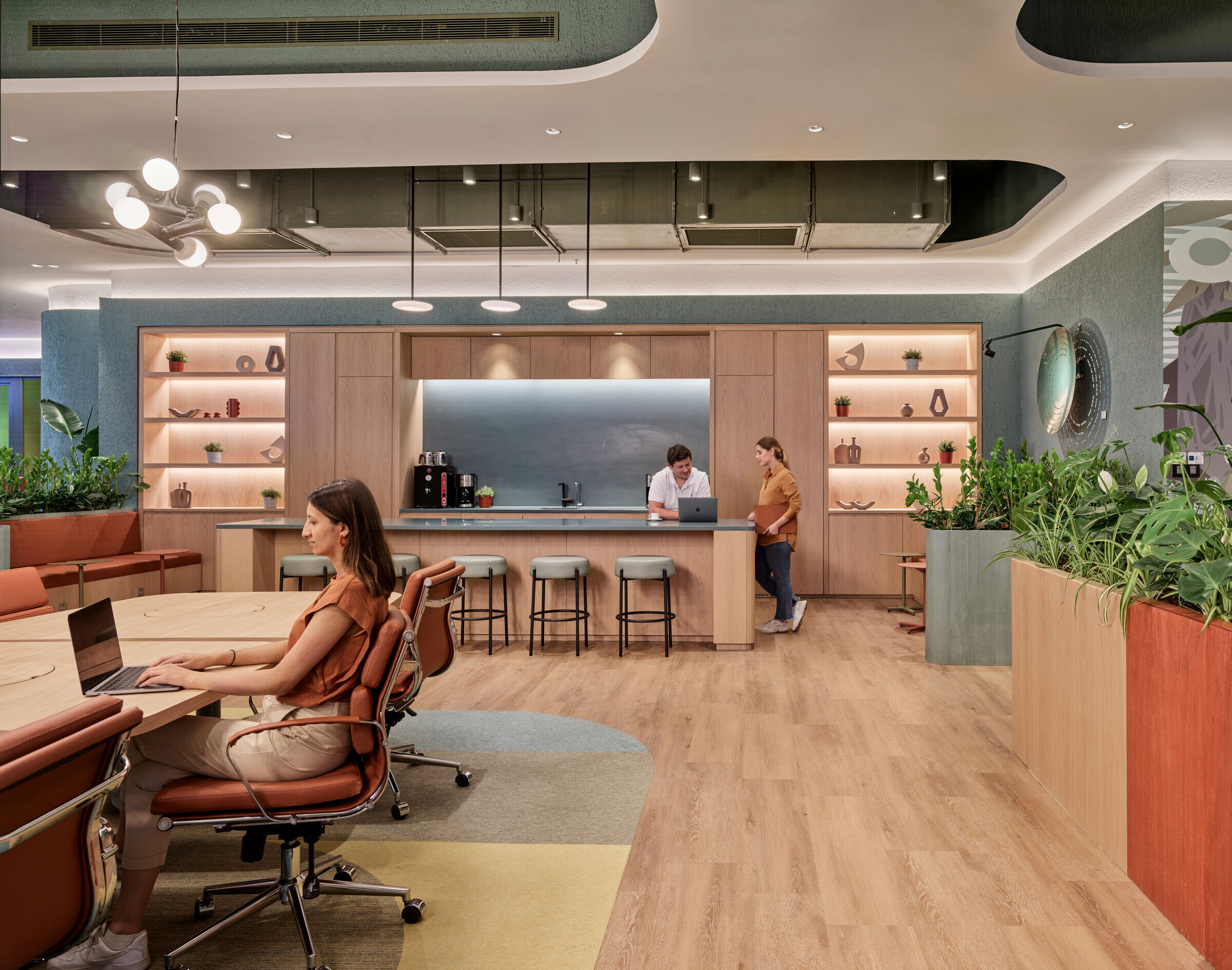 Meeting rooms come in a range of sizes and volumes to accommodate a range of user needs and were programmatically positioned to take maximum advantage of daylight penetration. Connective elements such as corridors are enlivened by brightly coloured transitionary areas which enhance a sense of continuity across the diversity of spaces within the complex.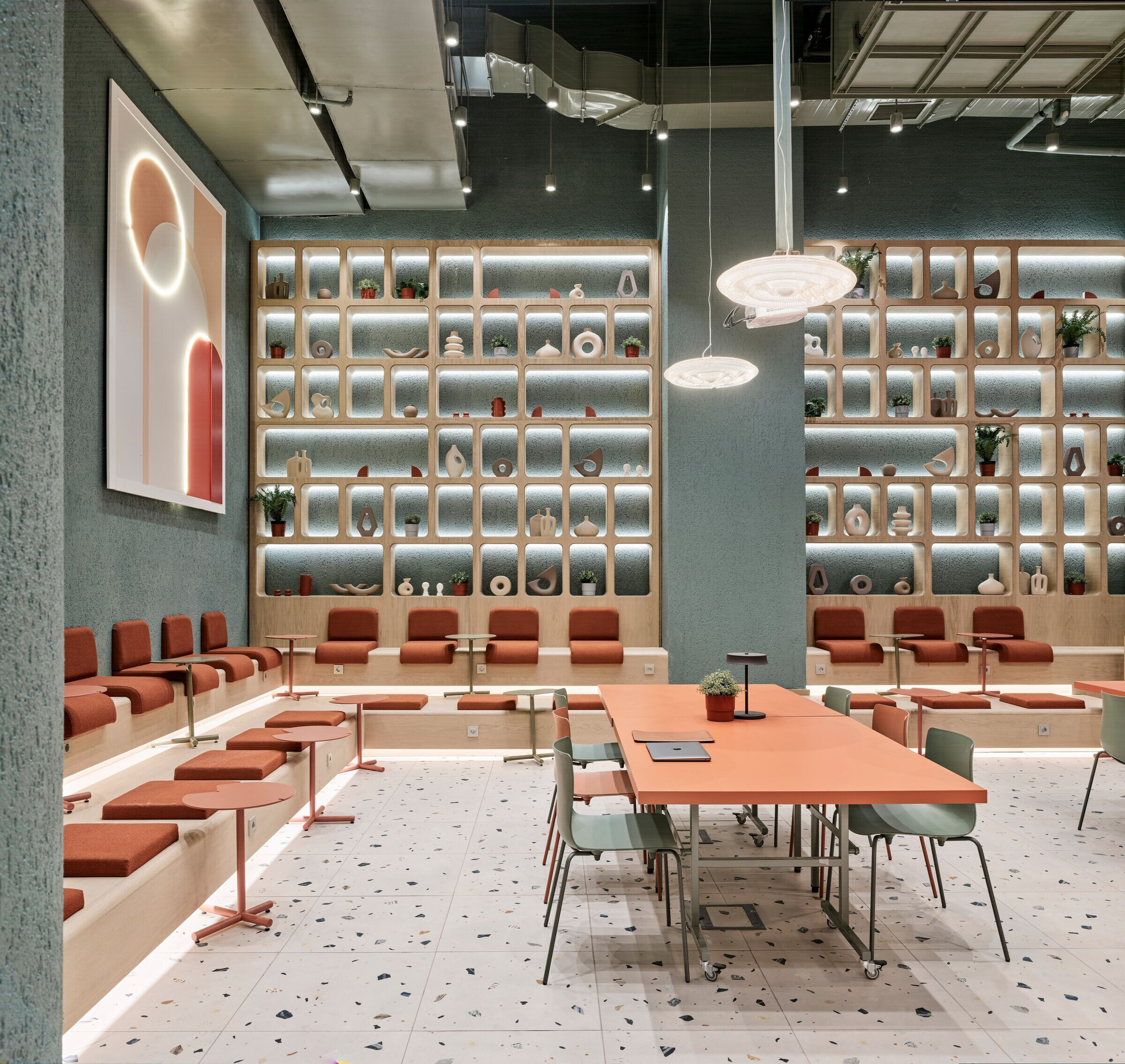 Extensive indoor plants, soft and adjustable lighting, and ergonomically astute furniture further enhance a feeling of being in nature, as well as serving to prioritize user comfort. Thoughtful design that infuses sustainability into an innovative and chic office environment has allowed Office Link to serve as a vibrant, functional, and energetic hub for creative and dynamic young professionals.