A superior tap can help define a bathroom or kitchen, signaling the space was carefully designed by an expert. Every day architects share their material and interior selections on Archello and through their knowledge sharing our database of specifications is growing rapidly. In this week's theme article, we take a look at taps. These are the designs that were most often specified by architects and designers in the past year. These are ten of our most popular options.
1. KV1 by VOLA
This one-handle kitchen mixer was designed by Danish architect Arne Jacobsen in 1968. The iconic tap — with a double-swivel spout and a water-saving aerator — works for both residential and commercial projects. It is available in 26 colors, from bright yellow and bubble-gum pink to the more versatile natural brass and gloss black.



2. ONO Lever Mixer A 200 by KWC
Designed for residential kitchens, this mixer features a handy pull-out hose that easily slides back into place. Available in chrome and stainless steel, this popular tap's lever can be installed on the right or left side. A tall, arching design ensures there is ample space for washing. A variation can be installed in residential bathrooms.



3. 111 by VOLA
Designed by Arne Jacobsen in 1968 for Vola, this mixer works in both bathrooms and kitchens. Functional parts hide behind the wall for a clean and minimal look, and spout lengths can be customized. This tap has been regularly specified for decades, but it still looks contemporary. Today it is available in 26 colors including bright hues.



4. MIL35 by CEADESIGN
This wall-mounted tap is elegant in contemporary bathrooms. The collection is available in single handle, dual handle, and thermostatic mixer. These spouts are equipped with water-saving aerators that can be specified for additional water conservation, including if LEED certification is required. These products can be specified in standard satin or polished — or special finishes of black diamond, bronze, light gold, or copper.



5. NOKEN - Lounge by PORCELANOSA
Designed by Italian architect Simone Micheli, this product works in both residential and commercial bathrooms. The angled spout calls attention to its design, but the tap remains functional and comfortable to use. The collection includes a rain shower head evoking the same geometry, also inspired by the architect's singular spaces.



6. Essence by GROHE
This tap is angular with a distinctive base to make a statement in a bathroom or kitchen. It is available in 10 finishes including hard graphite and supersteel. For the bathroom, there is the option for a fixed spout or a swivable one. The kitchen version comes with either a swivel spout or a pull-out spray. The collection includes a floor-mounted shower head in the same family of shapes.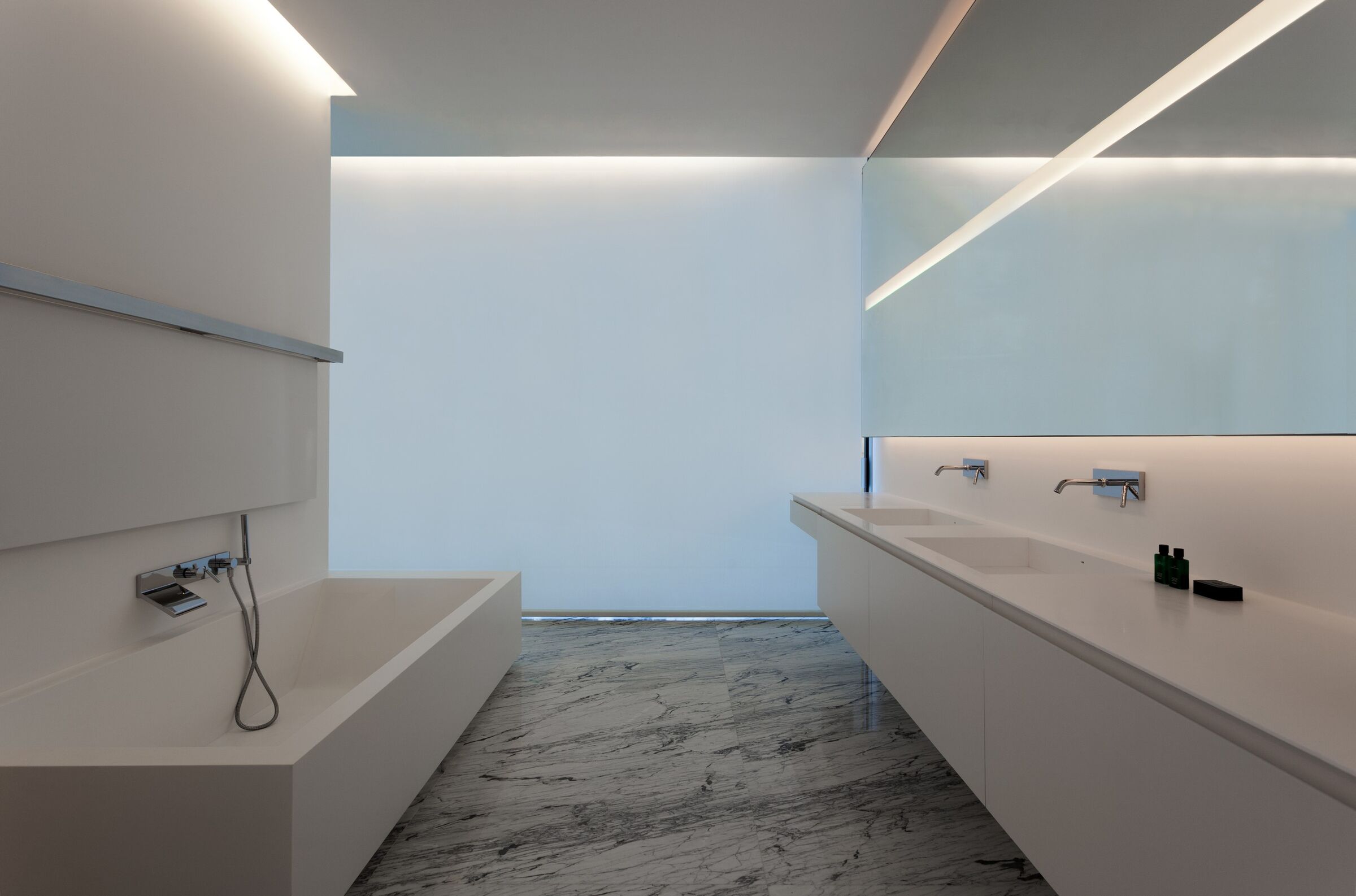 7. Pan by Zucchetti. Kos
Designed by Milan-based architects Ludovica+Roberto Palomba, this tap collection is suitable for both residential and commercial bathrooms. Basin mixers can have top-mounted or side-mounted levers. There is also a freestanding mixer and a bath spout, both of which mount to the floor. Elements can be finished standard, matte black or white, or soft-touch black.



8. Fontane Bianche by Fantini
Created by Sicilian designer Elisa Ossino, this bath collection draws from archetypal forms and geometry. A dialogue between circles and squares runs throughout the taps for showers, tubs, and basins. Everything is finished an elegant gunmetal and designed to coordinate with marble basins by Salvatori.



9. Loft by Roca
These bathroom taps work best in residential projects and are defined by simplicity and clean lines. Cross-shape handles contrast nicely with swooping and curving spouts for several mixers, including deck-mounted and wall-mounted. There is also a floor standing bath/shower mixer. All taps have a chrome finish.



By designer Natalino Malasorti, this stainless-steel tap collection is defined by a gently curved spout. Products are available in single handle, dual handle, and thermostatic mixers, and the single-handle version is designed for especially easy hand-washing and tooth-brushing routines. The collection of taps is available in six finishes, including black, copper, and bronze.