Our Ruskin Street Residence was designed for one of the now adult children of one of our earliest residential commissions over twenty-five years ago. While smaller than our usual projects it is a very special outcome that is very representative of the sentiments behind many of our projects.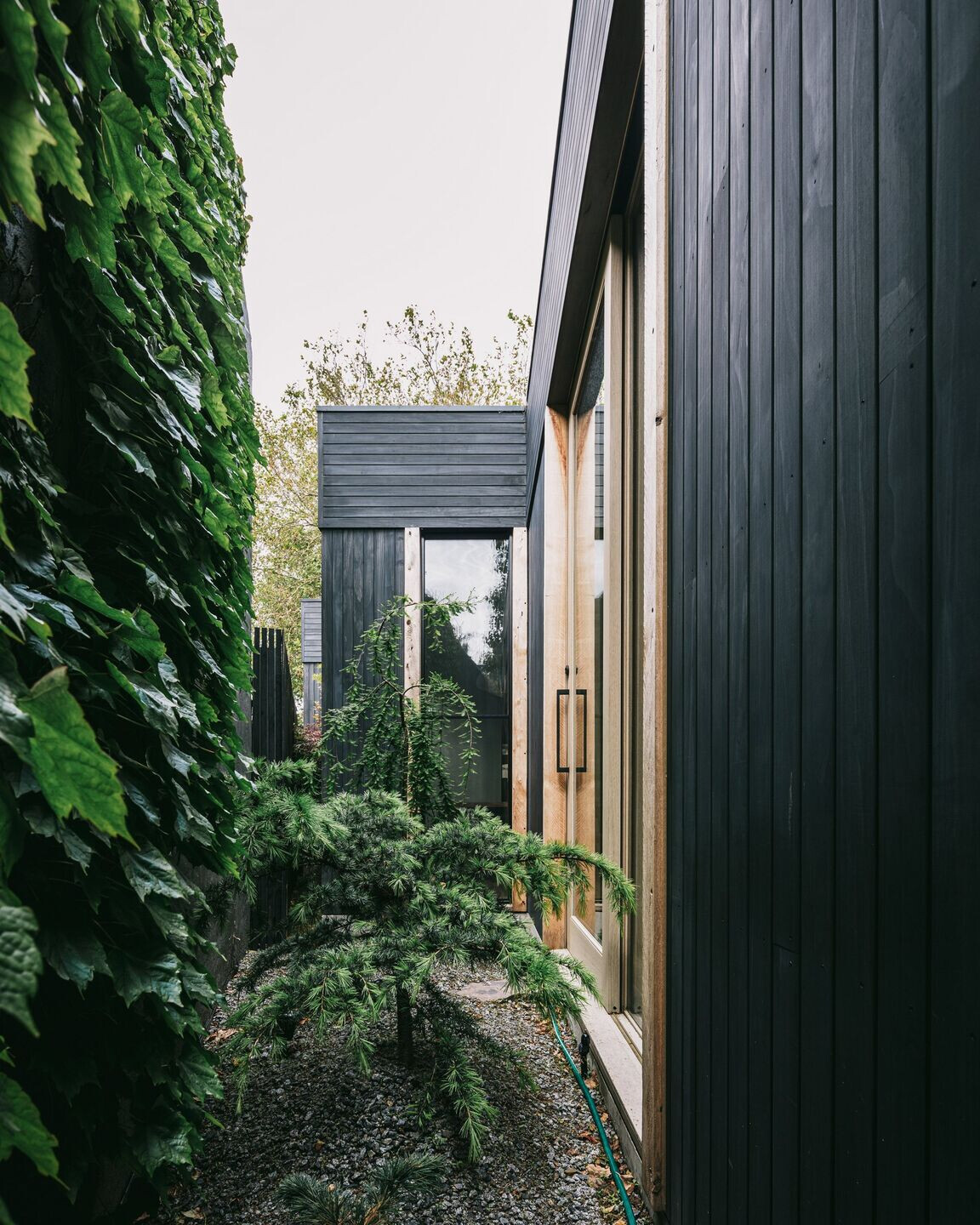 The front six rooms of the Edwardian heritage listed terrace was retained and extensively renovated to a new house standard. Rooms were reorganised to accommodate three bedrooms with bathrooms and robes, the existing details modified to accolade the new layouts as if they had always been there.
The rear extension is a contains the family living area with a kitchen and dining room looking over a sunken living room. The living room was lowered with a wraparound storage unit / seat creating a ledge for lamps and speakers or a seat under the window. To access the garden, one steps up onto a roughhewn stone Boulder set into timber floor to access the ledge. While this may seem awkward it is part of the conversations around the palette of materials that are at the heart of the design.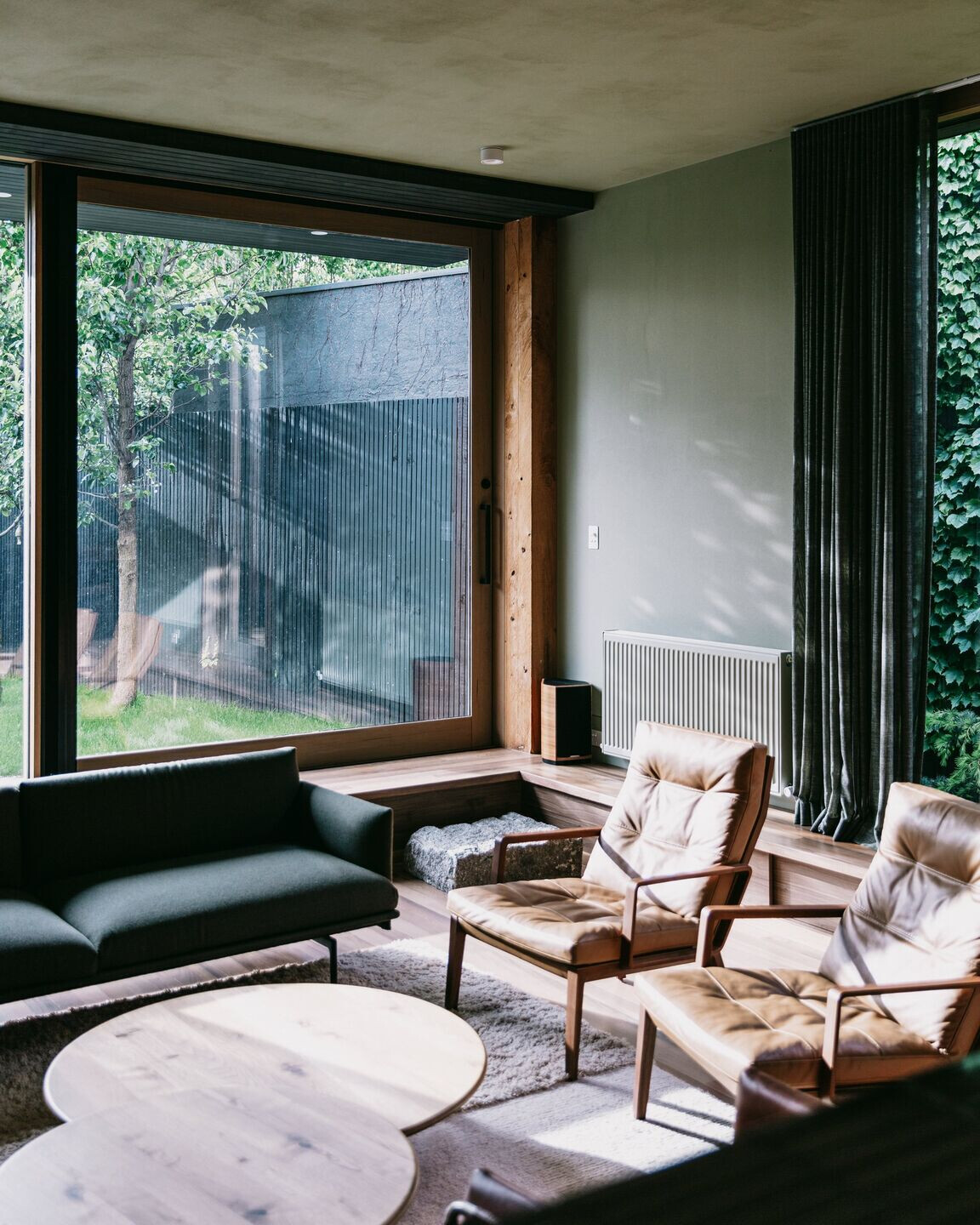 The rear windows are framed by two massive raw timber beams that were cut from a 70-year-old Cyprus tree that create a sentiment of structure and a notion of the awareness of the passage of time not unlike the heritage details of the heritage building.
The walls are painted in a flat cement paint with a high concentration of sharp sand that gives a rough textured finish to the avocado-coloured walls and ceiling. The kitchen benchtops are tiled in a small handmade Japanese tile finished with epoxy grout giving the surface the usability required for the benchtop application.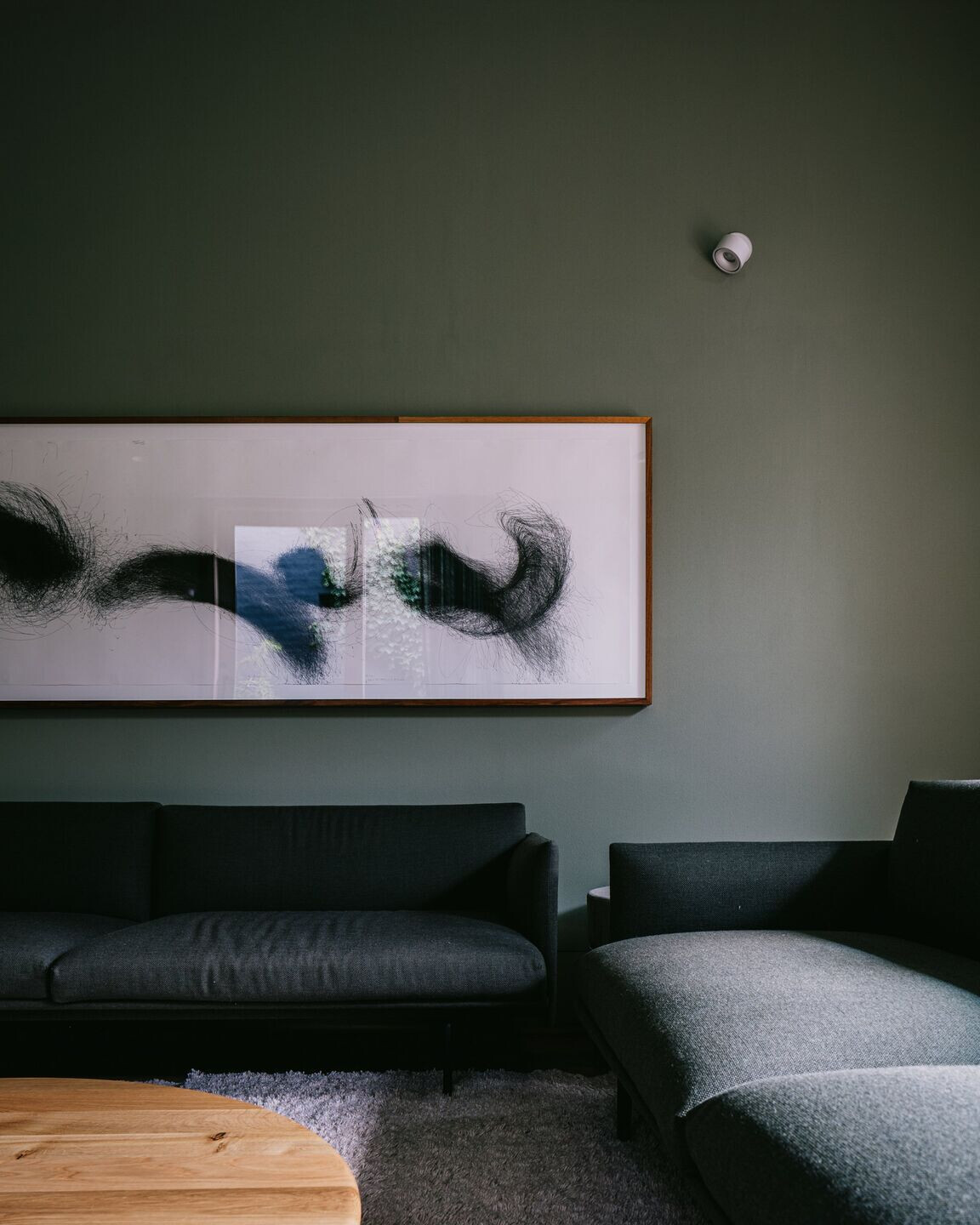 Certain materials like the black wood flooring and the Japanese tiles used on the reworking of the corner fireplace, used to create a link or notion of continuity while maintaining the two distinct personalities of the old and the new. The furniture curated for the project is eclectic and relaxed, selected to sit quietly in the room. Like many of our larger jobs, there are a number of items that were designed and made for the project. These range from a simple folded brass ledge under a 1960s Italian brass mirror in the style.
Team:
Land surveyor: JCA Land Consultants
Structural Engineer: R. BLIEM & ASSOCIATES PTY LTD
Custom Felt Lampshades: Mayfield Lamps pty ltd
Joinery: McKay Joinery
Door / Window Frame: Kilburn Joinery Pty Ltd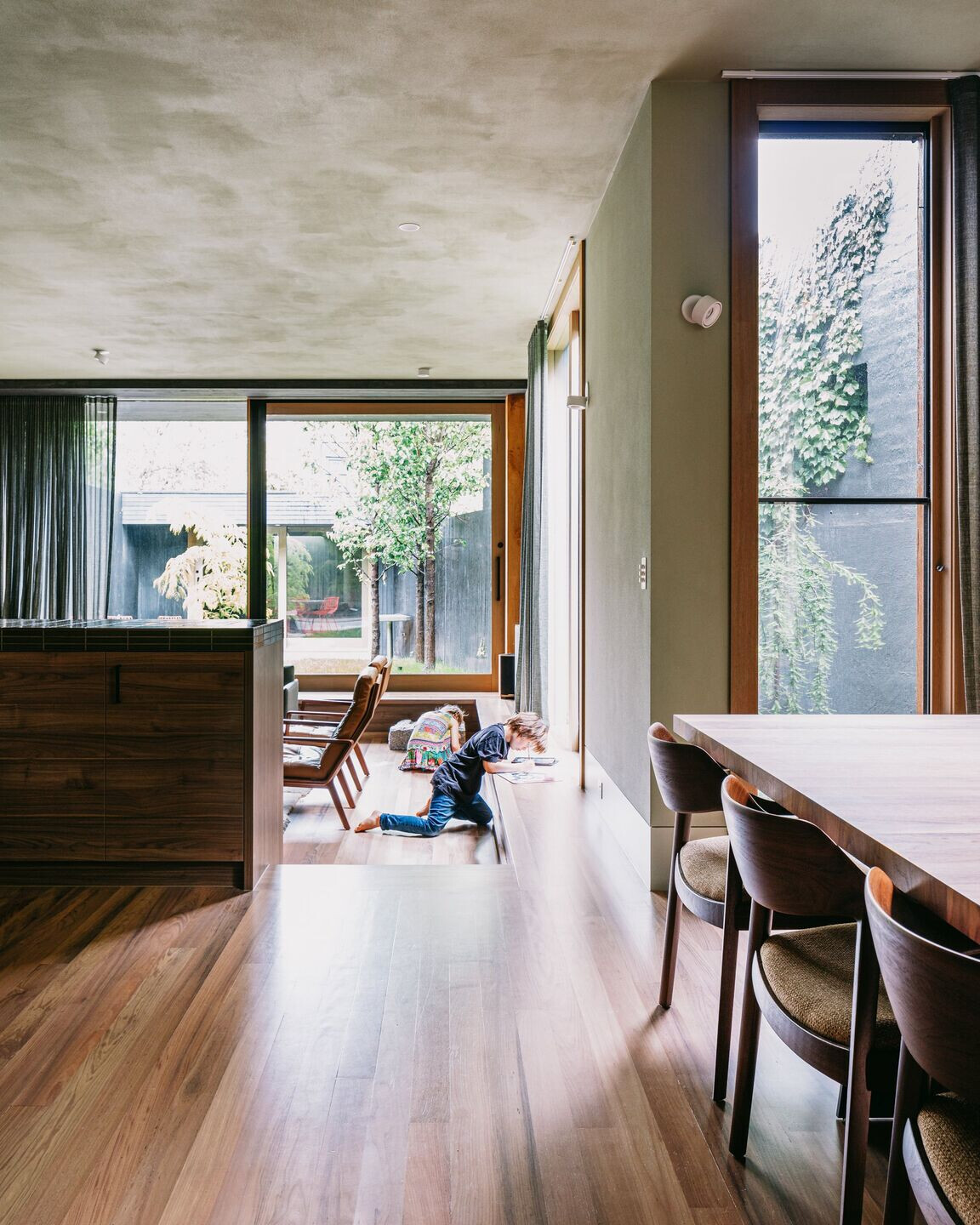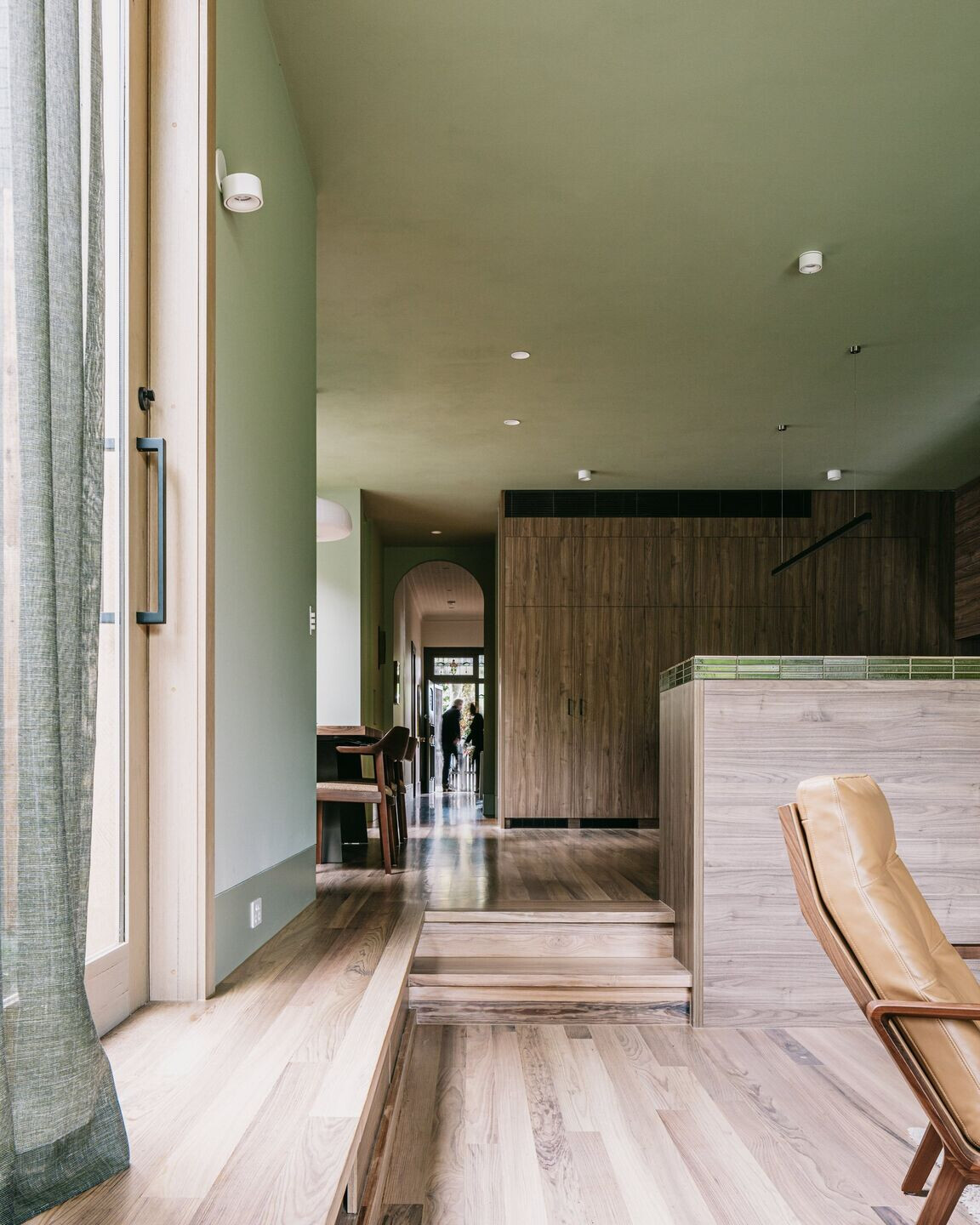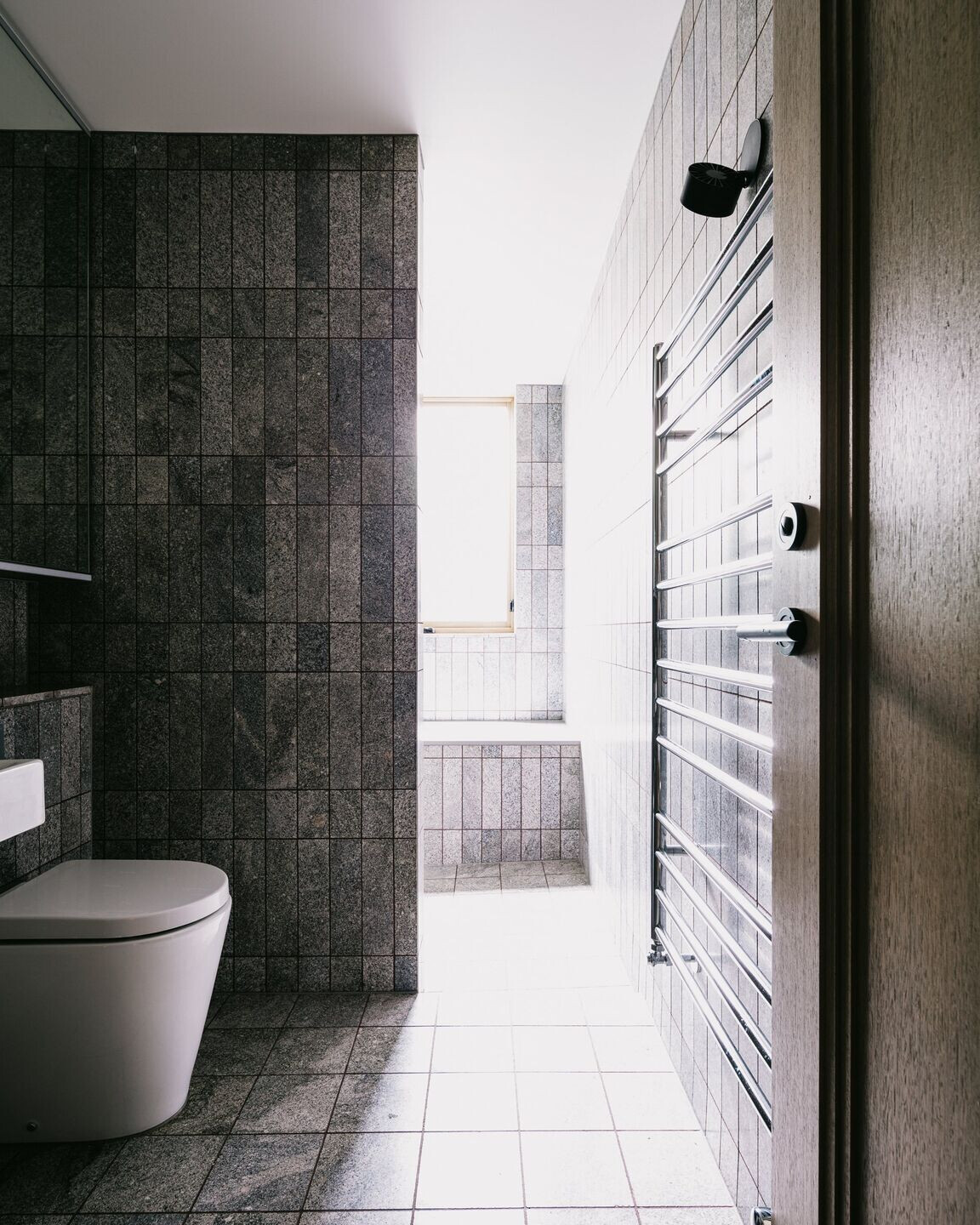 Material Used:
1- Bathroom Fixtures and Fittings
Basin: Roger Seller S-Line S20 Under Counter Basin 430mm 118012
Mixer: Methven / Bathroom Warehouse Minimalist Basin Mixer 01-2008
Shower Arm And Tops: Reece Nikles Fresh Rail Shower 3 Function Handshower 9503074
Toilet: Swan St. Sales Best BM Toilet Suite Floor Wall Hung with Geberit In-wall Cistern T1003D
Bath: Roger Seller Kaldewei Classic Duo (1800 X 750 ) Rectangular Hob Mounted Bath
Bath Spout: Methven Minimalistic Bath Spout 200MM 04-2852
Washing Machine: Roger Seller Separate hot and cold dura arco stop taps for washing machine 3WM
Tiles: Custom Made Fallow Stone Batons From Granite Works
2- Kitchen Appliances
Cooktop: Smeg 5 Burner - Gas Cooktop Psa906 (900mm)
Oven: Smeg Wall Hung Or Underbench Oven Sfa7390x (600mm)
Rangehood: Whispair Monte Carlo 120 Super Deep - Built-In (Undermount) X3md12s5
(Remote Motor & On Board Ac Motor)
Dishwasher: Asko Fully Integrated Dishwasher DFI1643
Refrigerator: Electrolux Fully Integrated Fridge ERM3701WE R (370L)
Freezer: ElectroluxFully Integrated Freezer EFM3001WE L (300L)
3- Kitchen Fixtures And Fittings
Sink: Versa style (IMA Design Pty Ltd, 9874 0738) Double bowl sink under bench mount S863.450
Mixer: Phoenix Tapware Vivid Slimline Pull Out Sink Mixer V719CHR
Benchtop Tiles: Artedomus | Inax Biyusai
Stool: Tide | Tuki Stool
4- Furniture Living And Dining Room
LIVING ROOM
Couches: Muuto | Outline Sofa 3 Seater
Rug: Halcyon Lake
Sterio Speakers: Calton Audio Visual | Sonus Faber Sonetto II
Coffee Tables: Apato | Yukar Coffee Table
Side Table: Miniforms Soda Side Table
Pair Of Chairs: Walter Knoll Andoo Lounge High Chair
Single Chair: Bassam Fellows Geometric Lounge Chair
DINING AREA
Dining Table: Walter Knoll Tadeo Table
Dining Chairs: Wing Lux Side Chair - Kiyoshi Sadogawa
Pendant: 22.5" Wide Lantern Suspension Pendant Traditional Paper White 1 Light Hanging Pendant
KITCHEN
Kitchen Stool: Tide | Tuki Stool
OUTDOOR
Outdoor Chairs: Bend Outdoor Chair
5- Artwork
Cameron Robins Wind Drawing
6- Outdoor Furniture
Concrete Table: Designed By Be Arch
Outdoor Chairs: Bend Outdoor Chair
7- Bedroom Fireplace Tiles
Same as kitchen benchtop top
8- Light Fittings
Est Lighting | Snap Surface Mount Light
9- Flooring
Tasmanian Blackwood
10- Dark Wall Paint
Murobond Cement Paint With Cut Sand Additive