In January 2022, on the 14th floor of the "Domes de Sursock" tower, a vast and welllit apartment looks vividly towards the port of Beirut for a second time. Moving in with a paraphernalia of artworks and artifacts of a certain antiquity, emotional value and narrative complexity, a Beiruti family wishes to explore the contrast between the collection and a decisive sense of contemporary minimalism. This will also be however an opportunity to reflect on this 'looking back' at the port that is still the apartment's main view, despite its state of notable ruin.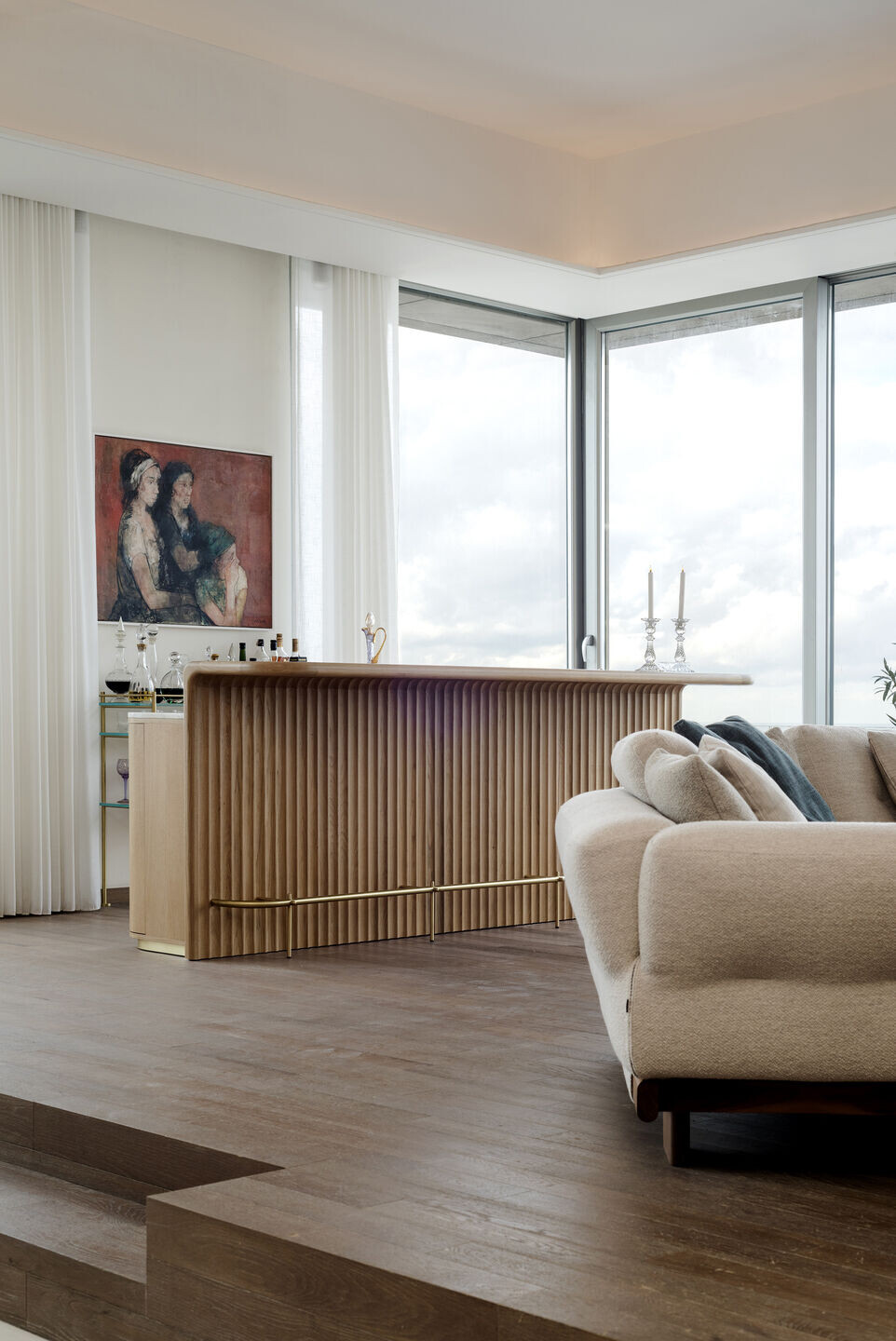 The collection is vast and a careful selection will be necessary to properly appreciate a selected object, but most importantly and in line with the client's desire, to breathe through a certain white emptiness in every corner.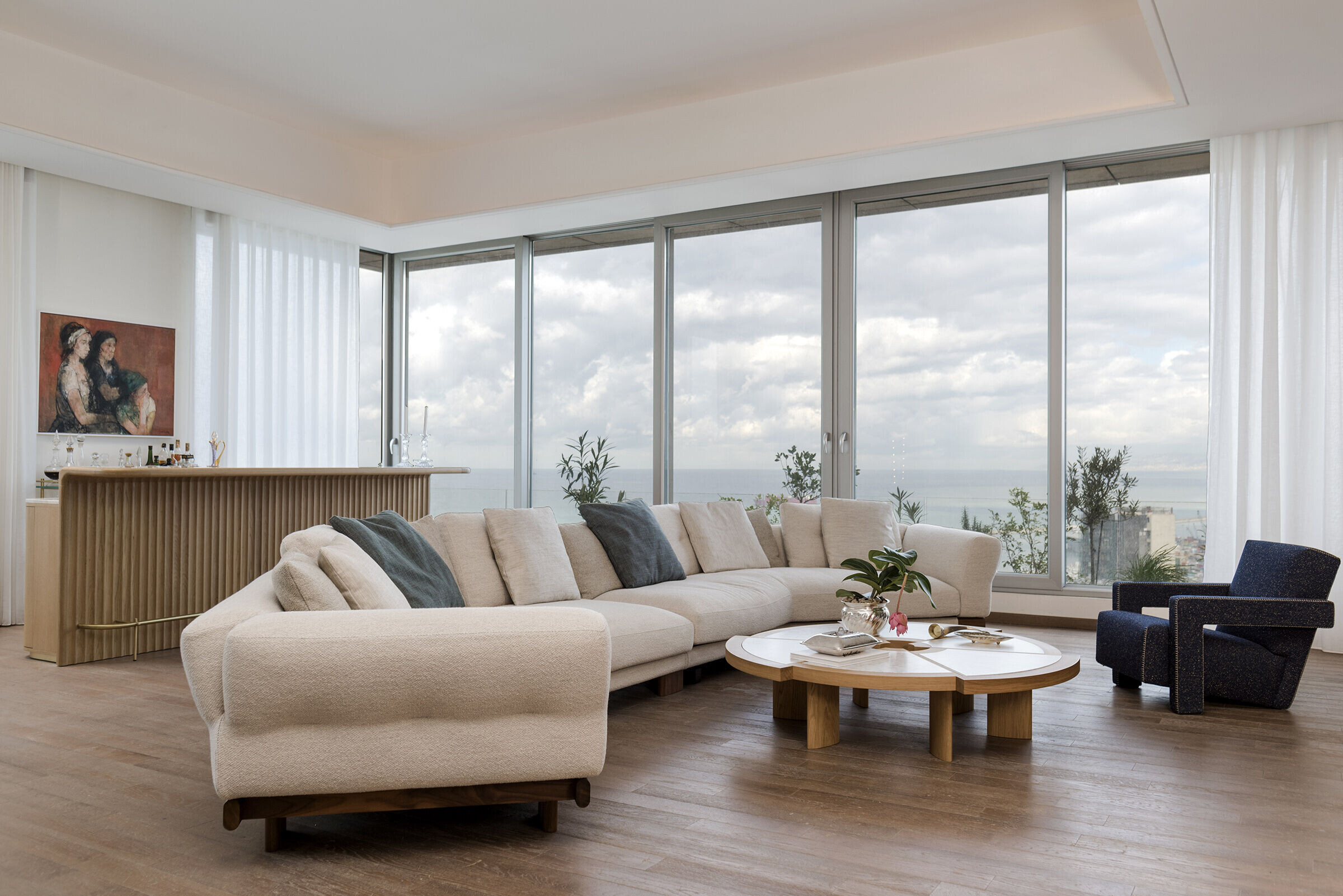 We select:
• 6 Utamaru prints
• 9 Paintings of 20th century Lebanese masters
• 1 Chinese buffet
• Jean Jansem's "Three Women Looking"
• 2 large scale Aubusson tapestries in a delicate state
• 2 Chinese screens, 6 panels each, floral front, village life back
• 4 Salvador Dali serigraphs of the 4 seasons
• 3 golden trundle tables of the early 20th century
• A small circular Chinese coffee table with mother of pearl inlay
• 2 blue and white small sized Chinese carpets
• A Lalique vase with dancing bacchantes in amber color
• A white marble sculpture of a group of dancing angels, medium sized
• A metal sculpture of Don Quixote with his spear, medium size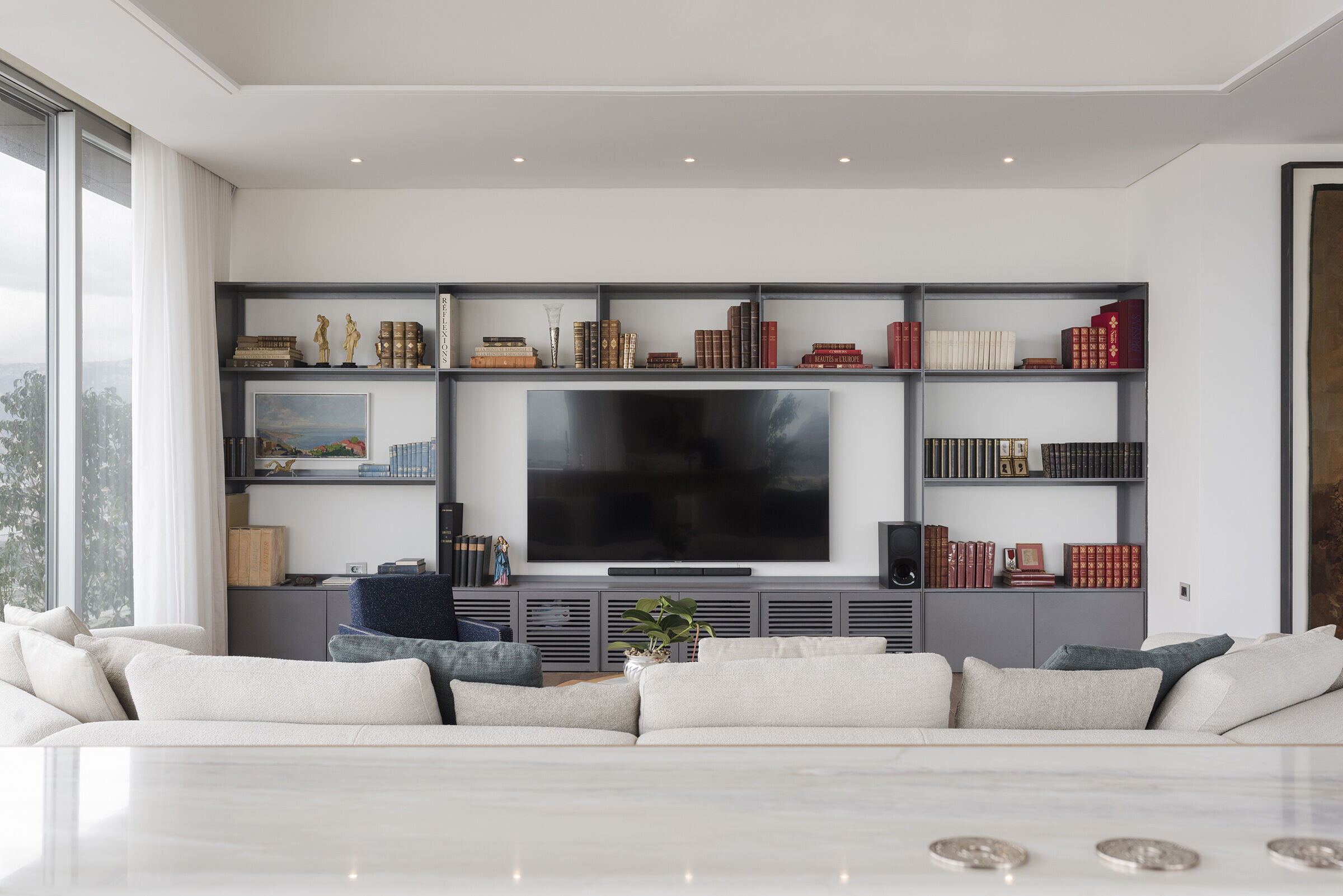 And a few various smaller objects and paintings.
The exercise is a play of composition and balance around three poles: Lebanese designer items, contemporary European minimal furniture pieces and an object or two from the collection.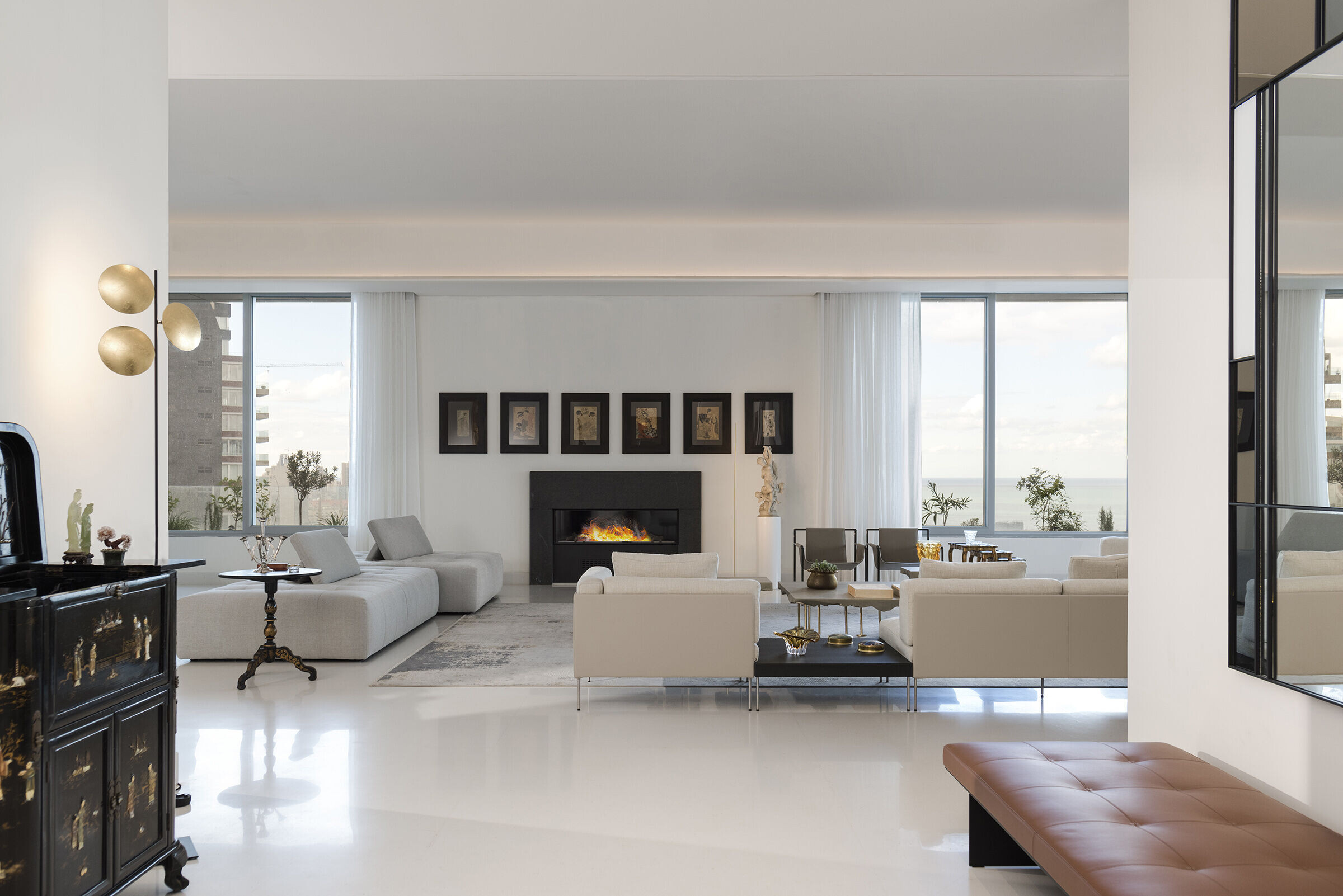 In the entrance, the dining room, the fireplace area, the library, the bar, the family room, the massage room, everyone of the sleeping rooms, an object will radiate its aura resting upon the white walls, ceilings and floors of the vast apartment lightly enhanced by the presence of the contemporary furniture and the soulful Lebanese designer items. Karina Sukar, Ounovis, Thomas Trad, Karim Nader, L'Inconnu, will start to dialogue with Catellani & Smith, Living Divani, Cassina, Poltrona Frau, Natuzzi in a delicate balance with the delicacy of an Utamaru print, now framed in graphite gunmetal, two Aubusson Tapestries in a large overscaled hanging system, the dancing angels statue on a white cylindrical base with a golden light stick from Catellani & Smith and a Lalique vase on a concrete table, to name a few of those unexpected couplings.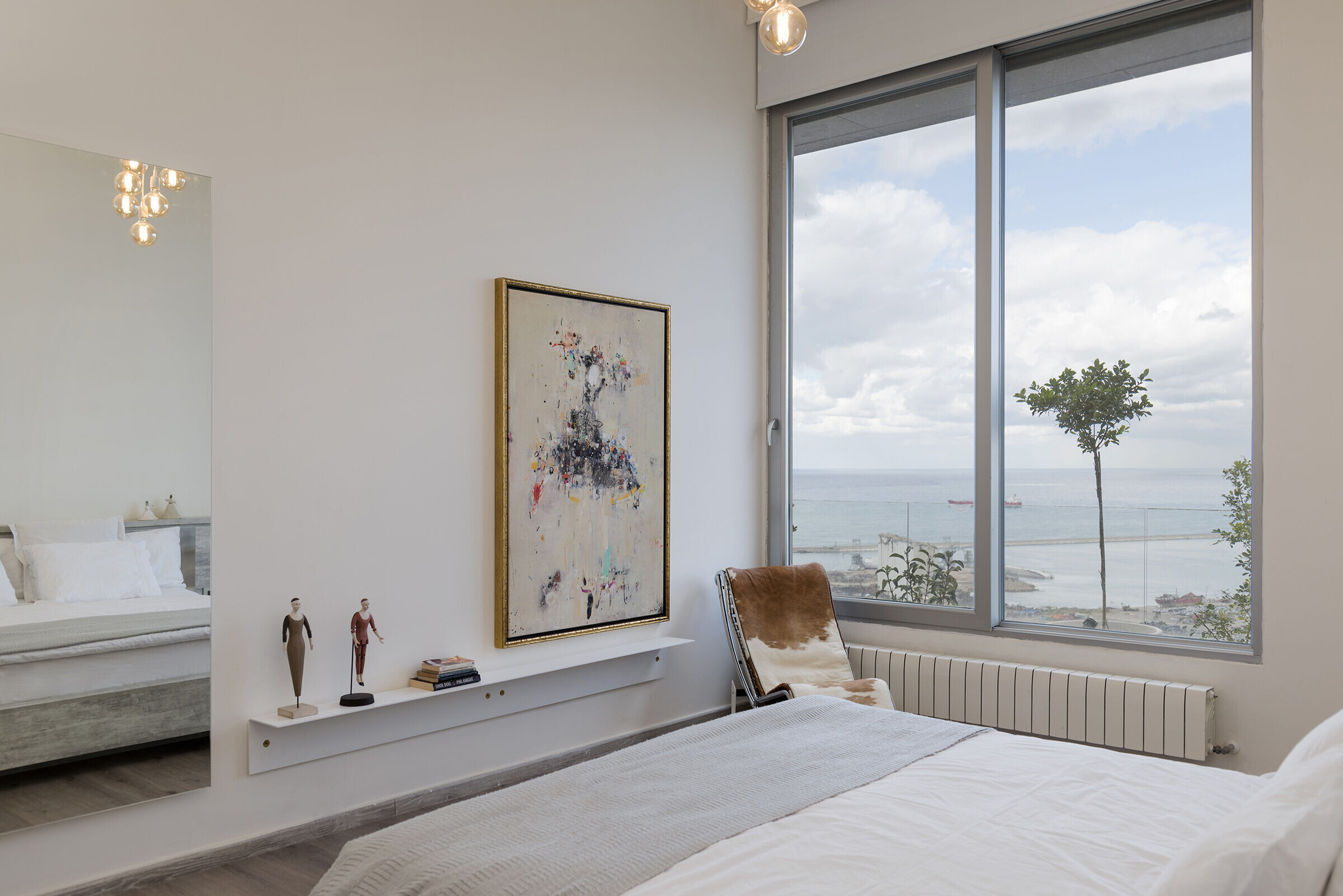 When gold leaf of a trundle coffee table is juxtaposed on a leather armchair with glossy gunmetal legs, a new type of emotion is now possible. It is this intent at making the object reappear within the emptiness that will make the apartment breathe a new life. And if the three women in the Jansem painting seem to be looking towards the port in their desolate faces through the now repaired large glass window, the bar of a Thomas Trad will remain a convivial invitation to the joys of the present time.
Team:
Project design team: Karim Nader and Lama Rafeh
Contractor: Gamme Hawat