Awnings
An overview of projects, products and exclusive articles about awnings
project • By FAKRO • Landgoederen
An old military barrack in Ede (the Netherlands) has been transformed into apartments and a daycare center. The decision was made to keep the original looks of the buildings exterior. The interior however has been refreshed and adapted for living. Lots of natural light and protection from overheating contribute to comfort of the inhabitants' lifes. The new living spaces have been modernized and adapted for everyday use. Roof windows combinations beyond the openwork staircases let a lot of natural light into the homes. The plants situated in the corners and on the staircase landings, along with the sky that can be seen through the roof windows, create natural atmosphere inside. Some of the 132 white-framed FAKRO FTW-V roof windows ar...
Meer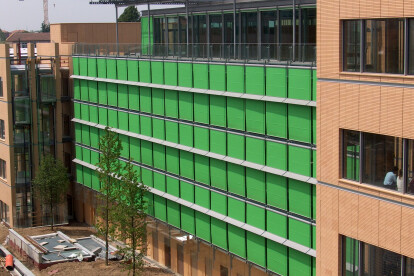 Product • By solaris tende • Exterior sun shading facade
Exterior roller blinds for sun shading facades. The fabric roll inside an alumium cassette diameter 130 mm and is guided by stainless steel rods diameter 8 mm. The fabric is reinforced with stainless streel bars inside horizontal pocket to increase the wind resistance of the system.
Meer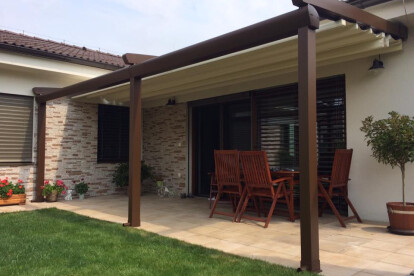 Product • By Pergola A.S. • Pergola Alu ELEGANT
Elegance of Pergola Pergola Alu Elegant; It is an elegant and durable pergola awning system designed to live outdoors. A functional development of the Pergola Alu collection, this product is ideal for creating attractive spaces in your garden or on your terrace. The Pergola Alu Elegant Awning System not only meets all the requirements you need for your style and your constructions, but also offers durability and elegance. Pergola Alu Elegant is a retractable pergola awning system which is designed for outdoors to protect from sun, rain and wind, and create a livable space. In addition, specially designed custom aluminum guides which integrates to the structure, Alu provides high resistance and as well as quiet and quick performanc...
Meer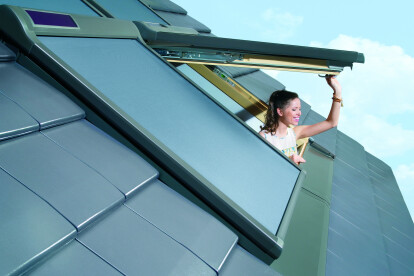 Product • By FAKRO • Electric Awning Blind AMZ Solar
Electric Awning Blind AMZ SolarBrief:Electric awning blind is an appropriate combination of effective protection from heat and comfort of use. Key information:Use:With any FAKRO roof window.Application:Roof windows, protecting from overheating, ingress of natural light, visual contact with the environmentCharacteristics:The awning blind ensures up to 8 times more effective protection against overheating when compared with internal blinds. More about this product:AMZ SOLAR powered by solar batteries and controlled by remote control. In emergency cases, awning blind can be controlled by service button located on the awning blind. Solar awning blind is powered with 15VDC battery pack built-in blind's case.The batteries are recharged by the sol...
Meer
Product • By KE OUTDOOR DESIGN • GENNIUS Isola2
GENNIUS Isola2, the brand new pergola system by KE: minimal design meets technology and reliability. KE strengthens its worldwide presence proving to be one of the leading company in the solar shading scenario. Innovation, tasteful design, wide and extensive product range, customized solutions. These are the strong points of GENNIUS pergola system, which adds to its range the brand new Isola2, an aluminium shading structure that protects from sun rays, wind, humidity and – thanks to the new movable system that channels rainwater to dedicated gutters – water. Extremely easy to install, Isola2 can be adapted to any space: the pergola system has an arched shaped roof which allows minimum height overall dimensions and enhances the st...
Meer