Flush with wall
An overview of projects, products and exclusive articles about flush with wall
project • By ECLISSE srl • Showrooms
A gateway to the ECLISSE world, a place to establish a direct contact with clients, architects, designers and contractors. The ECLISSE showroom is an educational space that displays unique design solutions, harnessing the full potential of our systems.In this experimental lab the technical details interact and communicate with colours and finishes allowing the imagination to embrace new opportunities for expression, thanks to the combination of sliding pocket door systems, finishings, lighting and furniture.The entrance room displays a sample of ECLISSE flush solutions, holding a pocket sliding door and two hinged doors from the SHODŌ Collection on one side and three different solutions from the SYNTESIS® Collection on the other side.The se...
Meer
project • By ECLISSE srl • Particuliere woningen
A skilful dialogue between two materials, wood and concrete, generate a strong characterisation to the renovation of an early twentieth-century home in Kreuzberg, Berlin's famous multicultural district.Architect Tanja Meyle (of Meylenstein Berlin) converted the building into a 250 sqm loft with a contemporary style.The existing wooden structure was preserved, as well as for the old chimneys and the two main brick walls.The central structure consists of a concrete cube that separate the large open space of the living room from the smaller kitchen. Some pre-existent bricks are left back in the kitchen, to show where the traces of the old fireplace are.Three boxes coloured in blue of different sizes heights line the corridor, never reaching th...
Meer
project • By ECLISSE srl • Huisvesting
In this natural place full of appeal between sea and rock, a couple of kilometers from Ribadero, a lighthouse built in 1857 was replaced in the 1980s by a cylindrical concrete tower. Inside the striped tower, the space has been converted into an amazing hotel.The PF1 interior design studio has created an unique project: Faro Isla Pancha is the only lighthouse in Spain that offers tourist accommodation.The purpose of the renovation was to respect the surrounding naturalness and preserving preexisting structural components, such as the floors and balustrade.Eclisse vreates Aesthetic and functional solutions for the pocket sliding doors.The walls blend perfectly with the doors, thanks to counterframes that allow the maximum integration in the...
Meer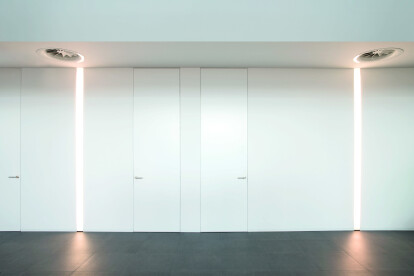 Product • By Xinnix Door Systems • Xinnix X2 Frame
De naam Xinnix (Ik zie niks) omschrijft perfect het resultaat dat onze deursystemen bereiken, naadloze onzichtbare deuren. Om deze deuren zonder omlijsting te bekomen wordt er gebruik gemaakt van een aluminium frame dat in de muur gemonteerd wordt. Speciale deur -en muurafwerkingen zijn ook mogelijk. Denk aan een fineer, tegel, gelakte deuren en meer. Brandwerende systemen zijn ook verkrijgbaar, tot 3000mm hoog, allemaal onder attest! Gedaan met de logge branddeuren. Akoestische systemen vallen ook binnen ons gamma.
Meer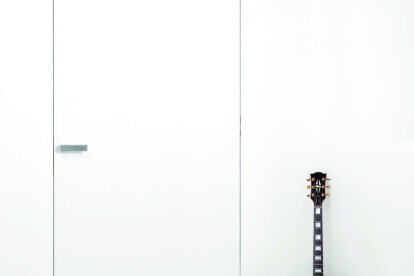 Product • By Xinnix Door Systems • Xinnix Akoestisch Deursysteem
Xinnix Door Systems heeft een akoestisch systeem ontworpen dat zowel functioneel alsook esthetisch enorm strak is.Akoestische deursystemen zijn ook mogelijk in combinatie met brandwerende systemen!
Meer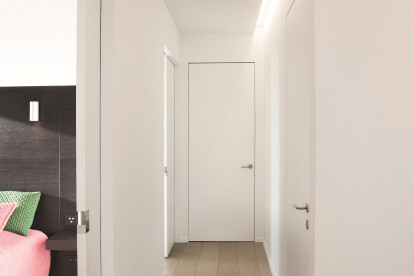 Product • By Xinnix Door Systems • X40 X45 Universeel Deursysteem
Dit systeem zorgt ervoor dat de plaatser tijdens de plaatsing zelf kan beslissen of het een vlakwandige duwende of trekkende deur wordt. Daarnaast kan er ook beslist worden of het een linkse of een rechtse deur wordt. Dit zorgt voor een totaal van 8 potentiële installatiemogelijkheden, ons meest flexibele systeem. Het X45 systeem is ontwikkeld voor de Britse markt, doordat daar de standaard 44mm is.Het X40 systeem is ontwikkeld voor deuren van 40mm dik.
Meer