Heat control
An overview of projects, products and exclusive articles about heat control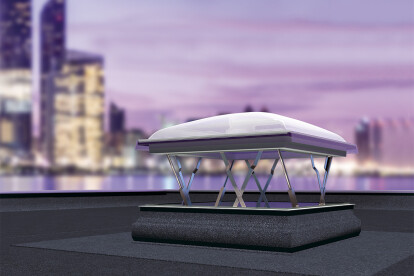 Product • By FAKRO • Smoke ventilation flat roof windows DS_
Smoke ventilation flat roof windows DS_Brief:DSF, DSC smoke ventilation flat roof windows are used for extraction of smoke and heat emitted in a building during a fire to allow people for quick evacuation.Key information:Use: Flat roof windows for roof pitches between 0°-15° Application: Flat roof windowsCharacteristic: This is a perfect solution for stairwells where under normal operating conditions this window serves the purpose of room ventilation and lighting.DSF smoke ventilation flat roof window without domean innovative flat glazing unit DU6 Ug=0.5 W/m2KDSCsmoke ventilation flat roof window with a domeequipped with P2 glazing unit (Ug=1.2 W/m2K)More information:Smoke ventilation windows combine the standard function of a roof window...
Meer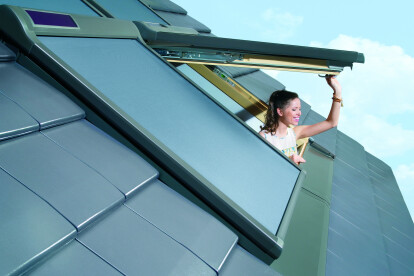 Product • By FAKRO • Electric Awning Blind AMZ Solar
Electric Awning Blind AMZ SolarBrief:Electric awning blind is an appropriate combination of effective protection from heat and comfort of use. Key information:Use:With any FAKRO roof window.Application:Roof windows, protecting from overheating, ingress of natural light, visual contact with the environmentCharacteristics:The awning blind ensures up to 8 times more effective protection against overheating when compared with internal blinds. More about this product:AMZ SOLAR powered by solar batteries and controlled by remote control. In emergency cases, awning blind can be controlled by service button located on the awning blind. Solar awning blind is powered with 15VDC battery pack built-in blind's case.The batteries are recharged by the sol...
Meer