Modular design
An overview of projects, products and exclusive articles about modular design
project • By Hollandse Nieuwe • Kantoren
iO is a full-service digital agency that combines in-depth knowledge and expertise in strategy, technology, marketing and content creation. In 2021, Hollandse Nieuwe and Cerius won the competition to create a flexible concept that could be rolled out to a number of new iO locations throughout the Netherlands and Belgium. Ewout Huibers Design principles The iO Campus concept is inspired by how iO sees the world. Operating in an ever-changing market has led the company to continuously seek out innovation, follow their curiosity and explore infinite opportunities. An iO work environment therefore should also embody these ideas. Hollandse Nieuwe were tasked with developing a workplace that facilitates and encourages change, offers flexib...
Meer
project • By YAEL PERRY | INTERIOR DESIGNER • Appartementen
This 115 sqm apartment is located in the suburbs of Tel Aviv. The apartment's previous plan featured a segregated layout including the public & private spaces divided by a long wall. The kitchen was small and the public space, living & dining area were located in a long, narrow space. Karin Ravenna The apartment was designed for a couple with a girl and a dog who wanted a contemporary cozy space that would include a public open plan, two bedrooms with en-suite bathrooms, a home office, work areas and lots of storage space. Karin Ravenna Interior Designer Yael Perry took the task & created various alternative plans for the interior. For Perry, the most important challenge was to change the long narrow structure and c...
Meer
Nieuws • Nieuws • 27 dec. 2022
Located in phase II of Qingguo lane, Changzhou city in Jiangsu Province, Meet11 is a contemporary restaurant designed by Linkchance architects. Seeking inspiration from the timeless aesthetic of traditional Arab culture, the restaurant boasts flowing yet refined forms and patterns, directing a sense of visual movement in the interiors. Jin Weiqi Young, independent modern women in Changzhou are the core demographic for the restaurant. The interior's abstract cues of nuanced intensity and soft curves are consistent with the fundamentals of Arabesque beauty, giving visitors a feel of its order, balance, and beauty. Jin Weiqi The main area of Meet 11 is based on a Middle Eastern aesthetic highlighting the Arabesque arc...
Meer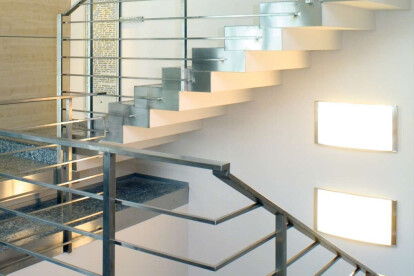 Product • By Luceplan • Strip - Wall Ceiling Lamp
Strip is a family of very thin wall, ceiling and suspension lamps whose modular design permits use in sequences and groupings determined by "balanced" geometry. A few basic constructive parts like the die-cast aluminium uprights, the separator sections in extruded aluminium, the housings containing the electrical components, and the diffuser screens in opaline polycarbonate, make it possible to create modular lighting objects of different sizes and luminous intensity.
Meer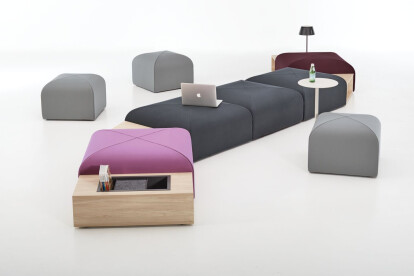 Bonds takes a fresh approach to modular seating. Inspired by the concept of a Jacob's Ladder, a toy made up of loosely bonded segments, Bonds employs a unique mechanism that connects individual units in countless configurations. The free-form design strikes a balance between playful innovation and simple functionality. The Jacob's Ladder concept is enabled with a strap kit attachment that remains invisible until put in use. The straps are attached at the bottom corner which allows a unit to pivot at either end. The unit can be turned clockwise or counterclockwise a full 180º yet remains attached, allowing for adaptation while providing a degree of control over spur-of-the-moment repositioning by users.
Meer
project • By Elevate EMEA • Kantoren
Het dak van het gebouw werd waterdicht gemaakt met het RubberGard EPDM-membraan van Elevate - een éénlaags synthetisch rubberen waterdichtingsmembraan (Ethylene-Propylene-Diene-Terpolymer). Het membraan biedt een sterke, flexibele en duurzame oplossing met een levensverwachting van meer dan 50 jaar. S.V.E.T., de erkende distributeur van Elevate in het westen van Frankrijk, trainde de teams van Cougnaud Construction, zodat de membranen konden worden geïntegreerd in het modulaire proces. RubberGard EPDM kan zonder vlam aangebracht worden, mechanisch bevestigd of volledig verkleefd. Waarom RubberGard EPDM? Franse specialist in modulaire bouw, Cougnaud Construction kiest voor RubberGard EPDM van Elevate om het dak v...
Meer
Nieuws • Nieuws • 9 okt. 2020
'My Room in the Garden' is an affordable prefab home-office concept from Boano Prišmontas, a London-based office of architects and makers. The modular structure is easy to assemble and can be built in one day. Offering a future way of working from home, the design is particularly relevant given the latest urgent need for work-from-home solutions in the CV-19 pandemic. Credit: Boano Prismontas, Dylan Drake Striking a balance between affordability and cosy design, the structure is made of digitally fabricated birch plywood modules that can be customized according to each user's need. Credit: Boano Prismontas, Dylan Drake The pods offer flexibility as they can be added onto infinitely. With a starting modul...
Meer
project • By ATÖLYE • Landgoederen
Superdorm is the project to renew Bogazici University's 1999 built student dorm, with a capacity of upto 500 people in a way that will meet the needs of 18-24 year-olds.A concept where students will more willingly embrace the dorm that's only a 7 minute walk from the main campus and that will encourage collaborative learning and experiences between students while becoming a resource of outside the classroom learning with its open, half-open and social spaces has been created.Meetings were held with BÜTEK to renew Superdorm, which was designed according to needs that were valid 20 years ago, in a way that would create a living environment that would meet today's needs instead. Following the meeting, the project evolved into an undertaking th...
Meer
project • By ATÖLYE • Middelbare scholen
Educational institutions are increasingly seeking ways to rethink and transform learning environments in a way that increases the possibility of exploration. With this aim in mind, The Private Sezin School in Istanbul approached ATÖLYE's spatial design team in 2014, to design a space for for K-12 students to enable problem-based learning by engaging 21st century skills.Instead of considering educational structures in the conventional sense, ATÖLYE sought to reimagine the 1,700 m2 rooftop space of the Private Sezin School as a pedagogical laboratory, in which different facilities were integrated transparently. In designing this space, the ATÖLYE team considered the need for deliberate interaction zones between parents and teachers,...
Meer