The Blockstudio architects have designed this flat with a lot of sunlight for a young family who collect art.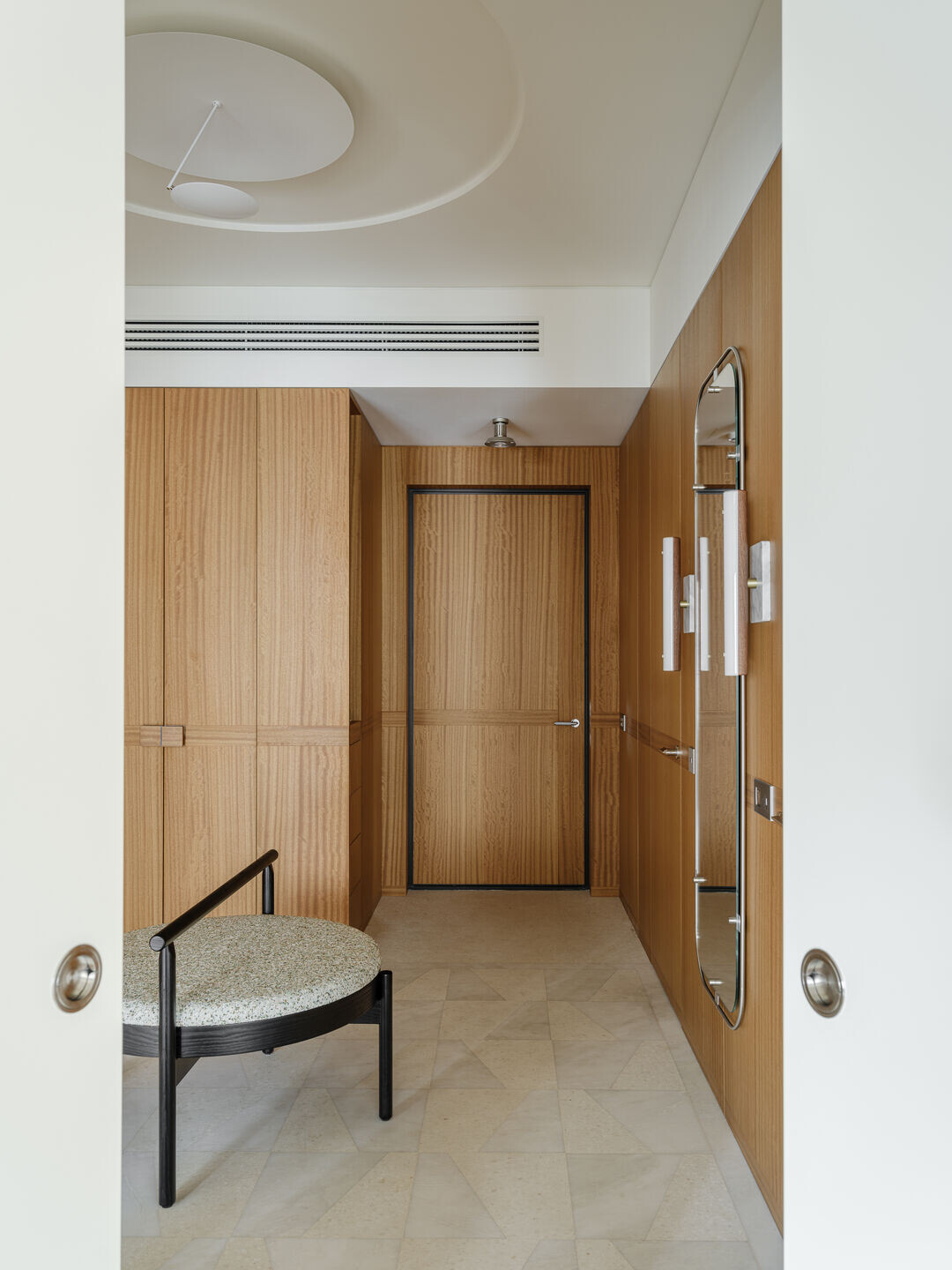 "Layout design is the most exciting part of our work and adds the most value", says Natalia, a Blockstudio partner. "Apart from a column, incongruously situated right in the middle of the space, the flat was a bare shell. To mask the column, we hid it in the portal leading from an entrance hall to a kitchen-dining-living area and made room for a study, children's room and a bedroom. Applying our favourite method of a circular plan, we have designed a flat where one can go around the rooms virtually in a circle."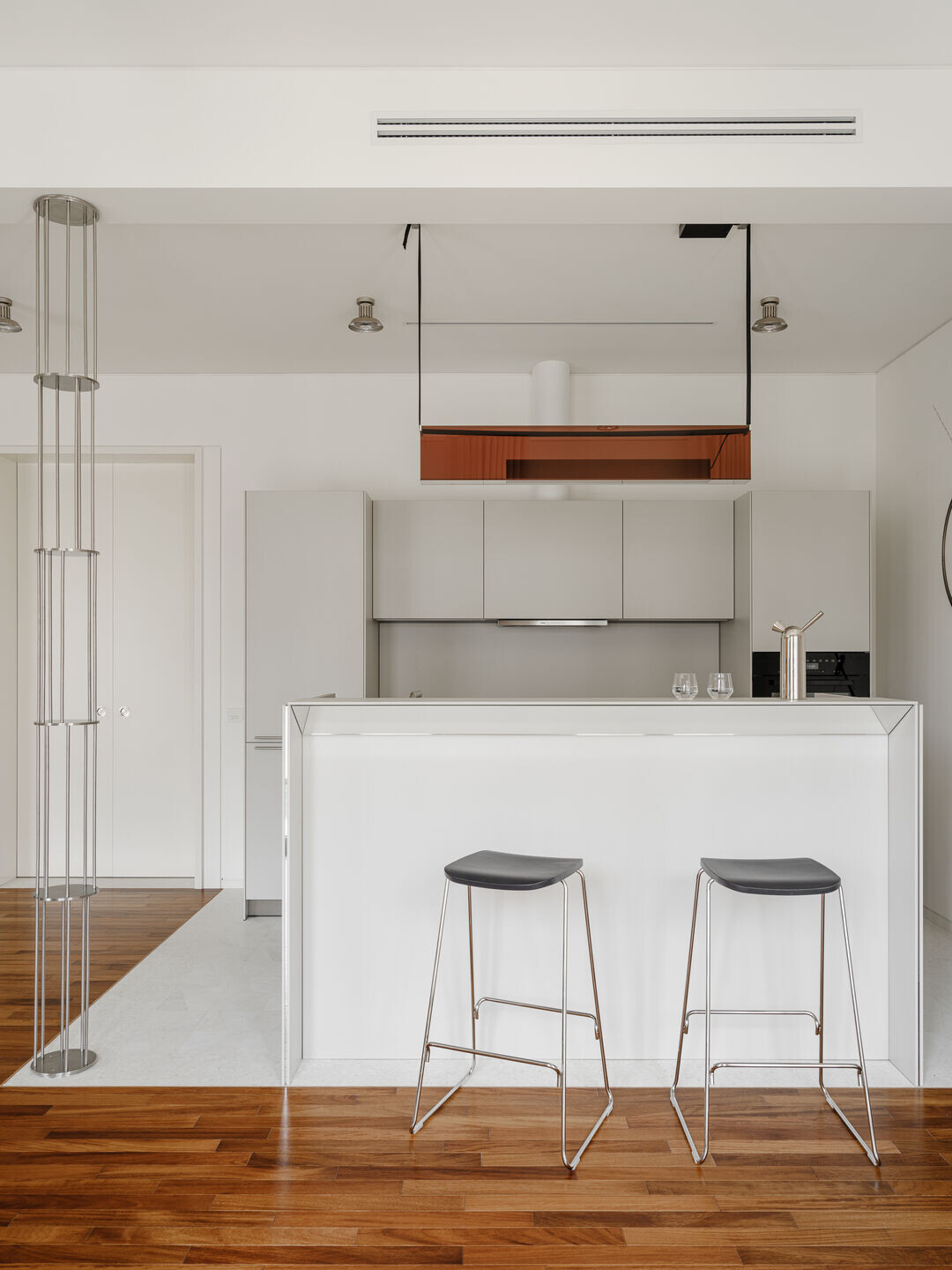 The layout envisaged a large common area encompassing a kitchen, dining and living area. We decided to lower the ceiling in the kitchen and living area, while leaving the original height besides the panoramic windows to fit in a dining table and a sofa and armchair set. The resulting kitchen area does not look quite like a kitchen and features two modules (high and low) and a bar counter that fully covers all worktops.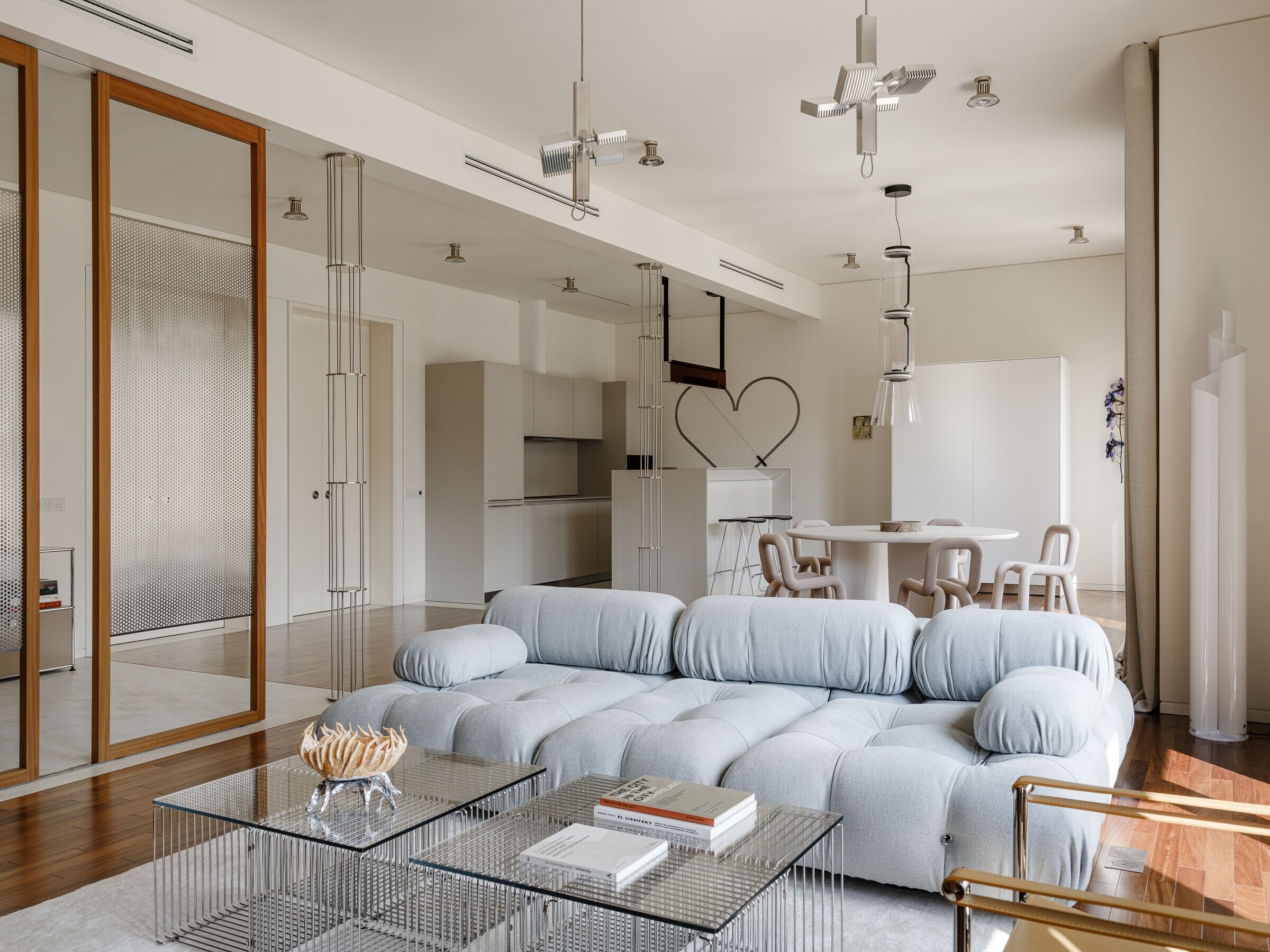 "Wood features prominently in the project design," says Ivan, the other Blockstudio partner. "Our aim was to give an impression of a flat with few walls and we came up with a solution to mask the walls as partitions. We opted for iroko wood for wall panelling and the parquet. As to other materials, we used marble cut into tiles preserving an interesting pattern.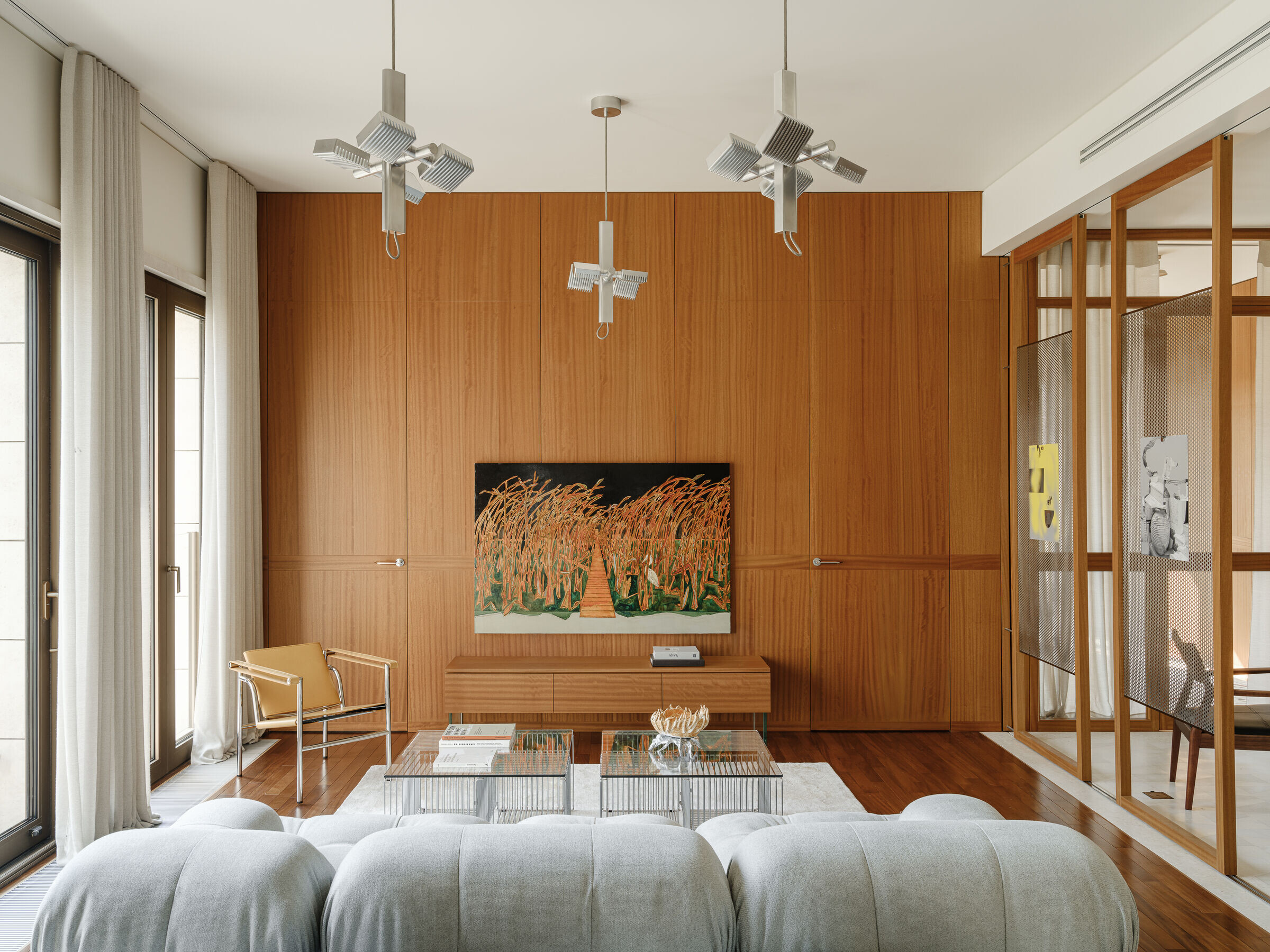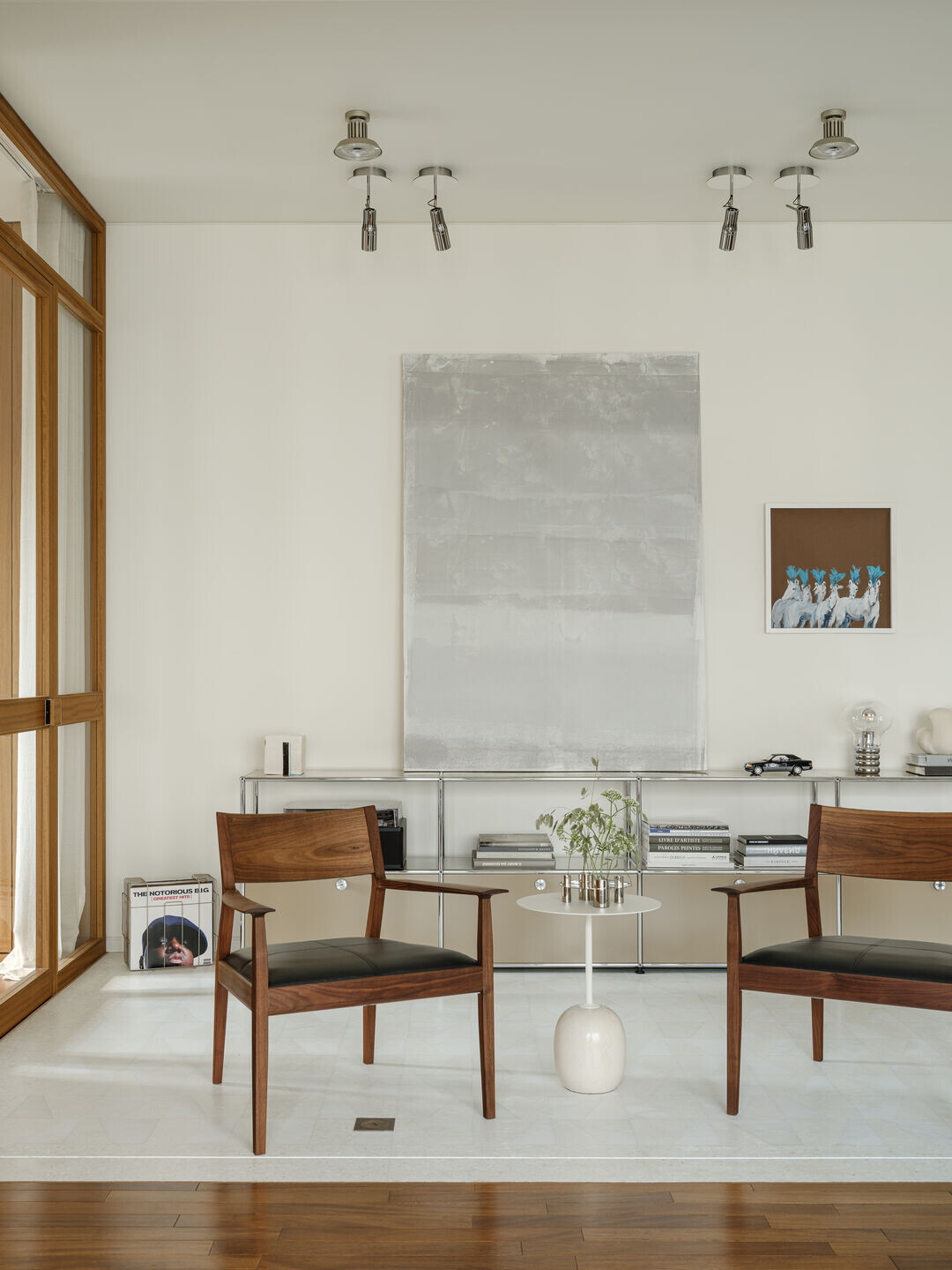 The flat is a place where its owners meet artists and curators and thus it requires areas to house paintings and sculptures. The architects have designed a solution on the lines of a museum storage – a sliding structure built into a wall serves as a partition for the living area and is retractable to display works of art.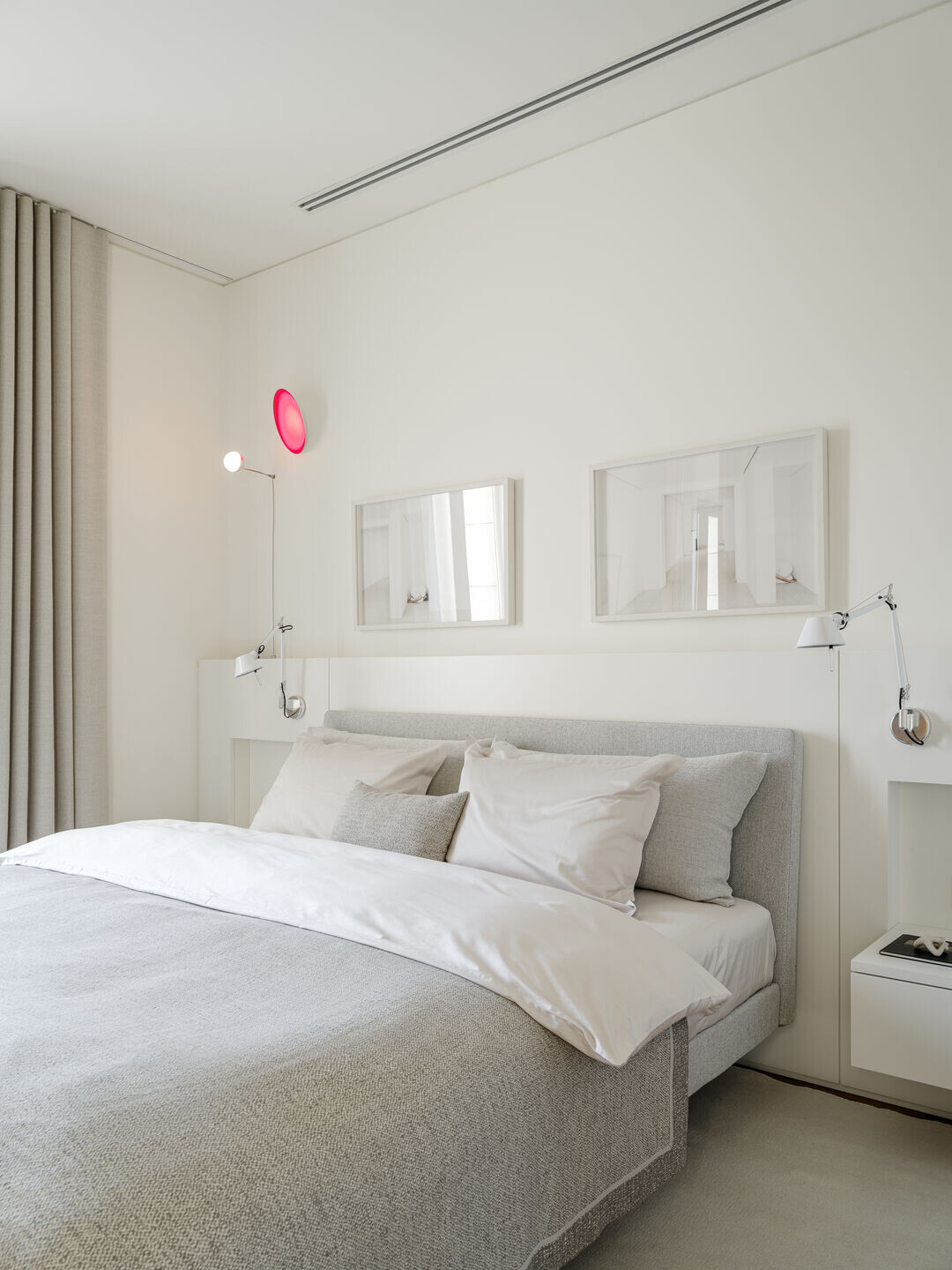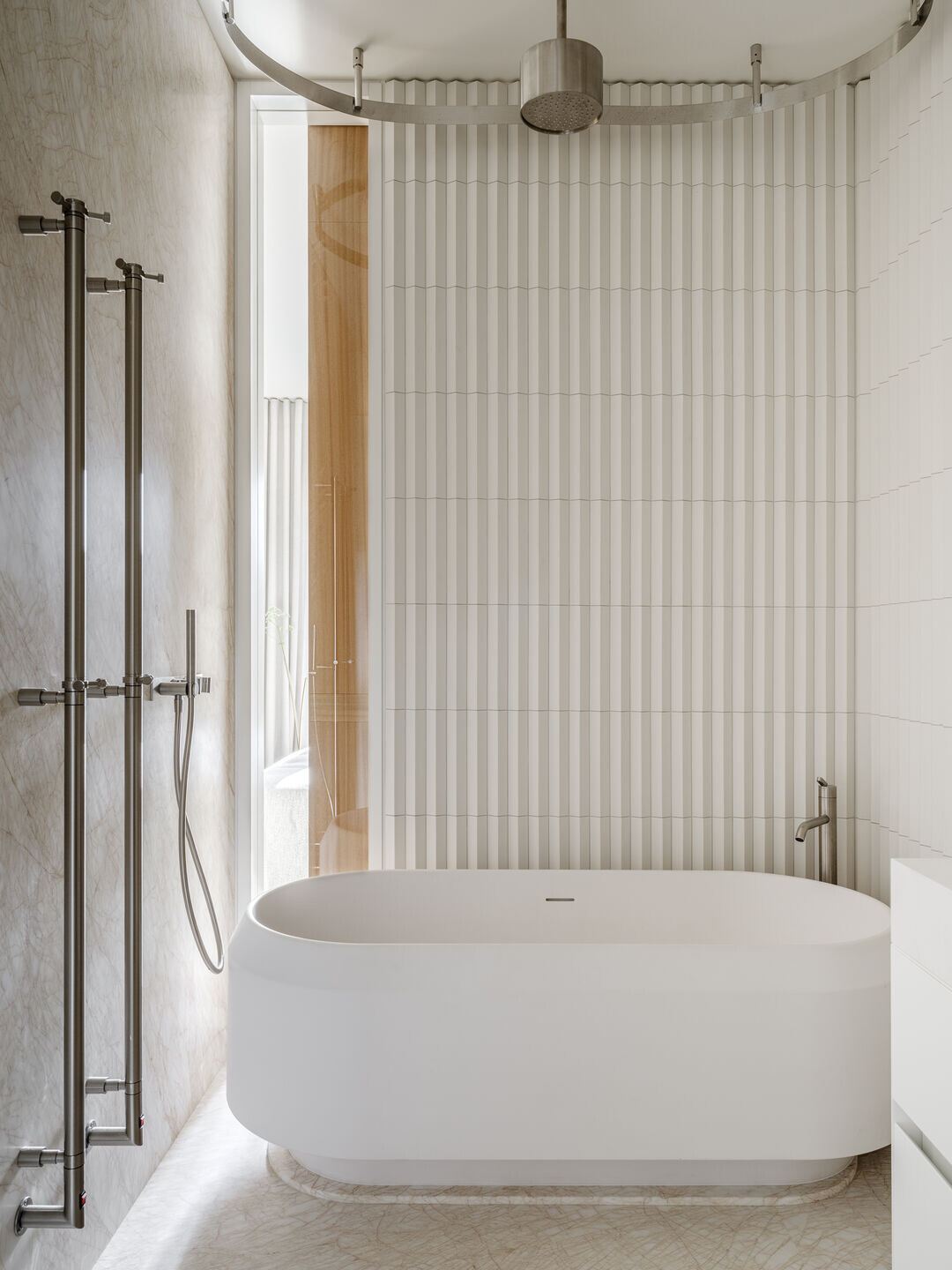 Here we leave the happy apartment owners to their favourite pursuit.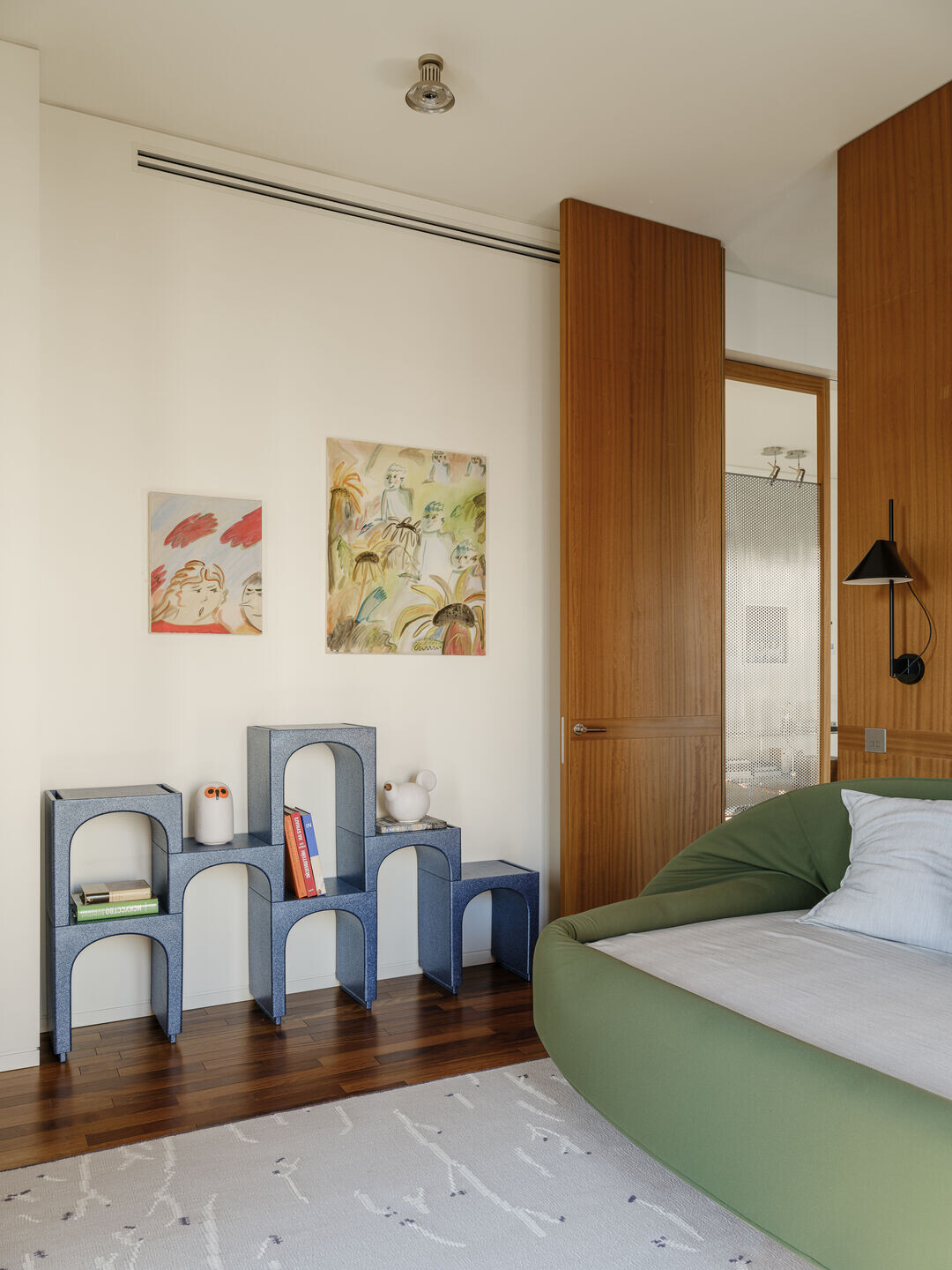 Team:
Interior Designers: Blockstudio
Photographer: Mikhail Loskutov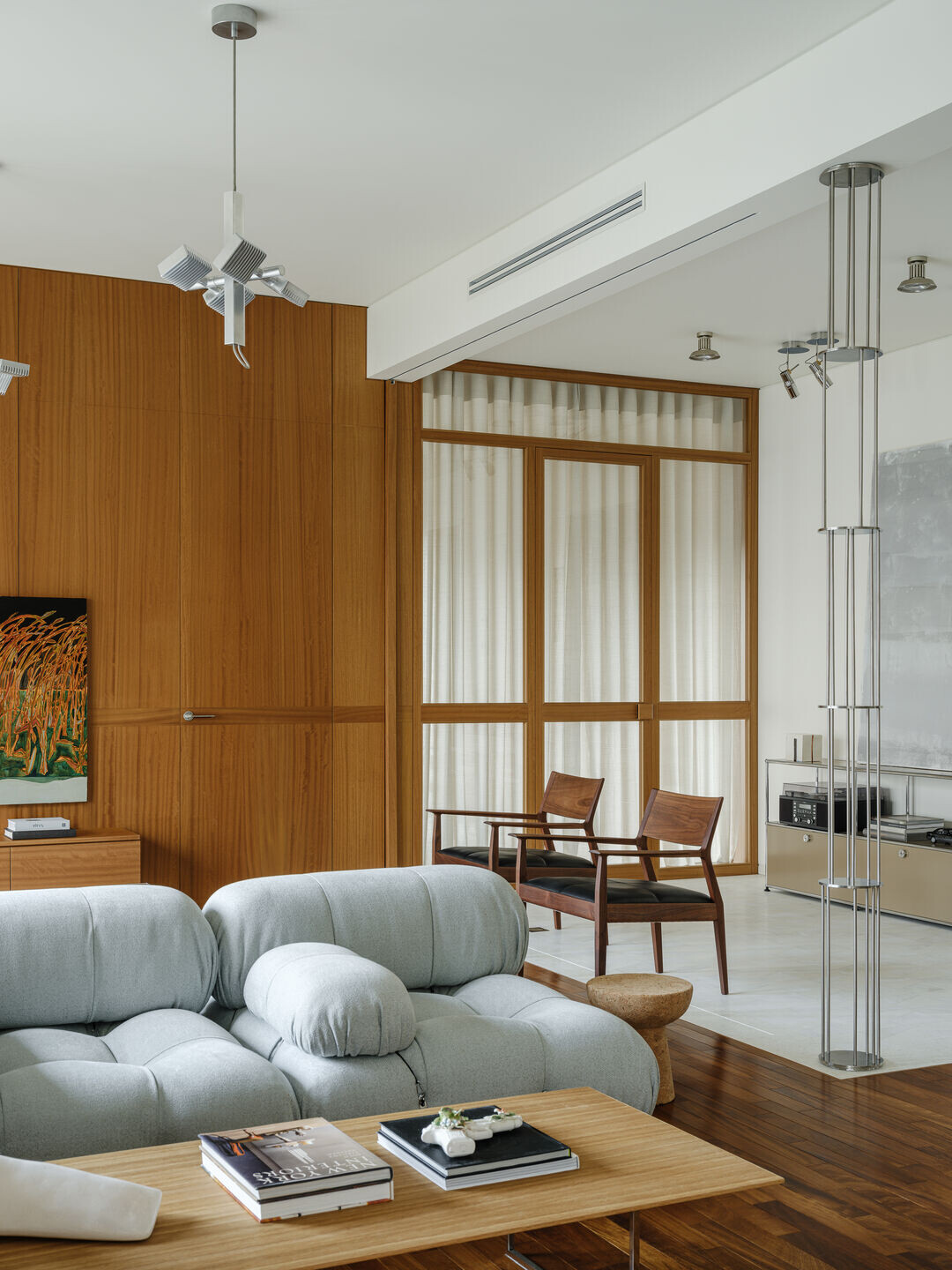 Materials used:
Hallway
Celling lamp Catellani&Smith, Lederam C180
Wall lamps Roll&Hill, Counterweight Rectangle Sconce
Banquette Karl Andersson, Hygge
Sitting room
Celling lamps Lambert & Fils, Dorval 01
Sofa B&B Italia, Camaleonda
Table Time&Style, Tavolino
Armchair Cassina
Carpet С&С Tapis
Floor lamp Artemide, Chimera
Tables Montana, Panton Wire Modules
Small table Vitra, Cork model D
Coffee table And Tradition
Art objects from @Osnovagallery
Art object Pistol by Seletti
Gallery
Armchair Time&Style
Drawer USM, Haller System
Table light Ingo Maurer, Bulb
Celling lamps Viabizzuno
Coffee table And Tradition
Cabinet
Chair Cassina, Luisa
Table Cassina
Table lamp Artemide, Equilibrist
Carpet Nanimarquina, Silhouette Indoor
Kitchen – dining room
Kitchen by Bulthaup
Wall lamp "Heart" by David Groppi, Rail
Celling lamps Viabizzuno
Bar stools Normann Copenhagen, Just Barstool
Pendant lamp Lambert&Fils
Pendant lamp Flos, Noctambule Suspension 2 Low Cylinder and Cone
Table B&B Italia, Tobi-Ishi
Chairs Moustache, Bold Chair
Bedroom
Bed Pianca
Wall lamp INGO MAURER, aka tsuki
Wall lamps for reading Artemide, Tolomeo Micro Wall
Children's room
Armchair Time&Style, Sakura Sakura rocking chair
Bed Lago, Colletto
Wall lamps Louis Poulsen, Yuh Wall
Magis, modular Giulio Iacchetti
Night lights Magis, SuloS Siiri Kirass
Boa Pouf by Sabine Marcelis
Small table Vitra, Cork model D
Carpet by Kvadrat
Doors, partitions and all carpentry by Lesopilka