"It is not about walls, but about furniture. It is not about doors but about walls that appear and disappear. It is not about blocking, but about reflecting…".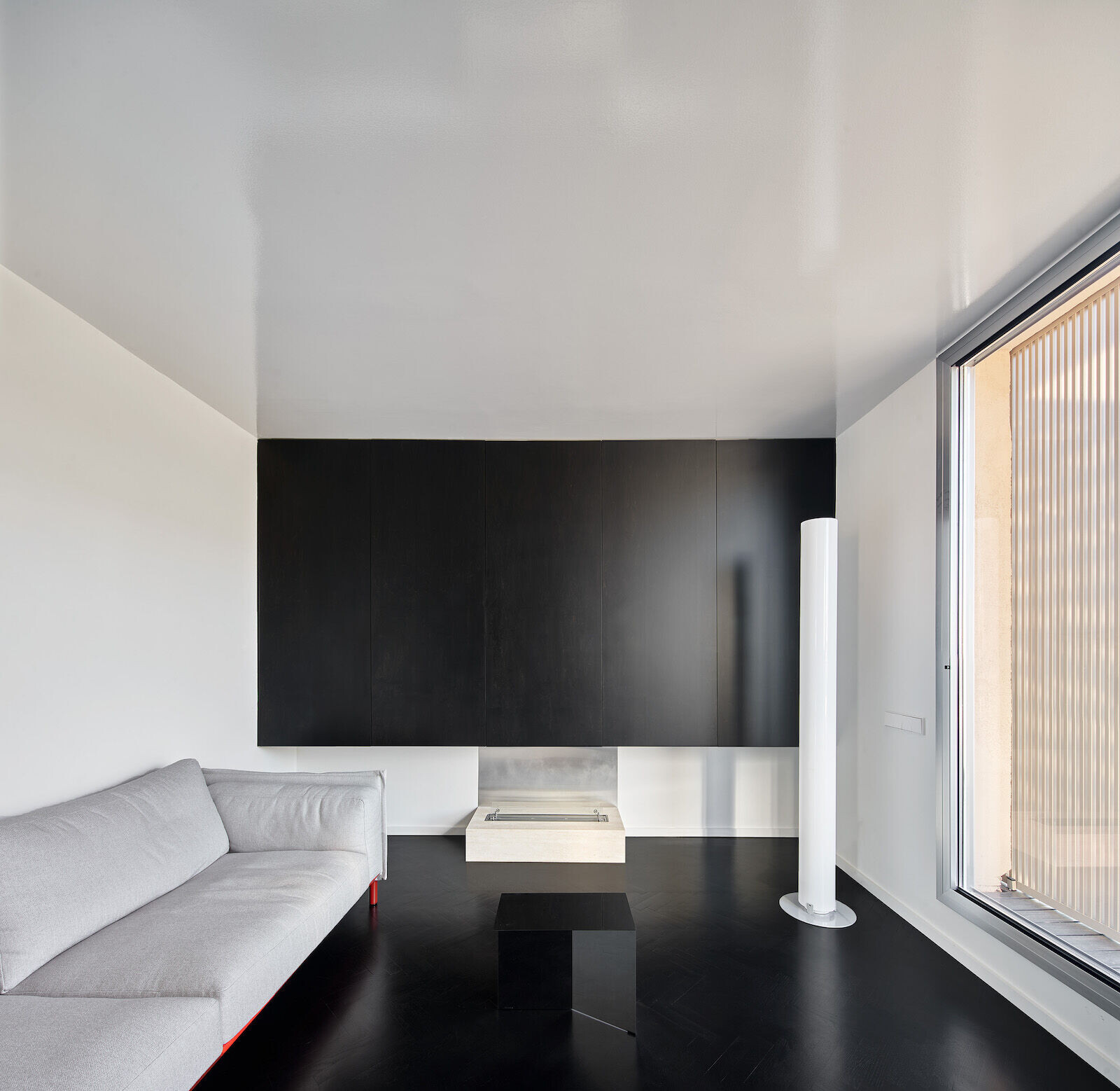 An open and fluid space is built that is articulated through some furniture elements that distribute the functional program, granting privacy where it is necessary. In turn, the enclosure structure is made independent, leaving the structure free and emphasizing it through the use of a different color: penicillin green. The fluid and dynamic space can change completely thanks to a set of sliders that are hidden in the furniture, these walls are a magical element, since they are pieces of wall that appear and disappear; they have the gift of completely changing the perception of space. Through the use of a mirror plate on these magical walls, an infinite space is created that generates a suggestive play of reflections full of nuances.
The light is treated in a very Japanese way, not only because it filters through a delicate latticework that gives access to the terrace. If not because in the interior space a series of materials with a specular effect are used that help increase the sensation of light through an infinite game of reflections through the walls that appear and disappear, and the treatment on the ceiling itself.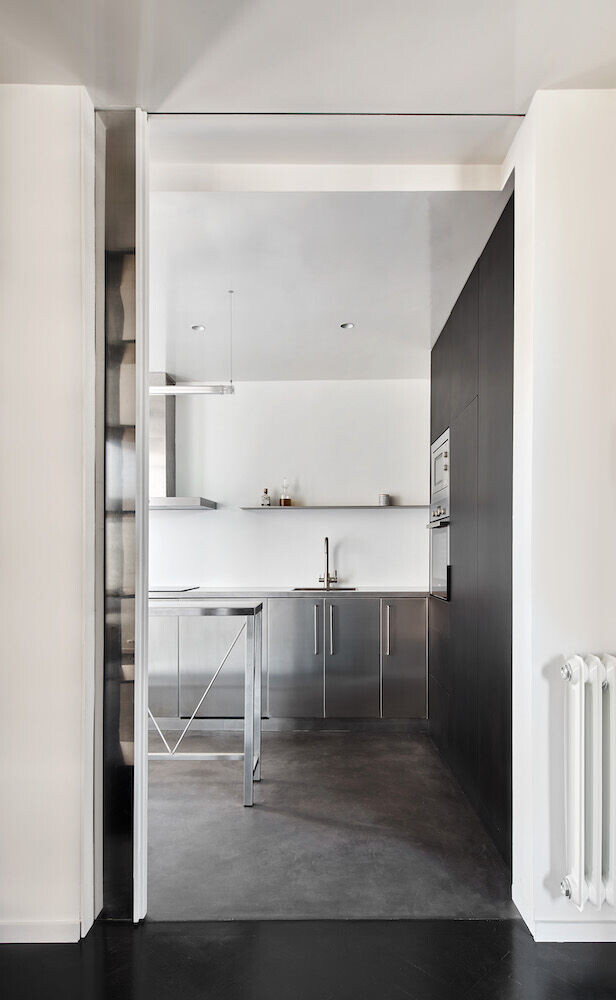 The use of materials is also reduced to a minimum. Black stained wood, either oak or birch for furniture and flooring. Stainless steel, polished or sandblasted, depending on its intention and use. White, matt and reflective, which helps to harmonize the whole.
Team:
Jaime Prous Architects.
Antón Monedero, Carlota Solé
Photographer: Alejo Bague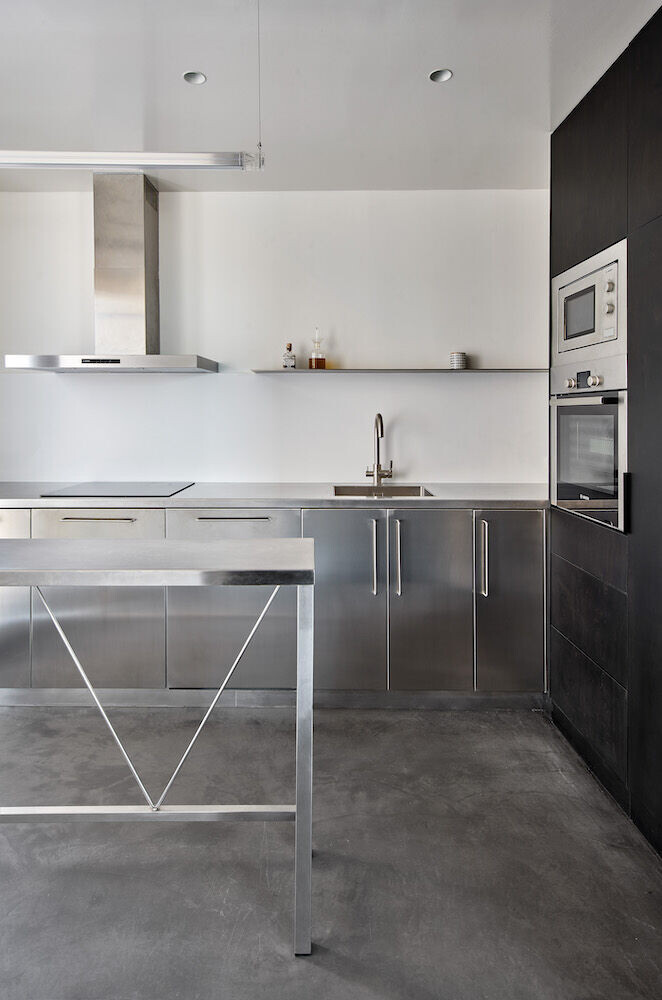 Materials used:

OUTDOOR:
• Carpentry in anodised aluminium CORTIZO.
• Lacquered aluminium.
• Rope blinds from PERSIANAS BARCELONA.
INTERIOR:
• Restored original flooring based on herringbone oak wood sainted black.
• New pavement baed on microcement
• Walls covered in laminated birch wood stained black.
• Shelving unit made of laminated birch wood stained black
• Sliding doors on one sired in lacquered MDF and on the other side in mirror effect stainless steel plate.
• Kitchen based on sandblasted and vibrated stainless steel depending on the area.
• Ceiling painted with enamel paint.
LIVING ROOM :
• Sofa Senso designed by Mario Ruiz for Joquer.
• Loung Chair Lousiana De Padova.
• Lighting Flos.
DINNING ROOM:
• Lamp Teiko Santa Cole.
• Table Long Island Rimadesio.
• Chairs CH24 Carl Hansen & Søn.
HALL:
• Lamp Mercer designed by Joan Gaspar for Marset.
KITCHEN:
• Furniture island created by JAIME PROUS in inox steel