Built in 1874 as a drill shed for the Department of National Defence, the Town of Aurora Armoury is a historic town beacon and home of the new Niagara College Canadian Food & Wine Institute (CFWI). For decades the Armoury brought residents together in Aurora's Town Park, for community events including Easter egg hunting and ice skating. In 2014, a first-of-a-kind partnership was formed between the Town of Aurora and Niagara College, to restore the Armoury and revive its position as a prominent community gathering hub.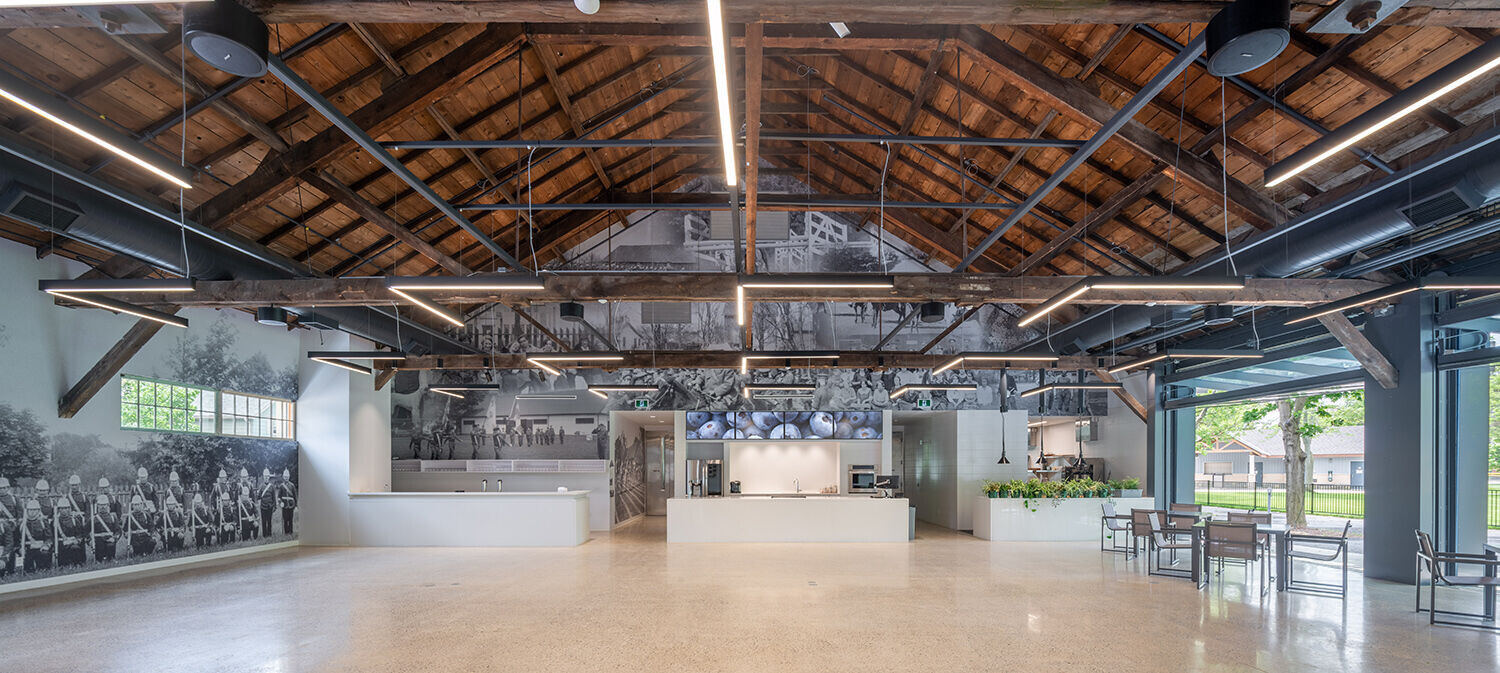 The CFWI is a space for post-secondary students to access academic instruction from industry professionals, and a venue for visitors and community members to enjoy general interest courses and events. The building program includes a culinary theatre with a demonstration kitchen, flexible classroom, office space, community and event space for up to 350 guests, an event kitchen, and a bar and café.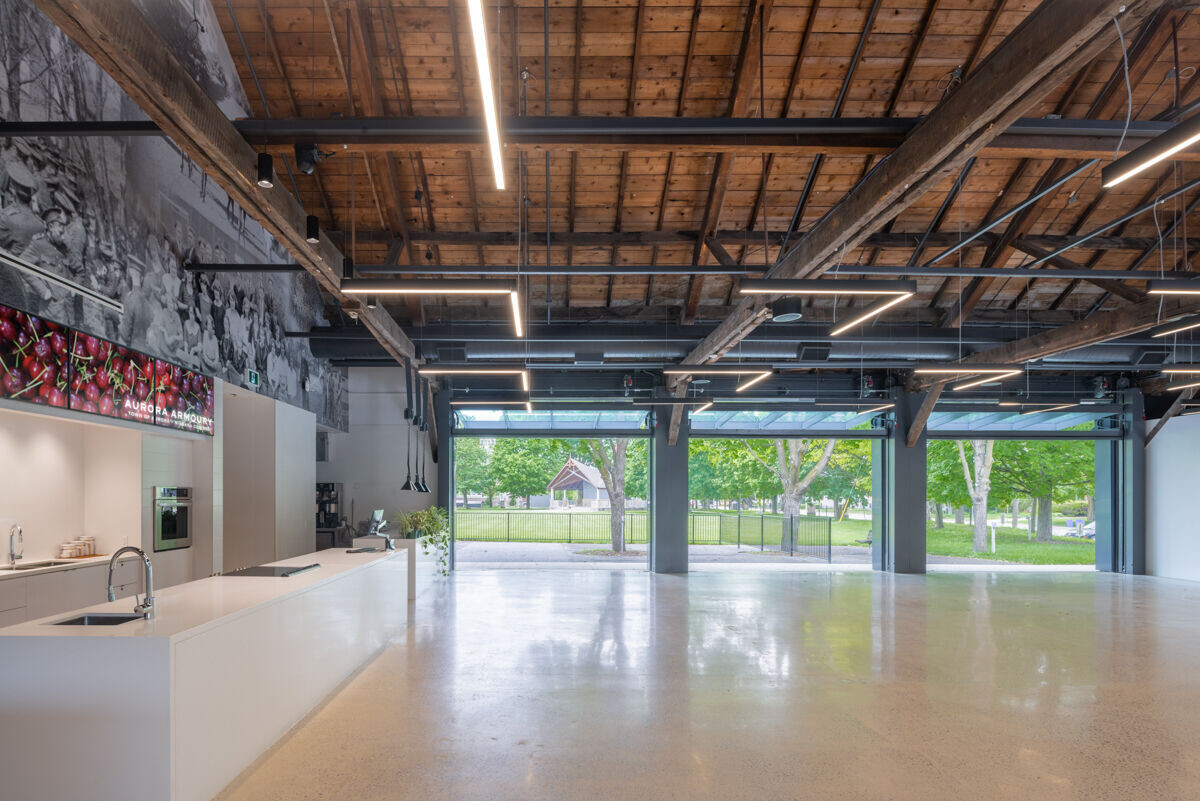 To celebrate the original agrarian-style building, the design team exposed the large spanning post and beam structure, and refurbished the original terrazzo floor. Floor to ceiling windows maximize natural light, and oversized fans and custom designed contemporary 'L' and arrow-shaped LED light fixtures provide a contemporary contrast to the historic building.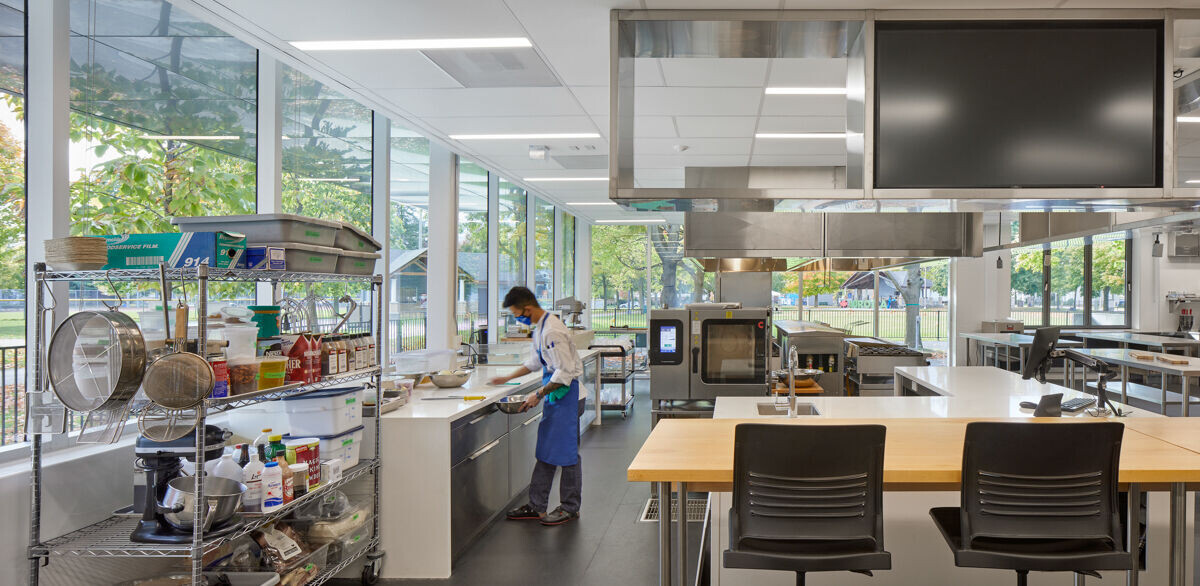 Three large playful black and white photo collages found in the Town Archives act as supergraphics, and celebrate the building's rich history. The archival photos are carefully retouched and arranged to tell the story of the Armoury while suiting the contemporary nature of the space.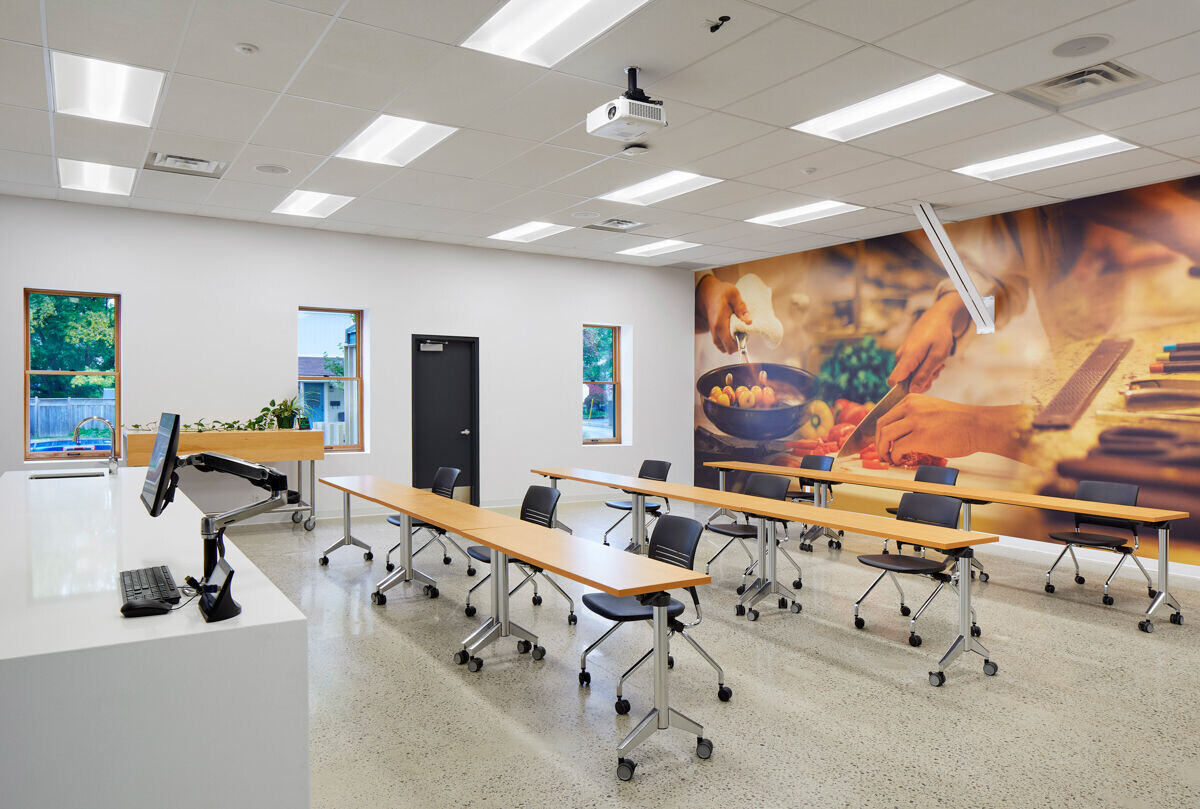 The state-of-the-art digital kitchen was designed to be a culinary theatre that emphasizes interaction amongst chefs and viewers. The kitchen includes interactive video monitors that project hands-on cooking demonstration, and a 10-foot-wide chefs table designed as a nod to an upscale urban restaurants that put the activity of the chef front and centre.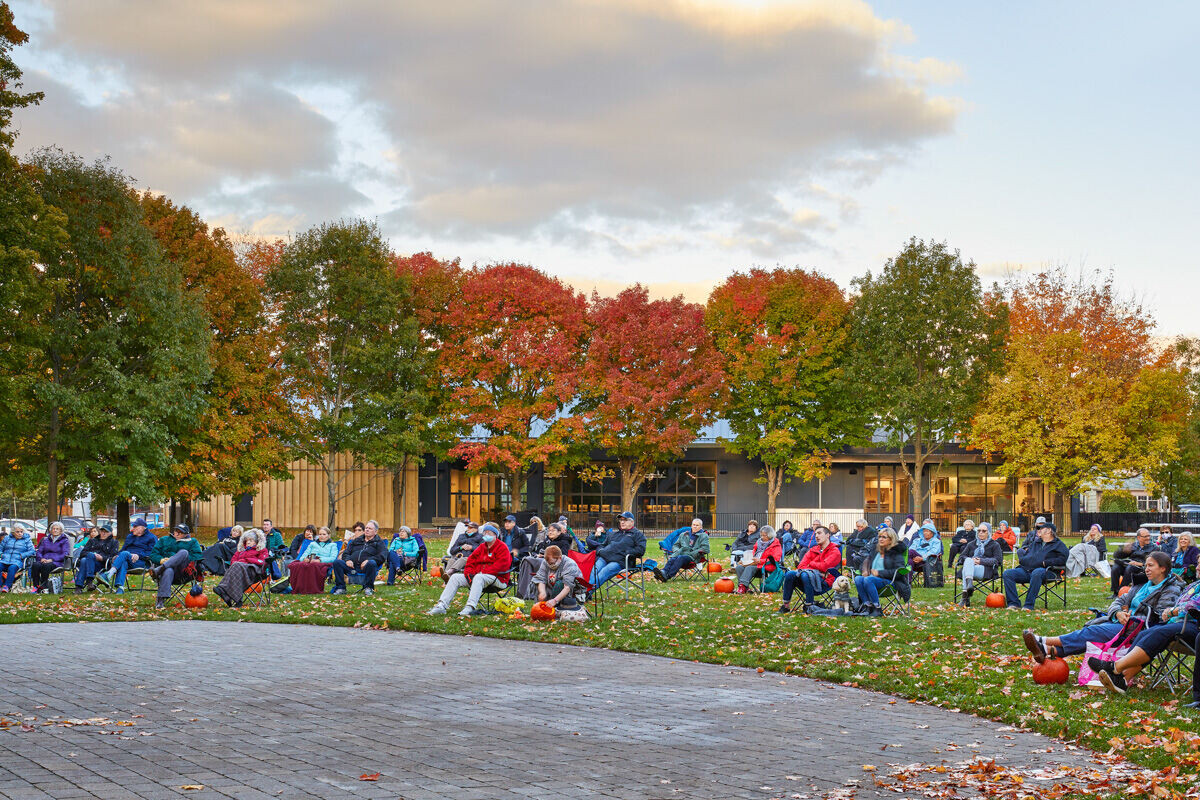 The addition to the south of the building was thoughtfully designed to maximize the building's location on the edge of Town Park. The Armoury invites the public in, through three automatic bifold doors - the type used in airport hangars - creating a 48-foot wide full height opening. This indoor-outdoor connection establishes an unobstructed view onto the park, displays the culinary activity inside the building, and shouts that 'the Armoury is open for business.'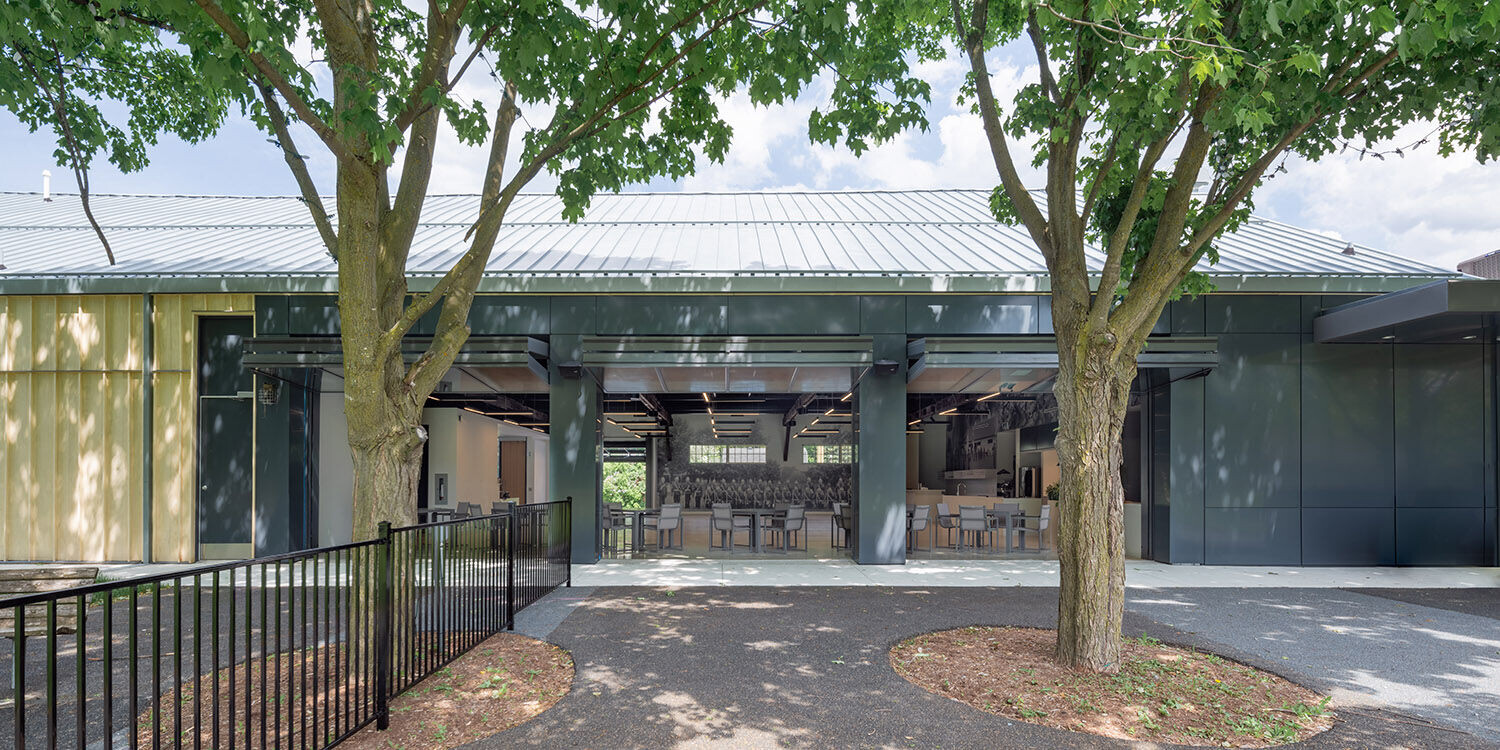 The building was upgraded with new lighting, heating, zinc roofing, and an energy efficient envelope of Accoya wood cladding – a pickled pine and water-resistant timber. The end-result is a durable and long-lasting solution that will allow the community to enjoy the Armoury for years to come.