A neighborhood transformation that has come about through an intensive collaboration with Buro013 ARCHITECTEN, housing corporation Casade, BAM Wonen and a sounding board group from the neighbourhood. The urban redevelopment of the Salvia and Magnolia Park in Waalwijk contains a total of 250 homes, which will be carried out in two phases. Salvia Park, the first phase contains 3 buildings with 118 apartments.
The urban plan provides much more space and experience of greenery for both residents and the surrounding district. The area has opened up compared to the original closed character. The car has been removed from the inner area and clustered in a parking case. This creates a park with a lot of living and accommodation quality. Which has also given the neighborhood a positive impulse!
The apartments are all Zero-on-the-Meter homes (NOM); The design is based on the use of natural energy, balconies are designed over the full width of the (south) facades. This creates a canopy effect that regulates sun exposure: more sun in the winter and shade in the summer. As a result, the houses have a limited heat demand and therefore energy consumption.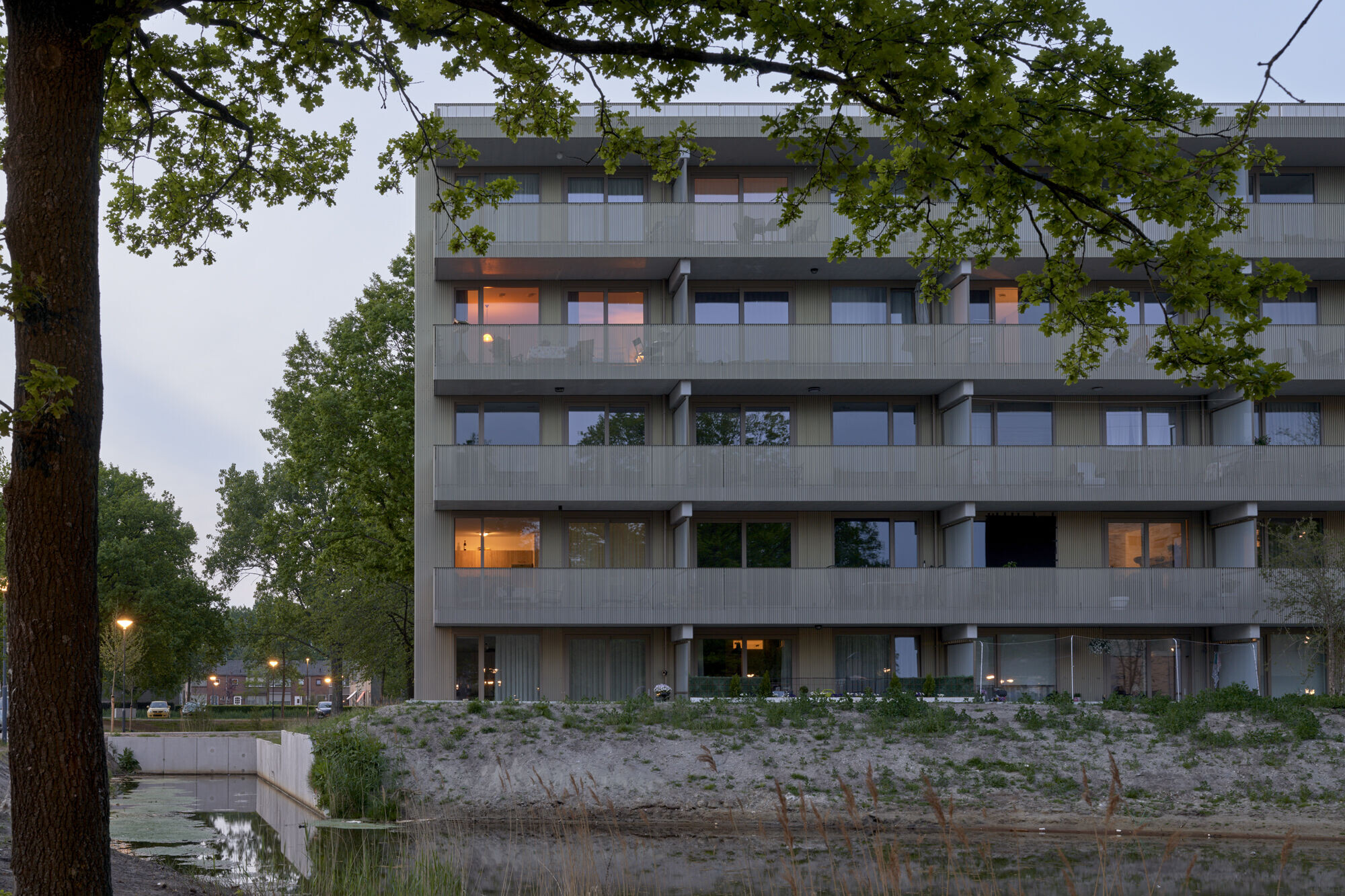 The balcony and gallery partitions are made of a special metal cladding that is perforated. This emphasizes the long lines and creates a buffer between outside and inside. On the other hand, the material is very transparent from the homes. The residential blocks have a masonry facade in a grey-green tint on the end facades, so that the blocks are in line with the green character of the environment.
The demolition and remediation work of the former buildings was carried out in a circular manner in collaboration with A. van Liempd Sloopbedrijven B.V. Account has been taken of the reuse of resulting building materials as much as possible.
In collaboration with Burobol, we have designed a sloping landscape with space for playing and meeting in a green environment. For example, the landscape contains various wadis that store rainwater and infiltrate it locally. Different species of fauna enhance the biodiversity in the area and the integrally designed nesting boxes in the facades ensure nature-inclusive buildings.