An attic floor apartment, with a fan-shaped plan, opens its windows on the rooftops of Rome in an elegant building of the 1920s in the Salario district.
The main request for the project was to open the living area facing south, the rear part of the kitchen facing north, therefore extremely dark and also with a single opening. The former kitchen with attached services located in the heart of the fan-shaped plant, were separated from the rooms by a long corridor.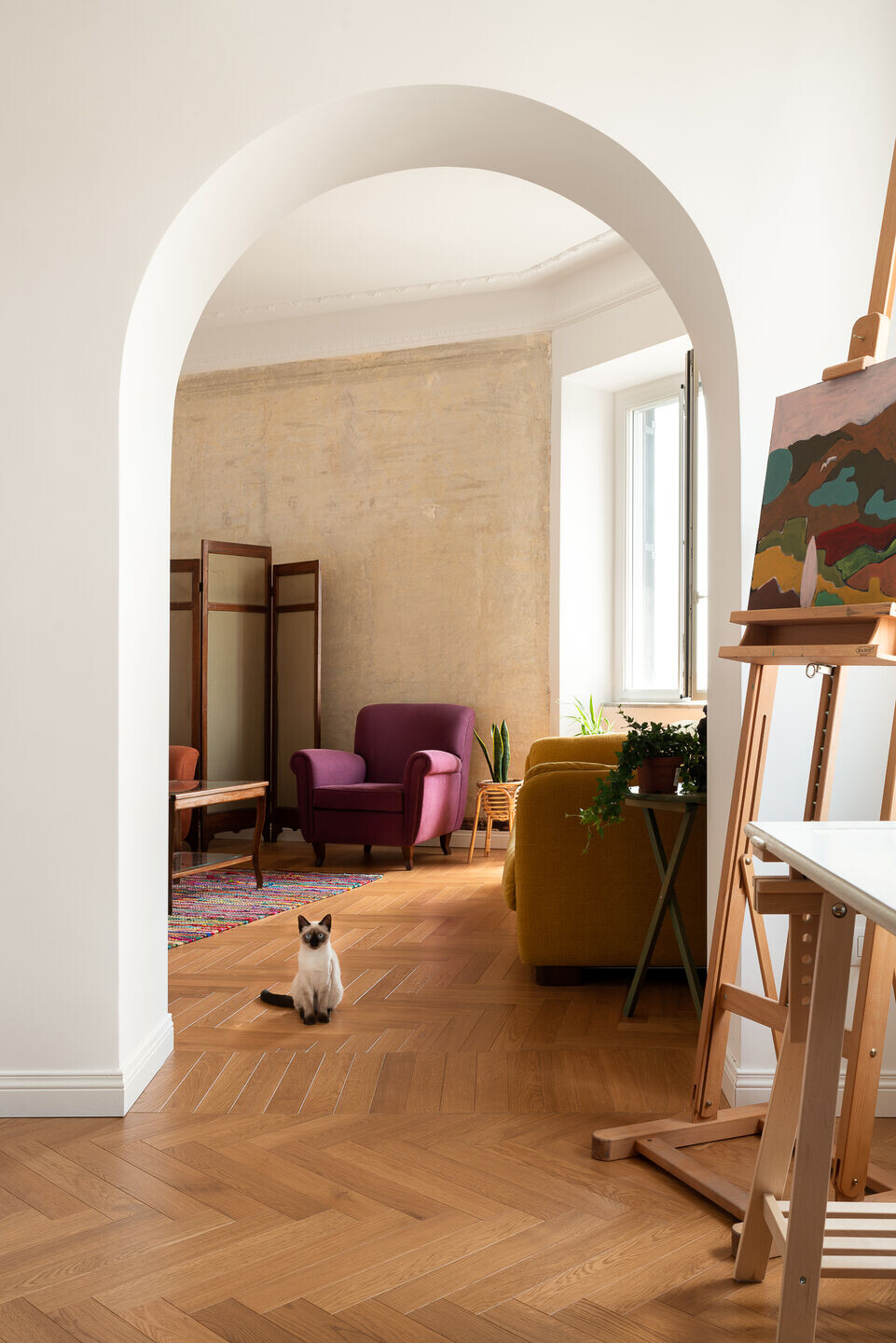 A wish was not to upset the original structure, keep that "bourgeois" air in a flowing promenade where the rooms are all communicating with each other.
In the rooms facing south everything remained as it was, from chalks, to rosettes to radiators, from arches to doors, some other remakes like the existing ones. We intervened only on some walls left to delave' that were hidden by the wallpaper that lined all the rooms only as a memory of a bygone time.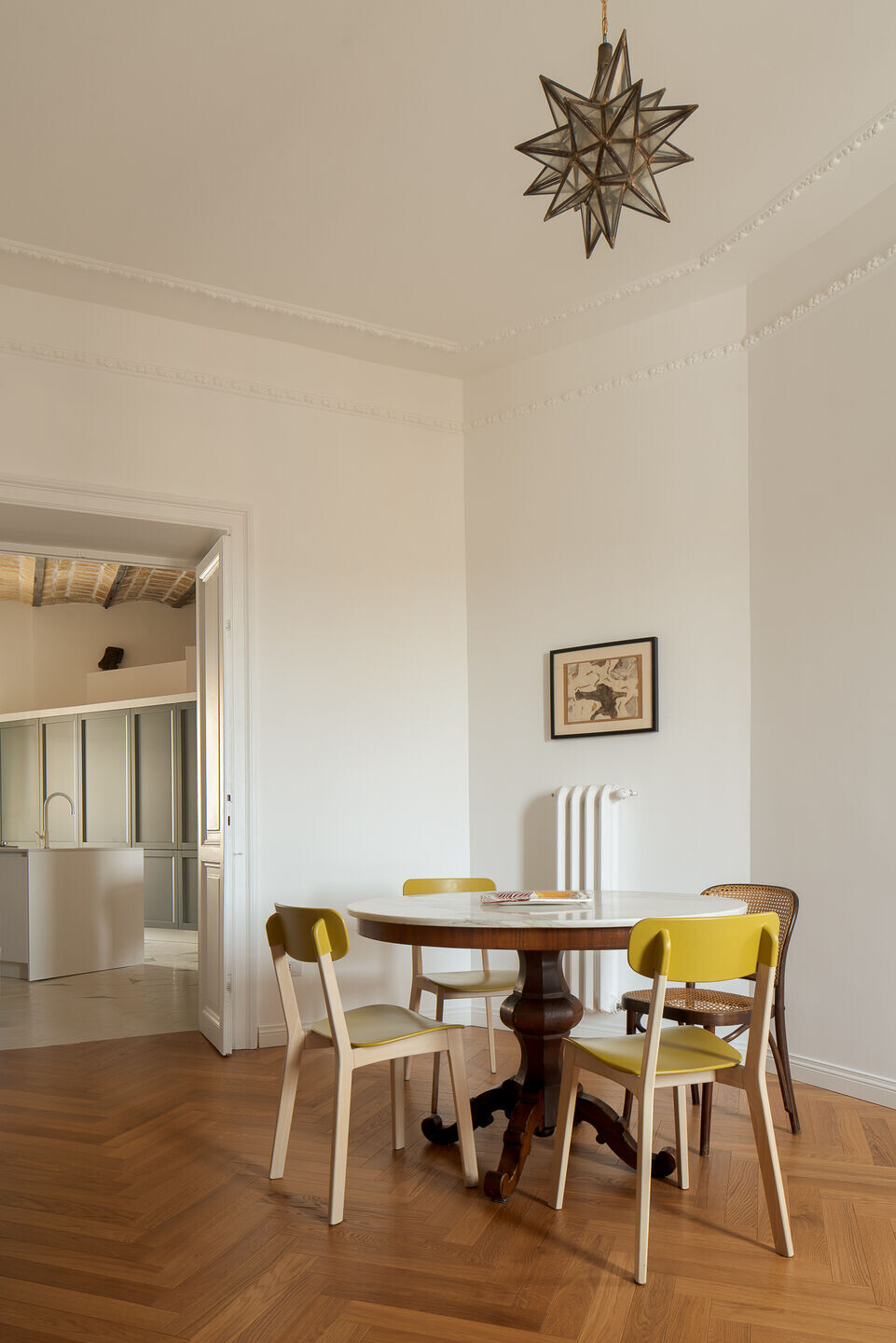 The "soft" intervention carried out in the rooms on the south side was flanked by the one that transformed the back, including the former corridor, kitchen and bathroom. In this area, by removing an intricate mesh of partitions and countertops, the original brick vaulted ceiling has emerged, left exposed, overlooking the entire area used for the new kitchen-dining room.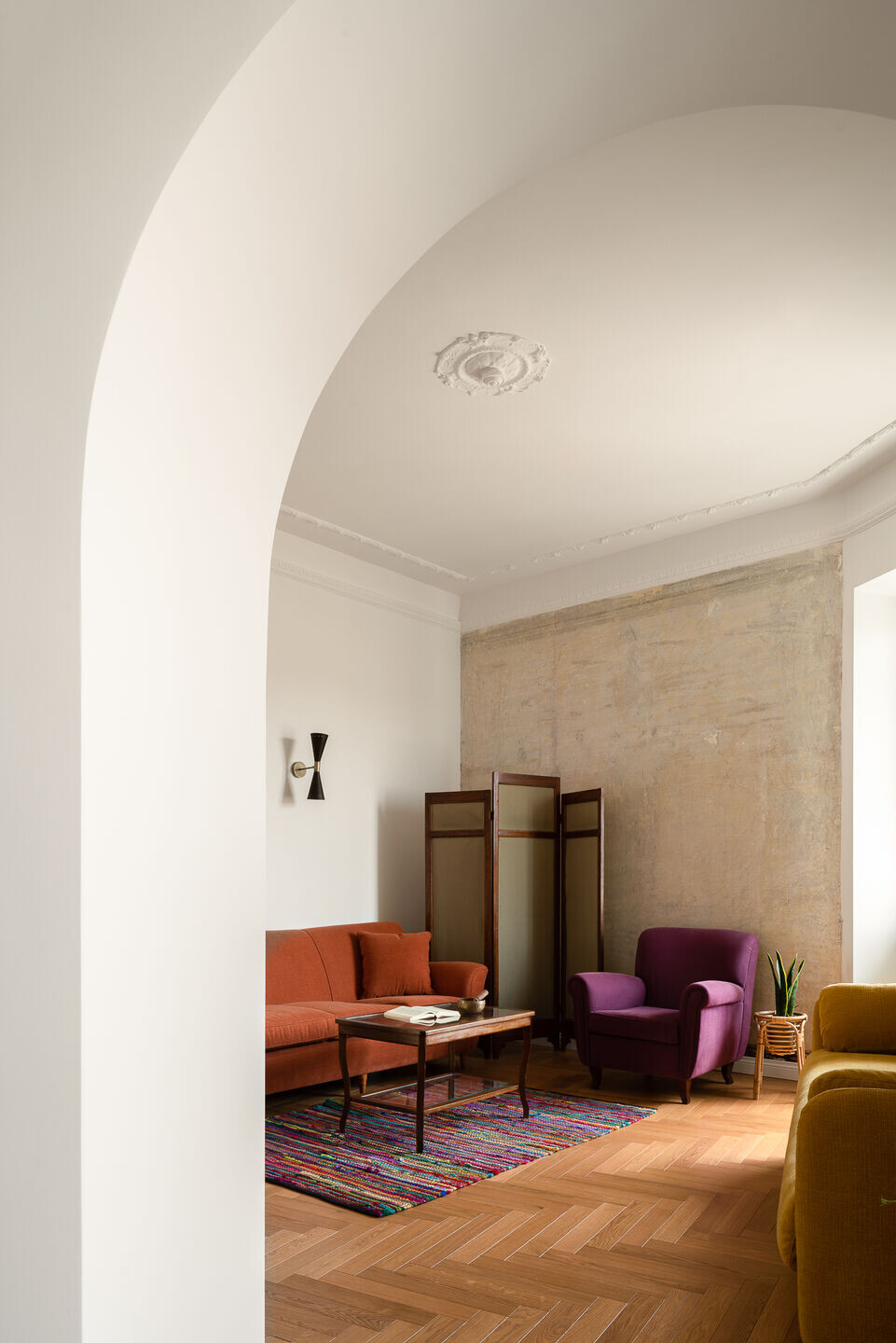 After removing the previous barriers, the dining kitchen has become an open environment that dialogues with the perspectives of the various points of view of the rooms and absorbs the light.
The central island, placed in line with the living room, as well as the storage wall that hides the appliances and a small closet is by Veneta Cucina. To illuminate the island as well as the table there is the rotating lamp Potence by Vitra. The handmade table is created with adjustable iron feet and chairs are by Ikea and Calligaris.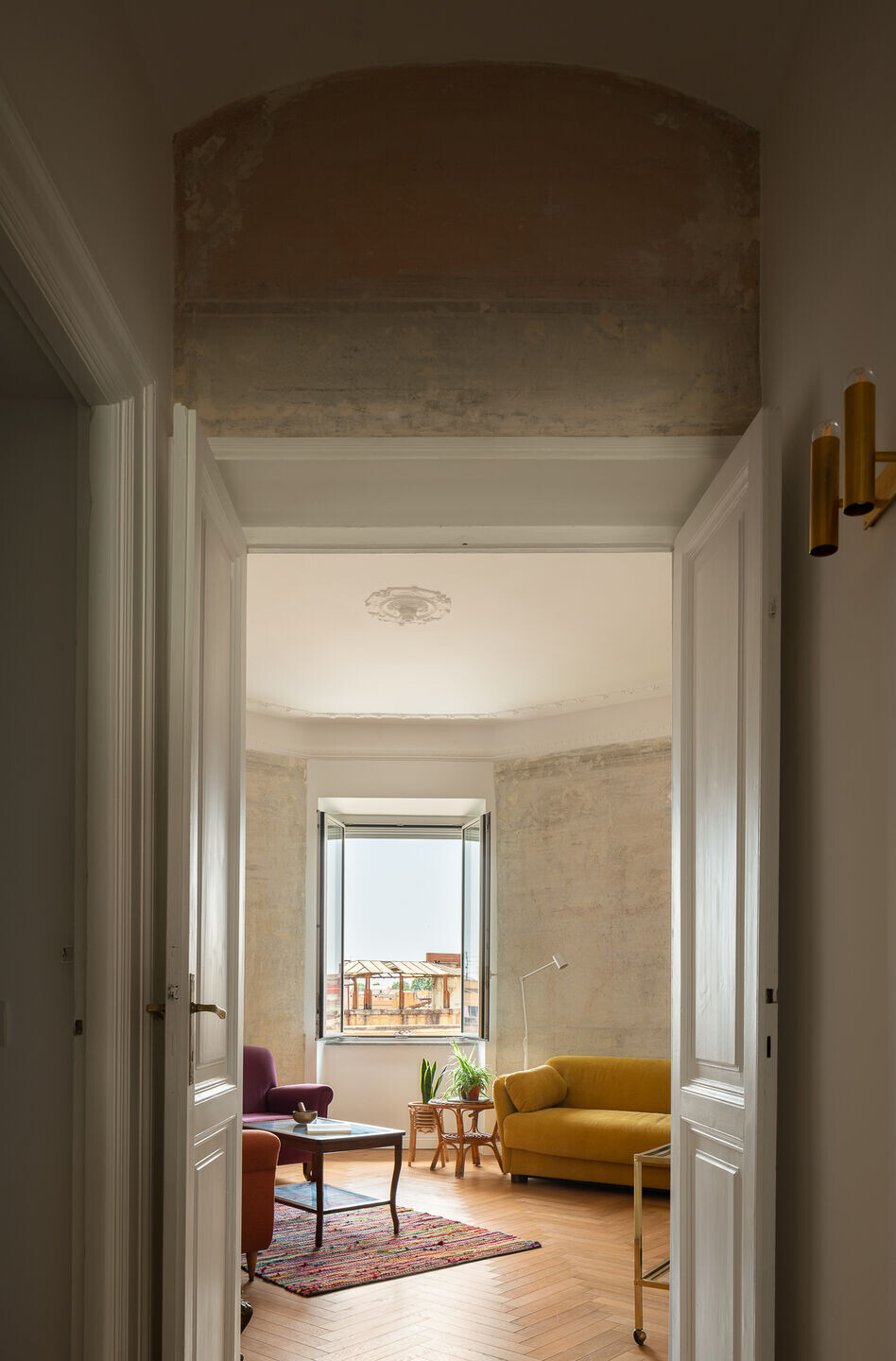 The prevalence of white is everywhere, even in Yann's handmade cement floor, which covers the entire kitchen area and is inserted in the living area with oak parquet. Touches of green color only in the white cement that are associated with the green sage wall of the kitchen.
Bright notes of color distinguish the bathroom, narrow and long, completely revisited and covered with Bardelli's tiles, Pittorica series. The toilets with timeless classic lines are the Charme line by Azzurra, with sinuous fittings that recall those of the time of the house.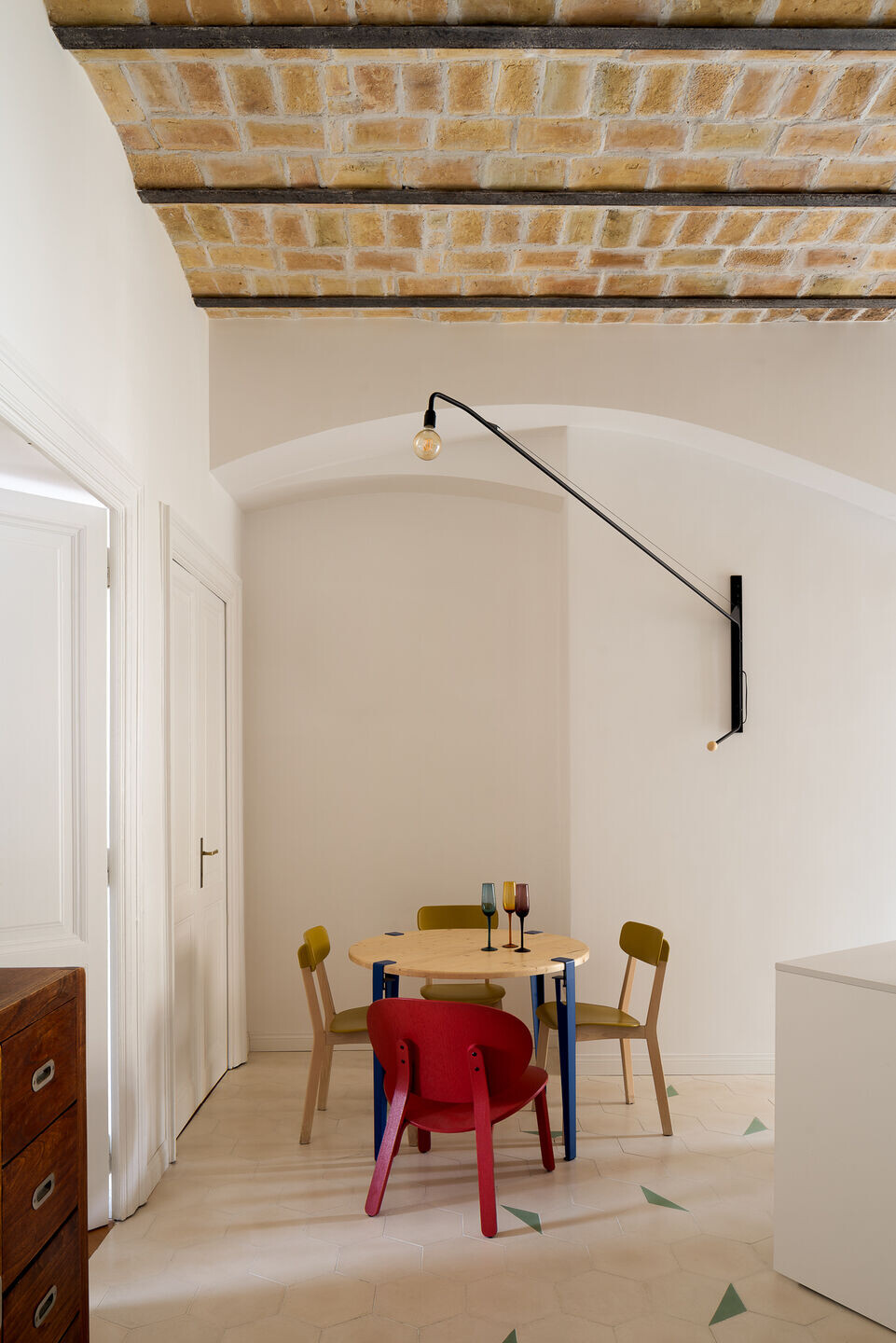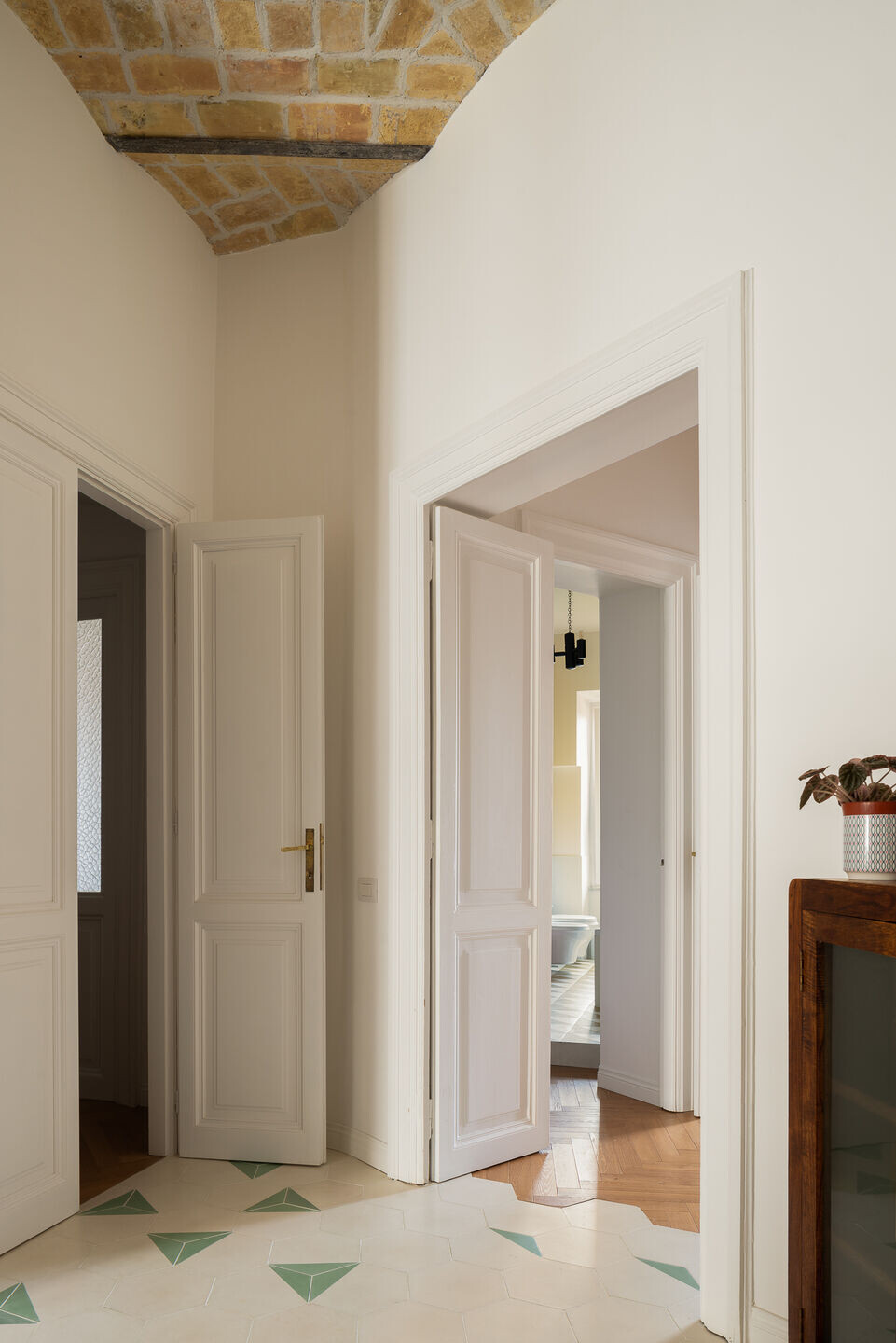 The furniture is mostly family furniture, combined with new colorful, vintage objects. In the living room with a rhomboidal shape, the sofa, the vintage armchair with its features, is next to the Campeggi sofa bed, an ochre colour that is always comfortable to accommodate.
In the bedroom wall bars is a central wall that hides the walk-in closet in the back. On the bed a super-coloured fabric by Lisa Corti.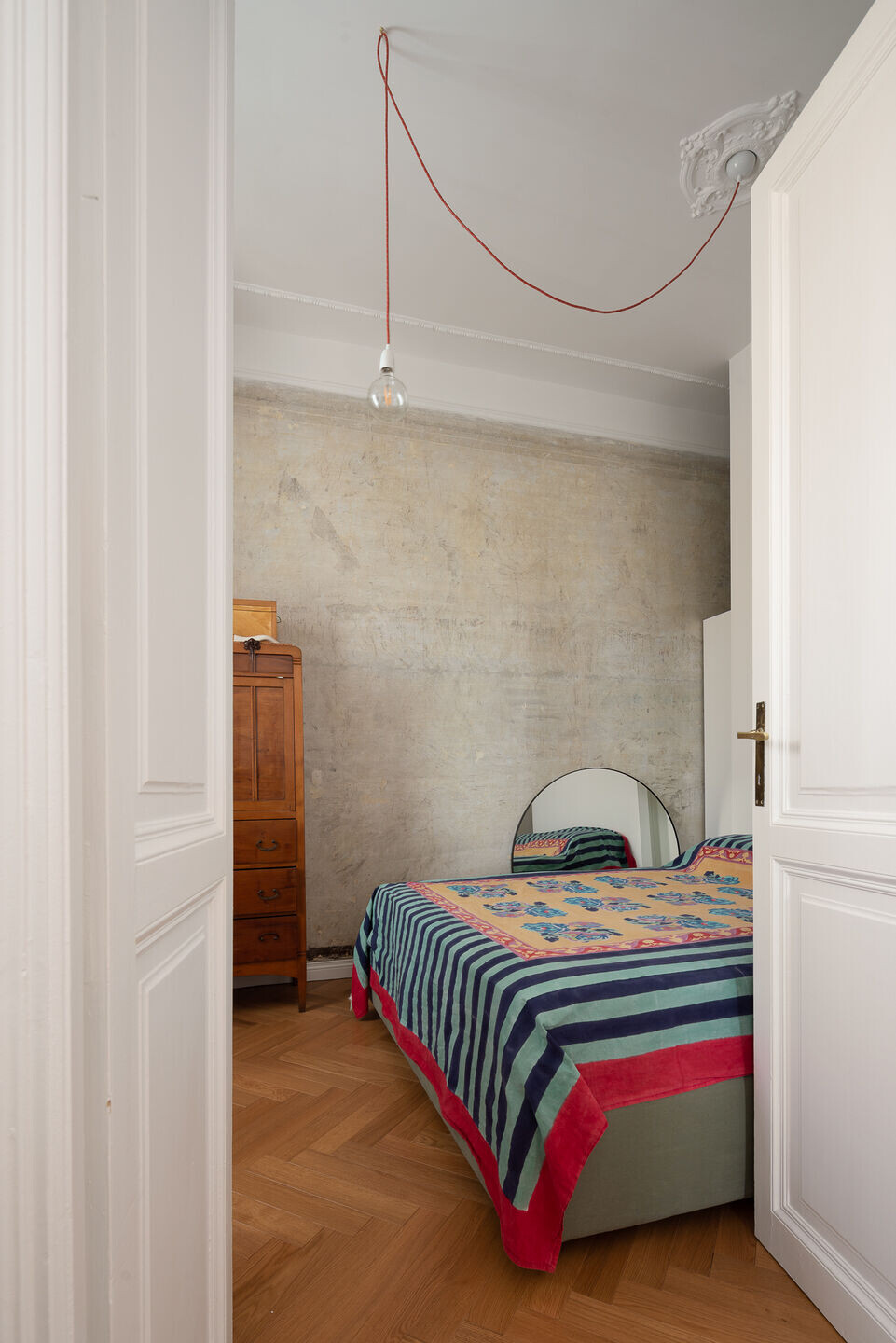 Team:
Architects: Paola Sola architetto
Photographer: Dario Borruto photography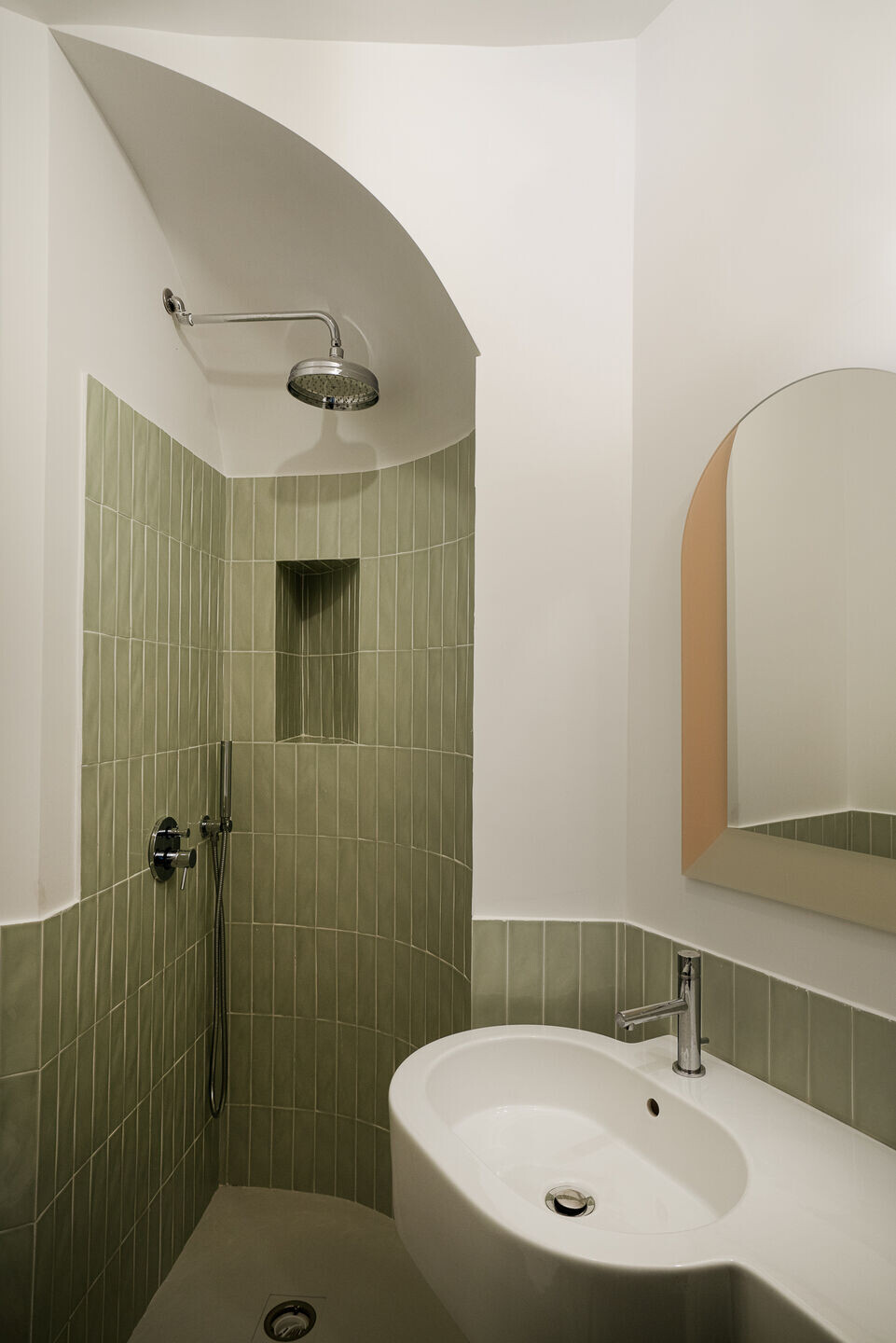 Materials used:
Flooring: Parquet, Cement tiles
Doors: Legno
Windows: Aluminium, minimal METRA
Interior lighting: Vintage lighting, Track light, Wever& Ducre, Vitra,
Interior furniture: Cucina Veneta, Campeggi, Caligaris