Cidade BI4All is an industrial reconversion project for an IT services company. The project proposes new habits of shared labour, reinventing working relations towards the flexibility of space and time, especially in the perspective of the (post-)pandemic world that we are globally experiencing. Two warehouses of an old Sugar Factory, in East Lisbon, were transformed into an urban and creative cluster, where work is combined with moments of leisure, sport and temporary housing. In the project, new floors, materials and furniture were introduced, signalling those new functions yet maintaining a close relationship with the previous industrial memory.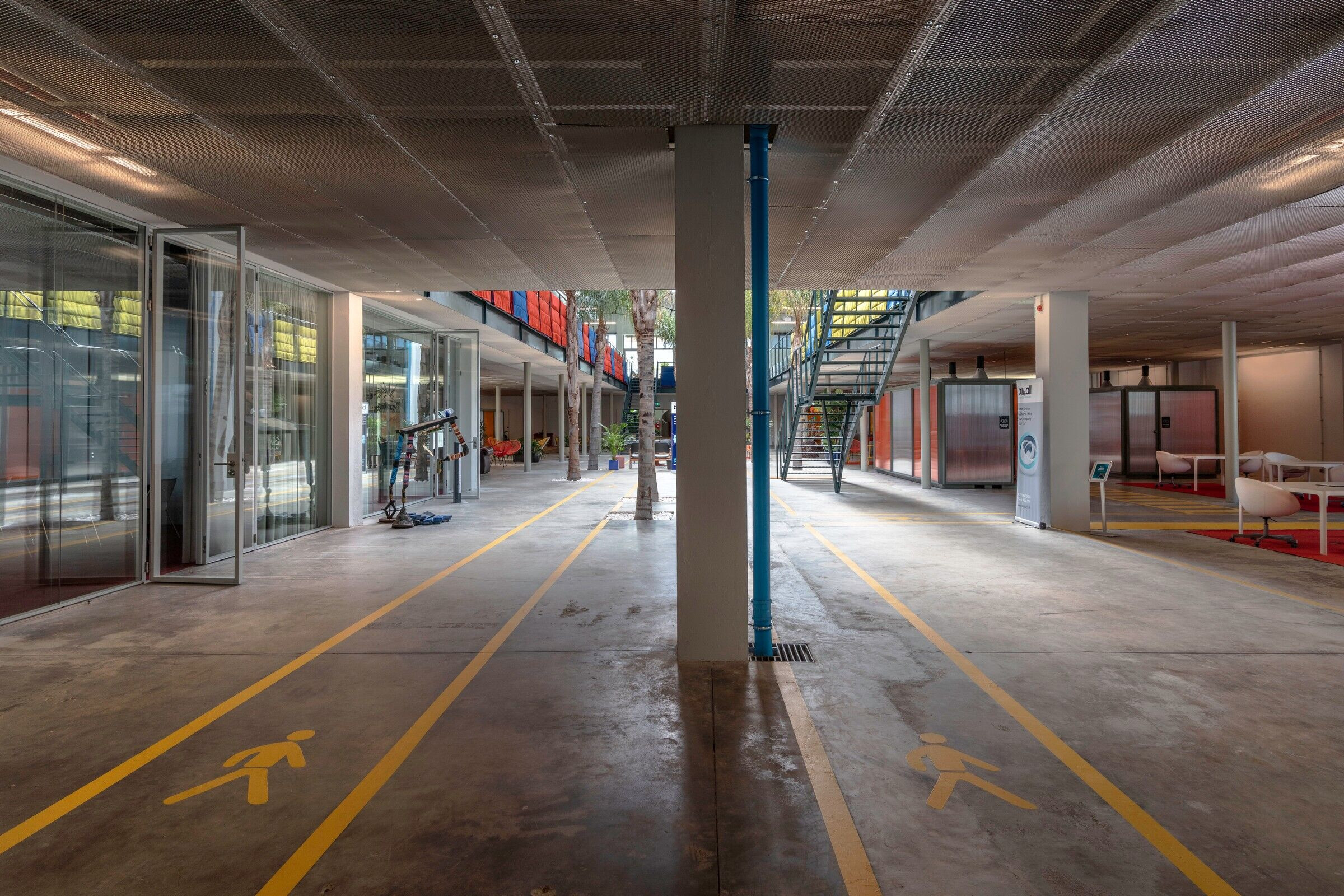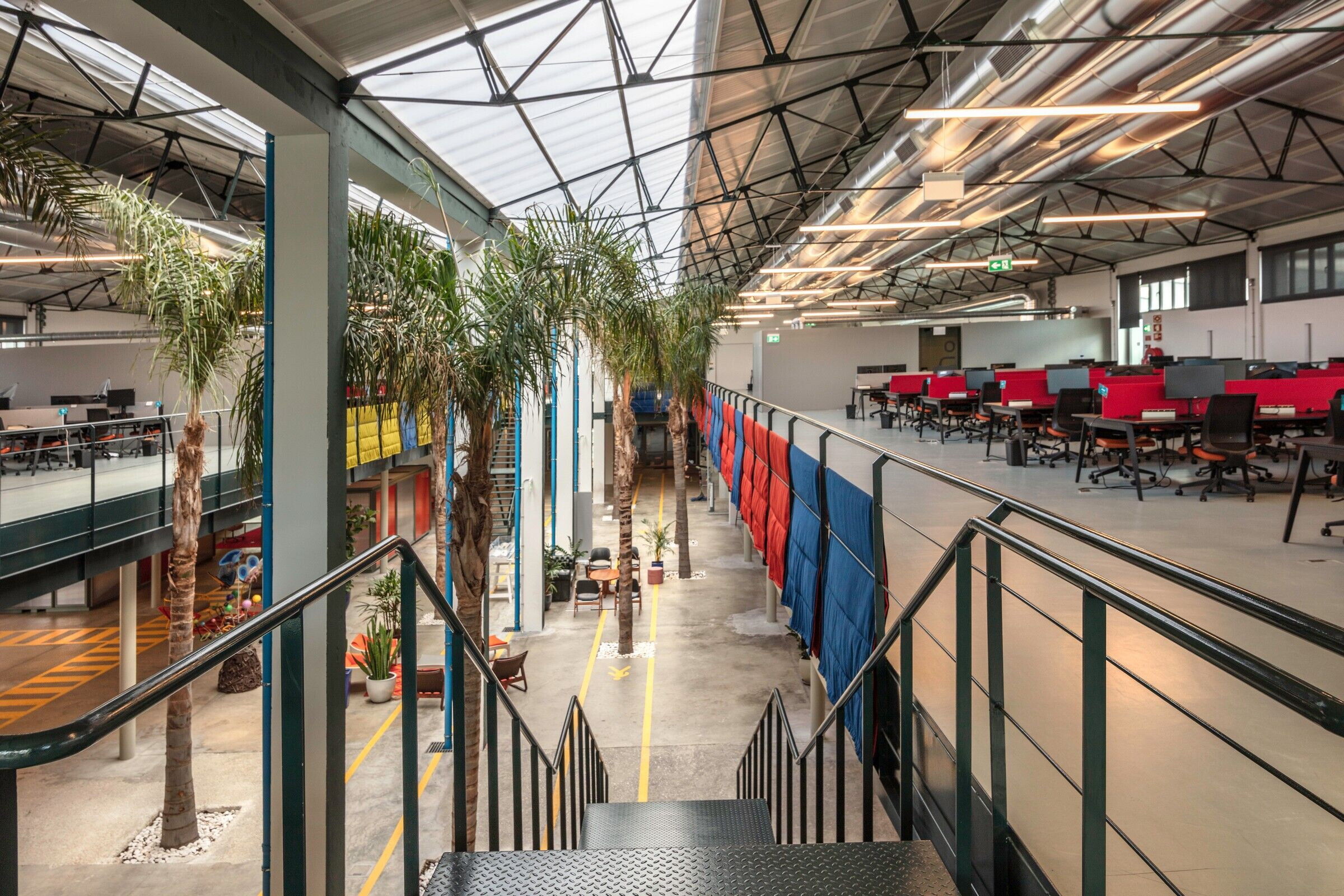 In the reconversion of this former Sugar Factory (Warehouses A and B) it was important to maintain its main volumetry, reinforcing the great amplitude of the pre-existing spaces. The new interior metallic structures are self-supporting, not affecting the construction system of the original buildings. Despite the requirements imposed by the new program, and by the legislation on accessibility and fire safety, it was possible to preserve areas with ample ceiling height, marked by emblematic architectural and landscape elements.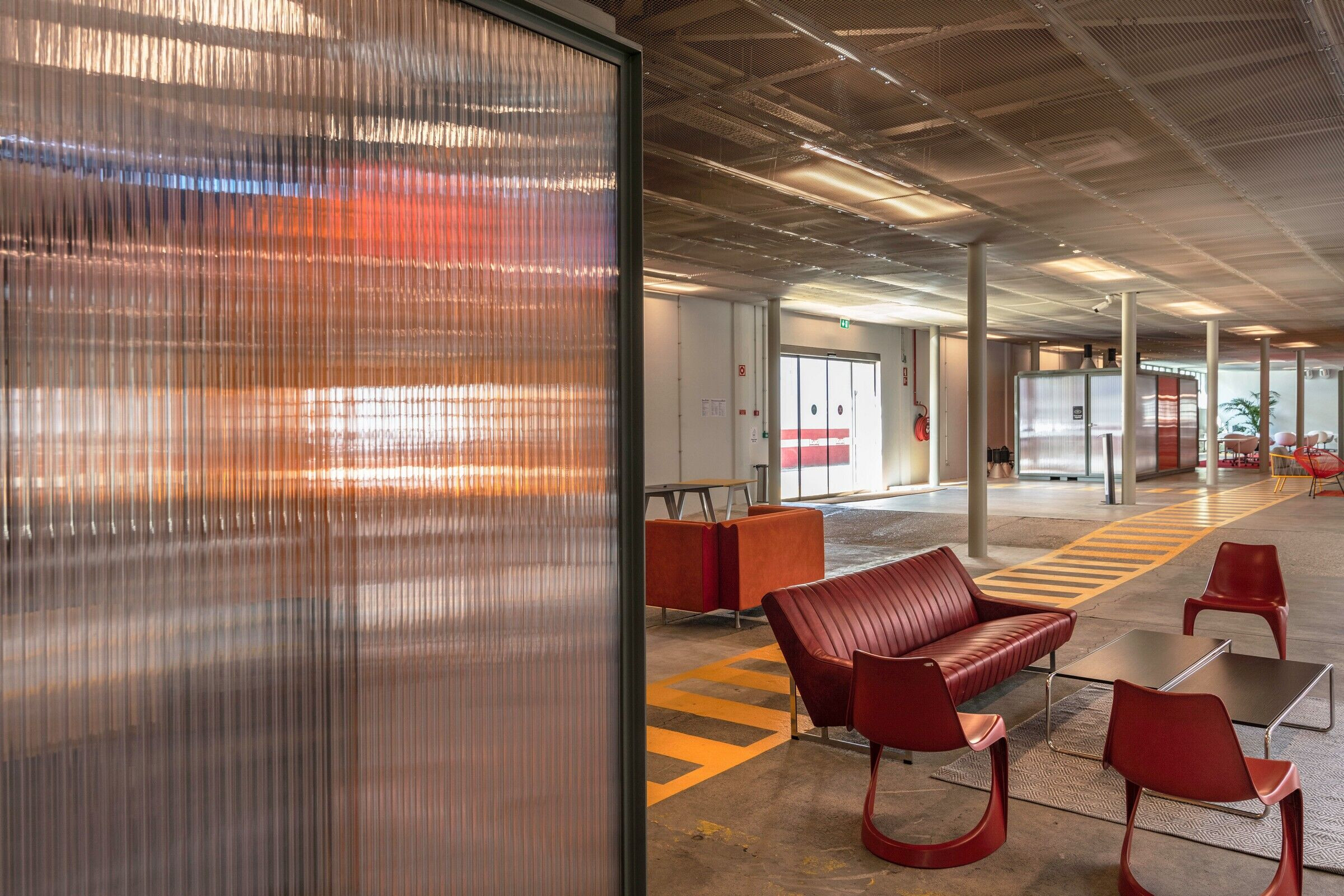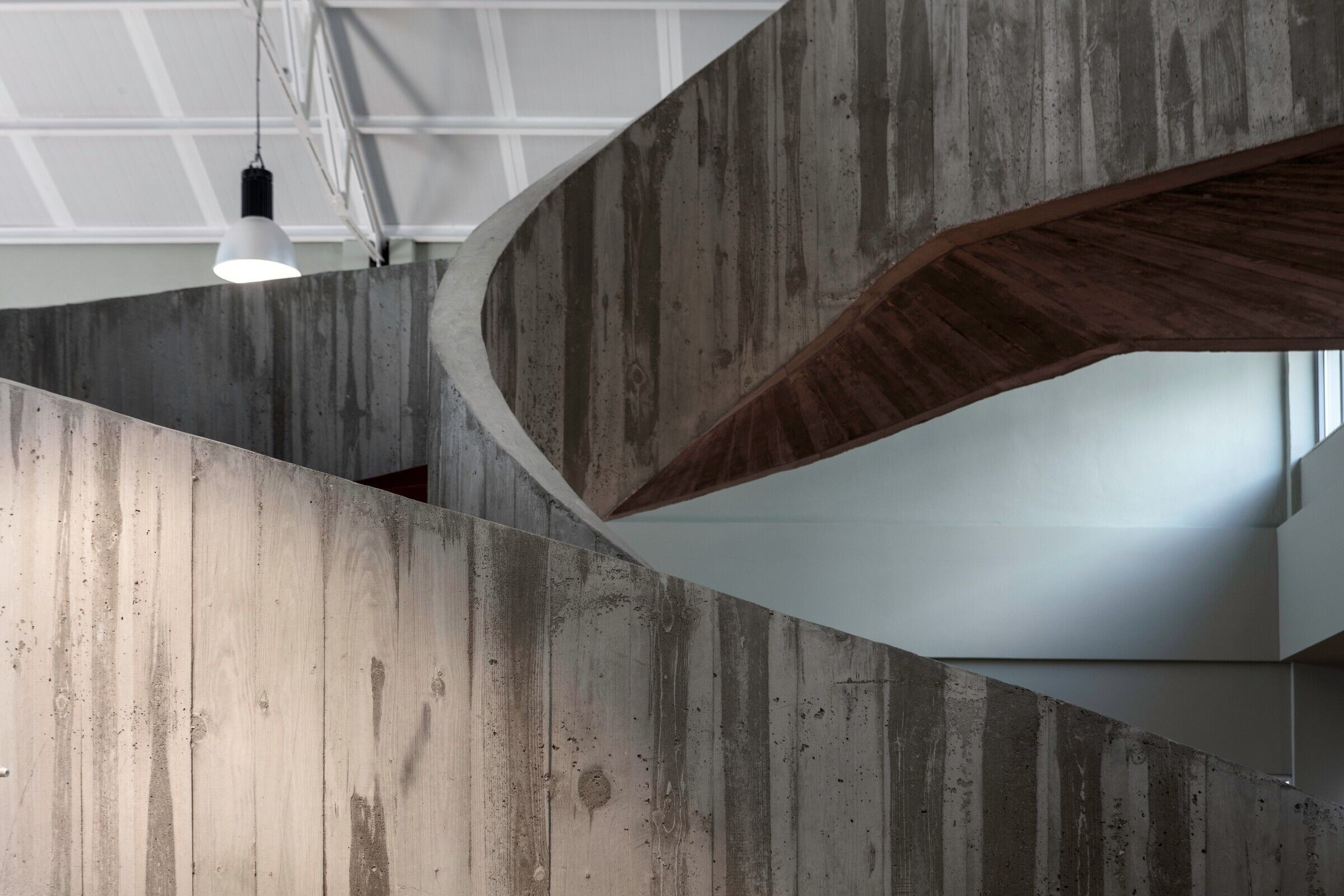 In Warehouse A – where the open-space work areas, offices, meeting rooms and auditoriums are located –, the project introduces a helical staircase, in exposed concrete, to access the upper floor, signaling one of the entrances in the compound. The wide ceiling height of the central area is reinforced by the presence of tall palm trees in a dialogue with the preexisting metal pillars and beams. In the work areas, the project creates a more intimate scale, either by creating long mezzanines, leaning over the large central space, or by introducing rectangular office volumes, in steel, distributed throughout various areas of the warehouse.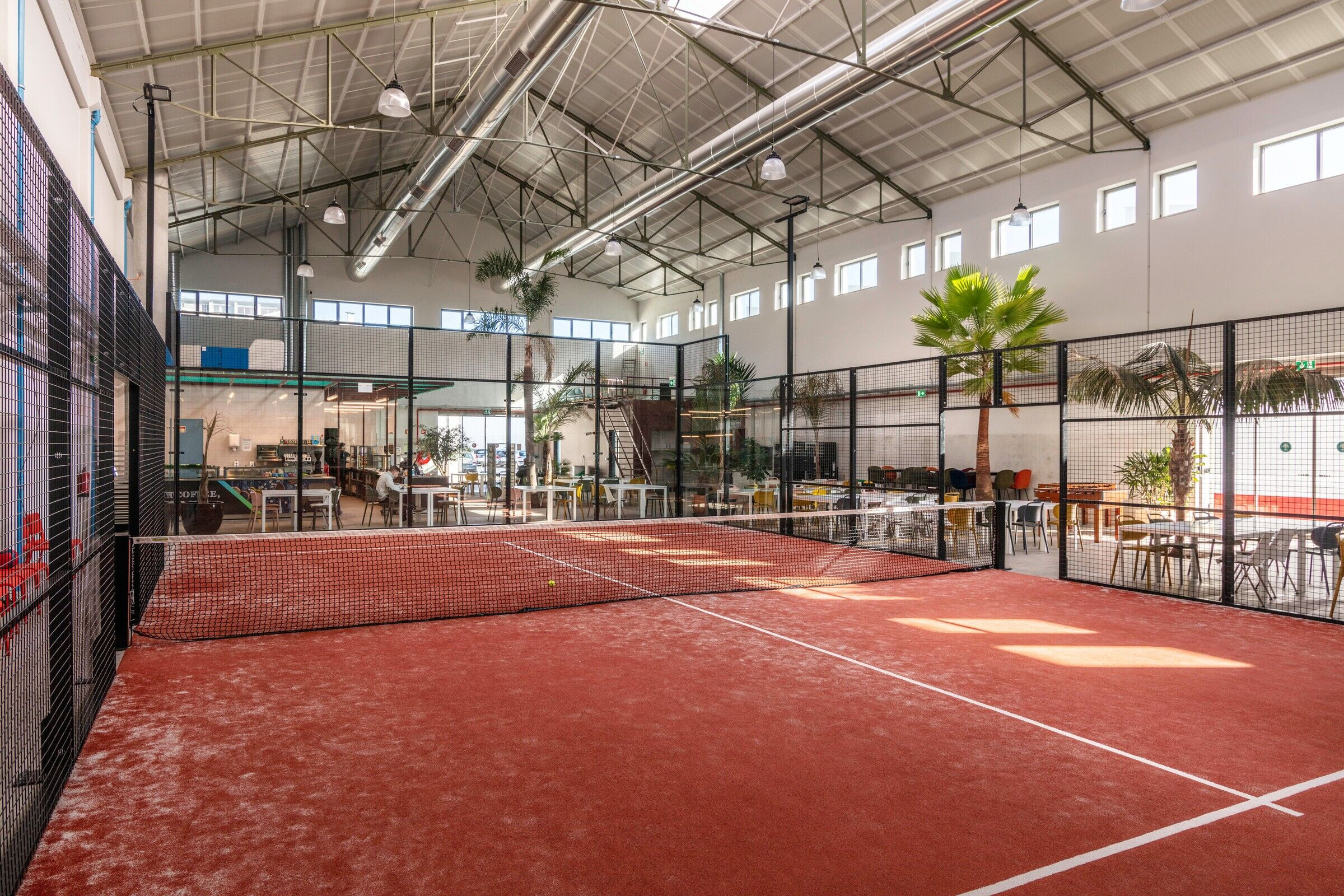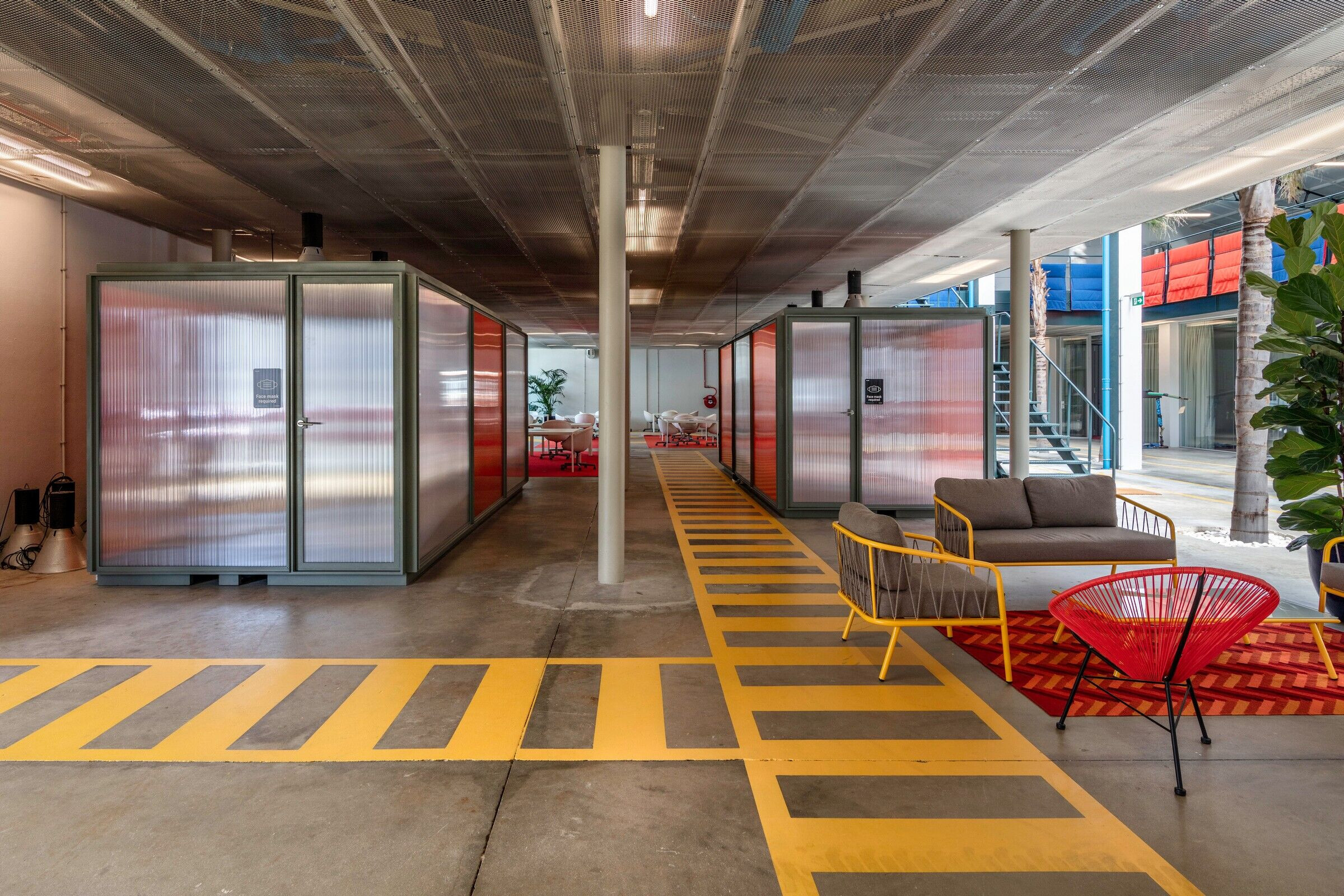 In Warehouse B – where the industrial kitchen and catering, leisure and housing areas are located – the space breadth is again signaled by tall palm trees, filling the entire height, and by other lower vegetation which divides the dining room from the living and playing spaces. A wide metallic staircase connects to the upper floor, where five studio apartments with kitchen support are located.
As seen, this project allows for a complete daily experience – from working to leisure or living – thus constituting a kind of microcity within the large Lisbon metropolis. On the other hand, its users can establish different working relationships, in conviviality or cocreation, thus feeding the required concept of "creative cluster".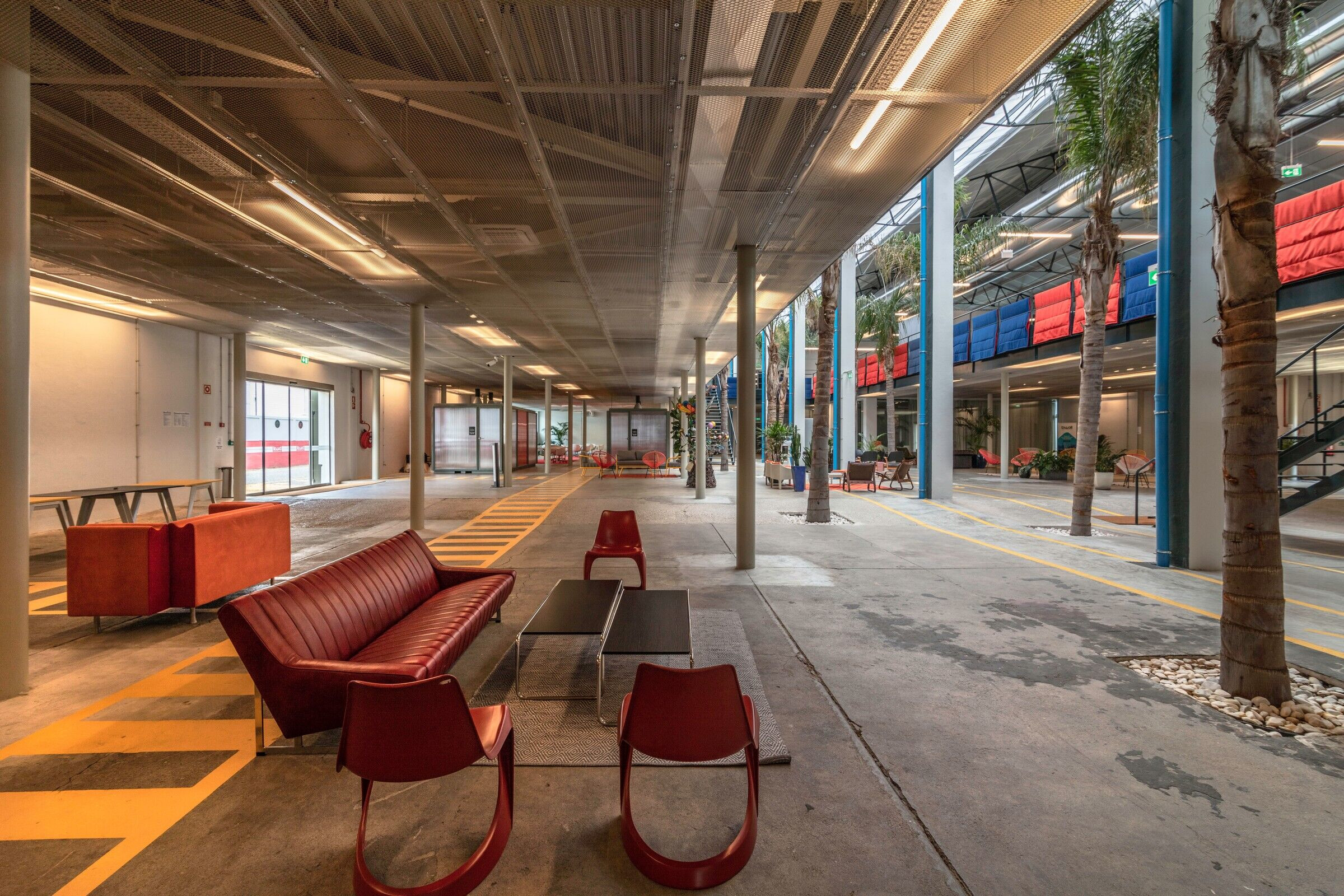 The materials introduced – between metallic net coverings and plexiglass partitions or textile curtains – but also the chosen furniture – between common office supplies and rare design pieces – generate a succession of ambiences, mixing industrial pragmatism with the comfort of a lounge. Finally, the use of vivid and contrasting colors in tissues and acoustic panels accentuates this diversity.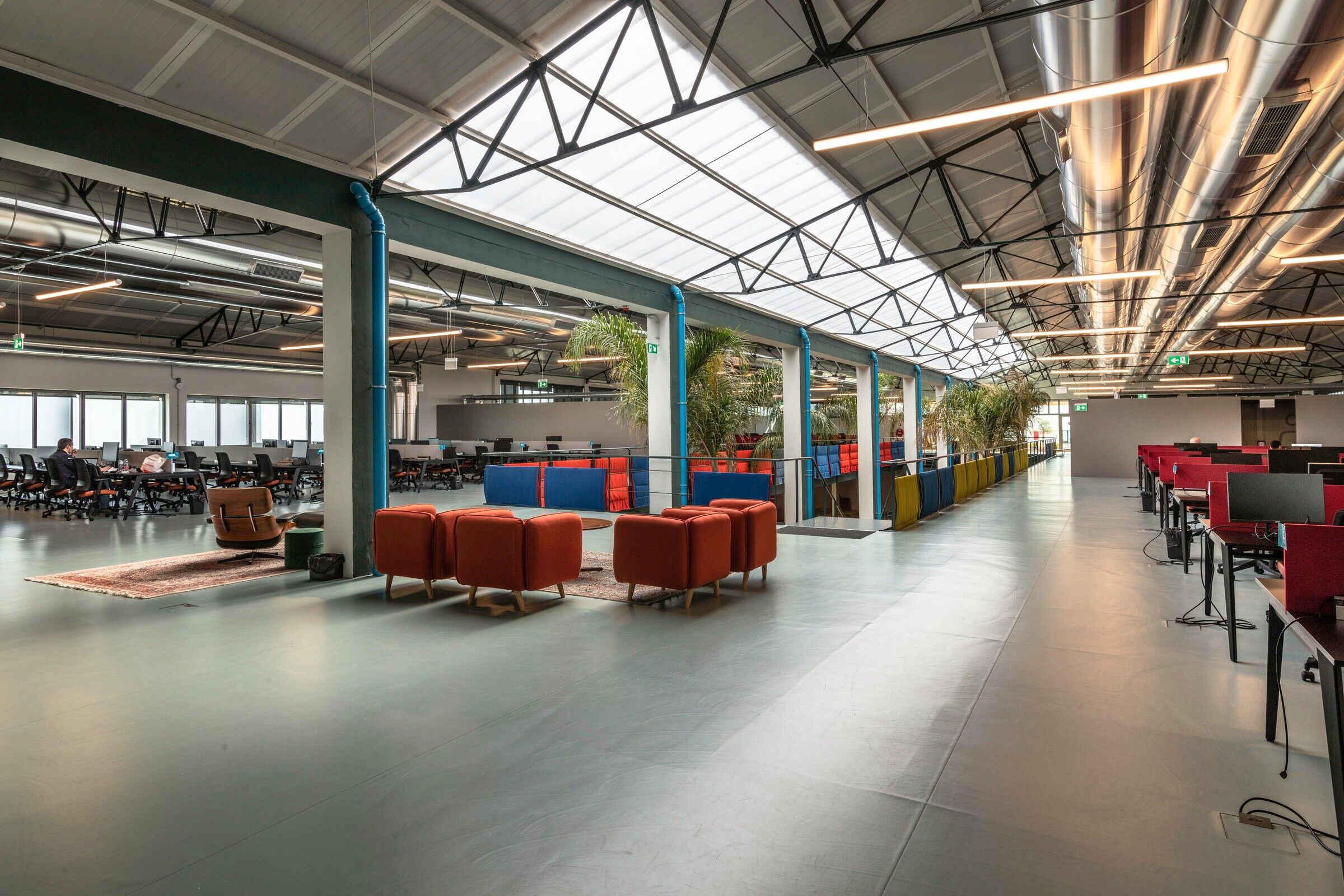 Team:
Architect: Pedra Líquida
Photography: Alberto Plácido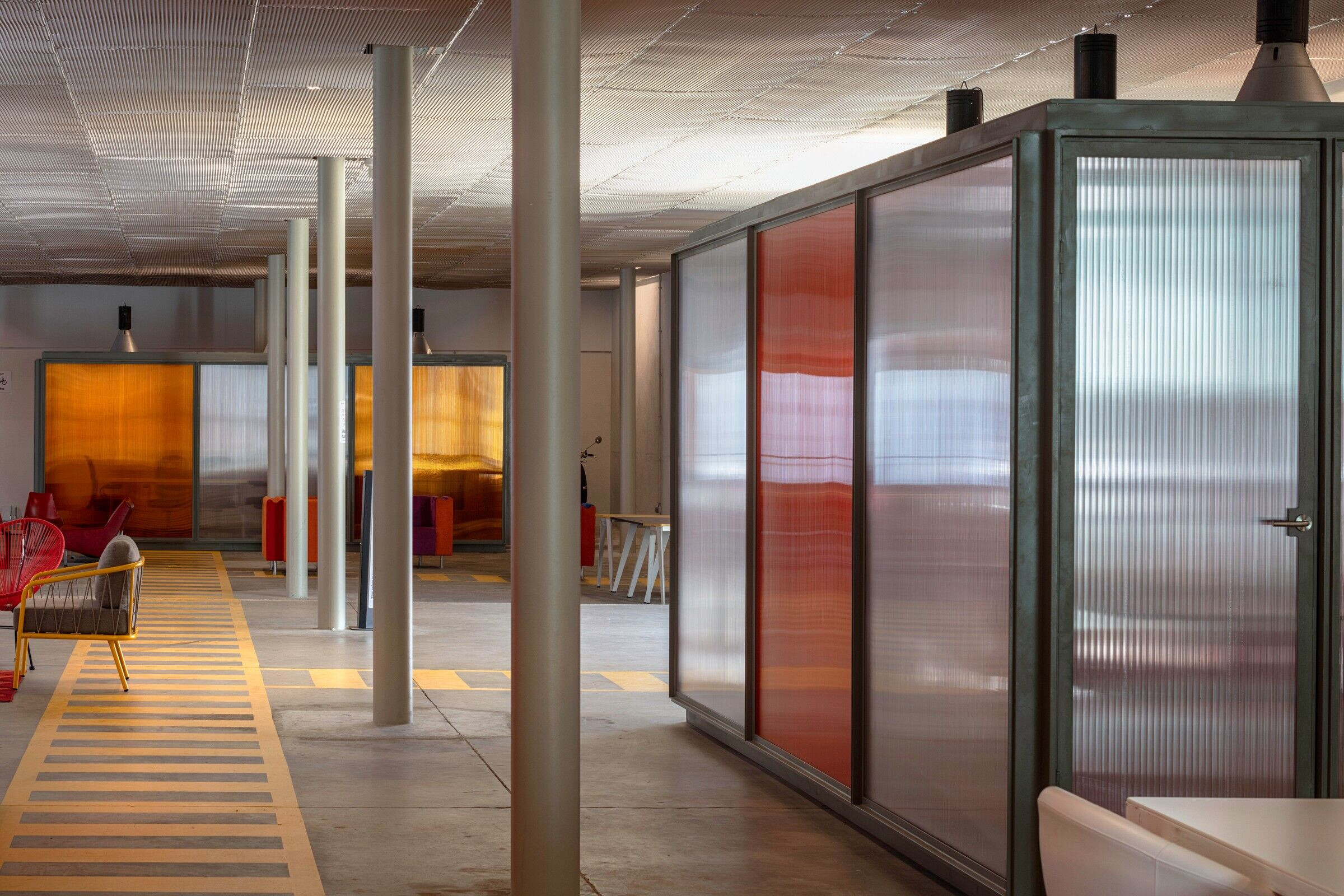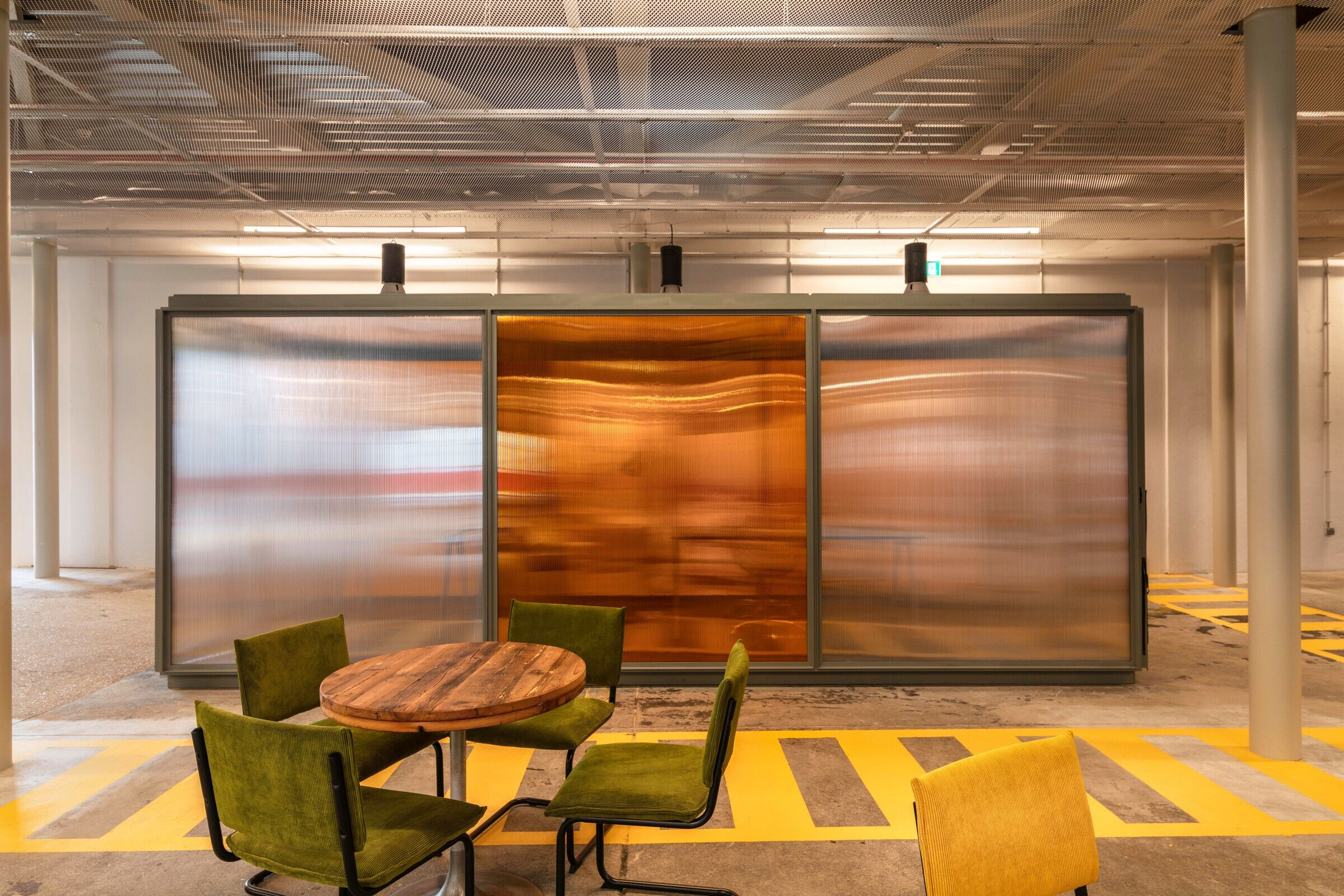 Material Used:
1. Facade cladding: ETICs system
2. Flooring: Linoleum, FORBO. Carpet, LUSOTUFO
3. Windows: Aluminium, SAPA
4. Interior lighting: CLIMAR
5. Interior furniture: Office furniture, FANTOFFICE
6. Painting: CIN
7. Interior walls: Glass partitions, INNERE. Acoustic partitions, REFRAL. Plasterboard, KNAUF
8. Sanitary ware: VALADARES
9. Elevators: GRUPNOR