The project, located in Symphony Park, consists of two multi-level municipal parking garages with 691 parking spaces for Parcel B and 566 spaces for Parcel L, grade level retail shell-space (approx. 28,500 sf), and off-site and utility improvements. Symphony Park Parcels B and L are in the area generally bounded by Symphony Park Avenue to the North, Union Pacific Railroad right of way to the East, West Clark Avenue to the South, and South Grand Central Parkway to the West.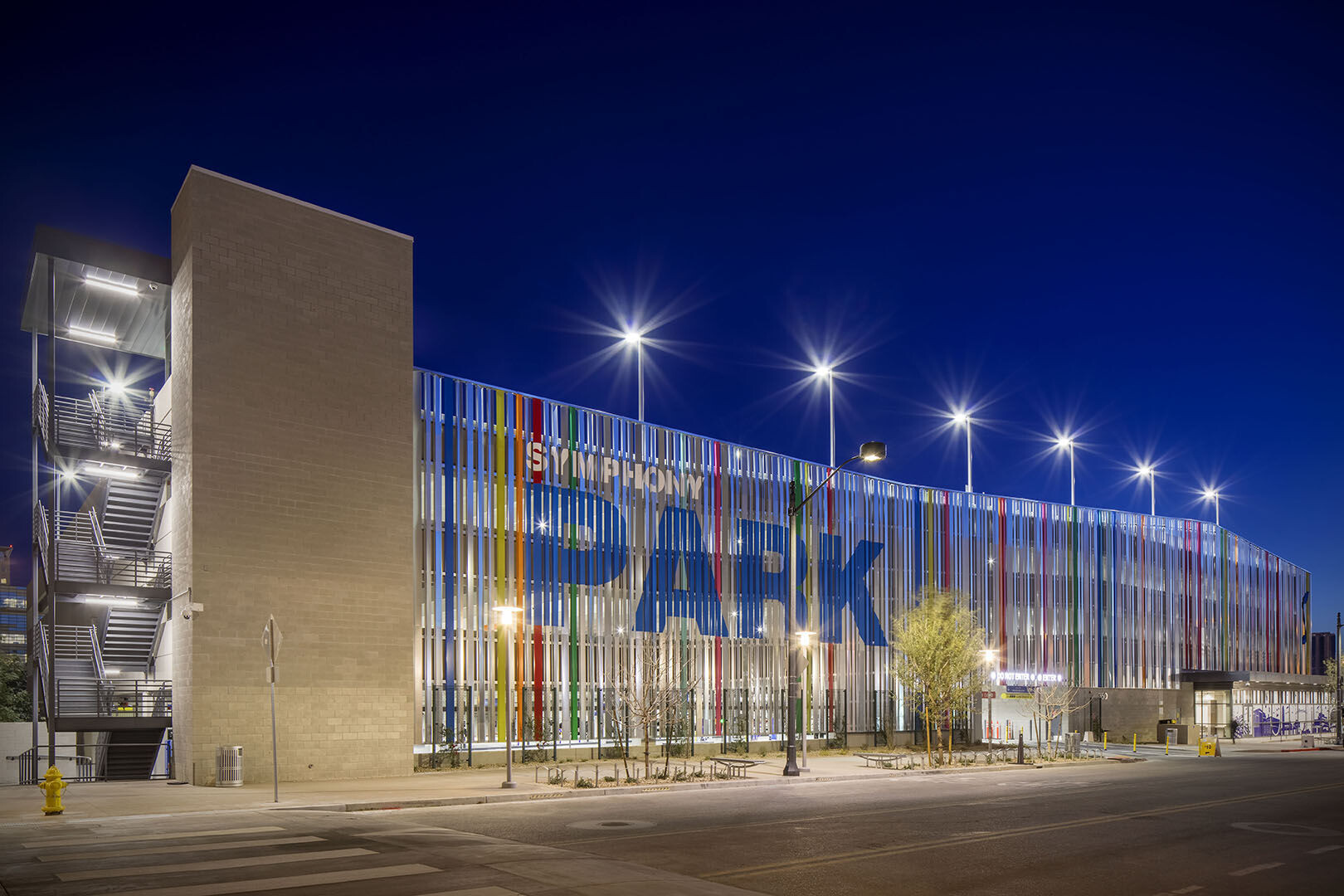 Symphony Park is the first major open space within downtown Las Vegas and is quickly becoming Las Vegas' urban central park, a beautifully landscaped area that encourages outdoor social interaction. Symphony Park is home to The Smith Center for the Performing Arts, DISCOVERY Children's Museum and Cleveland Clinic Lou Ruvo Center for Brain Health. These parking garages support the existing uses on the park, and the rapid growth and development of this area.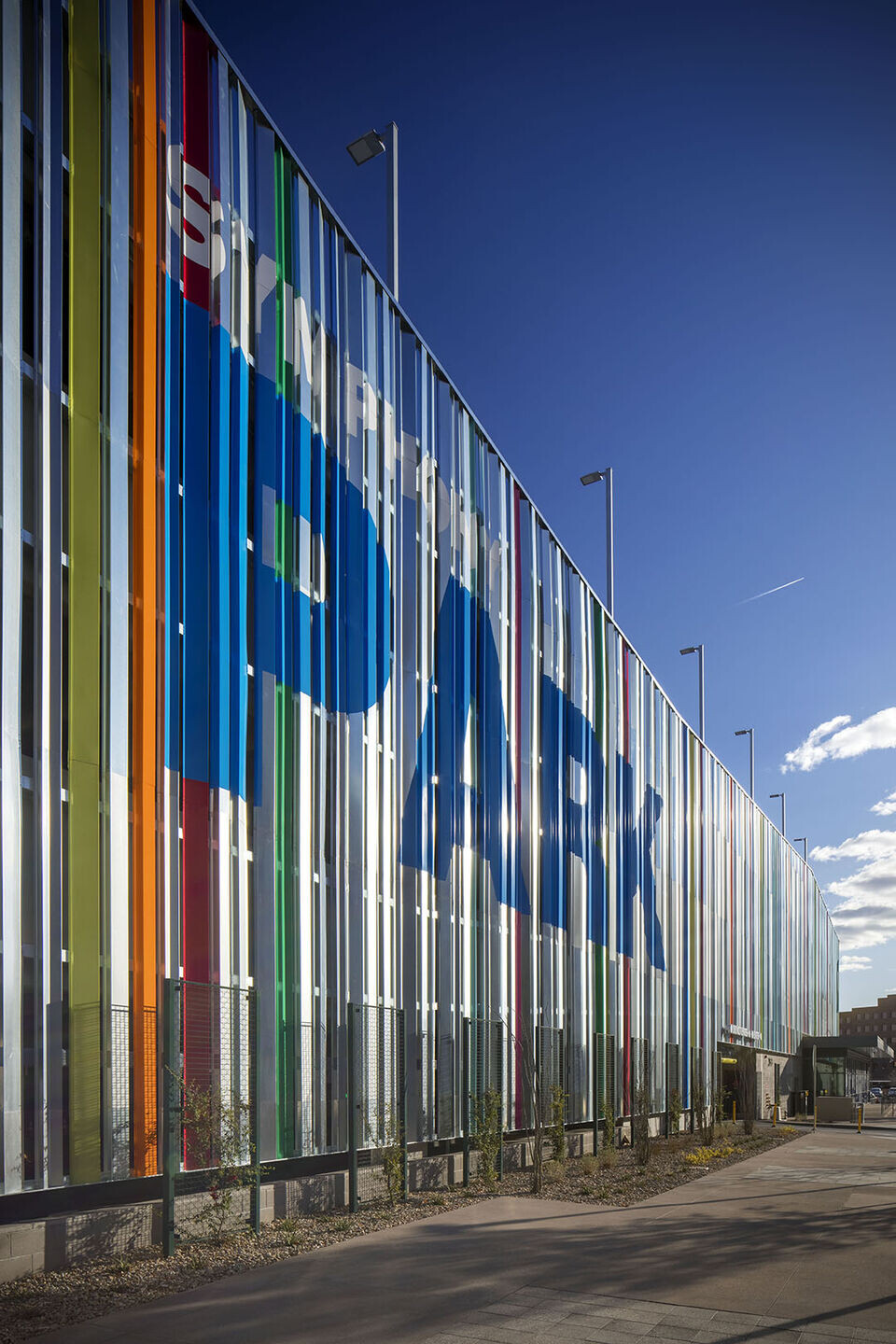 Contextualism became critical. The new structures needed to ft within the existing built language. But what was the right approach giventhe various styles that exist amongst the park's-built realm? The response is the celebration of both garages as art, informed by the iconic Dream Sculpture along a reflective galvanized steel composition.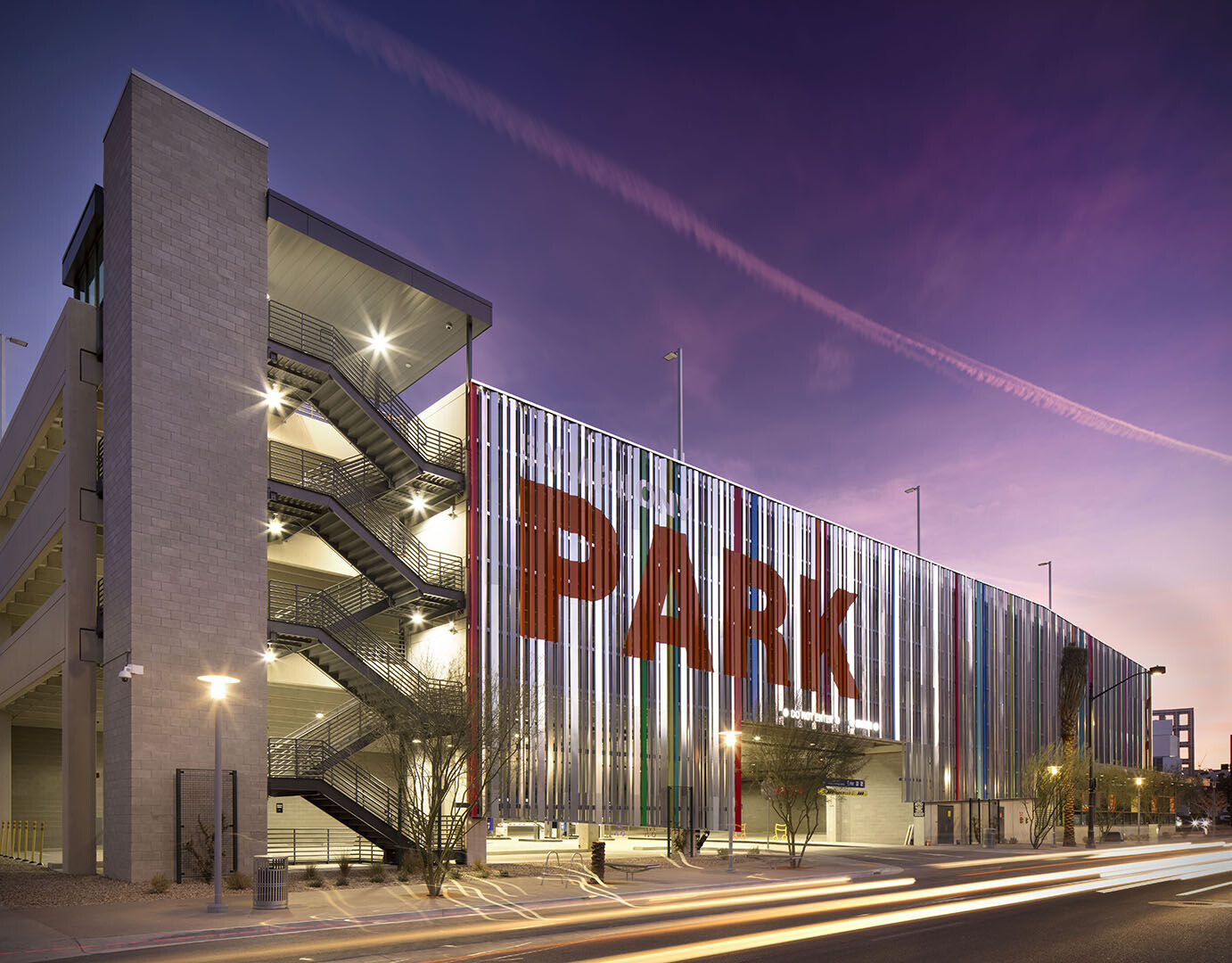 Both garages were planned with a very similar language and aesthetics, becoming recognizable elements with distinct colors on each that serve as wayfinding.The introduction of alternating galvanized steel profiles allows for the surrounding environment to be reflected, creating an ever changing color composition. The addition of the Symphony Park musical note at the intersection of the main corners of each garage, further brands the buildings as belonging to this Park.A retail component with an extensive steel canopy lowers the scale of the buildings relating to the pedestrian scale, welcoming visitors to explore the Park experience.
Team:
Whiting-Turner – Contractor
Lochsa Engineering – Civil Engineer
Walter P. Moore – Structural Engineer
Ninyo and Moore – Geotechnical Engineer
PCNA – Fire and Life Safety
MSA – MEP Engineering
JW Zunino – Landscape Architect
Coreslab Structures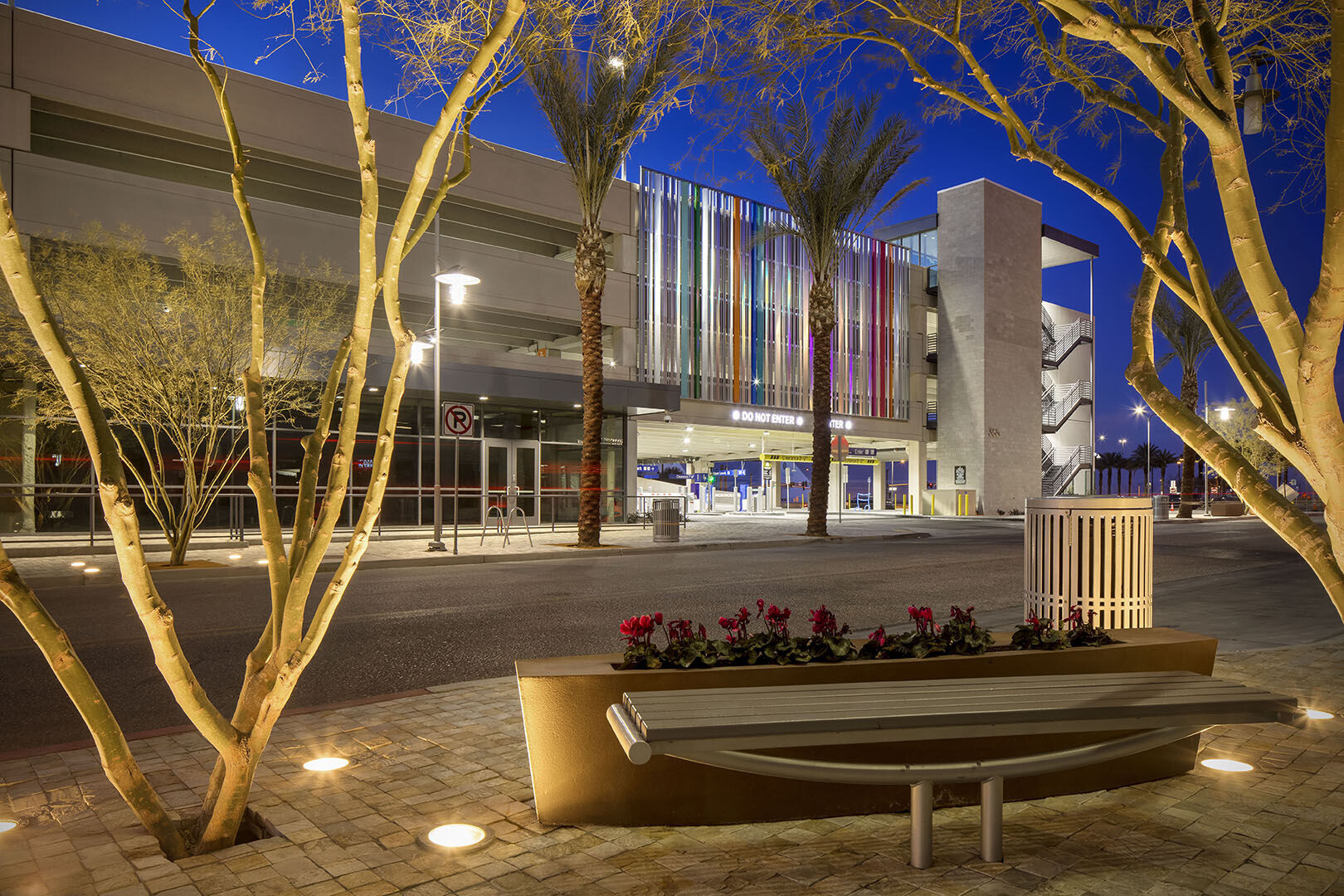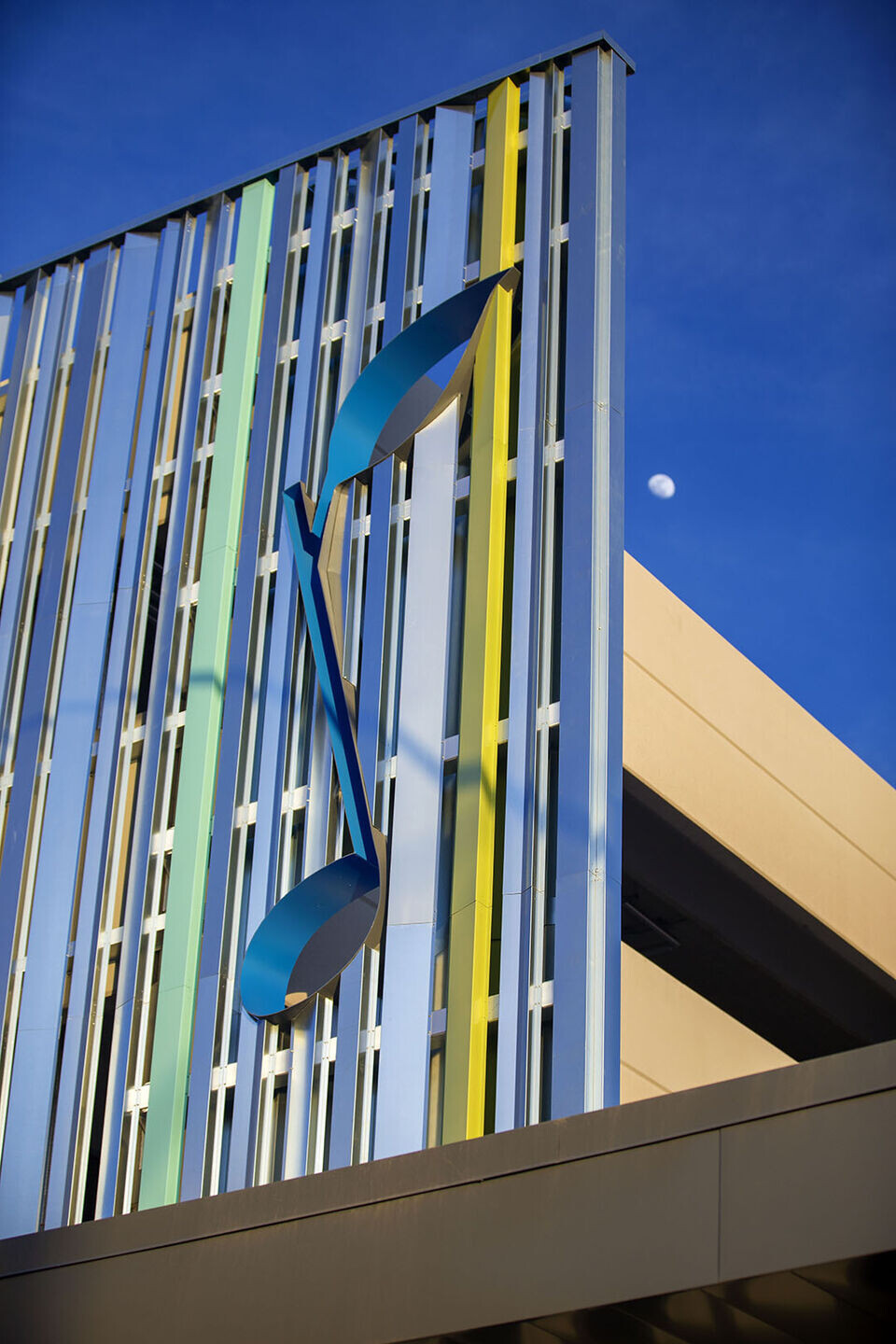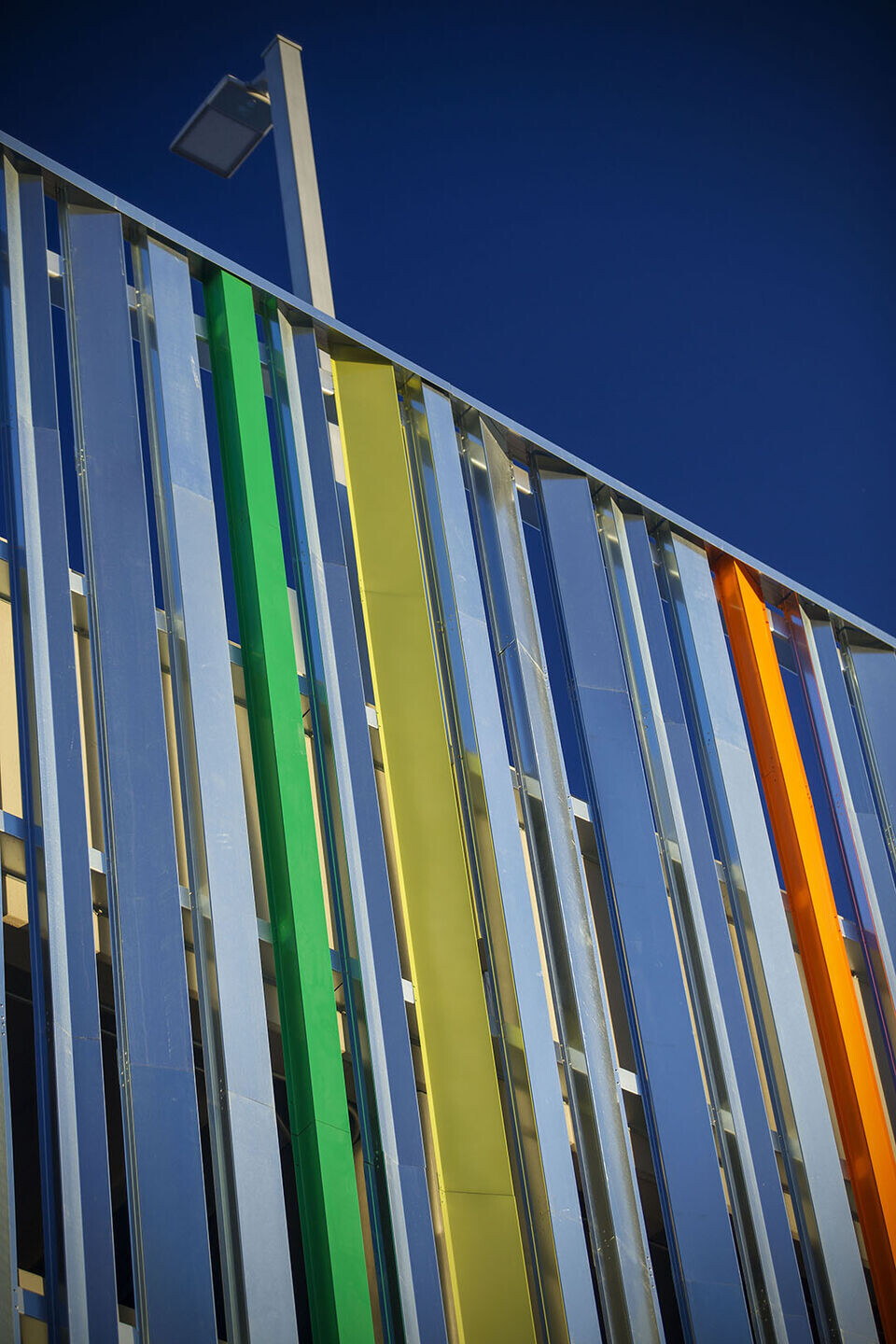 Material Used :
1. Facade cladding: Custom 18 ga. Galvanized brake metal profiles with multiple powder coated colors to match existing symphony park sculpture
2. Flooring: Structural reinforced concrete topping slab over precast double tees
3. Doors: A mix of Hollow Metal (by DOOR COMPONENTS INC. painted) and Aluminum Storefront (by US ALUMINUM 400 SERIES WIDE STILE) doors
4. Windows: Aluminum Storefront Glazing System by US ALUMINUM 45ISF SERIES, Finish; Kynar Solar Grey,
Glazing; 1" Vitro Solarban 70XL/Clear Insulated and Tempered by code
5. Roofing: Single-Ply Roofing Membrane over tapered rigid insulation on metal decking by Sika Corporation
6. Interior lighting: Pending
7. Element: Precast concrete, Finish: Sandblasted with integral color to match existing Smith Center Parking Garage