De Vorm's new headquarters celebrates the brand values in an ultimately functional and inviting destination for both employees and visitors.
Workplace and showroom under one roof
The newly renovated location combines a showroom and an office in one building, emphasizing how De Vorm collection can blend into practically any context. On one side, it offers a comfortable and spacious workplace for the team. On another side, it's where architects and designers come for inspiration, and are able to explore the design possibilities of products to the fullest.
Given that De Vorm offers furniture for both contexts, the design team decided to blur the lines between their workplace and showroom. As a result, many workplace areas received a welcoming, hospitality feel and have little in common with the traditional office image. On another hand, practically all "showroom" settings are also at the disposal of the team, and can be freely used throughout the day.
This multi-functional approach allowed placing products in an active environment. So, when clients come for a visit, they can also get behind the scenes of the working reality and see that there is a De Vorm solution for every need of a modern office.
Spaces to work and to socialise
To promote a frictionless working experience, the new office provides a variety of areas for all types of activities and personal needs. The workstations are arranged in clusters and equipped with dividers, so that people can focus when they need it.
The canteen is the social heart of the workplace - it's where work, talk and fun come together. To host all these activities, the canteen offers many seating zones, ranging from large round tables to more intimate two-person settings and stools at the counter.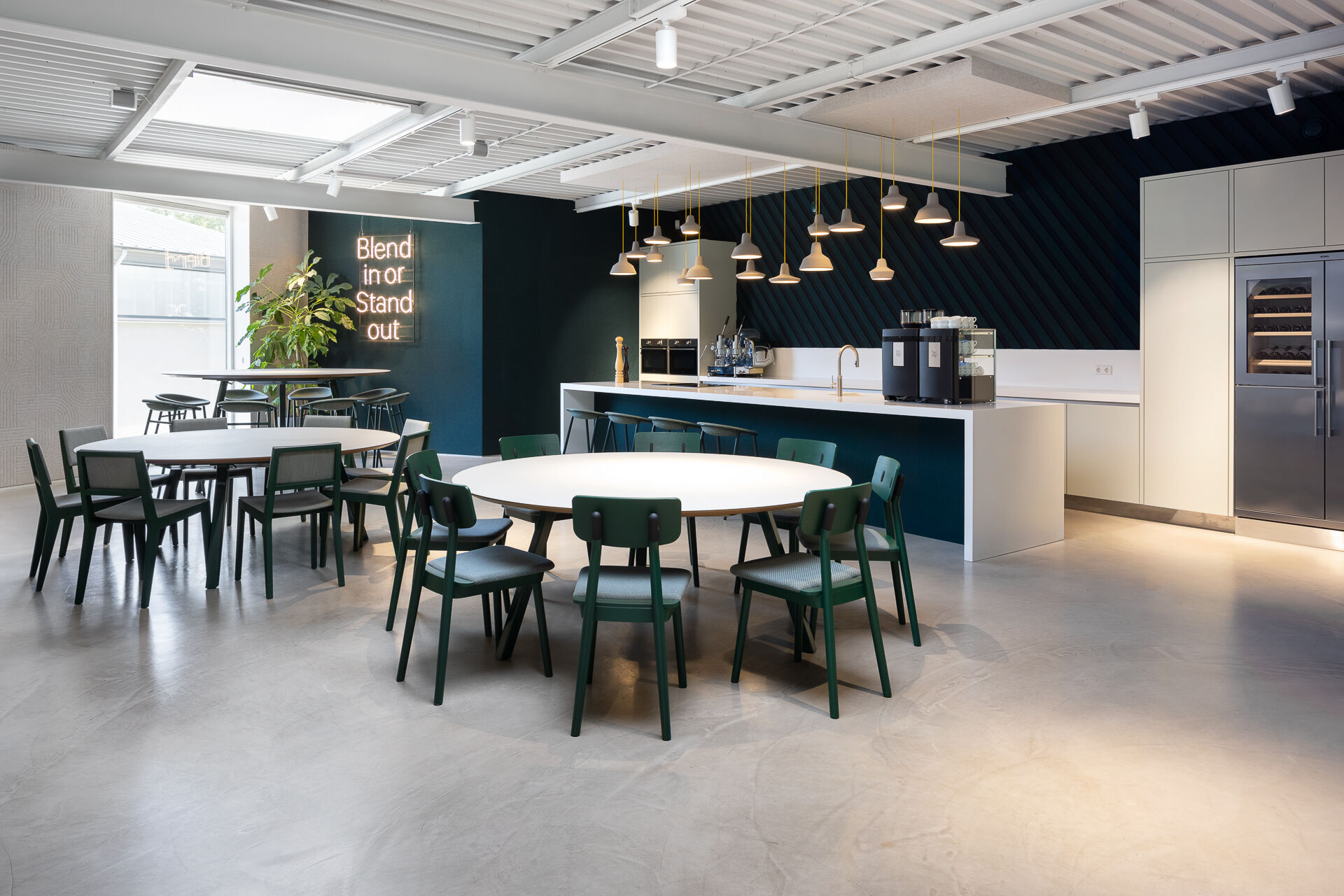 Meeting rooms for every need
Semi-secluded meeting spots and private rooms are scattered throughout the space to accommodate different activities - video calls, presentations, and informal talks.
Each of these spots has its own unique expression. The "Yellow Room" with its striking monochrome interior and an intriguing wall panels proves that even the most daring ideas are possible. The playful "Bird Room" on the second floor is a perfect brainstorm location, with its large whiteboard and PET Felt pin walls to work the ideas out.
Reflecting brand's promise
Ultimate customisability is what De Vorm offers to their clients, and what they can fully experience in the new showroom. Taking the "Blend in or Stand out" as a starting point, the building is visually divided into two zones. When you enter the showroom, the areas on the right have a clean and subtle "blend in" appearance, while the left side "stands out" - it is surprising, vibrant and outspoken. Within these two zones, we created a number of settings, with the colour palette and typology fitting the general theme.
Custom-made PET Felt elements
Something that you notice straight away when entering the building is a grand gear wheel installation on the left wall. A custom design from PET Felt, it refers to another core value of De Vorm - namely, "Process first". Just like the wheels of a gear mechanism, De Vorm's design process is infused with technological development; innovation drives aesthetics and the other way round. The gear wheels can actually move thanks to embedded mechanism.
The whole building was once a large open space. To bring some structure to it without taking the open character away completely, the team designed many geometric blocks from PET Felt in soft pastel colours. These blocks serve as flexible partitions between the zones, balancing their contrasting appearances.
Museum of PET Felt
For many years, PET Felt technology has been at the core of De Vorm's production process. In order to visualise the journey "From Bottle to Chair" in the new showroom, the design team created a PET Felt museum explaining every step of recycling plastic bottles and turning them into an innovative furniture material. This installation demonstrates brand's commitment to responsible production; making affordable and long-lasting products at minimal expense of future generations.