Federal Home Loan Bank of New York recently opened it's Jersey City office, located at 70 Hudson Street. The Switzer Group was tasked with transforming the nearly 52,000-square-foot office space into a state-of-the-art technology hub with a highly flexible, collaborative workspace and upscale amenities such as, an employee activity center and private gym.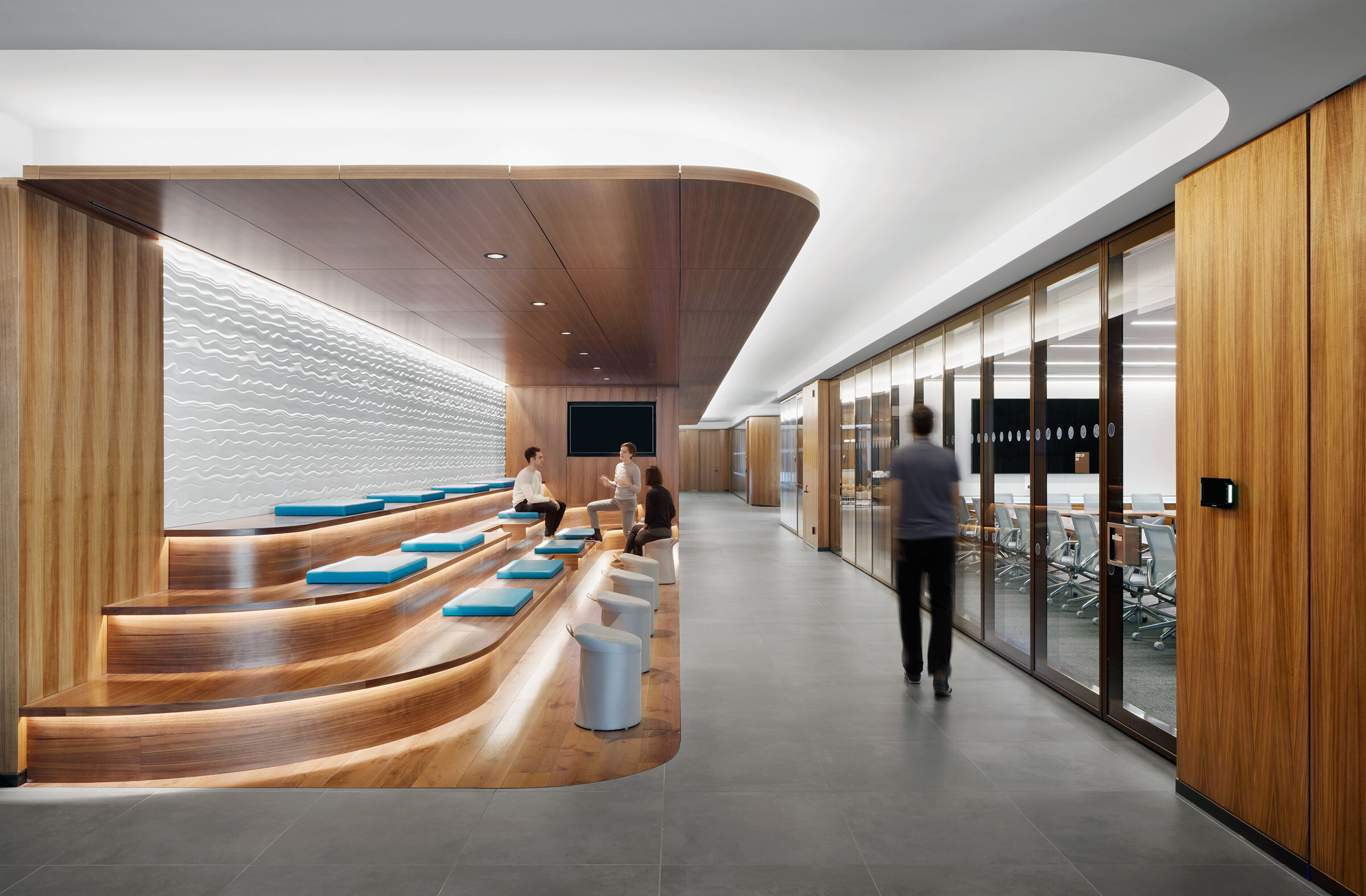 Helping community lenders in New Jersey, New York, Puerto Rico and the U.S. Virgin Islands, Federal Home Loan Bank seeks to advance housing and community growth in each of its regions.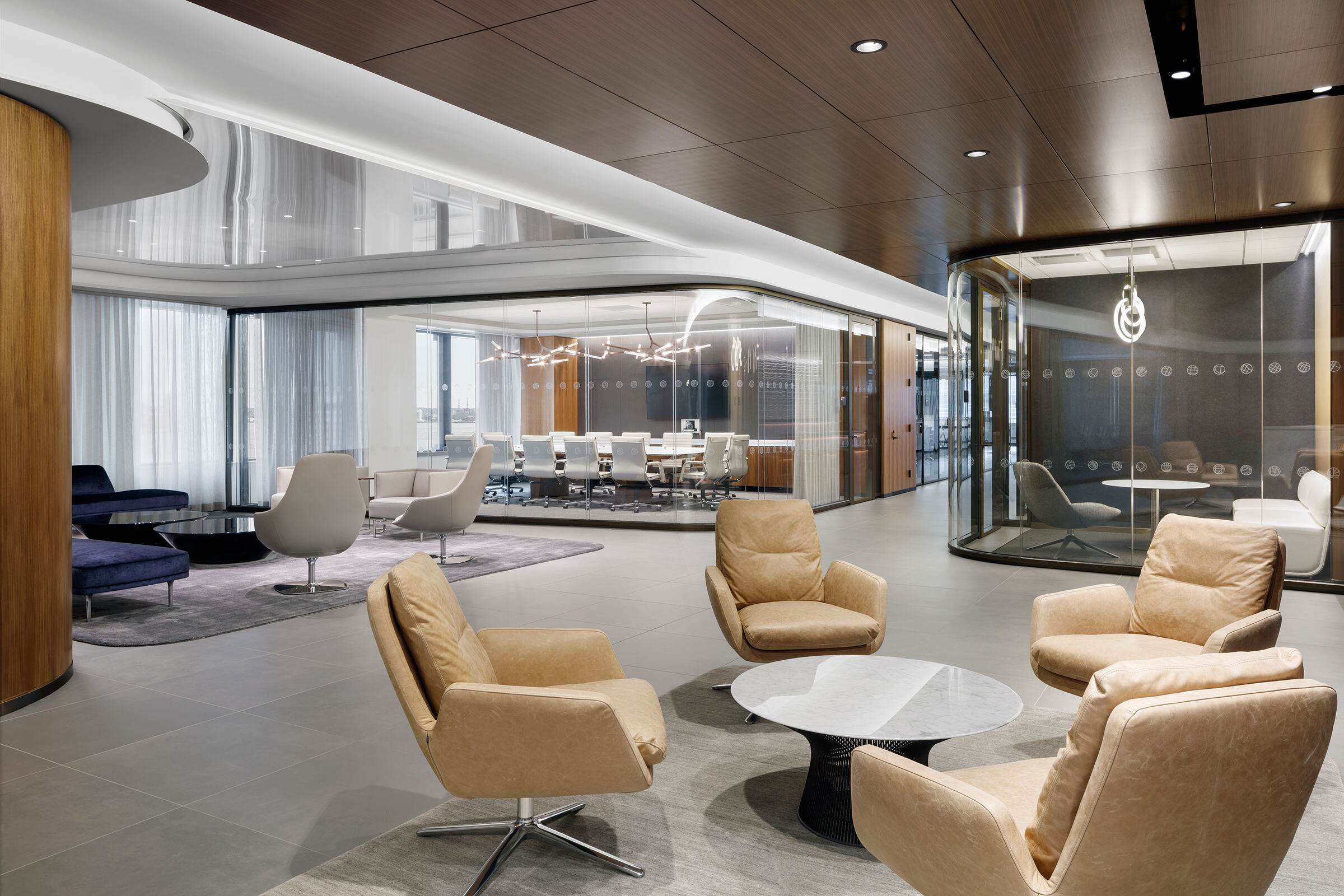 Seeking to support that mission, Federal Home Loan Bank sought an upscale, amenity-accessible space in Jersey City to serve as an extension and complement to their New York City brand. As the Jersey City offices are the home base for their Enterprise Group—responsible for all the Bank's technology—Switzer Group designed the technology infrastructure with high regard to current business needs, planning flexibility for the integration of future changes in software and hardware. As such, adaptable training rooms are capable of expanding and opening through the use of operable partitions, conference rooms are fitted out with mobile tables to convert them to war rooms and single offices are planned to be convertible to be doubled.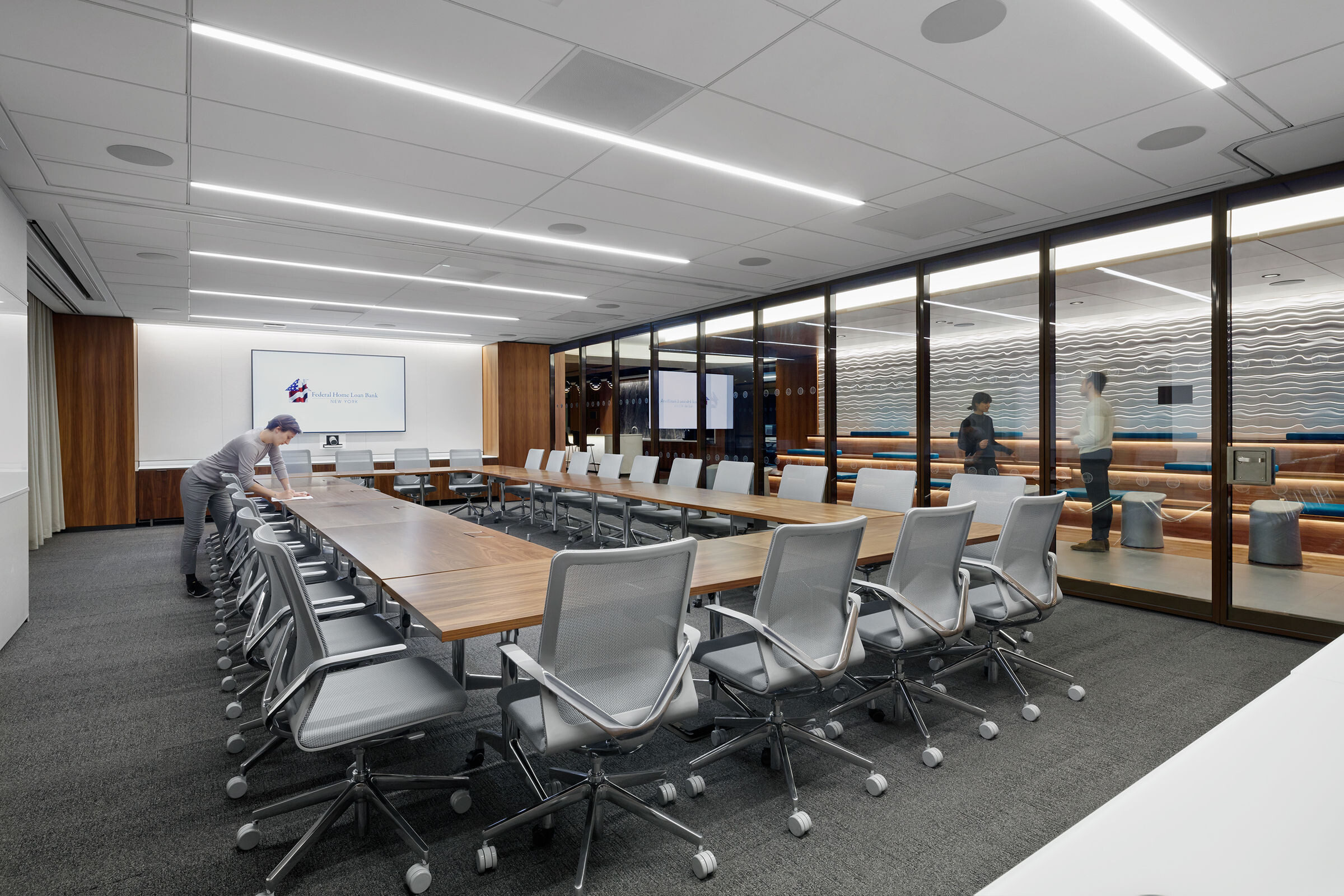 The design concept took inspiration from the regions the bank is chartered to serve: New York, New Jersey, Puerto Rico, and The Virgin Islands. One notable influence is the bioluminescent bays found in Puerto Rico and the Virgin Islands, expressed in the lighting concept integrated in the elevator lobby design. Environmental graphics applied to office fronts use imagery from projects financed by the bank in the four communities served by their charter. Additional graphics visualize trends in the history of loans and financing provided to member banks and bank's mission statements. The office's aesthetics juxtapose a rich, saturated use of color against a dark umber background.
The resulting state-of-the art work and collaborative environments are strategically designed to attract industry talent and support existing staff alike.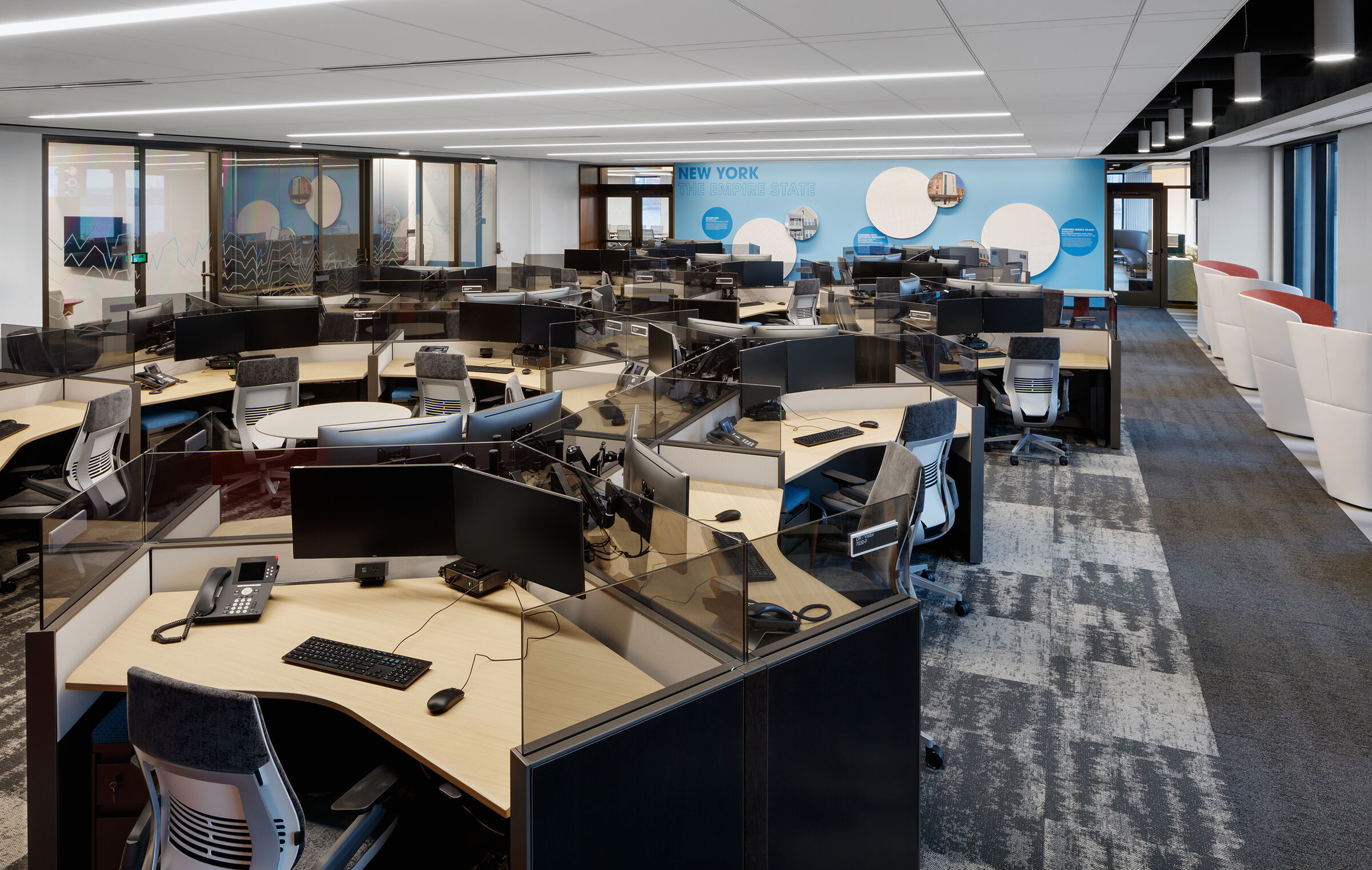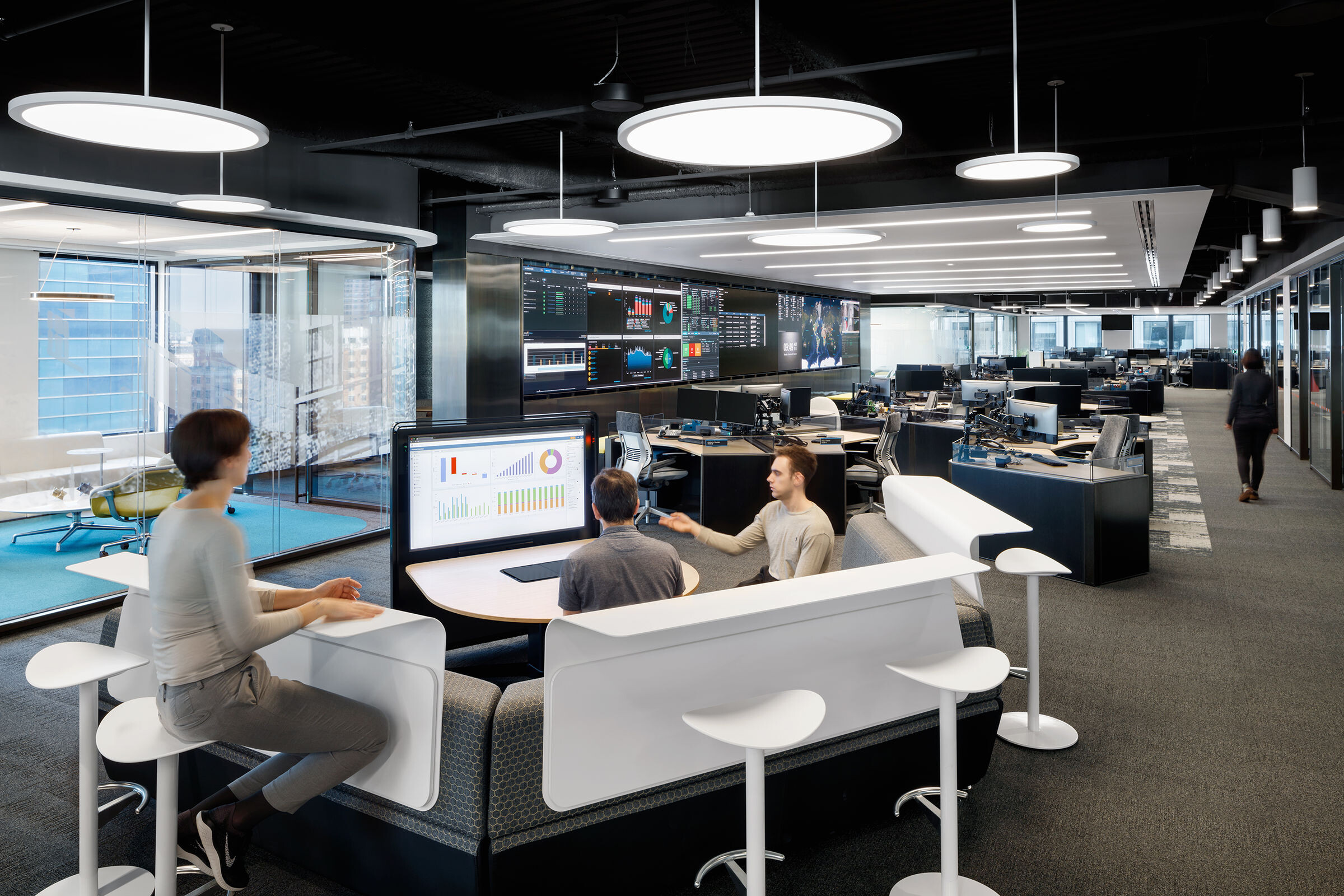 Material Used :
1. Tandus Cantiva – General Carpet – Style: Avant
2. MaxFine – Porcelain Floor Tiles – Grey Calm
3. Robin Reigi – Wood Flooring – Harvest European White Oak; Custom
4. Maars – Office Fronts – Double Glazed
5. Archetype Glass – Glass Wall Panels – Etched Mirror Glass
6. Modernfold – Operable Partition – Acousti Clear
7. Patella Woodworking – Millwork – Walnut
8. Wallpaper – Calico – Aura, Aurora
9. Elevator Lobby Lighting – BlackBody
10. Alabaster Lighting - Atelier Alain Ellouz
11. Stretch Ceiling – NewMat
12. Cafe Ceiling – Lindner – Wavelike Baffle Ceiling