What was the brief?
LXA were approached to convert the existing space which was quite a dark and oppressive restaurant space into a bright, airy and most importantly welcoming café. The brief was to create a more modern, fresh design language than the existing Friends Avenue sites while remaining approachable and inviting.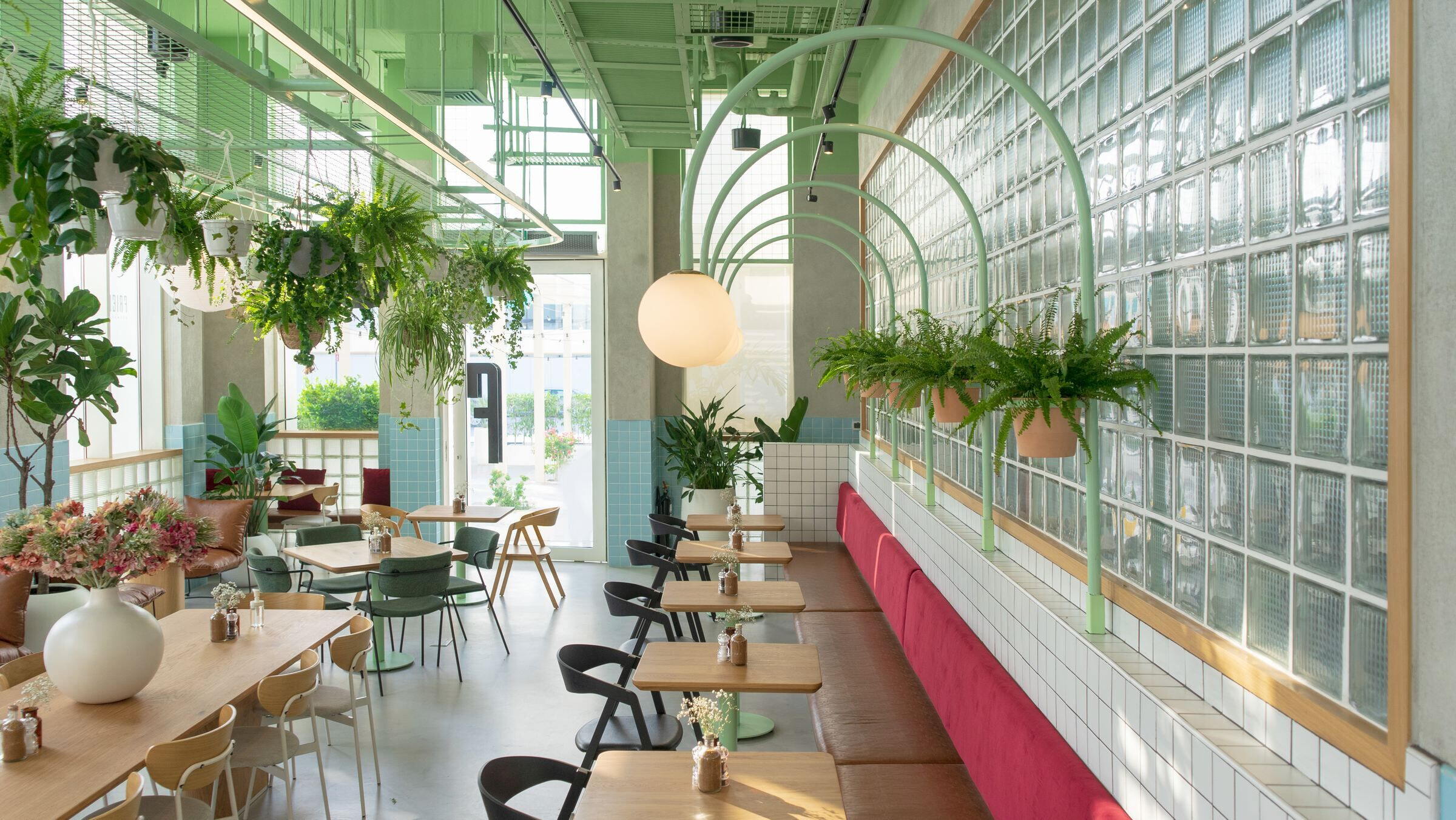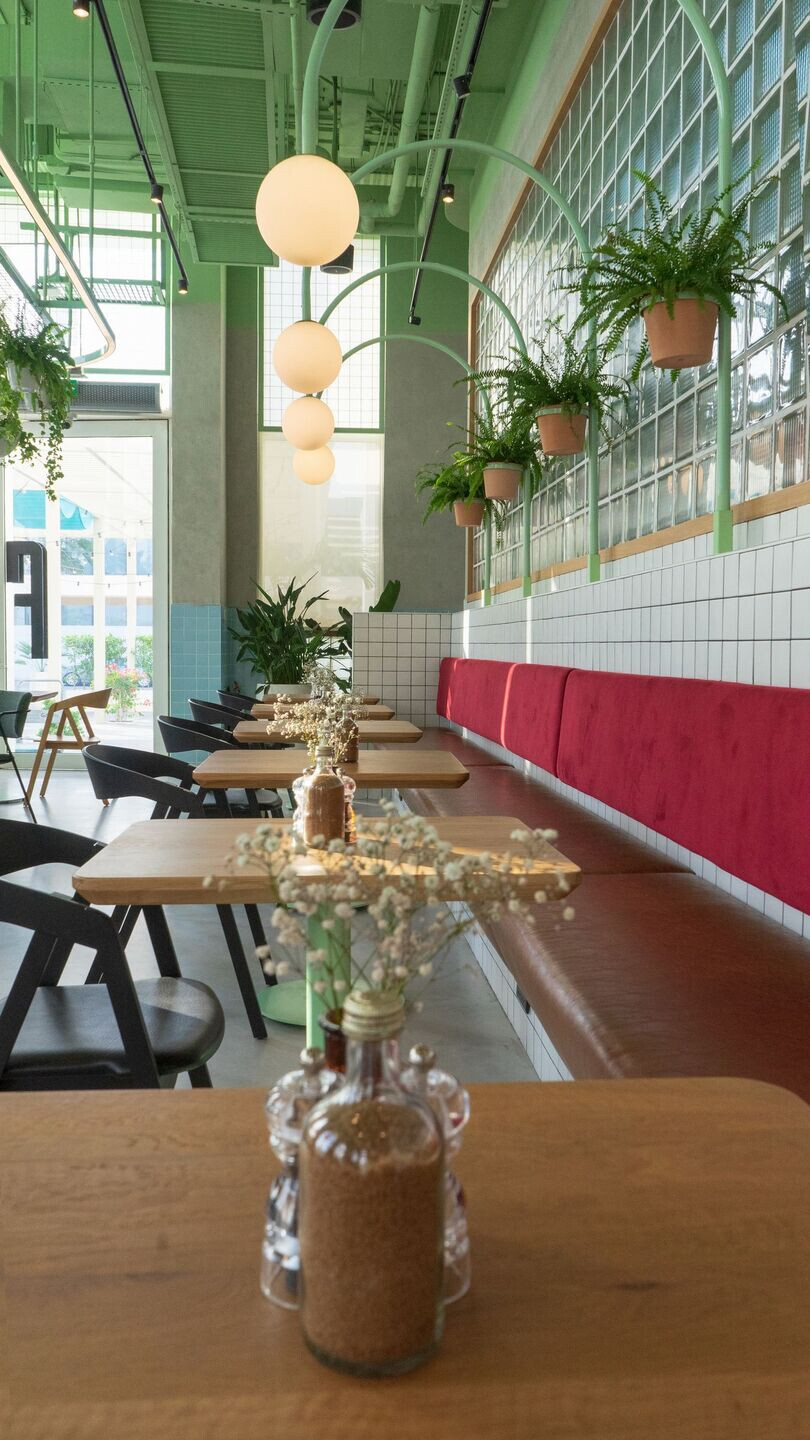 What were the key challenges?
The existing back of house was to be retained which created some restraints on the layout, while the budget and timelines were both tight. In addition, the project was realized almost entirely during the lockdown that took place in 2020. Budget and timelines were tight, with the design running in parallel with the demolition work on site.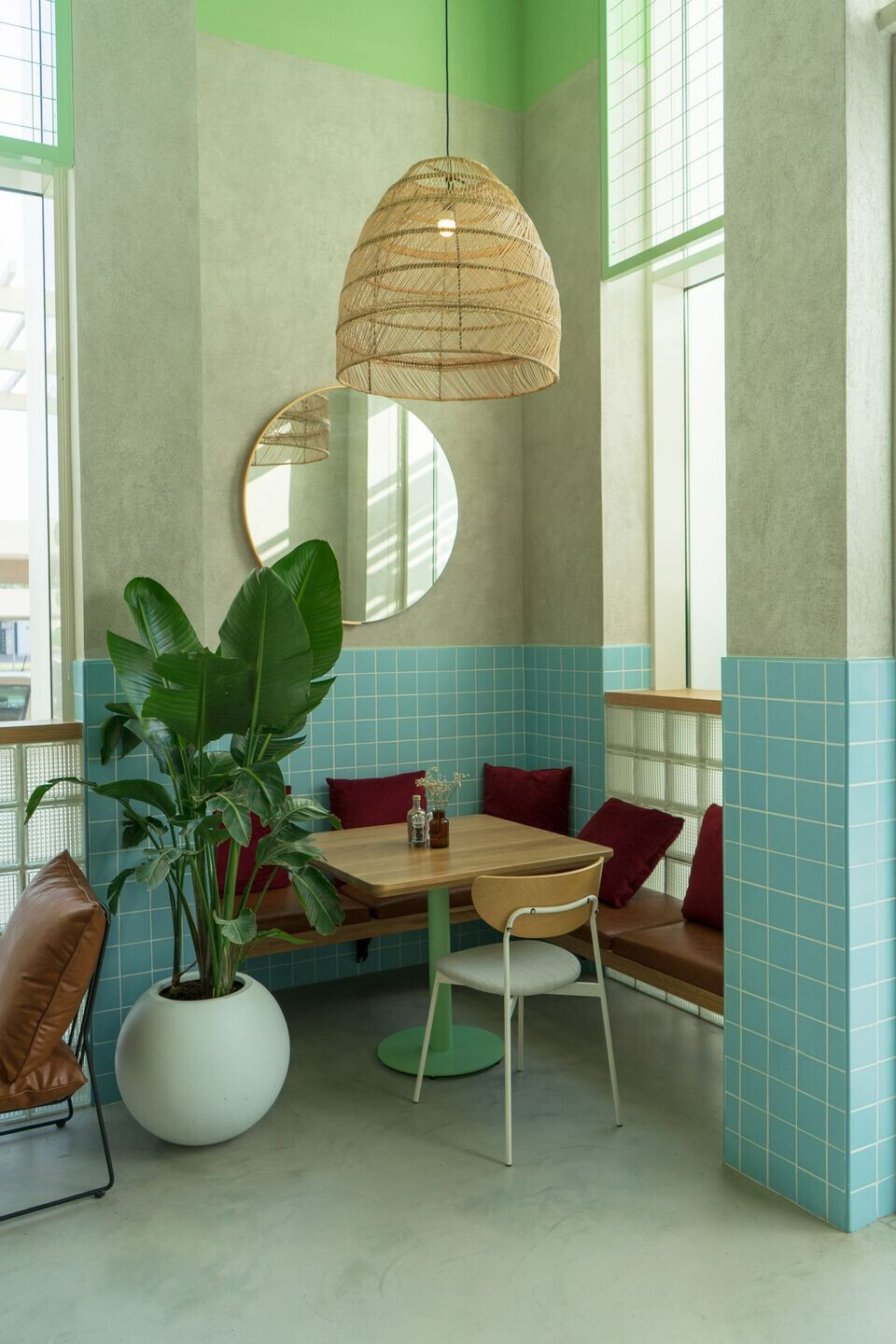 What materials did you choose and why?
The brief was to retain as much of the existing site as possible so the decision was made to include exposed MEP services but painted a luscious mint green. From this a frame was suspended to hang plants with a linear halo light around the perimeter. Simple polished concrete flooring is included as an industrial contrast to the softer ceiling finish. Tiling was very important with a grid pattern visible through much of the design. Glass bricks allow light to the kitchen while at the glazing this creates privacy from the foot traffic outside. Mesh to the windows at high level creates interesting shadow effects mimicking the grids of the tiles.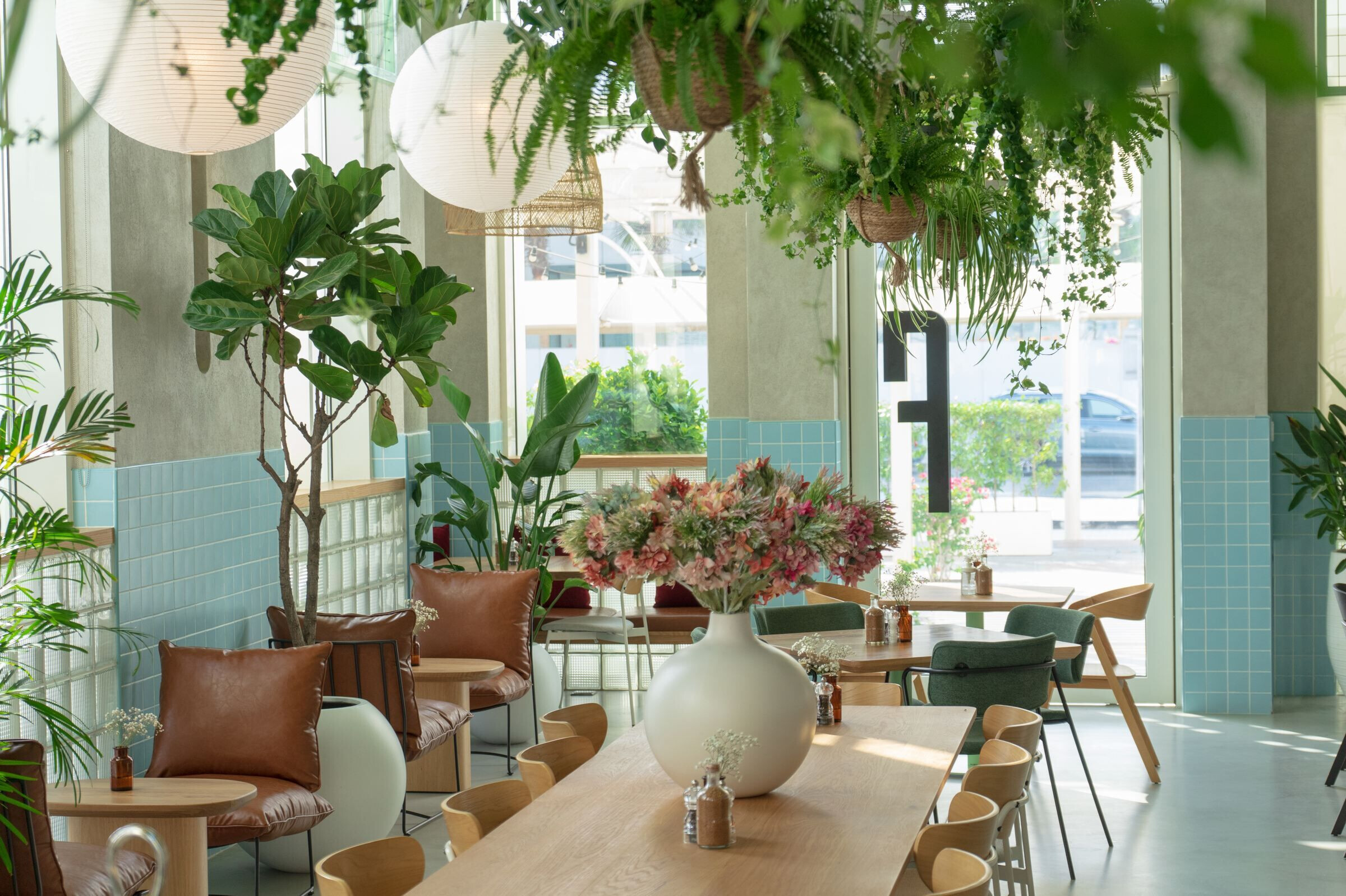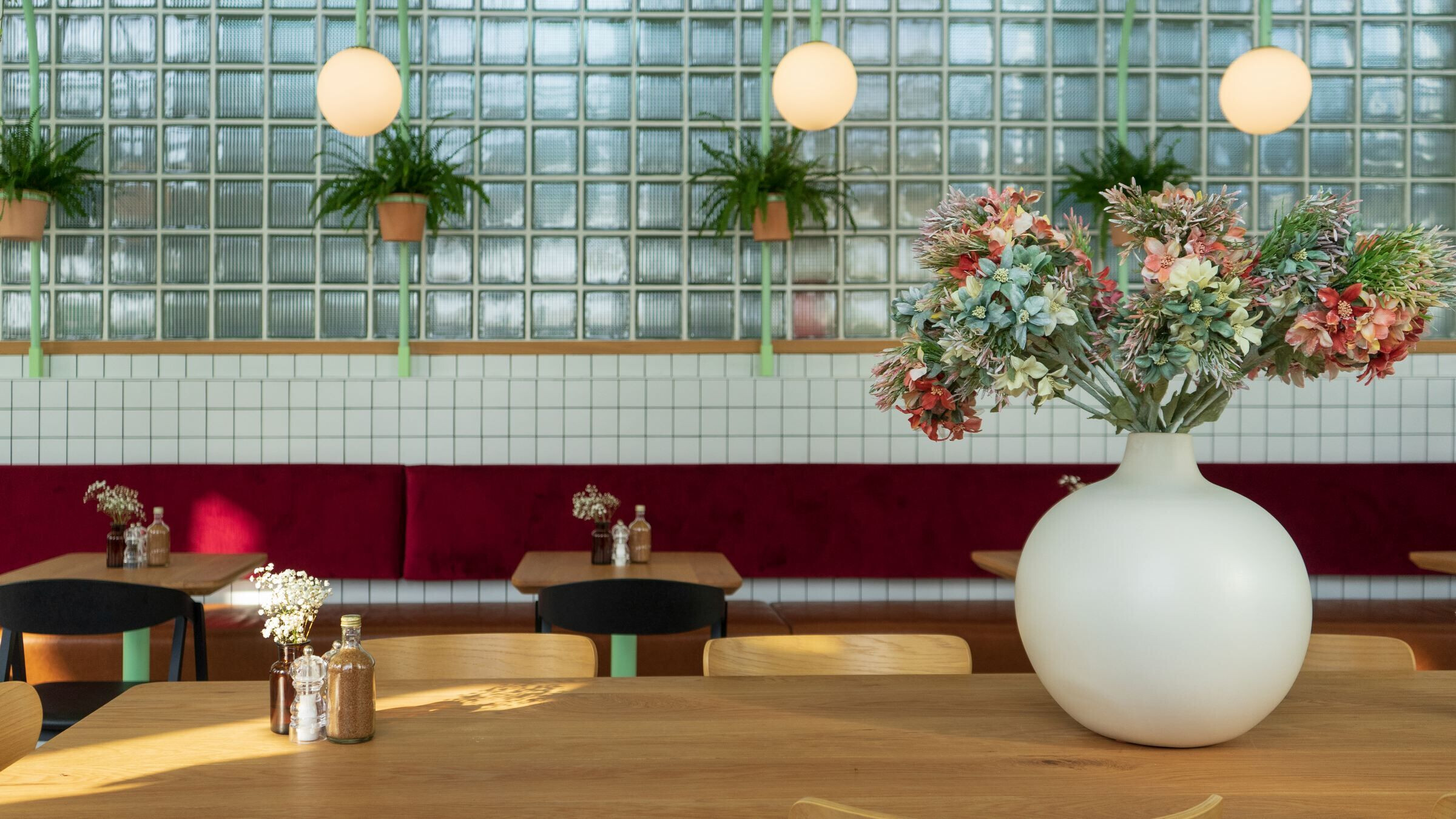 Pops of bold warm colour are dispersed throughout the scheme in the form of patterned tiles and velvet upholstery to play against the more subdued mint greens, baby blues, greys and light timber. Scandinavian furniture and lighting were included in the space to bring a feeling of familiarity and welcoming. A variety of seating types are included throughout the cafe to cater for a range of activities from a quick coffee, catching up with friends, or settling in to study, work or read a book. Long communal tables were a must, the concept is named Friends Avenue after all!
Material Used:
1. Flooring: Polished concrete – Al Zubaidi
2. Doors: Offset pivot doors – Dorma
3. Windows: Existing services, Jotun paint
4. Interior lighting: Hay – Rice Paper Pendants, existing architectural lighting
5. Interior furniture: Interior 360
6. Tiles: Sensei, RAK Ceramics