this fully custom 5,000 square feet home is meticulously designed and built from the base for a contemporary living environment in the heart of North York.
In order to curate a contemporary and liveable environment for the future owners of this investment property, the design team at RZ Interiors', took the time to create a fictional family client, imagining their lifestyle, what car they drive, where they vacation and even where they'd like to display their art.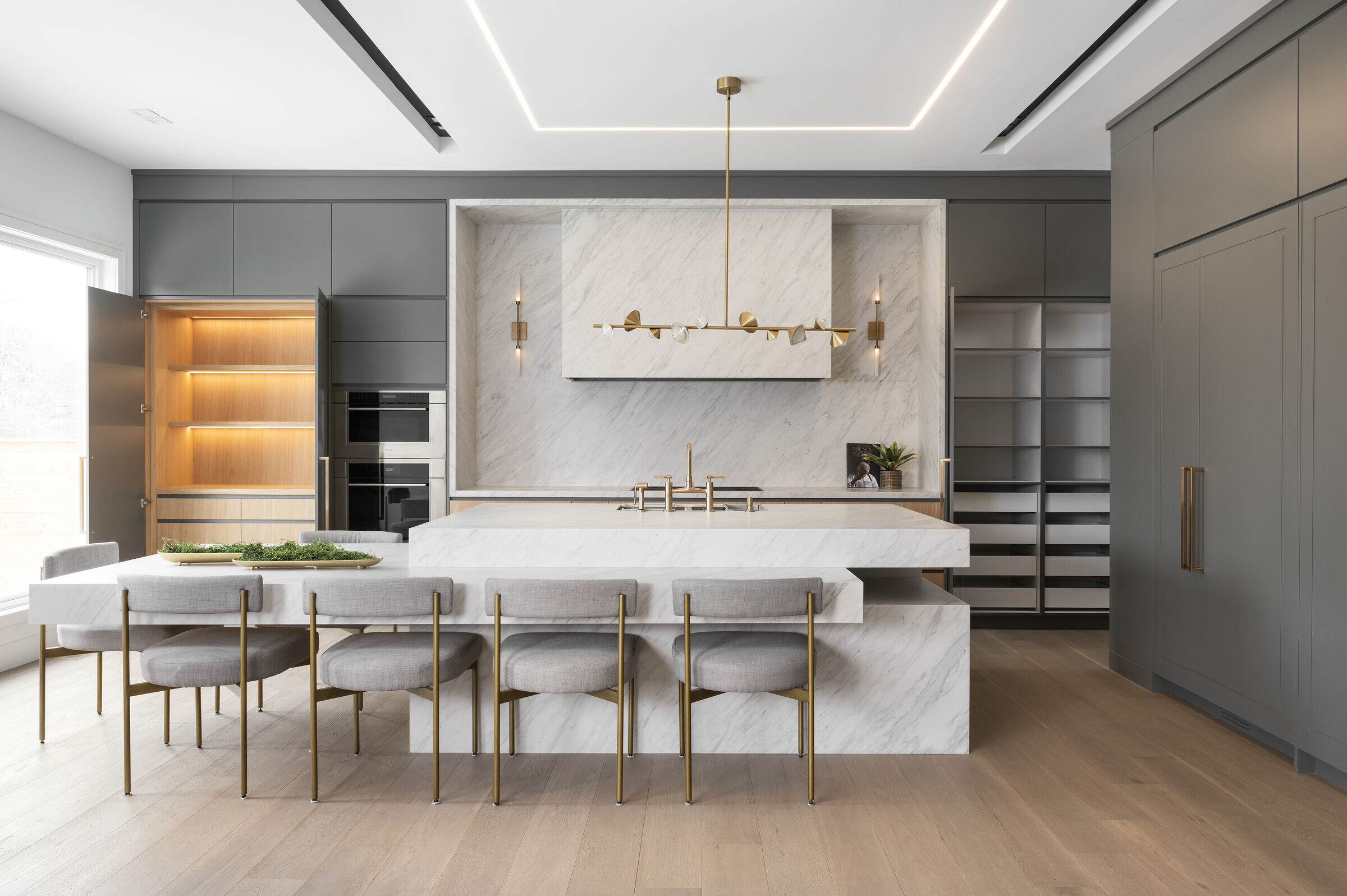 What immediately draws the eye upon entry into the property is unobstructive sightlines through the foyer, stairwell and across into the family room and kitchen. The interesting layering of architectural elements throughout in the form of vertical and horizontal planes in different colours, materials and textures create a tranquil atmosphere that feels modern and restful.
The pairing of neutral colour palette with dark contrasting elements throughout the property has given depth and interest to the custom elements. These pairings can be highlighted in the kitchen and family room where dark charcoal cabinetry have been accented with light rift cut oak panels on the drawers. Upstairs in the primary bedroom, pairing of a dark suede textured fireplace stone adjacent to the stained rift cut oak panels by the window in the dedicated reading nook.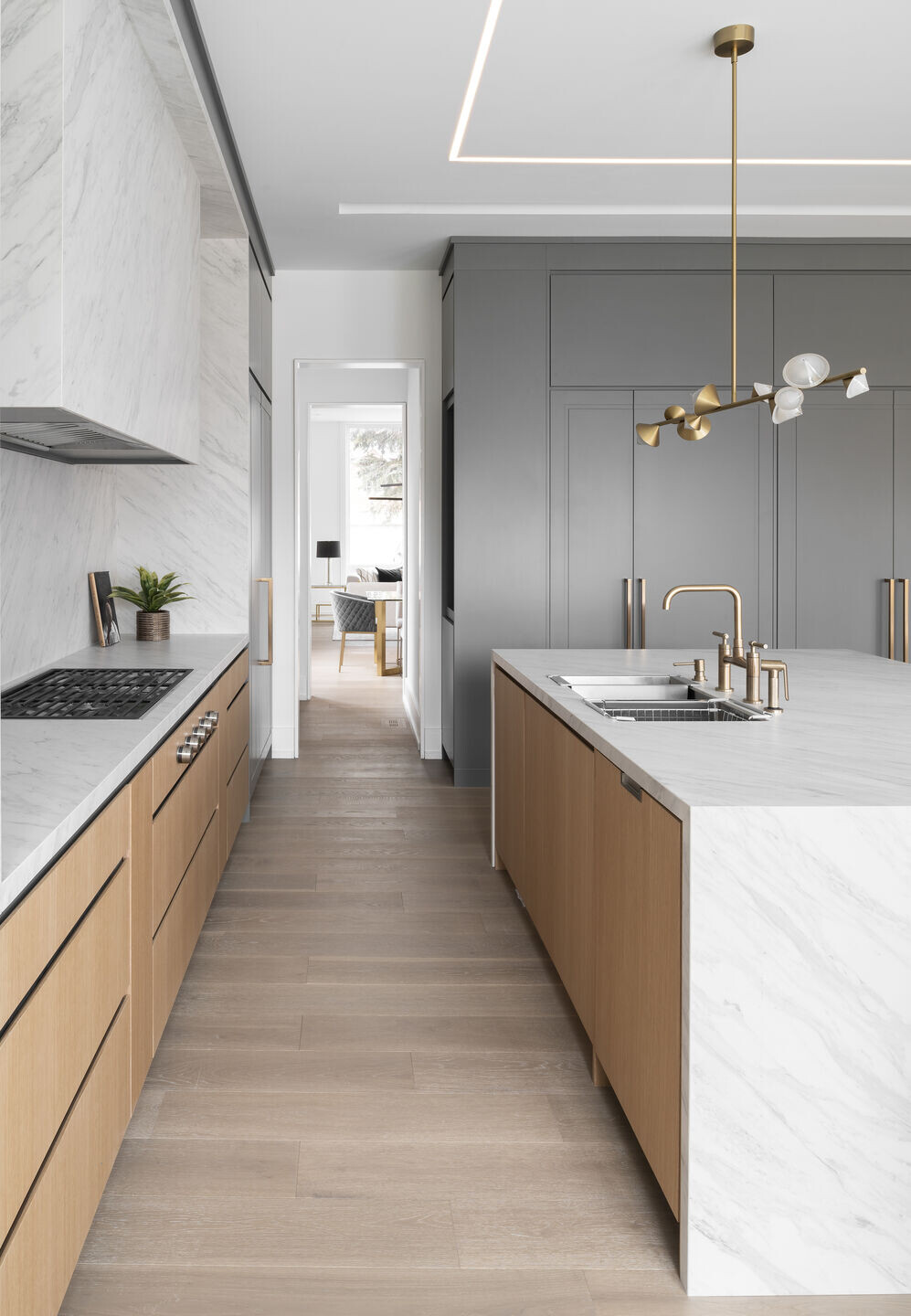 Lighting plan on the 5th plane of the house-the ceiling-played a key role in the overall space planning and design of the house. Due to the high ceilings of this home the design team introduced dropped ceilings in areas where more intimate setting was intended to be created such as the dining area. Across the staircase, over in the family room and kitchen due to the length of the space (±40'-0") on hand, designers wanted to connect both spaces in an intentional way other than keeping the material selections for the custom built-ins consistent, hence the integration of a recessed contrasting channel from the kitchen down to the family room millwork was introduced to draw the eye naturally from the ceiling plane down to the feature wall.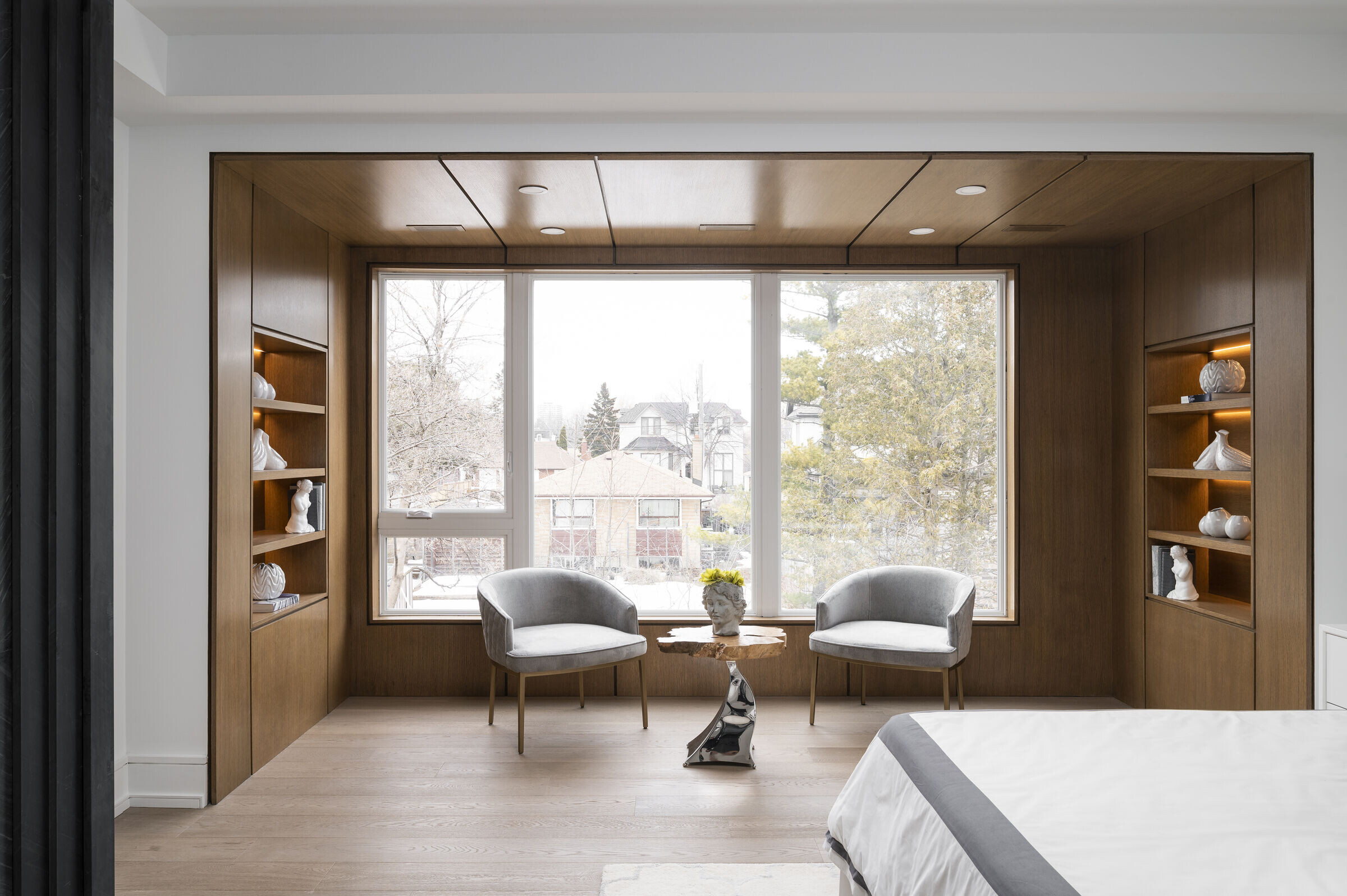 Leveraging high quality materials and intricate detailing from top to bottom, the result in this house is a unified look that creates the feeling of home.
Considering this property was built during the pandemic, with all the material and labour shortages, the design team collaborated harmoniously alongside the developer to bring the vision and the design intent to life with optimal results. After 14 months of work since January 2021, this custom property was listed on MLS and sold in less than a week to a renowned Youtube influencer with 4Million subscribers.