In an apartment in the historic center, the architectural layers of renovation works carried out over time and deliberately maintained, live together in perfect harmony with the contemporary decor. Project Studio Parisotto + Formenton Architetti.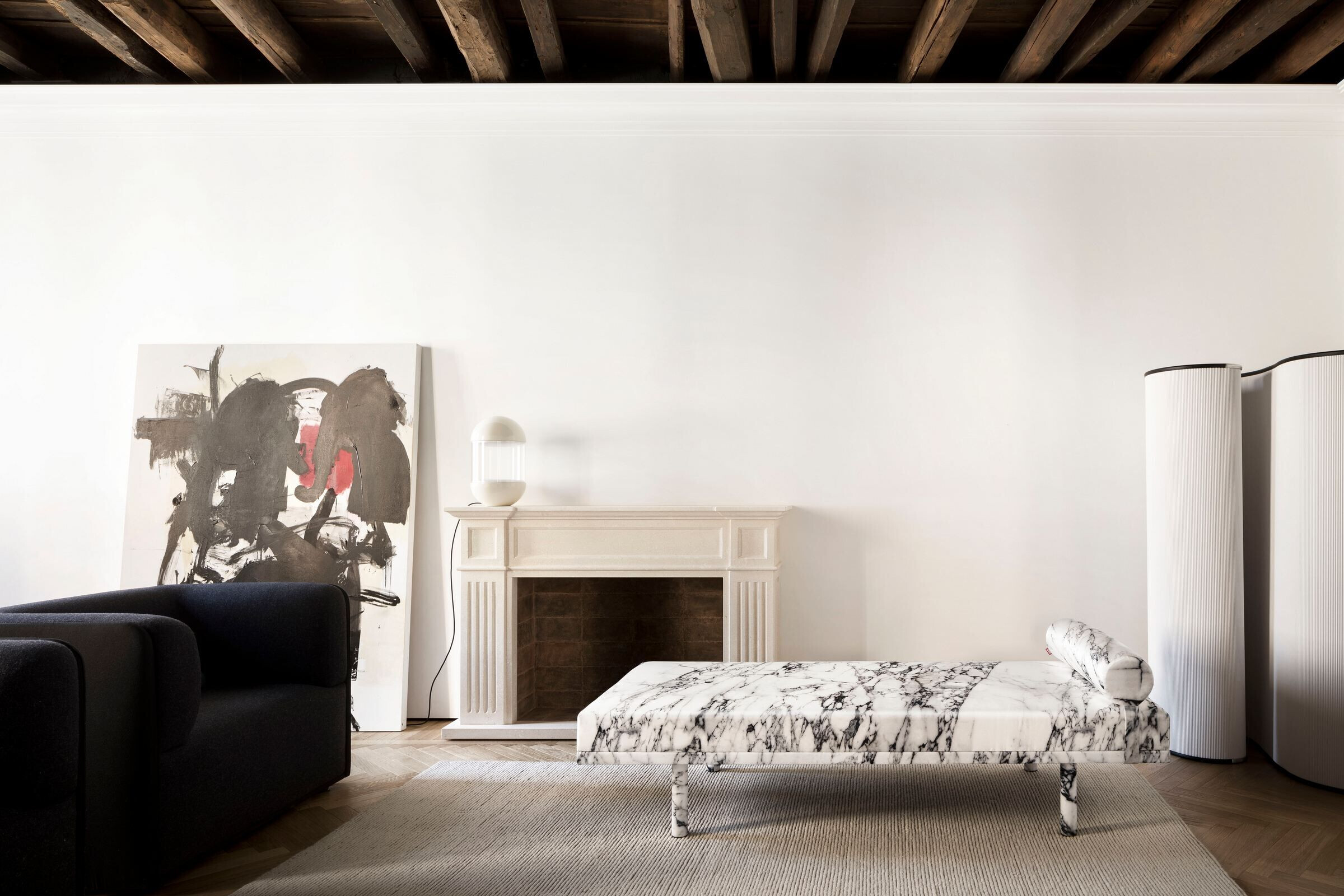 The renovation project of the apartment located on the main floor of a building dating back to the fifteenth century in the heart of ancient Padua, focuses on the preservation of everything that could give evidence of the events lived by the building.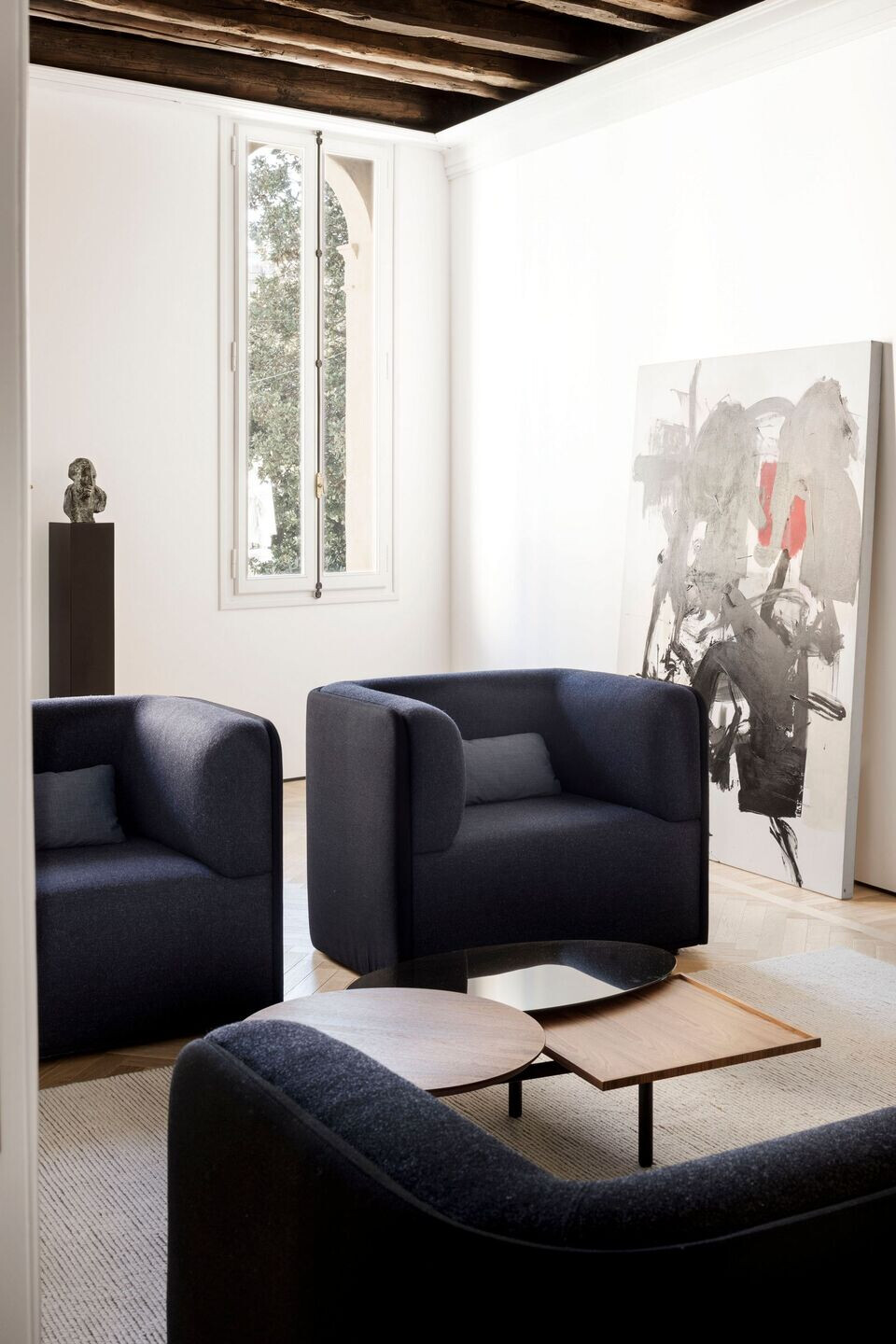 The new works simply involved new contemporary materials or details, trying to make harmonize the century-old features and new atmospheres, warm architectures of the past and essential, rigorous, absolutely up-to-date furnishings. Under the new false ceilings and plasters, wooden beams appeared: it was decided to leave them exposed, after having reinforced them and finished with a homogeneous brown veil, in order to enhance the look of pleasant architectural envelop appreciated by the owners. The new floors in natural herringbone oak with band and perimeter border, recall the Italian tradition of the classic twentieth century bourgeois houses.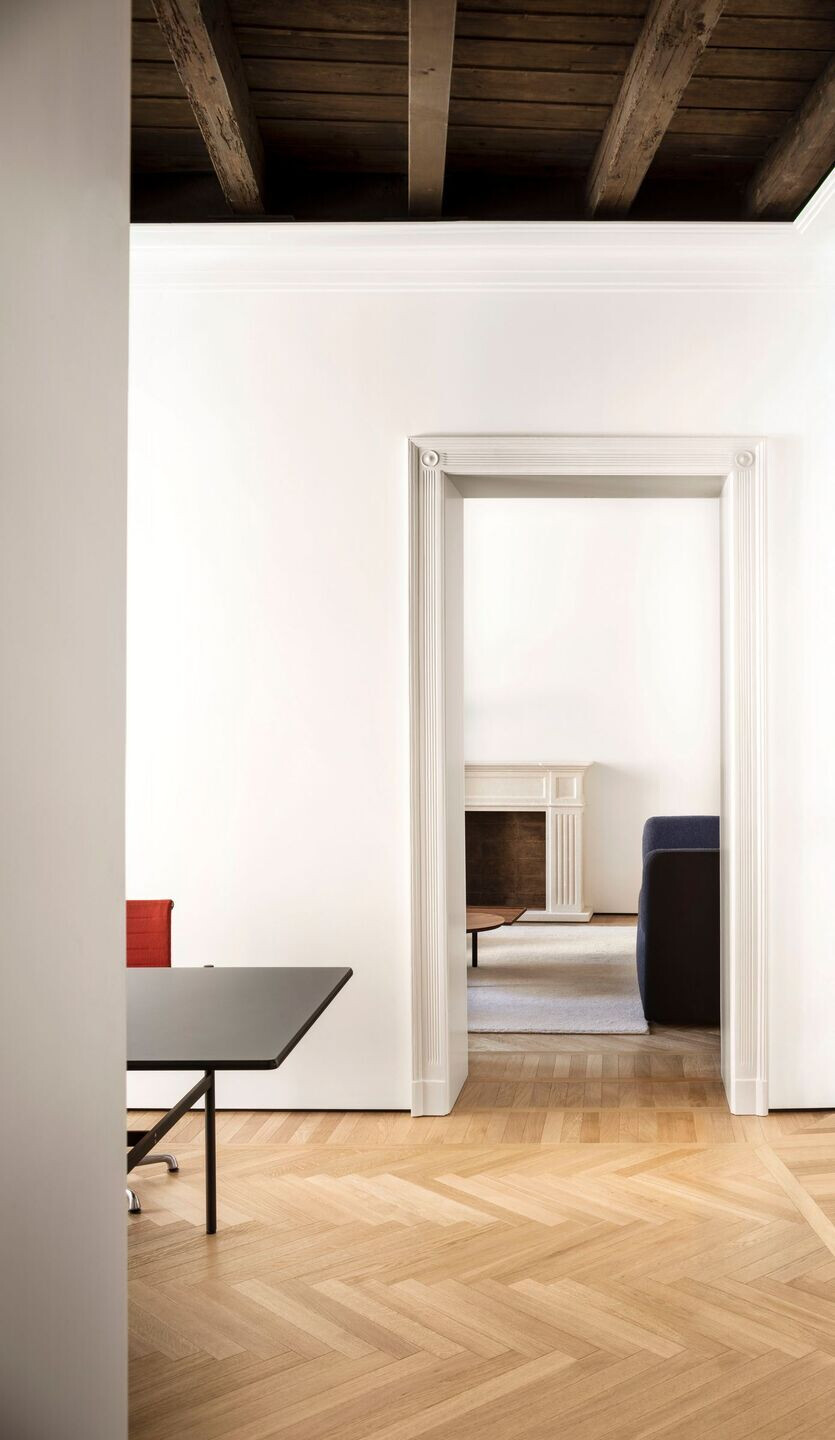 The pleasant colors of woods on the horizontal tops contrast with the absolute white of the perfectly restored walls. A new plaster frame that circles the rooms, frames the dark ceilings, becoming a link between the horizontal and vertical planes.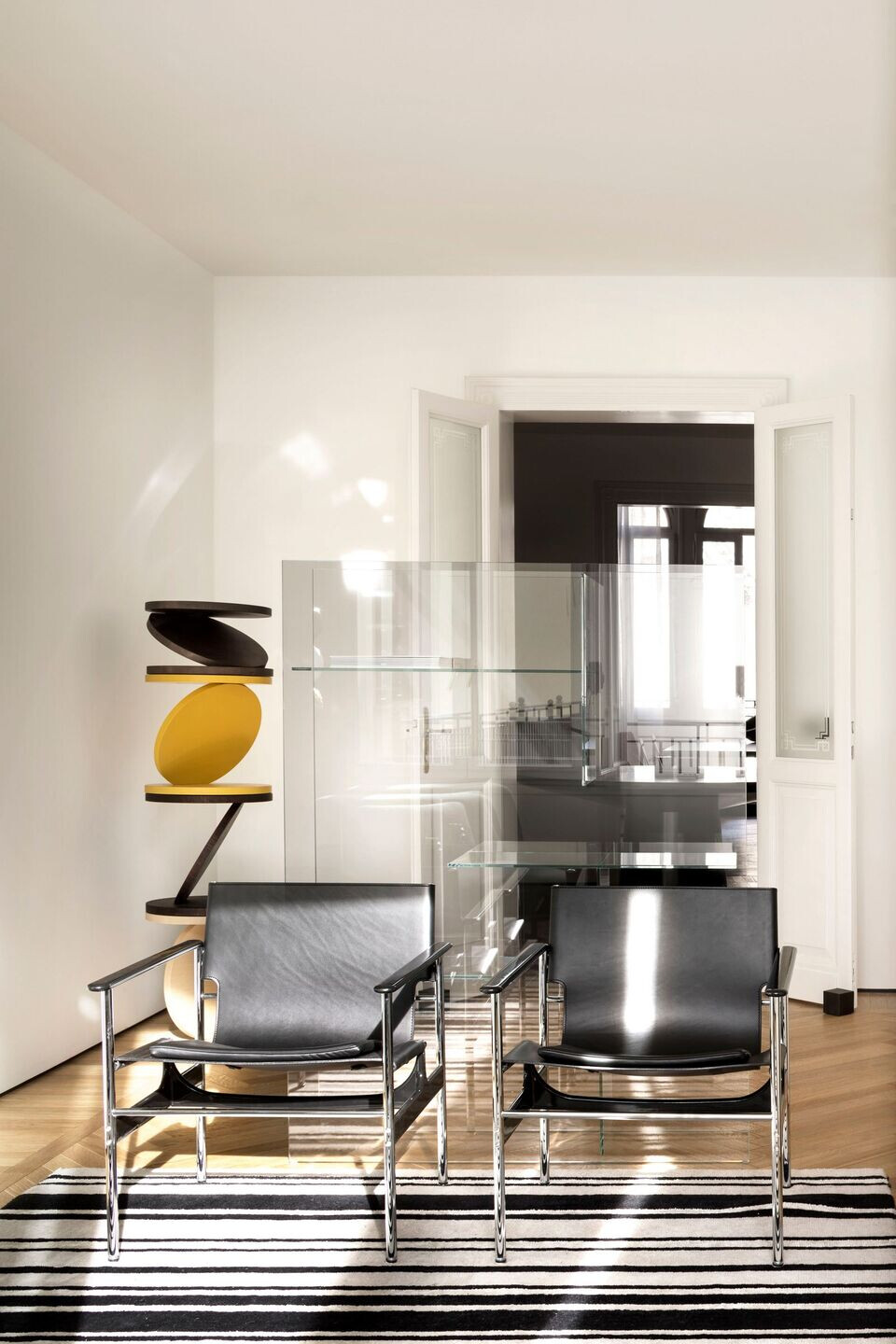 The charming doors dating back to the early Twentieth Century have also been maintained. These carefully renovated double-leaf doors feature frosted glass. The original wooden doors and windows have also been recovered as further evidence of the many renovations on the dwelling over the centuries.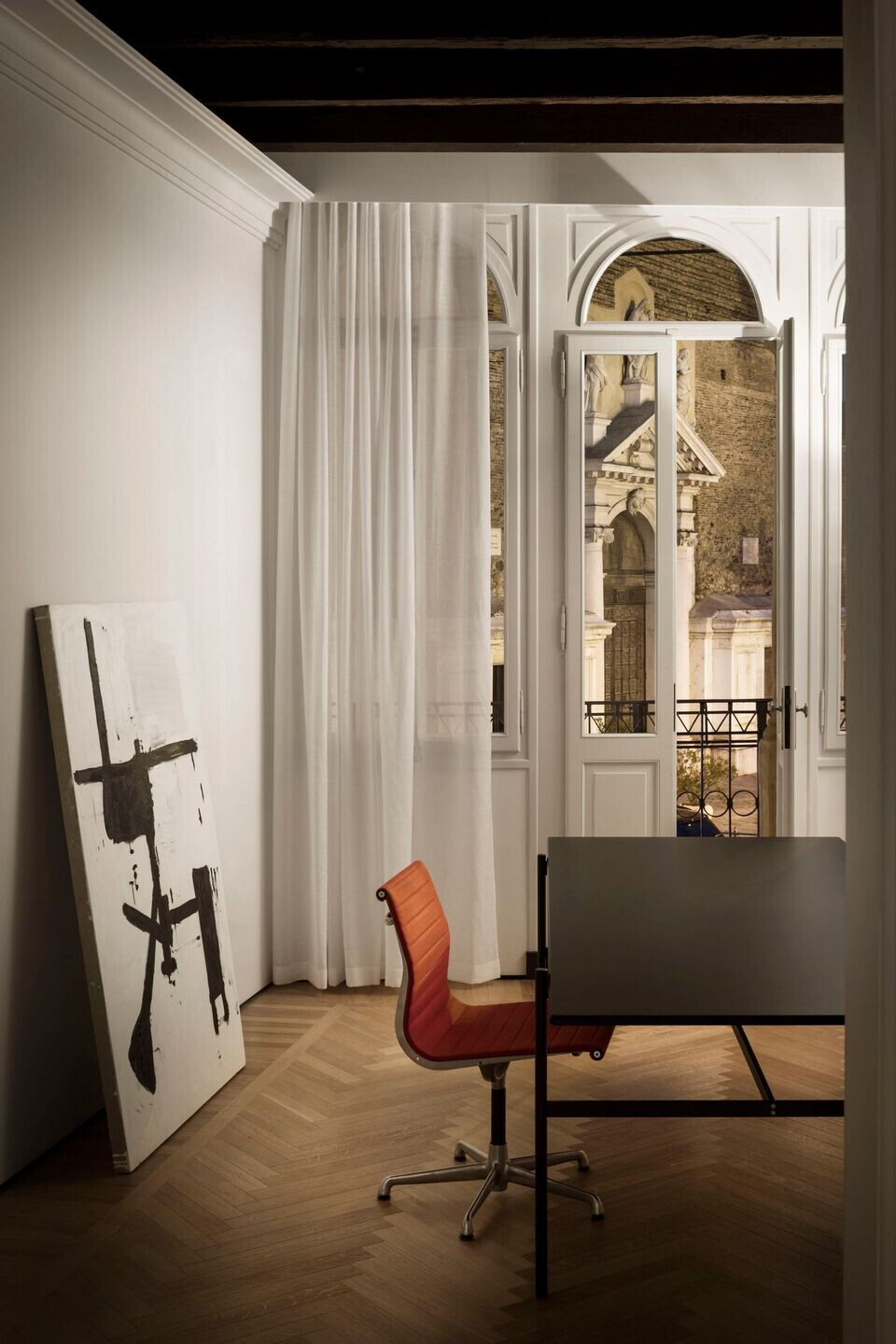 The modern or vintage furnishings, monochrome and with minimal color accents, give a further sign to the 'fifteenth-century dwelling in black and white' as this 200-square meter house was defined: here we can see the layers of the many renovations, contrasts and the contradictions between the old and the new, the enhancement of the existing and the search for essentiality, the re-elaborations carried out in over six hundred years from the moment of construction of the building, i.e. from 1400 to the present day.
Material Used:
Furniture:
1. Dining Room:
Table: Blade design by Parisotto + Formenton for True Design,
Vintage Chairs design by Charles & Ray Eames for Vitra,
Lamp: Toio design by Achille & PierGiacomo Castiglioni for Flos
Painting: Romeo Michelotto, Padova

2. Living Room:
Sofa: Sho design by Favaretto & Partners for True Design,
Table Lamp: Fortuny by Mariano Fortuny y Madrazo for Pallucco,
Table Lamp: Pillola design by Parisotto + Formenton Architetti for Firmamento Milano,
Painting: Romeo Michelotto, Padova
Dormeuse Mies Visit Carrara design by Maurizio Galante + Tal Lancman for Baleri Italia
3. Entrance:
Table Roundel design by Claesson Koivisto Rune for Baleri Italia
4. Sitting Room: libreria Transfix di GlasItalia,
armchair Tray design by Parisotto + Formenton for Baleri Italia,
armchairs Pollock Arm Chair by Charles Pollock for Knoll International,
Coffee Table Match Point design by Omri Revesz for Baleri