The beneficiaries of this apartment are a young couple, who wanted their first home to be a special place. He likes neutral tones, simplicity and natural materials. She prefers French-style colors and influences. We have combined all these elements so that the result is to everyone's liking.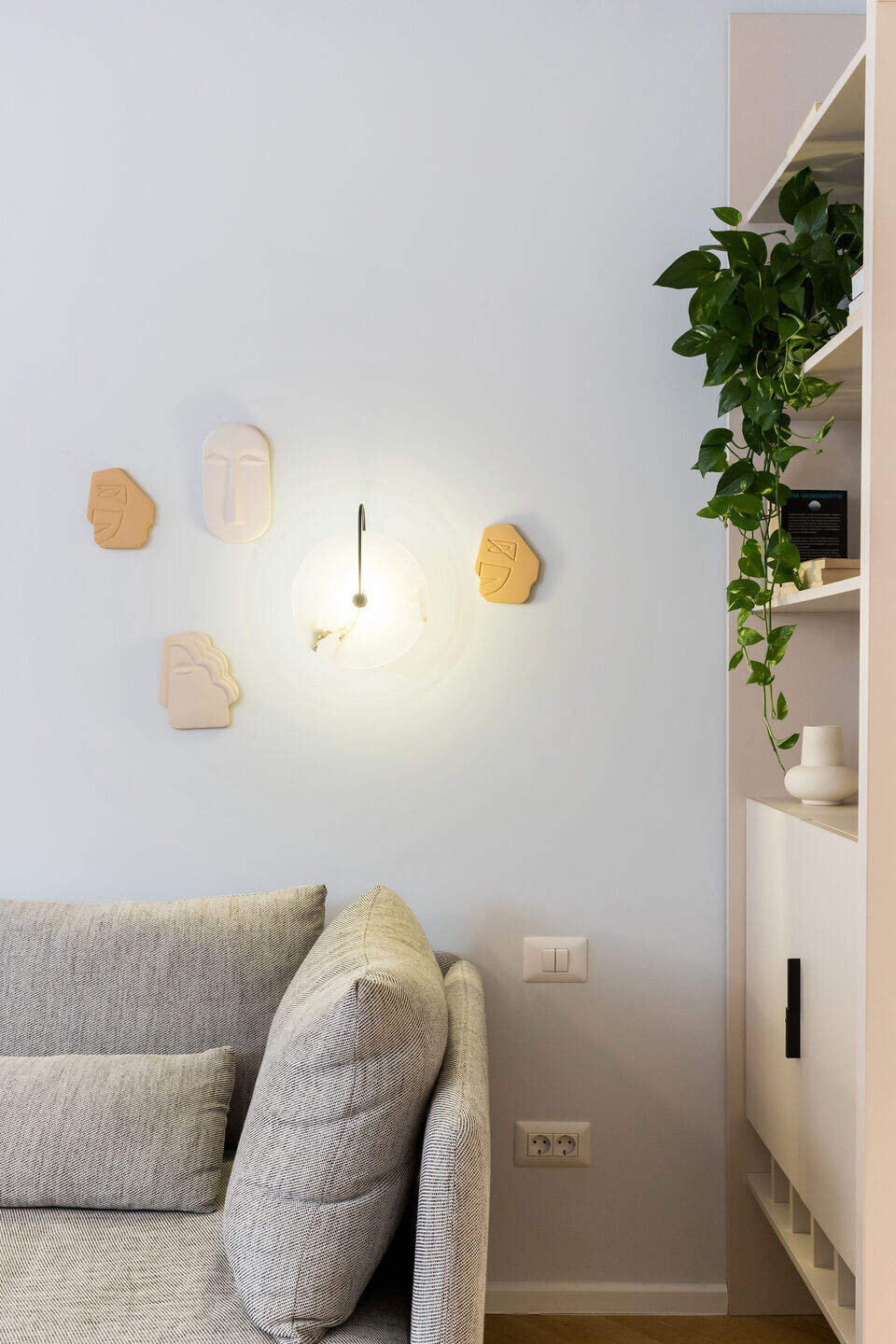 The living room is designed as a bright, warm-colored area with artsy decorative elements. The library is open and covers the entire wall, and the lighting fixtures have a simple design and match the coffee tables. The sculptural panel in the chest of drawers is the highlight of this room. In addition, we chose the decorative plaster masks, which, along with the sconces, decorate the wall behind the sofa.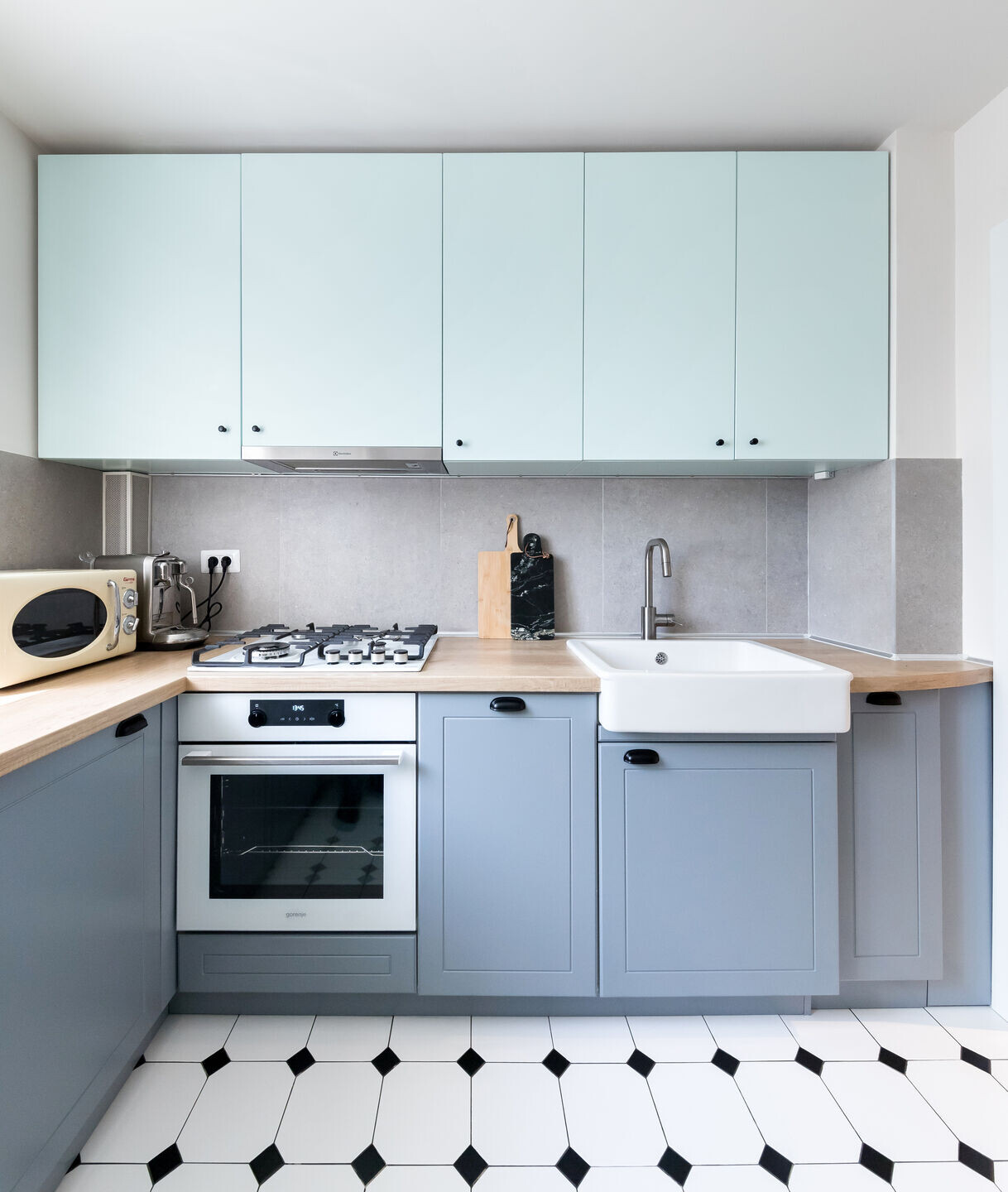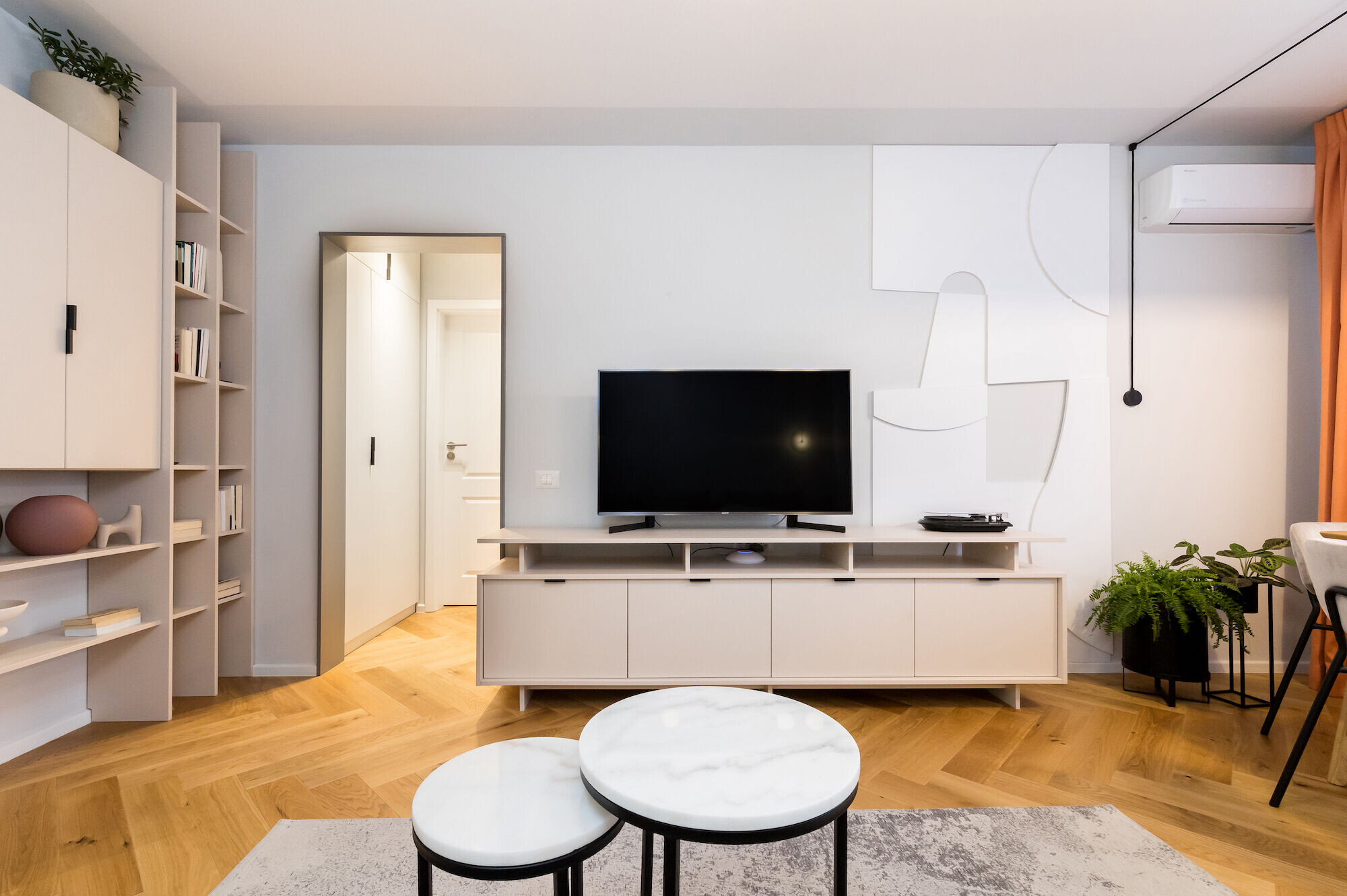 In the design of the kitchen, the basic bodies are profiled, and the suspended ones bring a minty stain. In the bathrooms we used different types of cladding, such as: small, brick and white tiles, combined with stone textures and terrazzo tiles.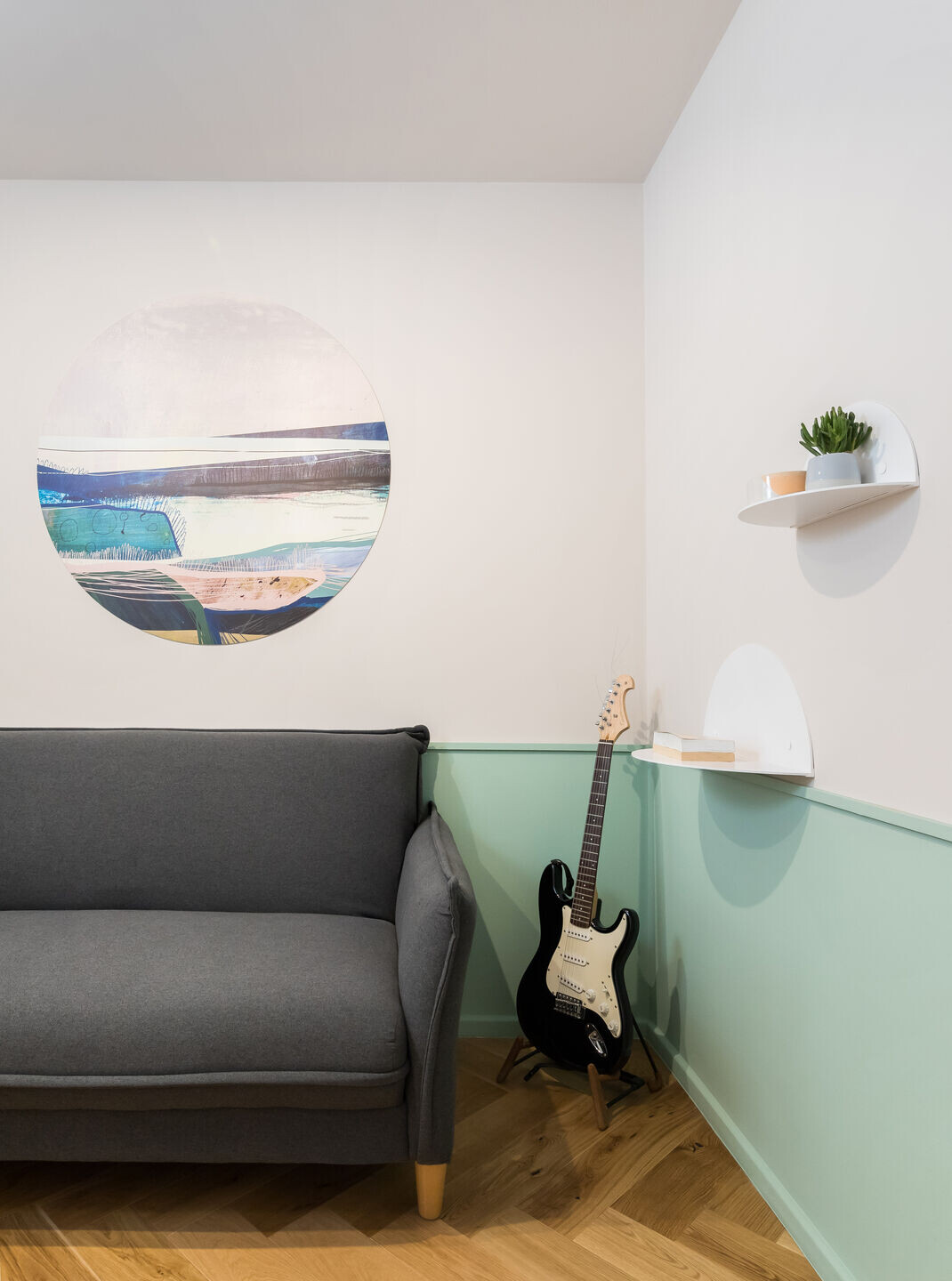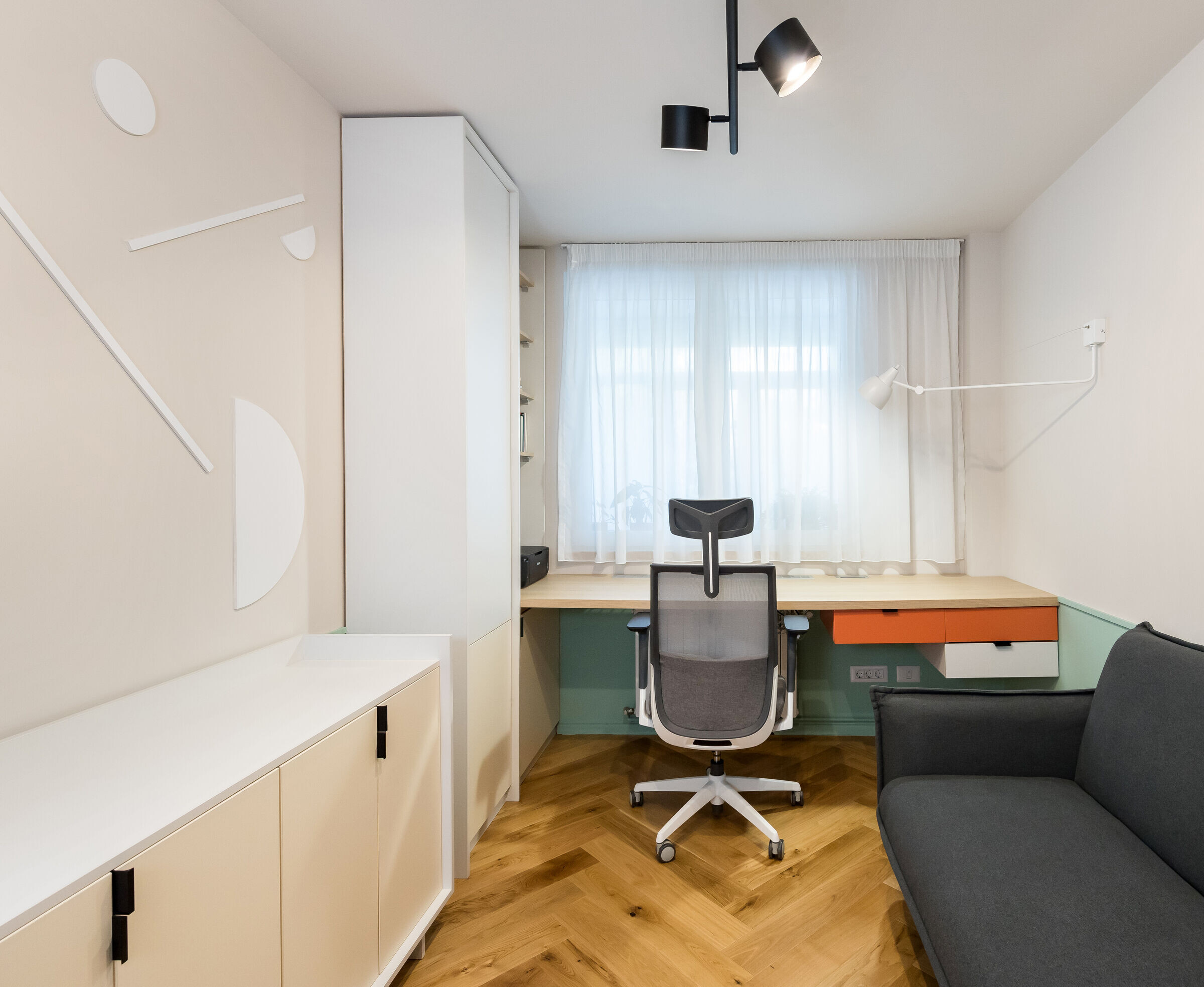 The chosen finishes, the chevron parquet and the ceramic tiles are inspired by the interior design of the old, historic houses.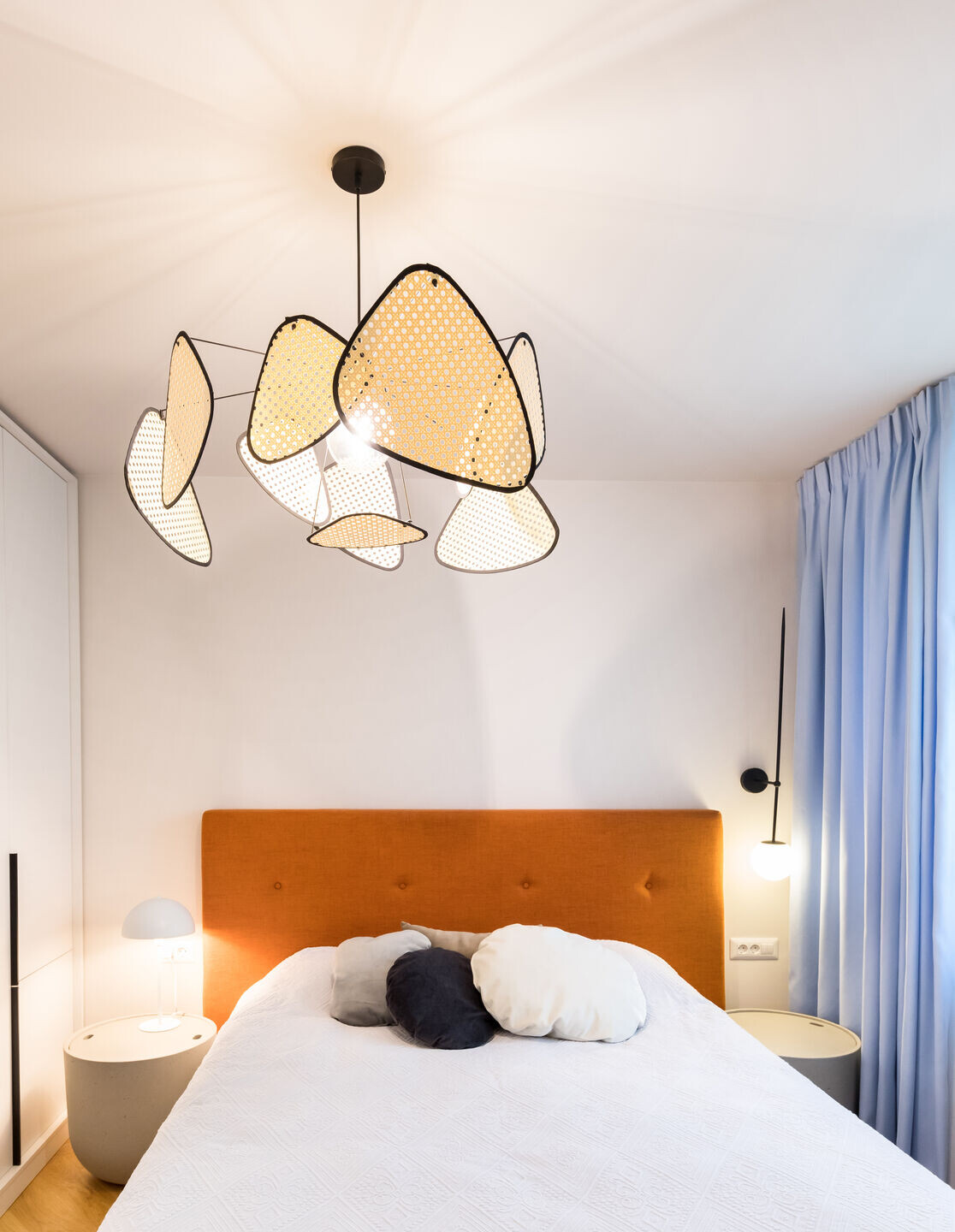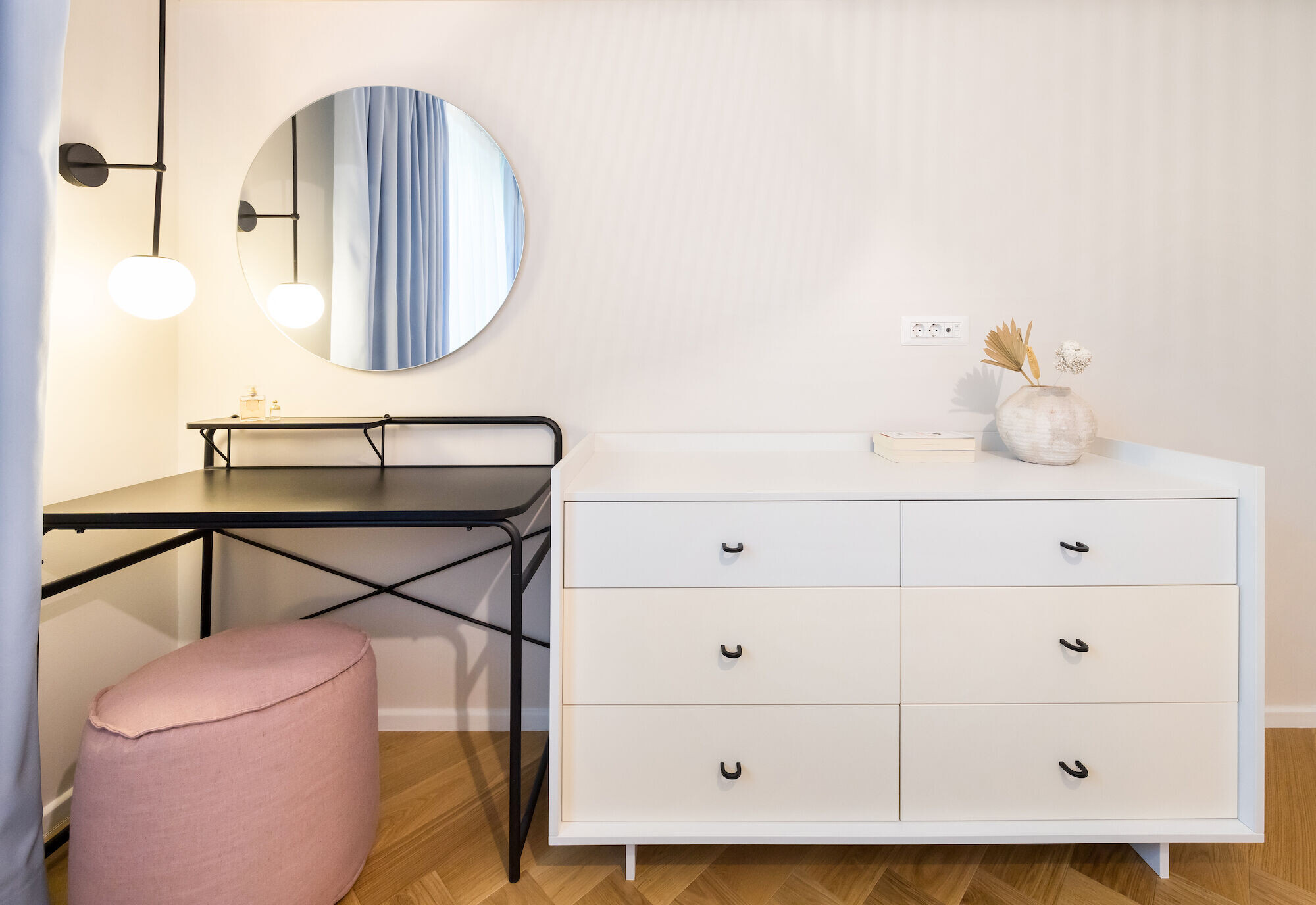 The design of the two bedrooms is different, but they keep the same feeling of comfort and warmth. The master bedroom has many black metallic accents. The shape and color of the headboard, the hanging rattan lamp, the round shapes of the mirrors and the fluff sweeten the space. The round bedside tables with concrete texture bring an extra interest and go great with the metallic elements.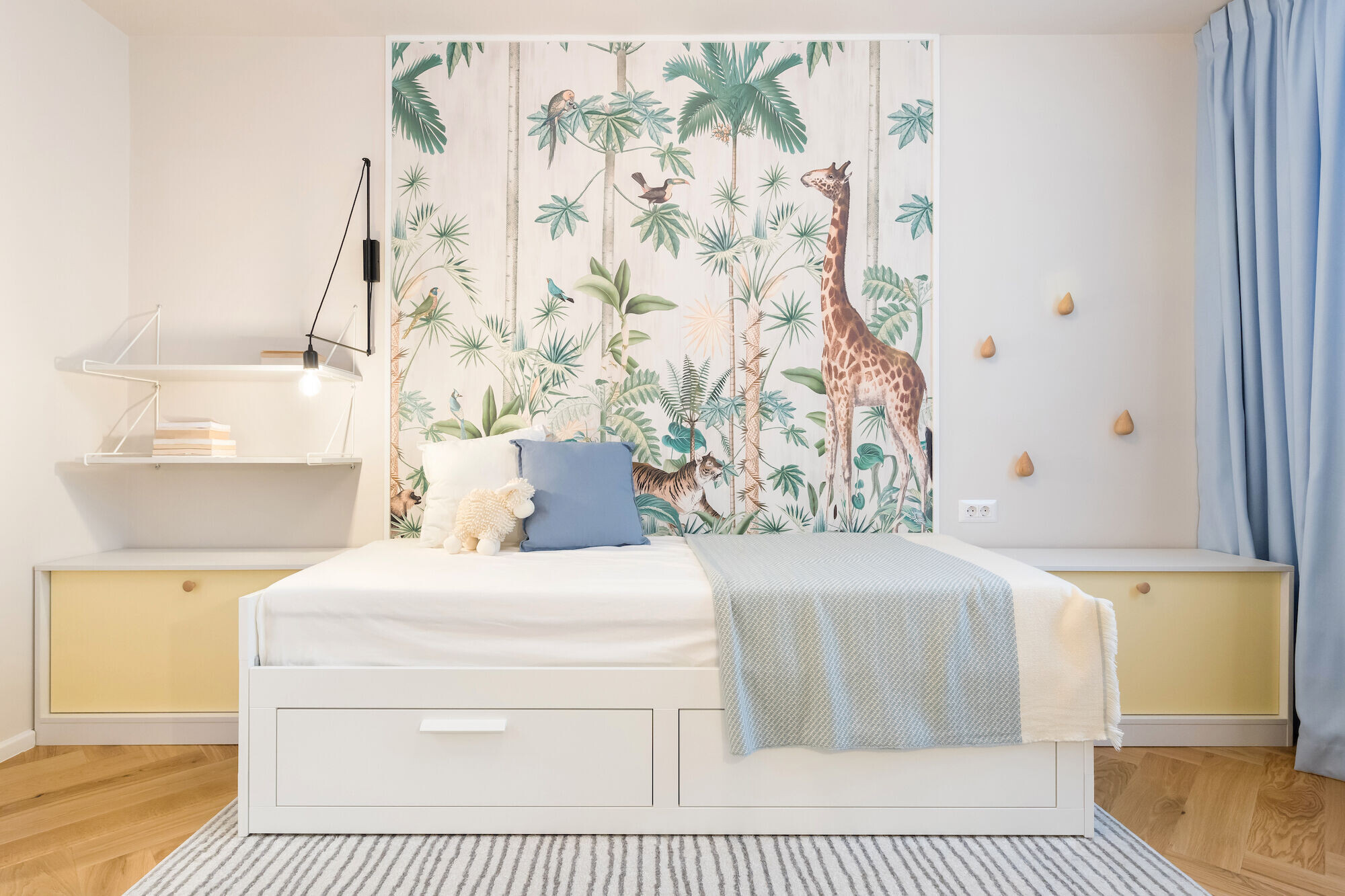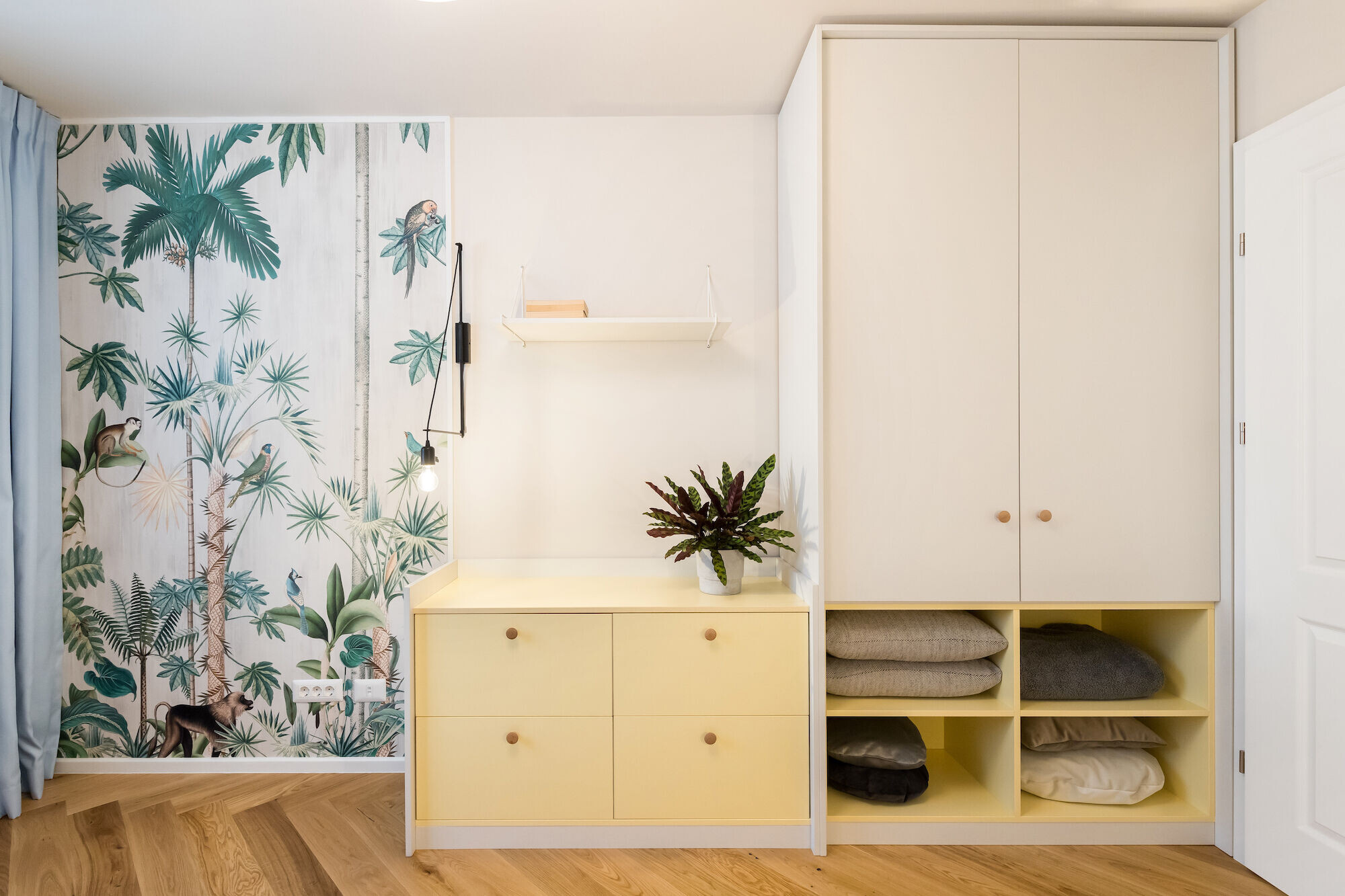 In the interior design for the child's room I relied on a wallpaper with a cheerful prince, which instantly animates the atmosphere. Green predominates in this room, being also used in furniture elements.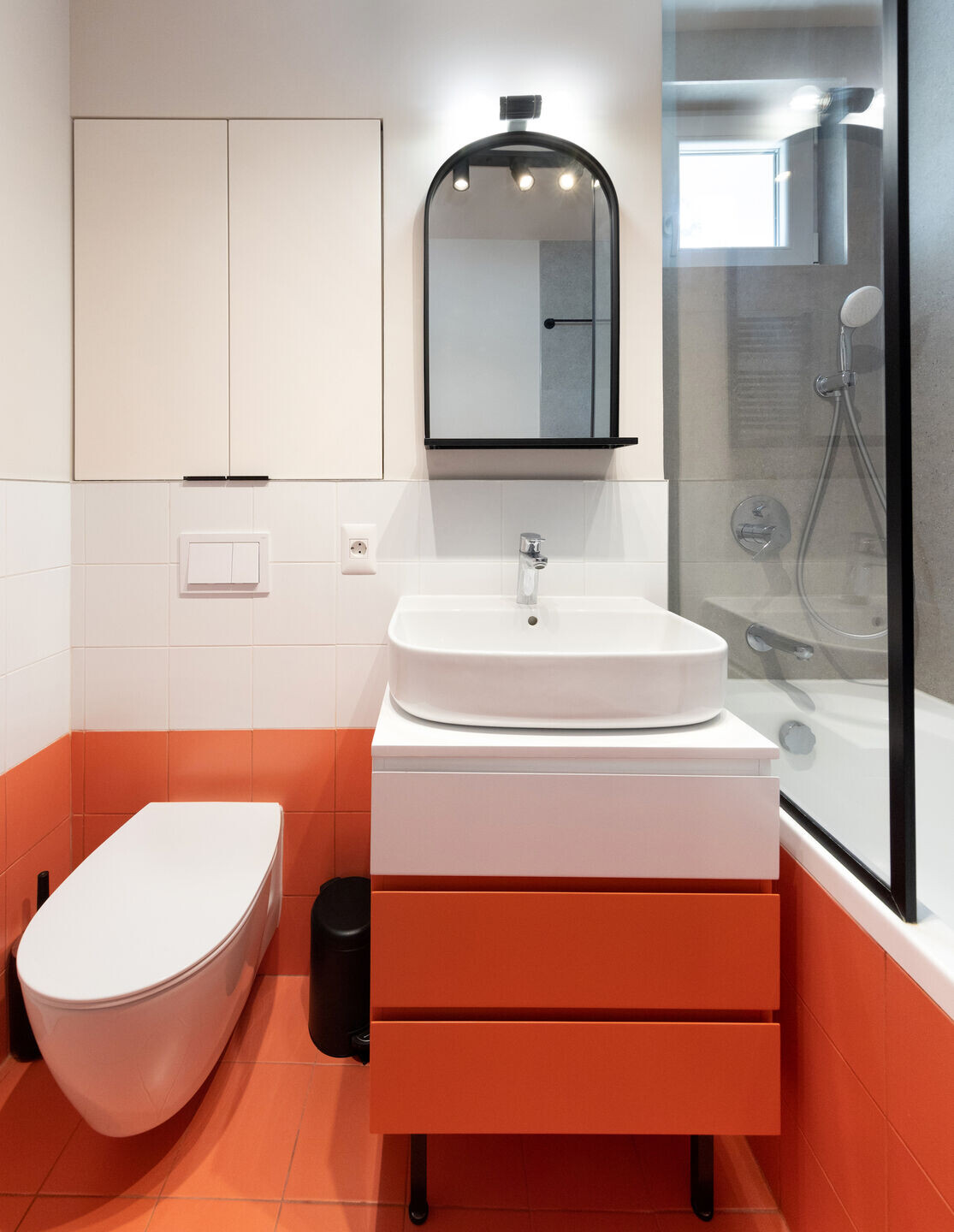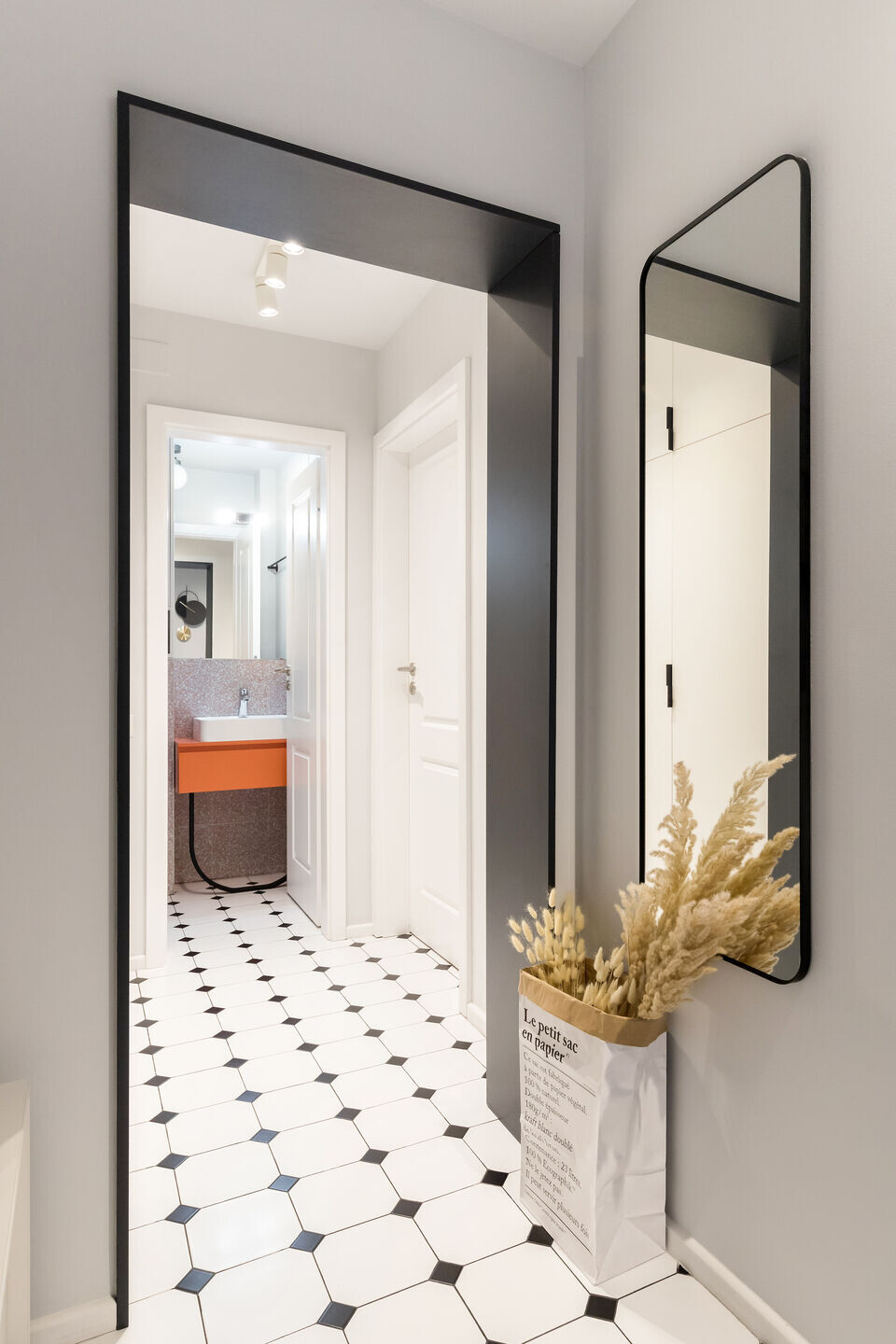 Team:
Architects: Jooca Studio
Photographer: Alexandru Prodan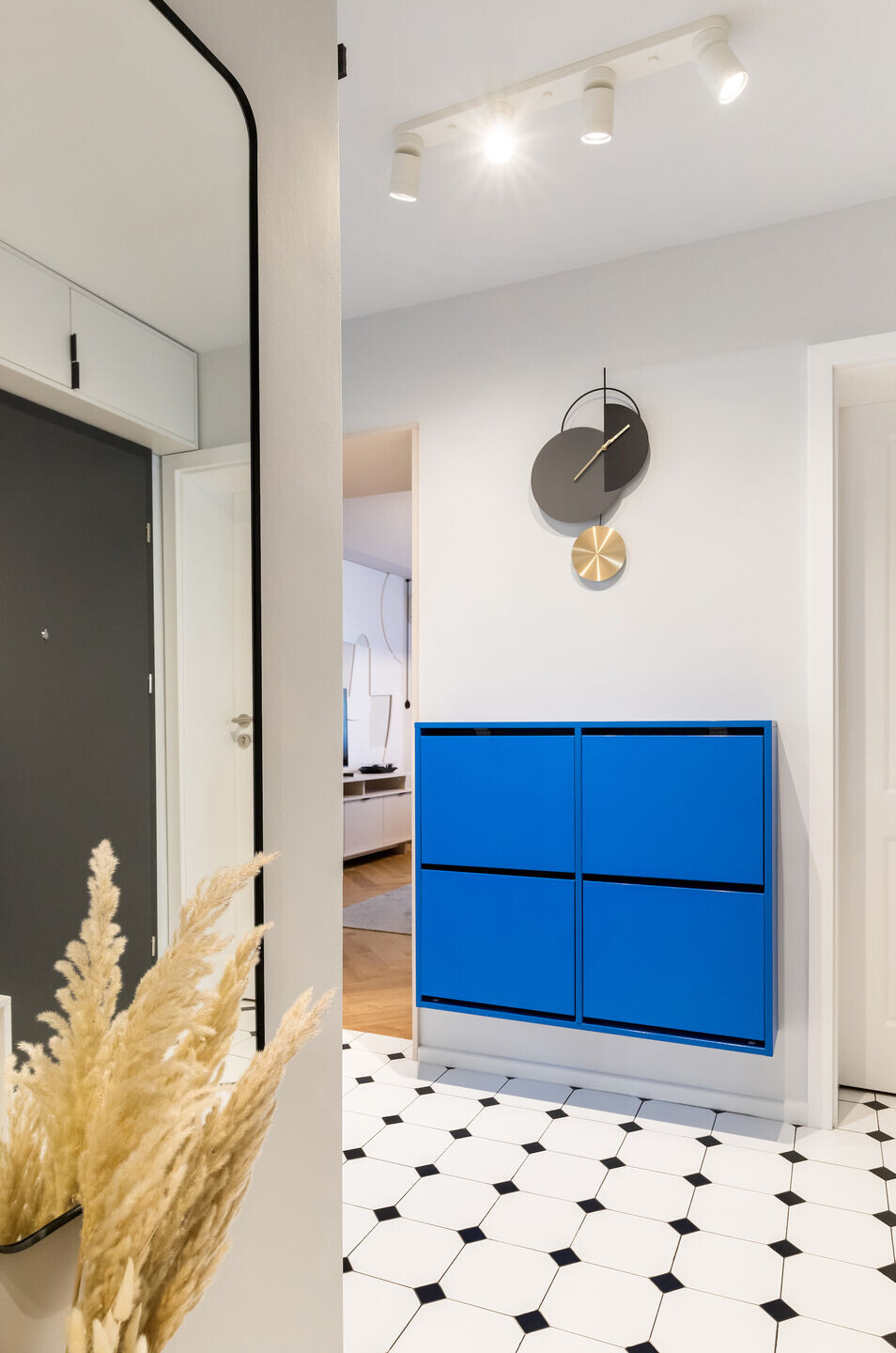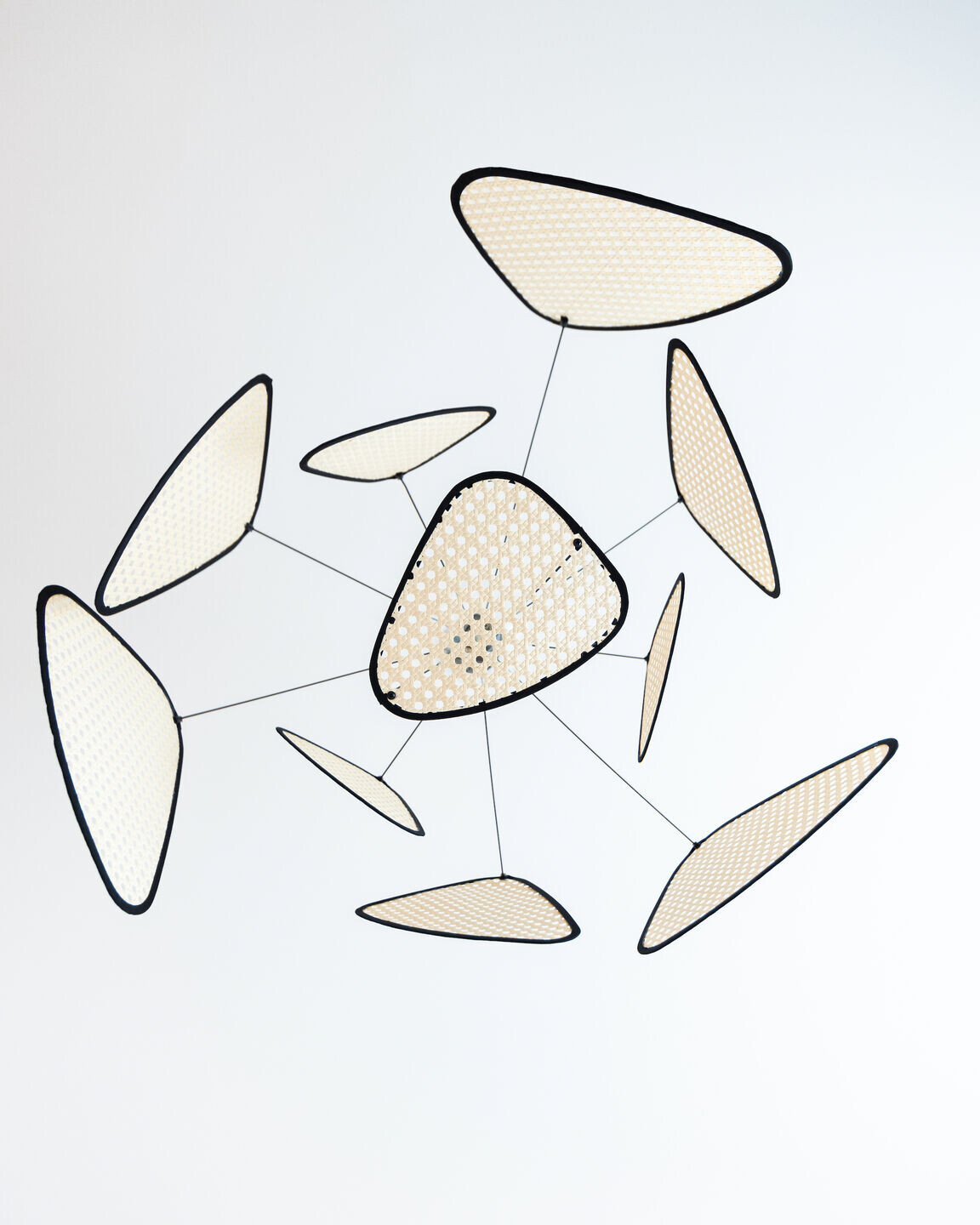 Materials Used:
bonami - Interior Lighting & Furniture - Aplică de perete Markslöjd Buddy, negru
Opviq lights Plafonieră Opviq lights Rodia, negru
Aplică Zuiver Shady Double, alb
Canapea țesătură catifea Cosmopolitan Design Vienna, 200 cm, bej
IKEA - Interior Lighting & Furniture - Nymåne, NORBERG
ioooi - Interior Lighting & Furniture - KIARA Lampă de perete, Covor MOON LIGHT GRAY
The Home - Interior Lighting & Furniture - APLICA NEAGRA DIN FIER SWING HOUSE DOCTOR,
MASA DINING EXTENSIBILA MARO DIN PAL SI LEMN 90X(140)180 CM SKAGEN WOODMAN
Barlinek - Parquet Flooring - Stejar Caramel Chevron 130
Norda Shop - Furniture - Scaun din Plastic Gri 76.5cm IXIA
Rebel Walls - Wallpaper - Giraffe's Stroll
Vaalbara - Parquet Flooring Chevron
Vivre - Mirror - Oglinda Uzio
rom decor - Doors
Salamander - Doors