Newfloor participated in the setting up of the National Building Museum of Washington the exhibition Making room: Housing for a Changing America – The open house, a project by the Architect Pierluigi Colombo of Clei with the collaboration of Resource Furniture USA.
For this ambitious project, Newfloor provided 3 different types of raised floor with ceramic tiles as top covering. In the museum, it has been created a multifunctional apartment at a scale of 1:1. The plan remained the same during the 9 months of exhibition, while the internal furniture changed every 3 months, depending on the various housing needs of the 3 different types of inhabitants.
In the terrace it has been installed a raised access floor made of 60×60 cm panels with a core of calcium sulphate 30mm thk 1500kg/mc density and the ceramic tile Tagina Apogeo Anthracite as top finishing; in another room it has been decided to use the same core panel but with ceramic tile Caesar One Indigo; for the major part of the flat, it has been used a calcium sulphate panel dimension 60×120 cm with 3 ceramic tiles dim. 60x120cm wood effect by Ergon glued together.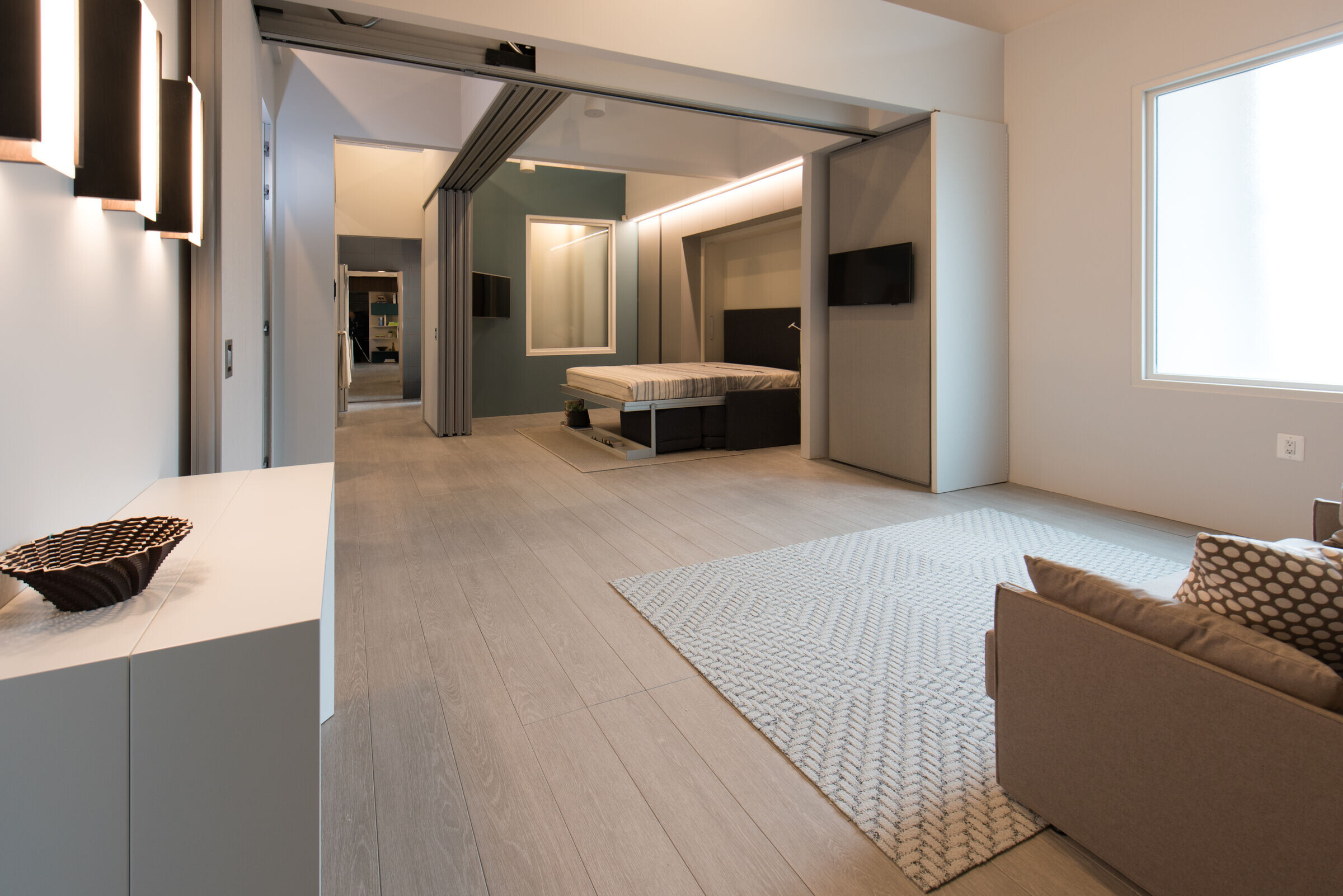 The various multifunctional solutions were designed to meet the needs of 3 different types of inhabitants:
Three young students who share the room (roommates)
A girl with her baby and her mother (extended family)
Two retired people who sometimes hosts their nephews; in this apartment there's an independent one-bedroom flat to rent.
This project aimed to adapt the environment to the demographic change and to the new living standards, not only Americans' but of many big cities all over the world. The traditional idea of house with its typical division of the domestic spaces is over, and it's now possible to design the spaces more cleverly.
From this perspective, the raised floor achieved an important role in the civil context. The installation, without the need of glue or other substances, enables to reduce the construction schedule, allowing the interchangeability of the panels and the area underneath the substructure to be inspected at any time.