The major transformation of this duplex into a single-family home is, in my opinion, and very humbly, a success! The project was carried out in close collaboration with the architectural firm Carta, which carried out a major expansion, the contractor LePierre Rénovation, which provided a high-end renovation, and myself: Designer Sophie P-Lefebvre.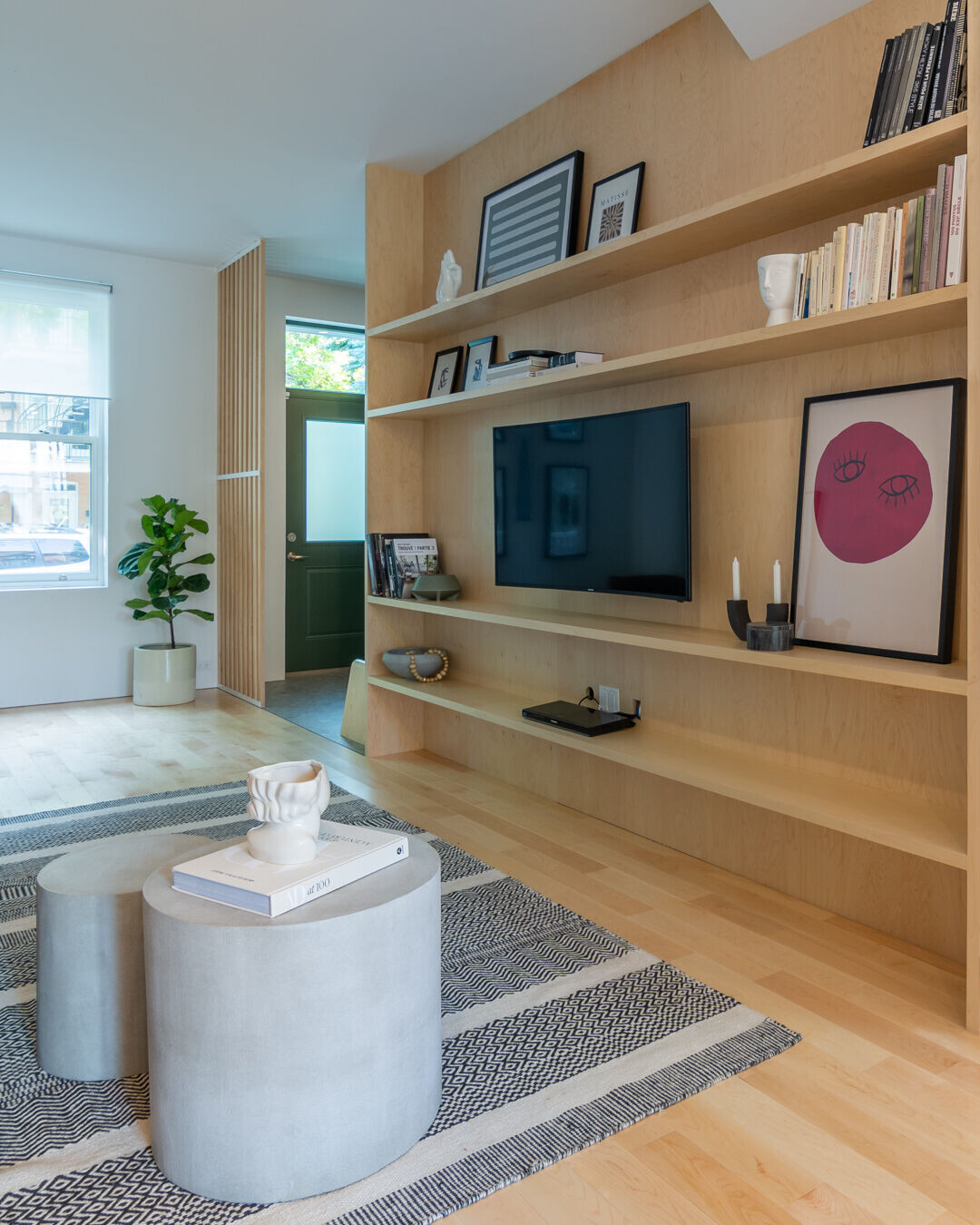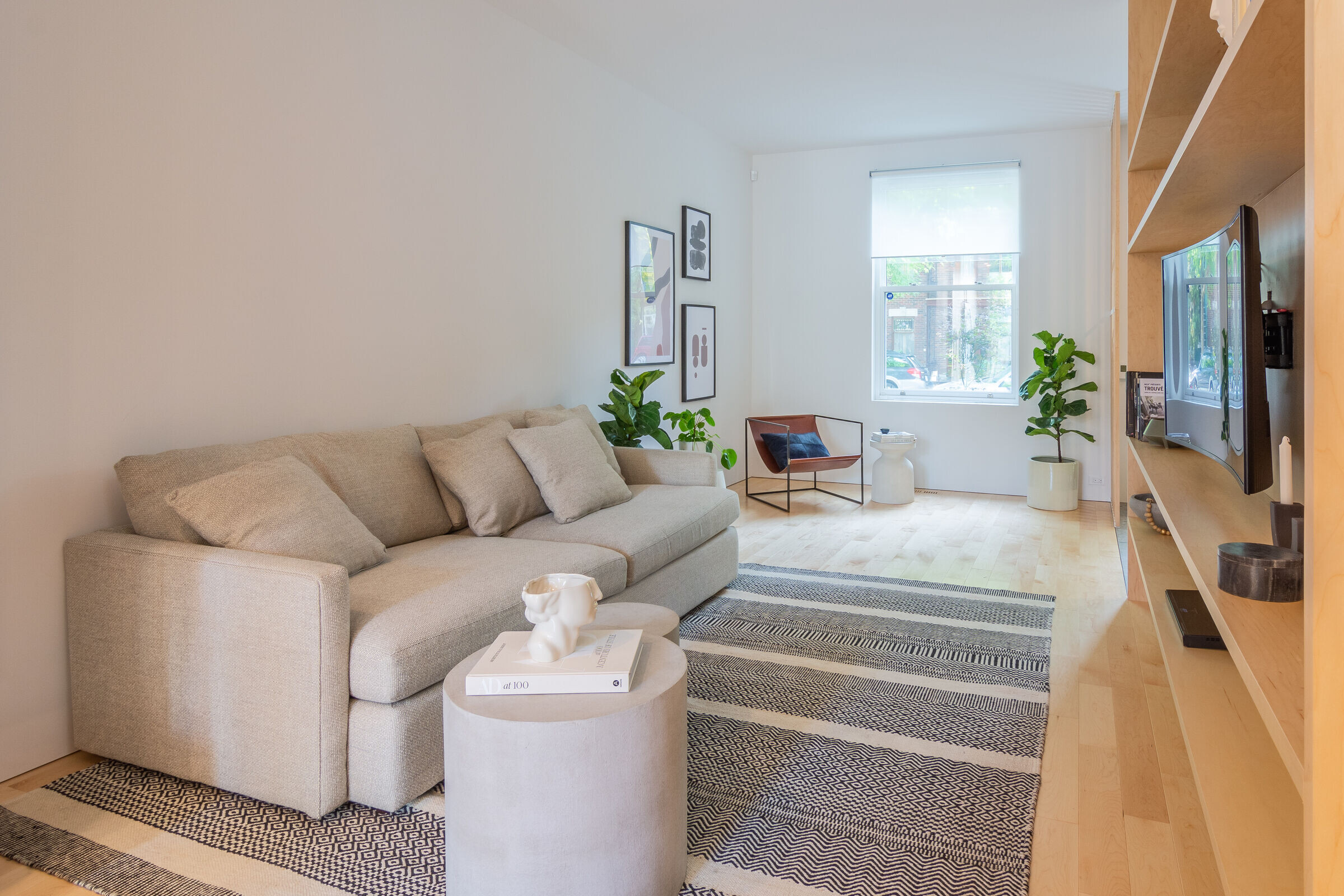 The design of the Marquette2 house is a balance between the straight lines of contemporary architecture and the warmth of the new Scandinavian. The texture of terrazzo, the warmth of maple, matte white and straight lines, but not minimalist, are combined.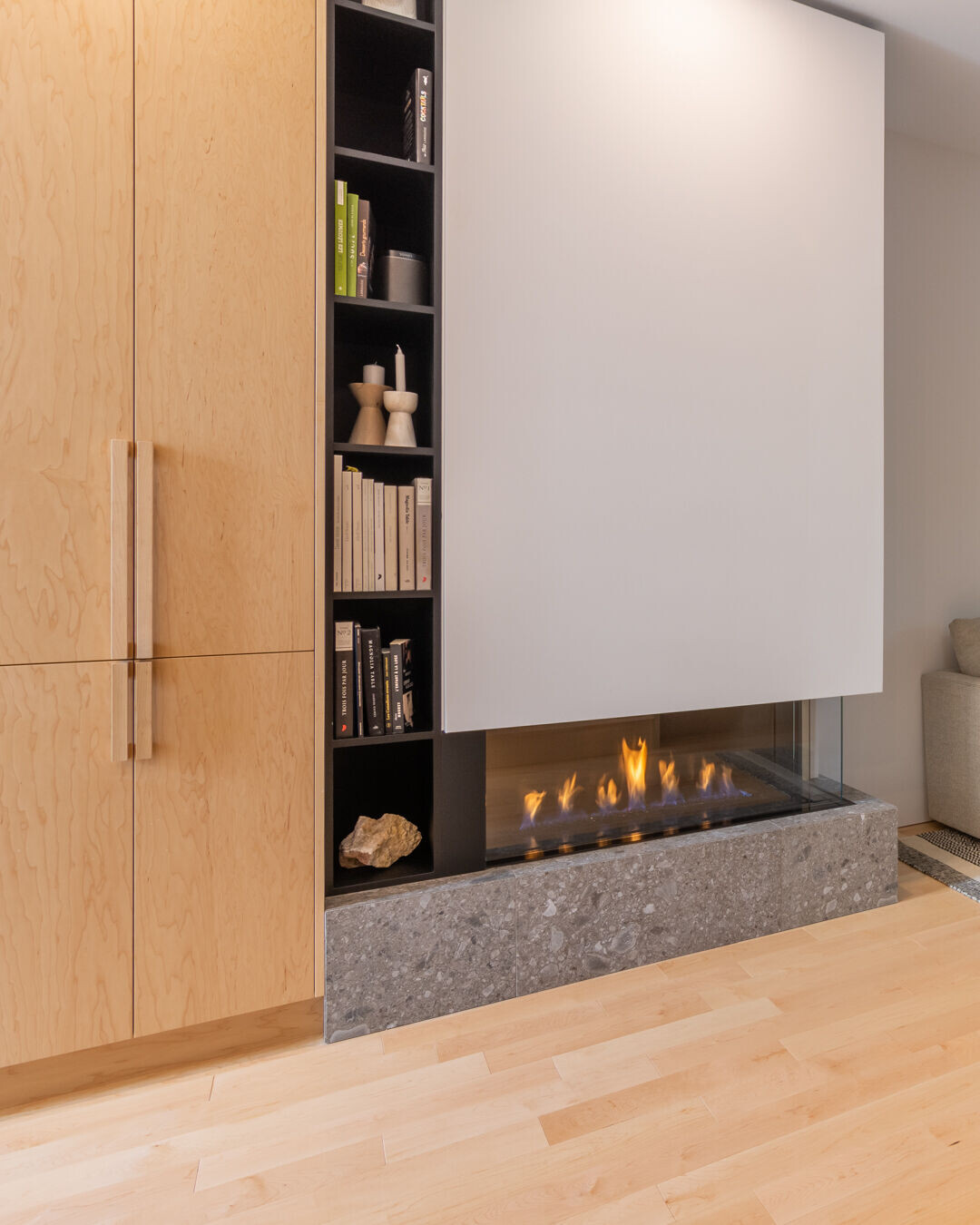 We opted for a new Scandinavian style to add warmth to the beautiful contemporary lines created by the architects.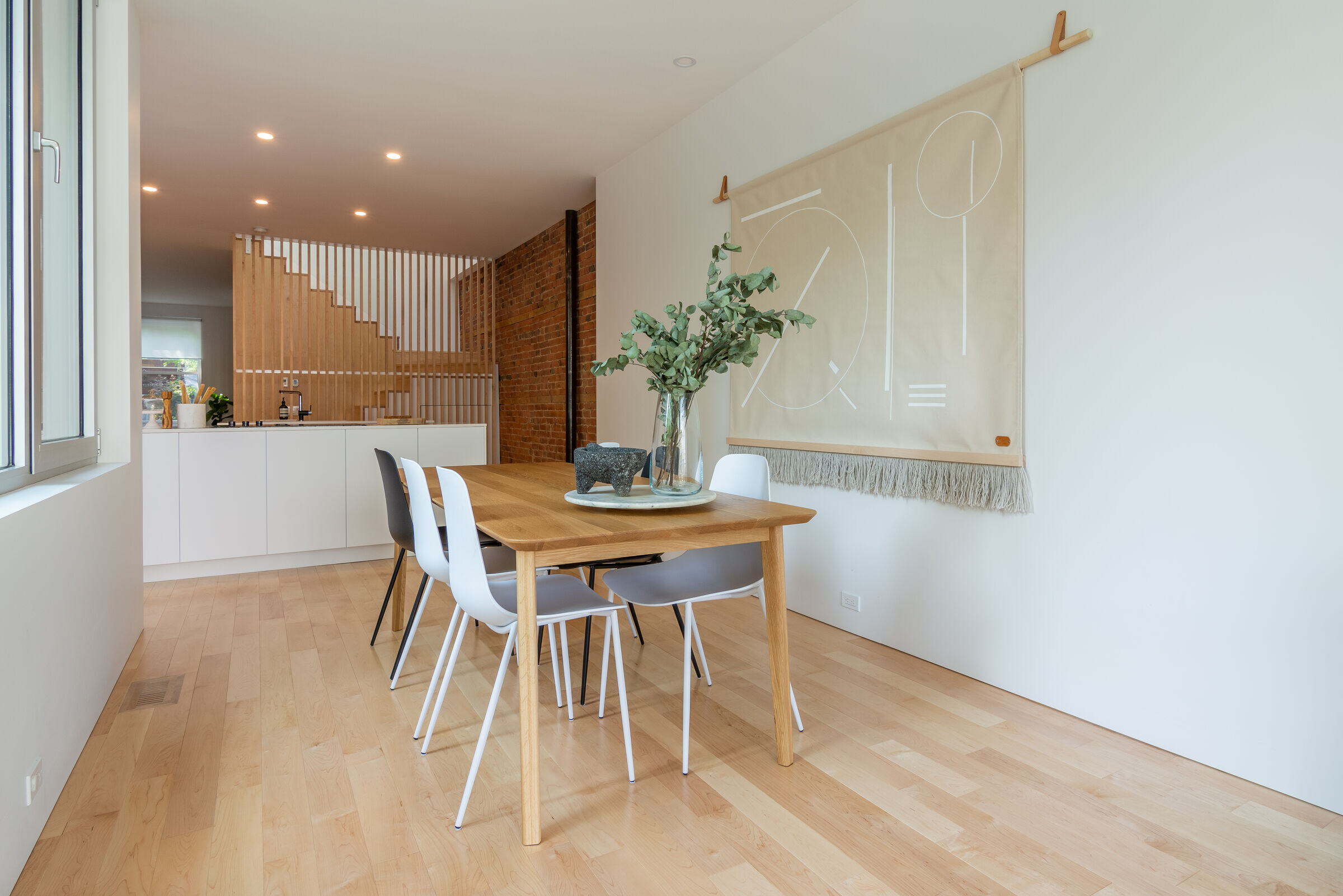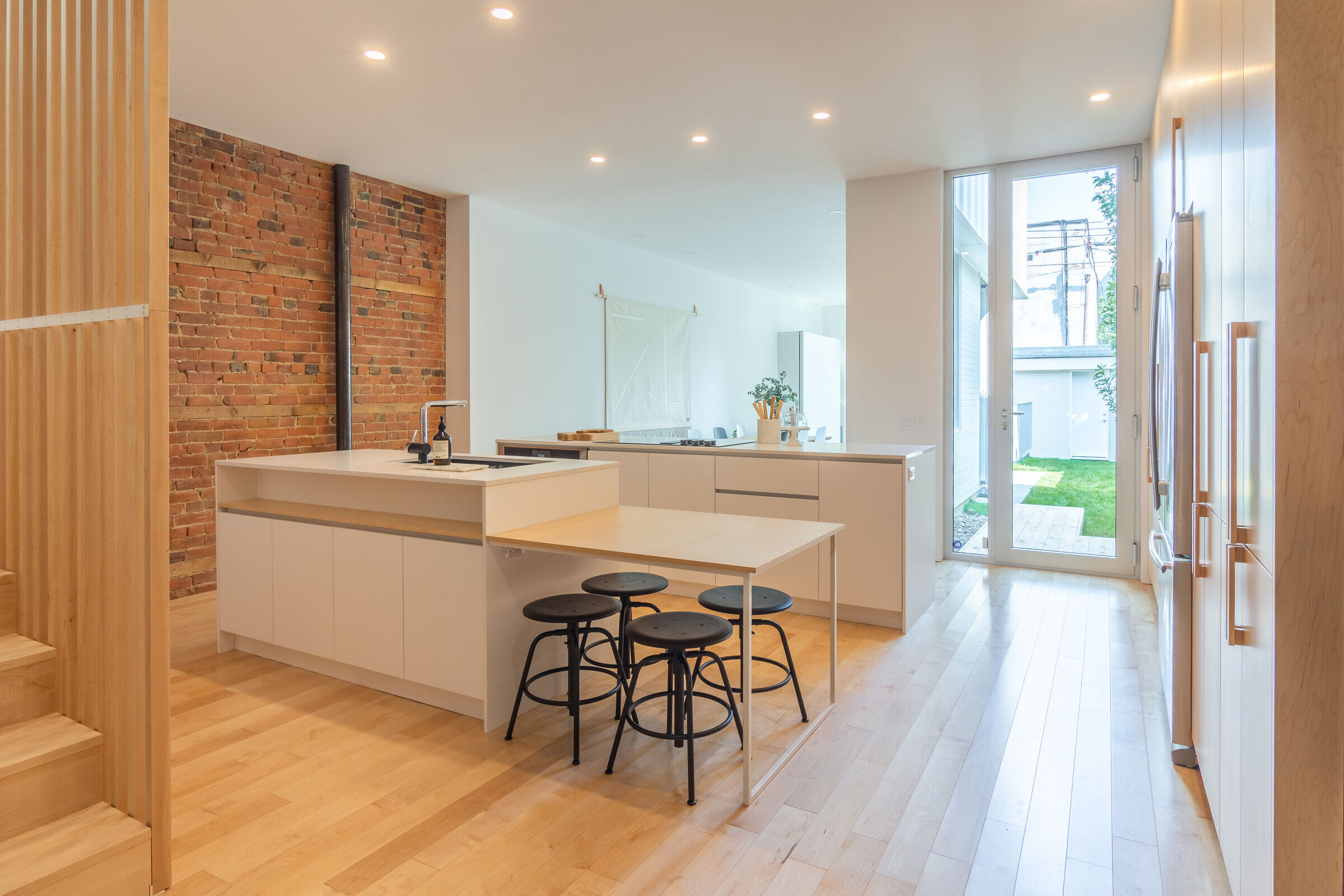 From the entrance, we have a view of a central volume in which are found the amenities as well as the stairwell. We opted to break the depth effect of the house to avoid an impression of emptiness and coldness. One touch I'm proud of is choosing to encase this volume in maple. From the first glance, it ensures a beautiful warmth and makes the property very inviting.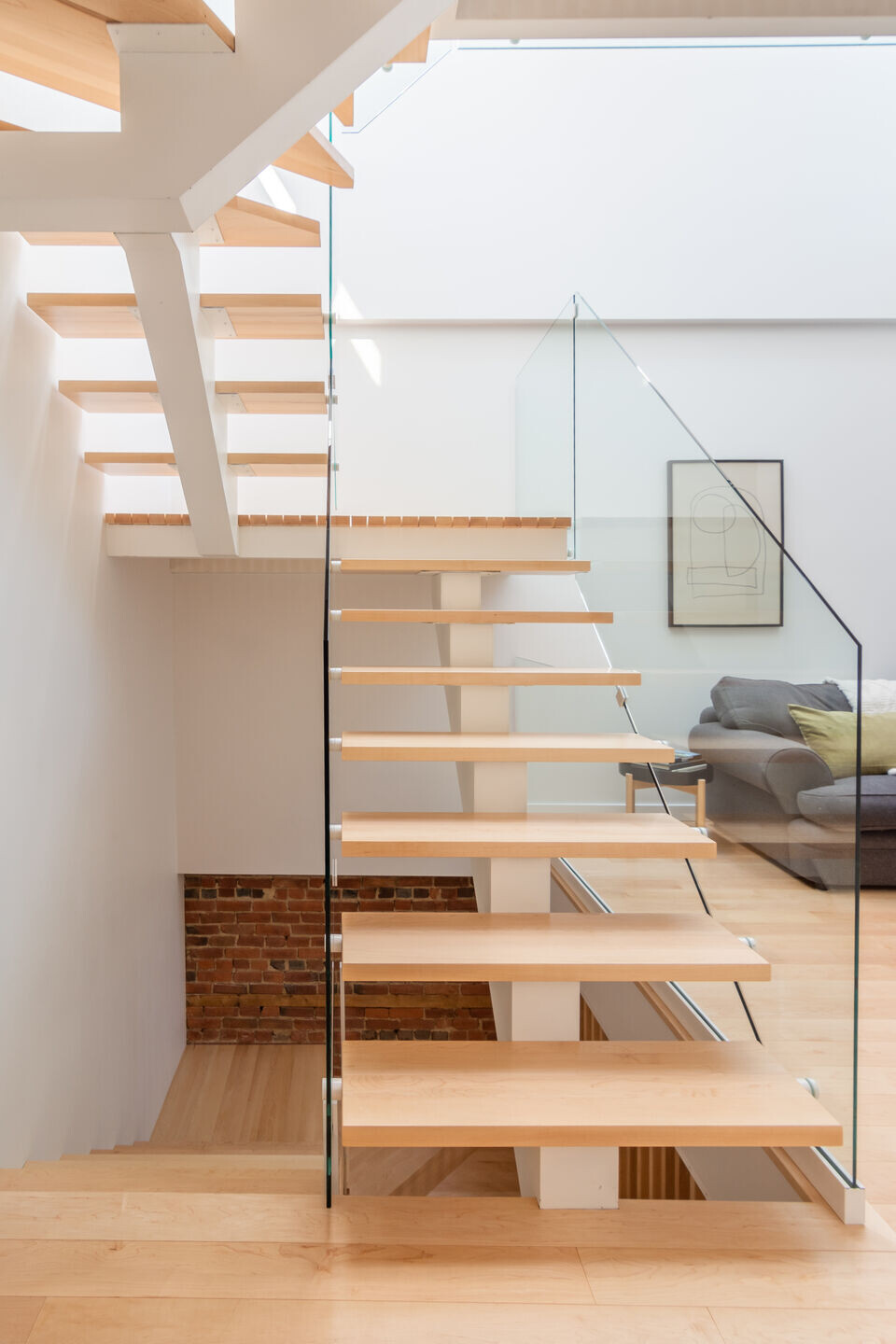 The stairwell is centered in the space and faces the fireplace which is continuous with the kitchen cabinets, all in maple. This alignment makes it possible to harmoniously furnish the living space.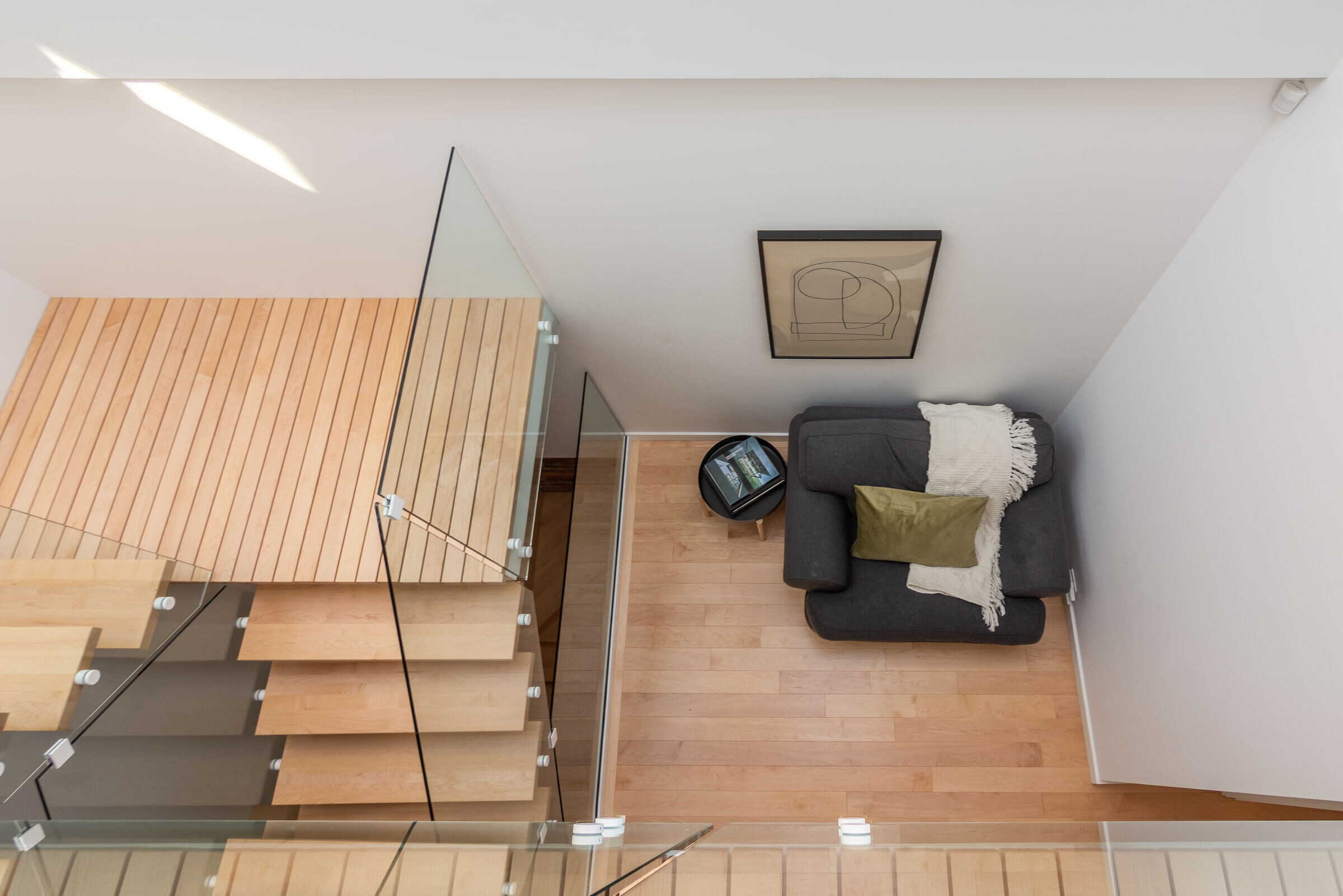 It was also very important to leave room for the windows and the skylight of the stairwell and the mezzanine so that natural light circulates in the house. To do this, I favored glass railings with a matte white finish. The glass brings a contemporary touch, while harmonizing perfectly with the new Scandinavian style.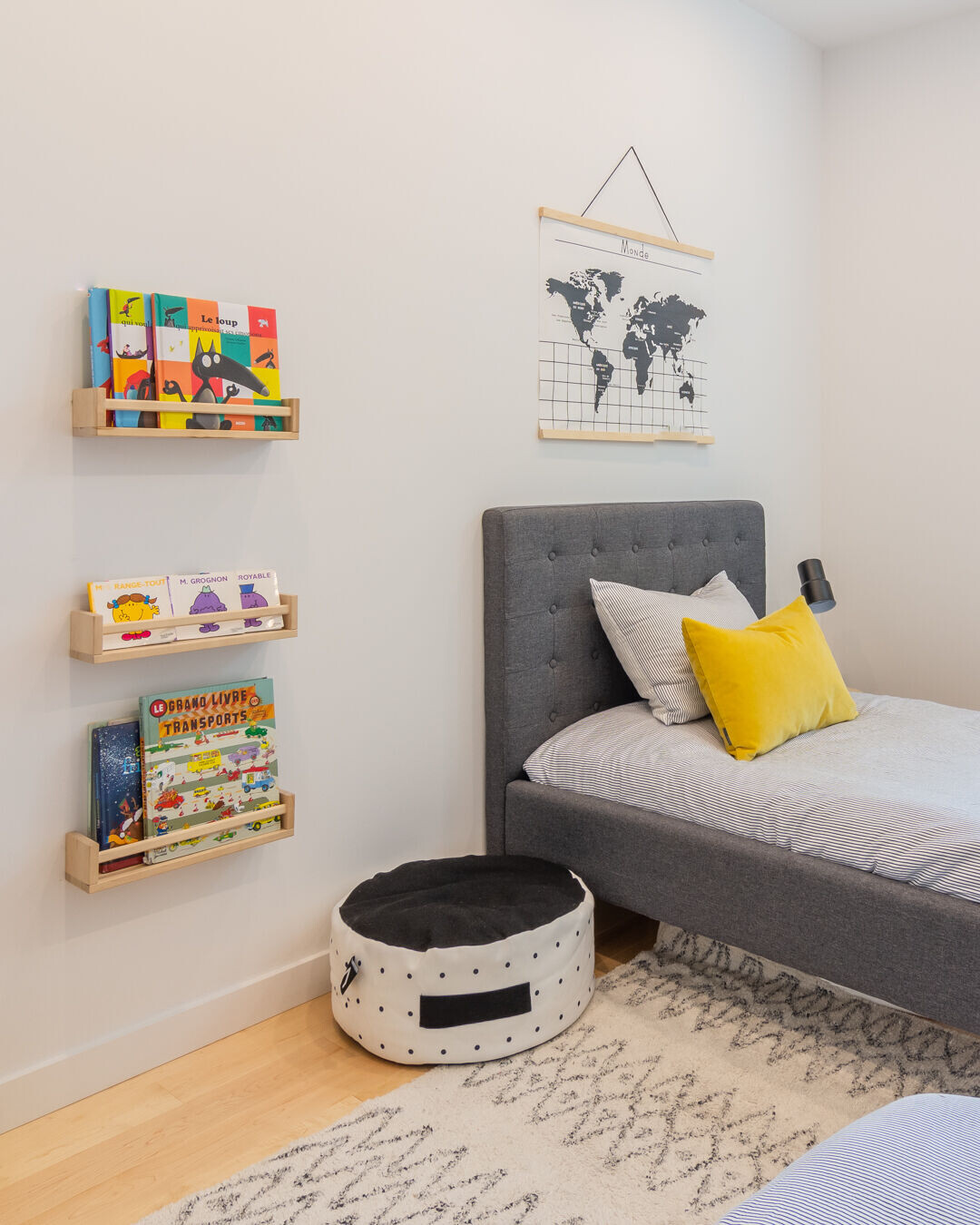 To create an effect of continuity throughout all the rooms, we used the same finishing materials and similar decorations. By similar I mean of the same trend, which harmonize well (color, material). It is important to maintain continuity between the rooms of a house, even between the interior and the exterior, which is the case for the Maquette2 house. You can find small touches of sage green reminiscent of the front door in several decorative objects in the house.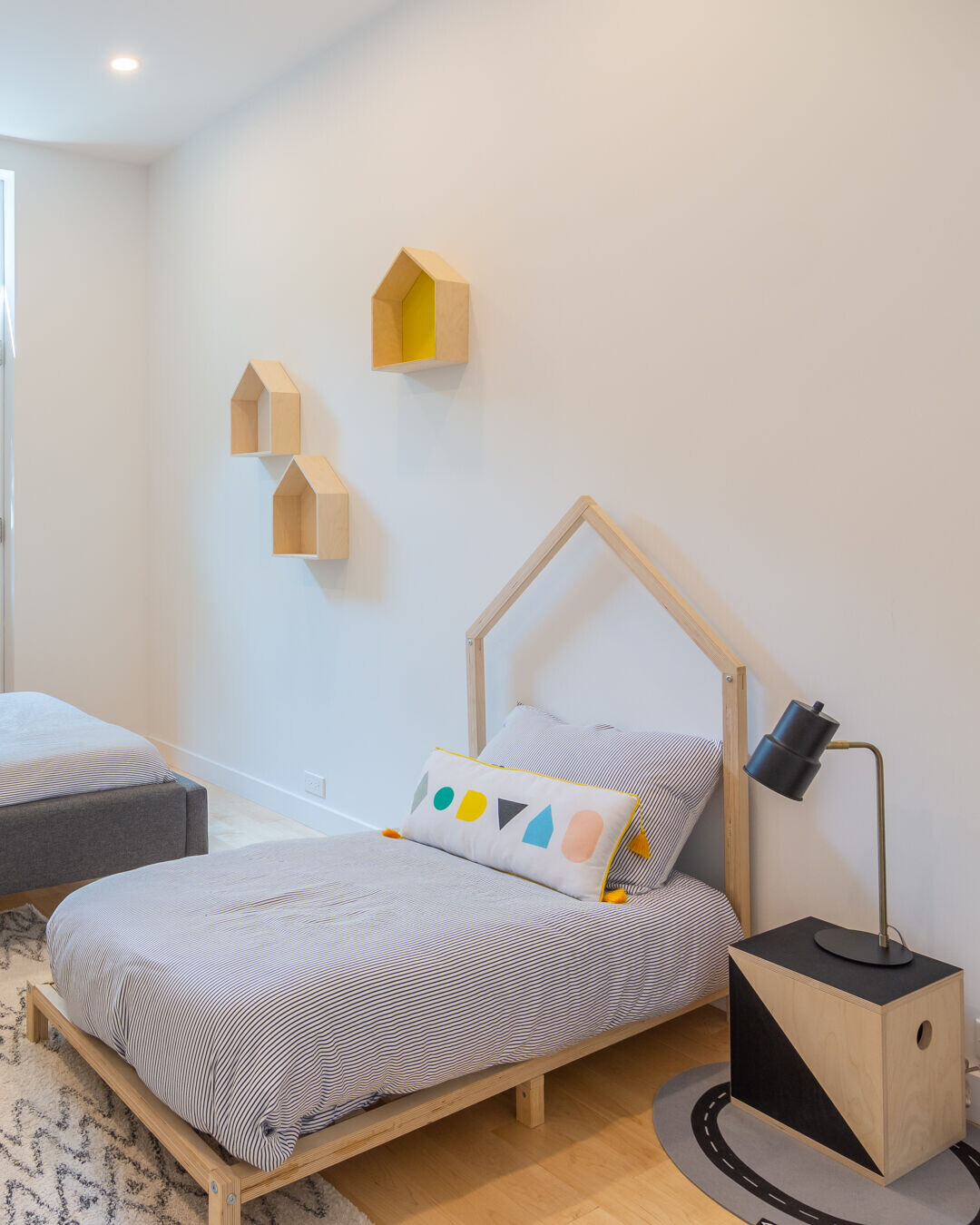 We have selected eclectic and colorful posters to enhance the decor, but also to bring depth to the walls and the living room library. For decorative elements such as vases and trinkets, we stayed in neutral tones in order to maintain the balance of the design of the house. Do not forget the books, there is nothing better to dress up a house! Each item was selected on site, with the collaboration of the client!
My favorite part of our decor is undoubtedly the artwork in the dining room. We collaborated with Pia Metni Art, a Montreal artist who created this modern bohemian work with Scandinavian color for the project!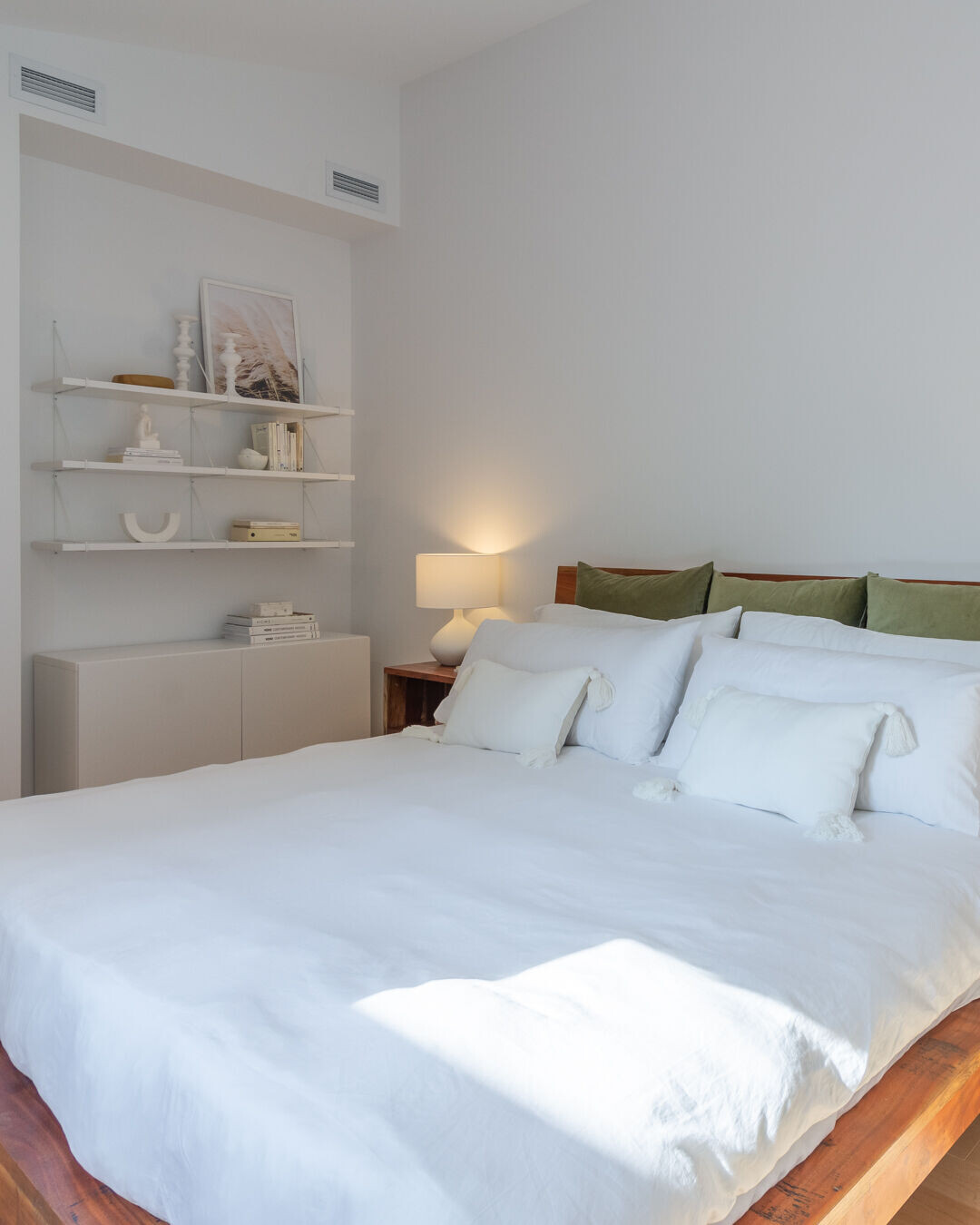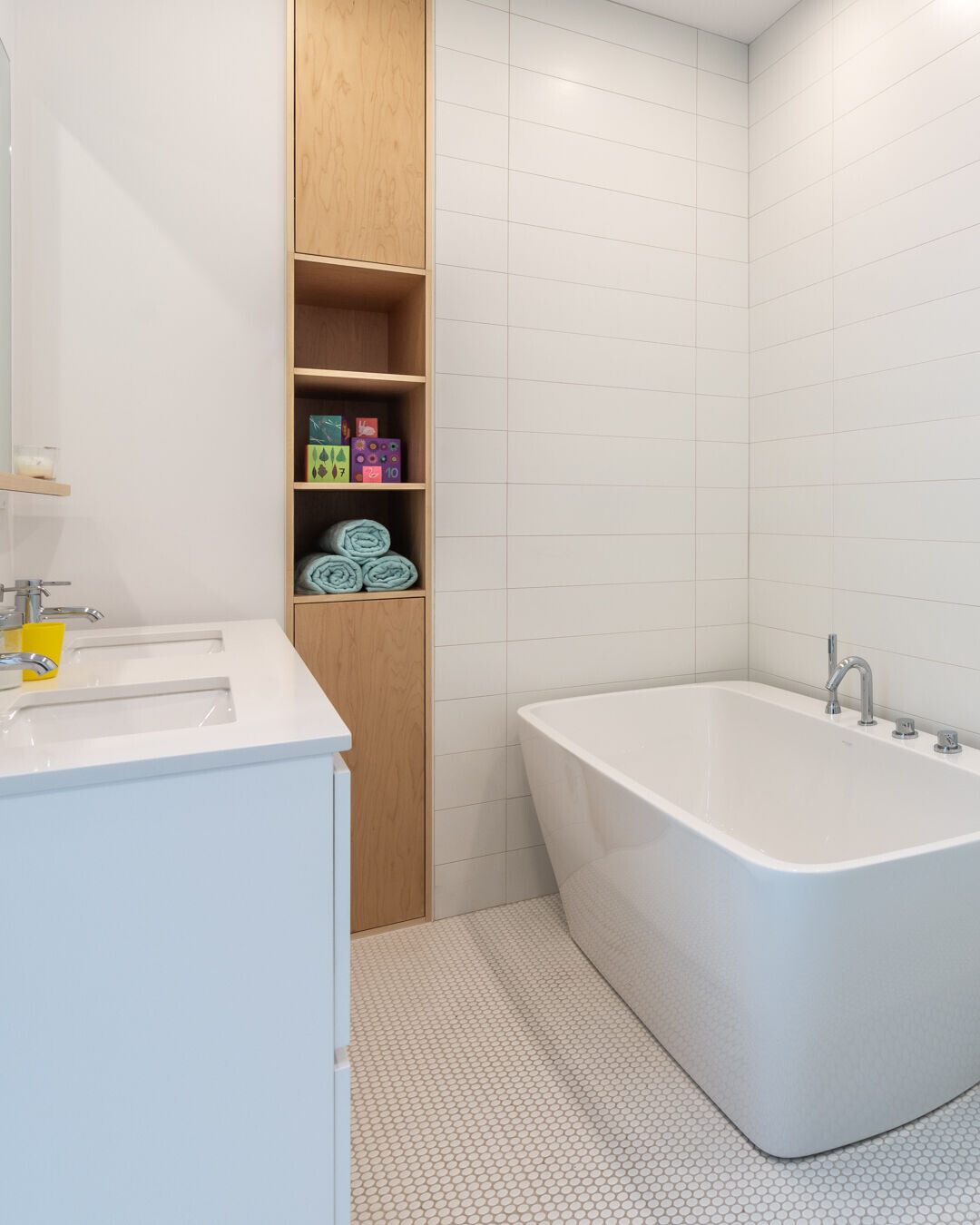 Team:
Designer: Designer Sophie P-Lefebvre
Architect: Carta Architecture
General Contractor: Le Pierre rénovation
Photographer: Pommier Photo