The Kosmo complex near Pont de Neuilly, facing La Défense, contains the new headquarters of Parfums Christian Dior, for about 1300 employees of the LVMH group. With 14 stories and an area of about 20,000 sqm in two different buildings – Kosmoville and Kosmoseine, one facing Paris, the other the Seine – the facility has gone through extensive renovation, completed towards the end of 2018 in a project by the architects Laure Mériaud and Simon Rodriguez-Pages of Ateliers 2/3/4.

The project responds to the need for functional and organizational unification of the Parfums Christian Dior brand. It was necessary to ensure the presence of all employees at a single site: reorganizing workspaces, optimizing vertical circulation across various levels and connections between work groups.
"One of the challenges was to communicate the spirit of Maison Dior in a modern, functional skyscraper, but far from the historic location at Avenue Montaigne. Entering Maison Christian Dior means entering a universe with a precise historical legacy. We had to convey the attitude of excellence that pervades the brand in all the spaces," says Michael Bezou, Creative Director of the firm Saguez & Partners, in charge of the interior design.

"The main concern was to design a space that would be efficient in ergonomic and acoustic terms, to improve personal wellbeing and to create a setting that is not only beautiful but also extremely functional. A place where staff can feel at home," Bezou explains. "All the interiors have been organized to benefit from large windows with fine views, with an accent on transparency, including terraces providing sunlight and green areas."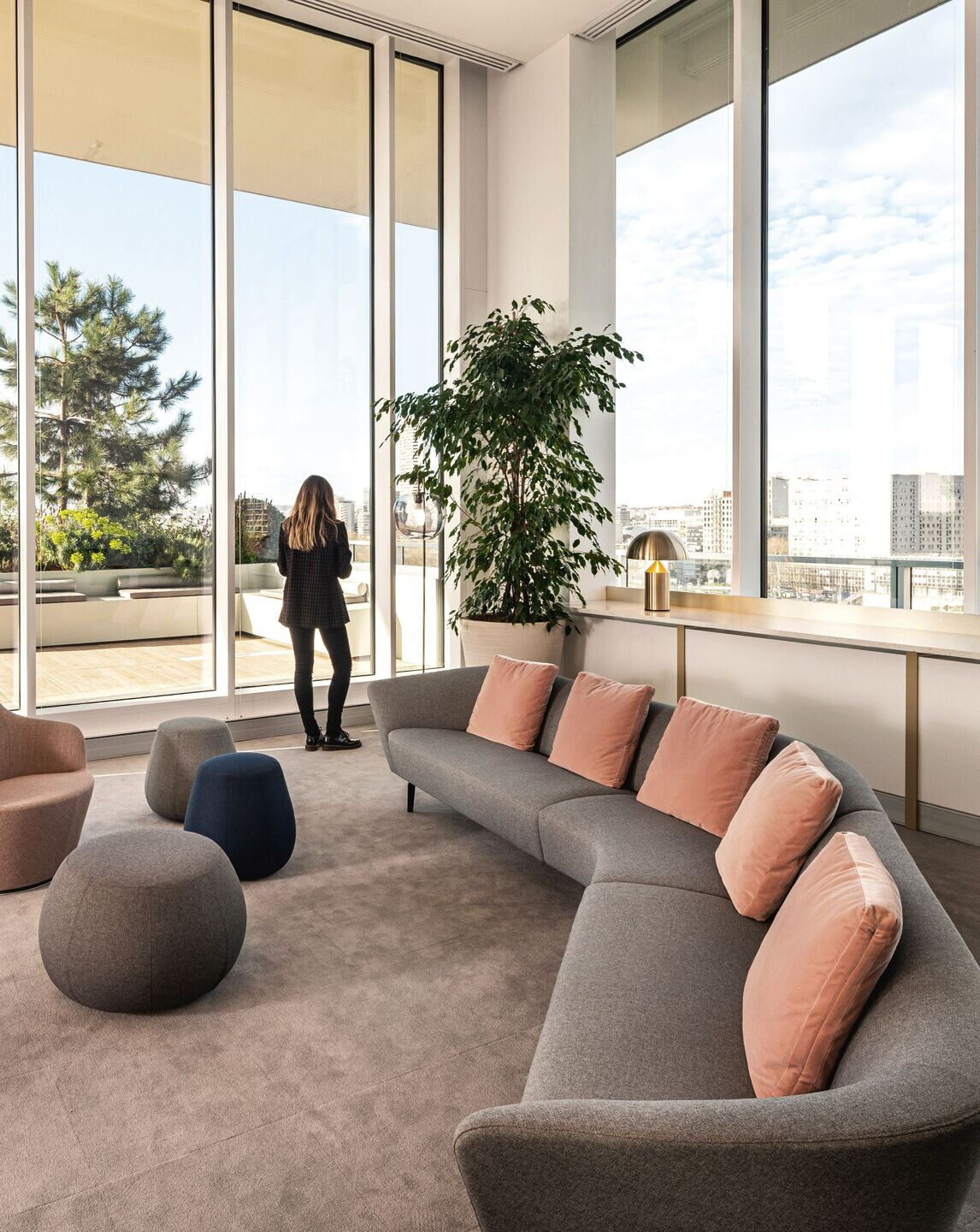 "The choice of furniture was very important for the definition of the interiors, due to the need to comply with environmental standards, but also regulations on calorific potential, which are extremely strict for skyscrapers. We had to take these aspects into account in the choice of materials and types of fabrics," Michael Bezou emphasizes. "Having Arper as a partner brought added value to the project, because it is a brand capable of responding perfectly to these issues, offering a wide range of materials and finishes."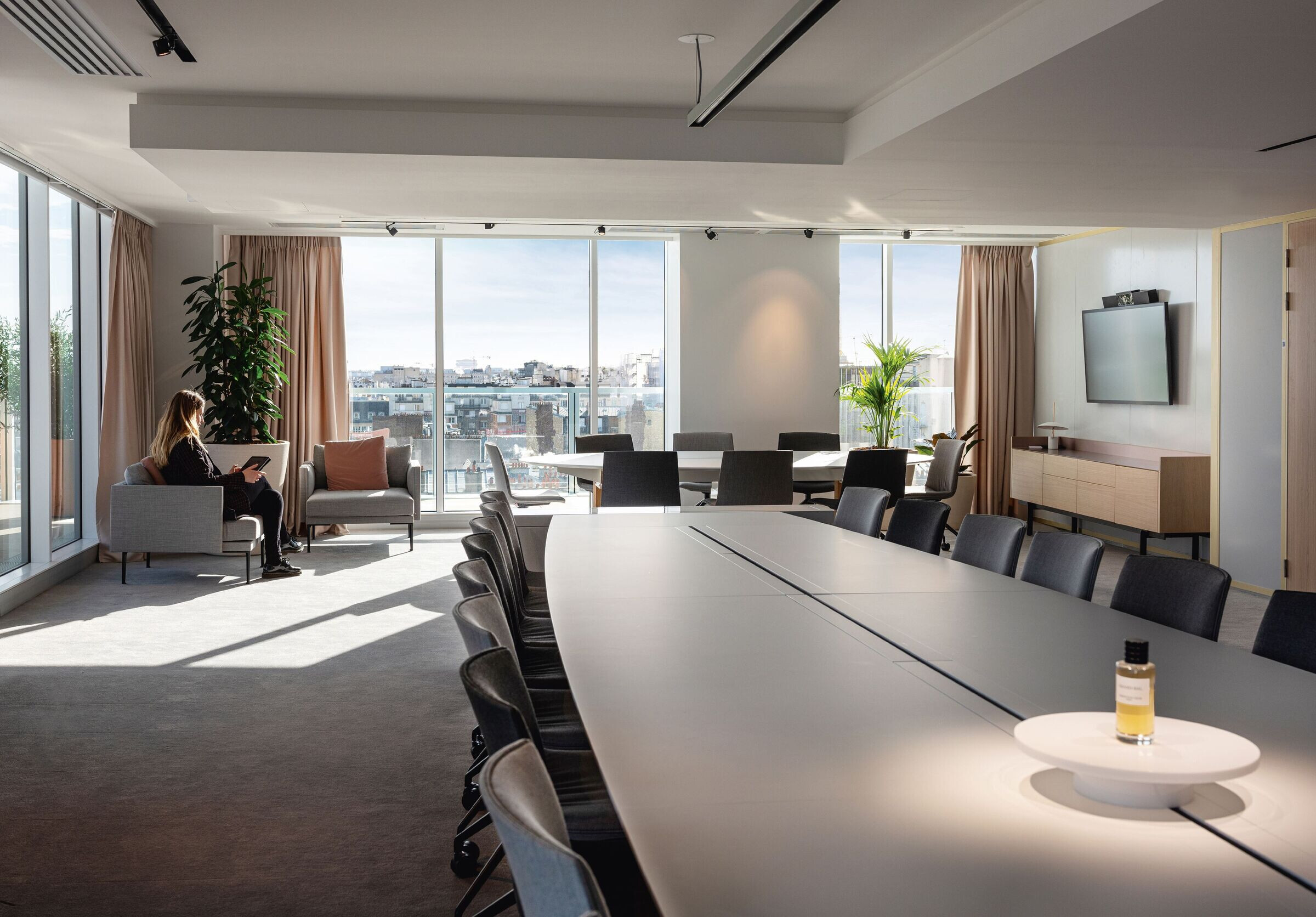 "The use of Arper collections was decisive for the interpretation and design of the interior décor. The possibility of customizing products in terms of colors and fabrics enabled us to meet the requirements of the client. We chose products in the most representative colors of the Parfums Christian Dior brand – gray, pink and champagne," but above all – in Bezou's view – "the Arper collections contributed to bring some curved lines into a building with an orthogonal layout – to this end, the Cila collection was particularly useful."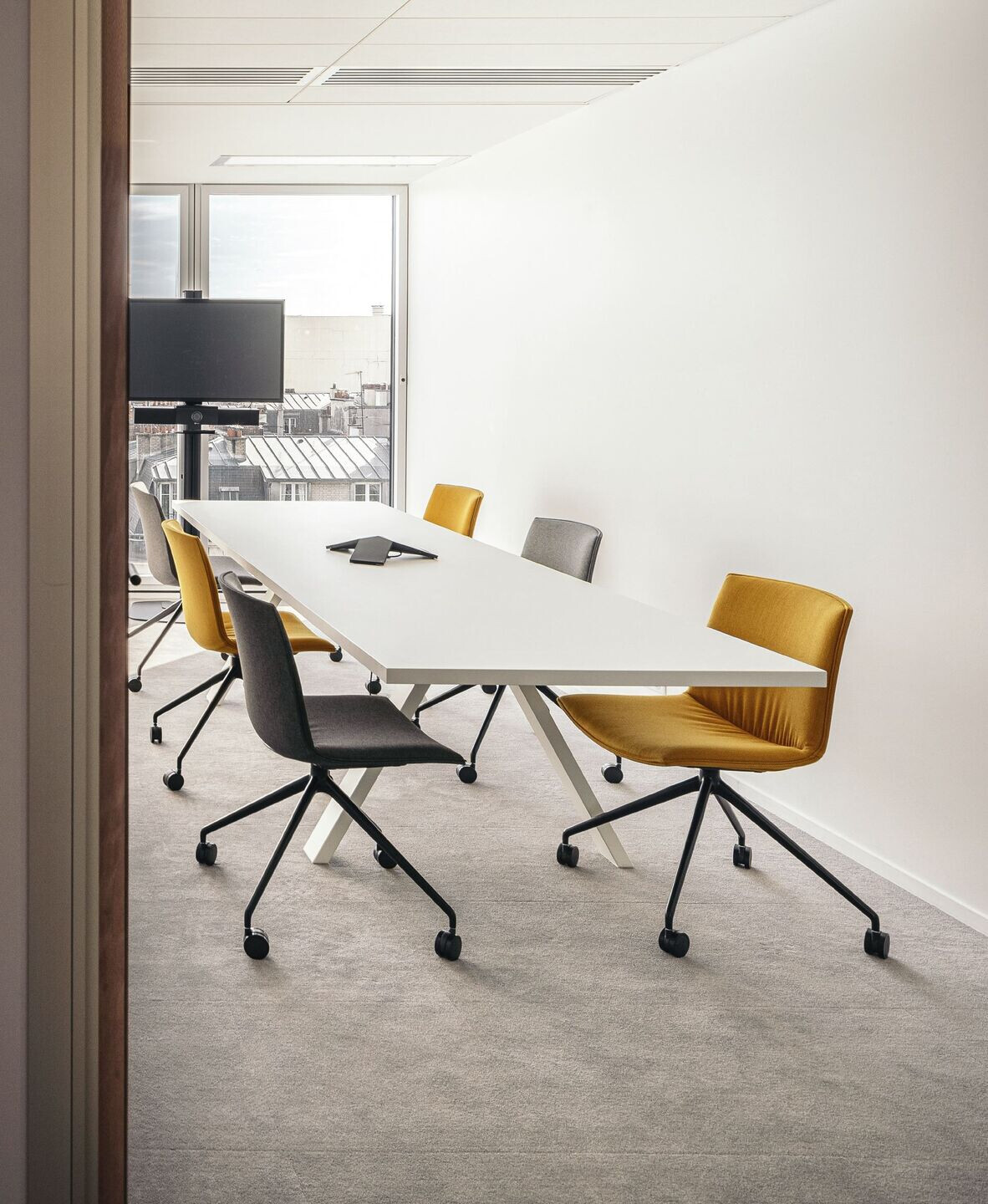 The Cross meeting tables have been customized to respond to the needs of the client and the signature colors of the brand. To guarantee the same level of comfort in all the teamwork spaces, the Cila and Catifa Up collections were placed in all meeting rooms – from the executive boardroom to the managerial meeting areas, to the spaces for HR interviews. The agora, furnished with Steeve and Loop sofas and Pix ottomans, is located on the 8th floor of the building, and acts as a teamwork space for Parfums Christian Dior for up to 150 people.

"There is a certain gentility in Arper's design, though it also has strong character. The collections have a clear identity, but at the same time they can adapt to the personality of the brand and the needs of the project, thanks to the great variety of available finishes," Michael Bezou remarks. "Arper has an elegance that adapts perfectly to the style of the Parfums Christian Dior brand, but above all the company offers comfortable, ergonomic products, destined to last over time – sustainable design, perfectly aligned with our values."