What was the brief?
The brief for this project was to refurbish the existing historic 'house', the Music Centre, providing improved spaces for Music tuition and performance. Our design encompasses modern and interactive technologies that elevate twelve studios for small group and individual instrumental classes into the 21st century. We aim to support modern learning for the Junior Boy students whilst concurrently offering service areas to support staff, students and storage needs.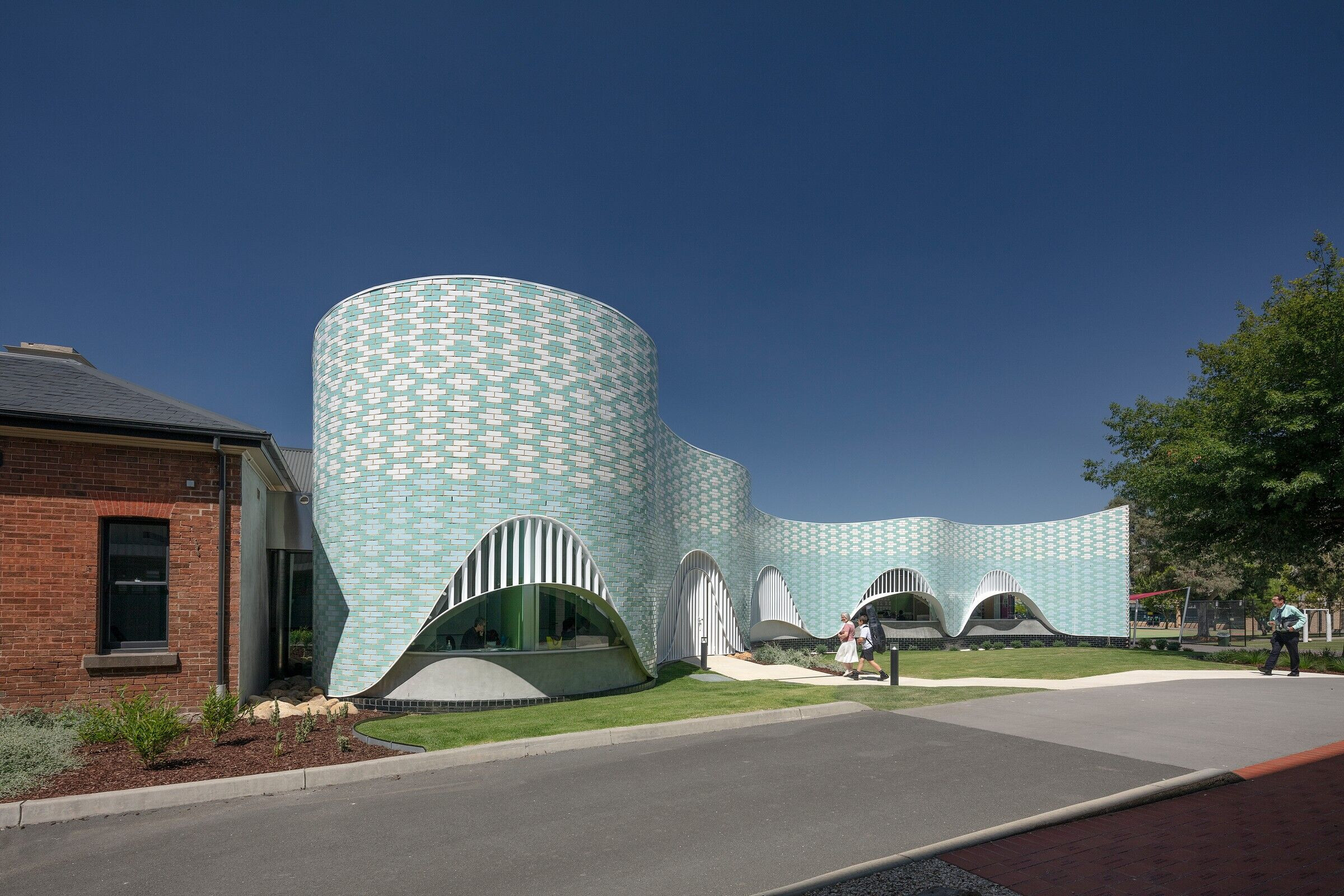 What were the key challenges?
The challenges at the core of the project simultaneously offered opportunities for narrative and play. To connect the historic elements of the domestic scale, the building plays with the tension between the school and its suburban context, as well as with childhood imagination.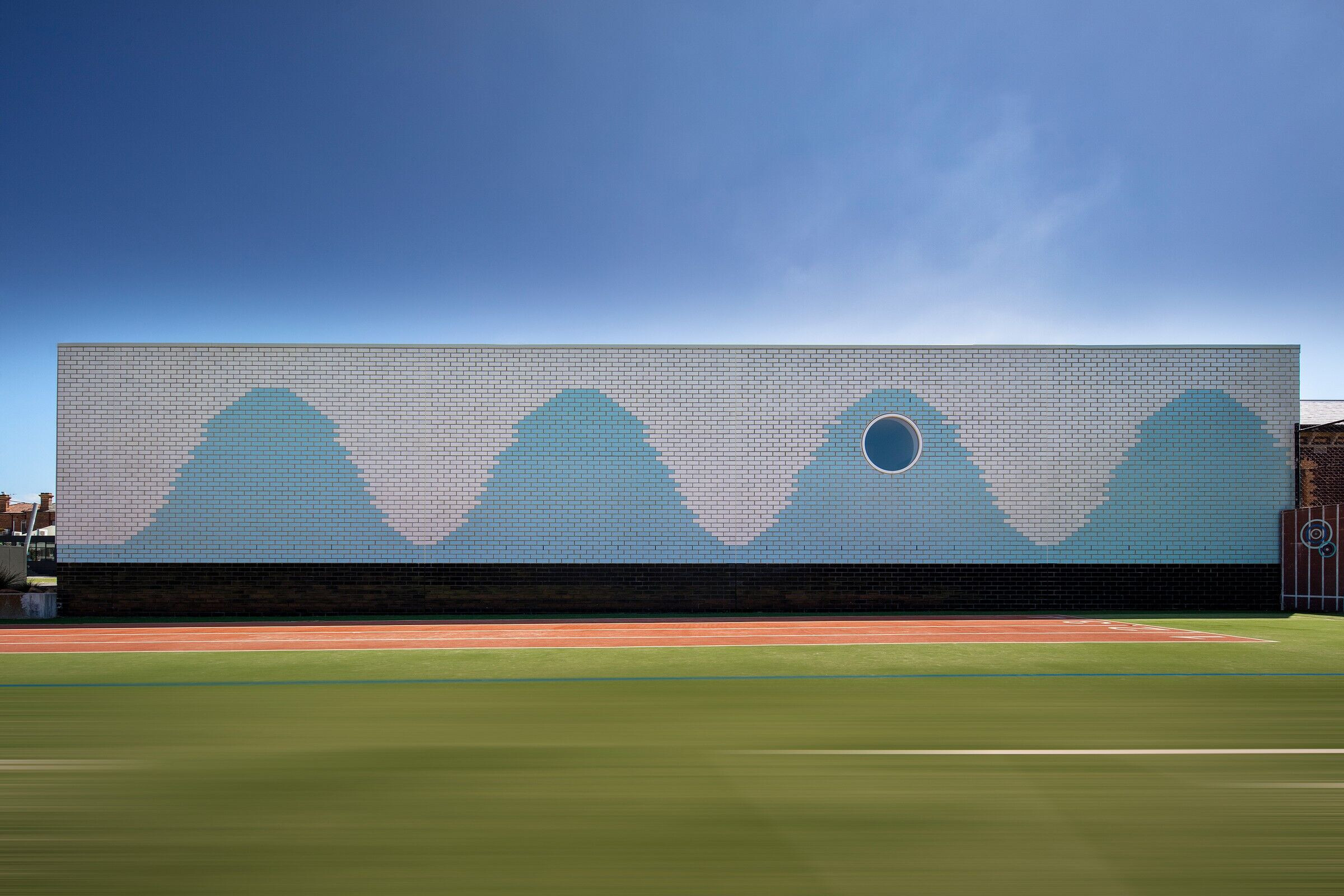 The project seeks to elegantly prolong the life of a historically significant building where the brickwork of the old is echoed in the new. In this way, the team approached refurbishment with a sense of joy and beauty where the building evokes a playful lyricism. The key gesture, a line of frozen sound wave, which undulates across the grounds generating a north expression which frames both the new outdoor and performance space. This new project continues the thematic inspiration of the 2009 building as a kind of musing on context, beauty and imagination.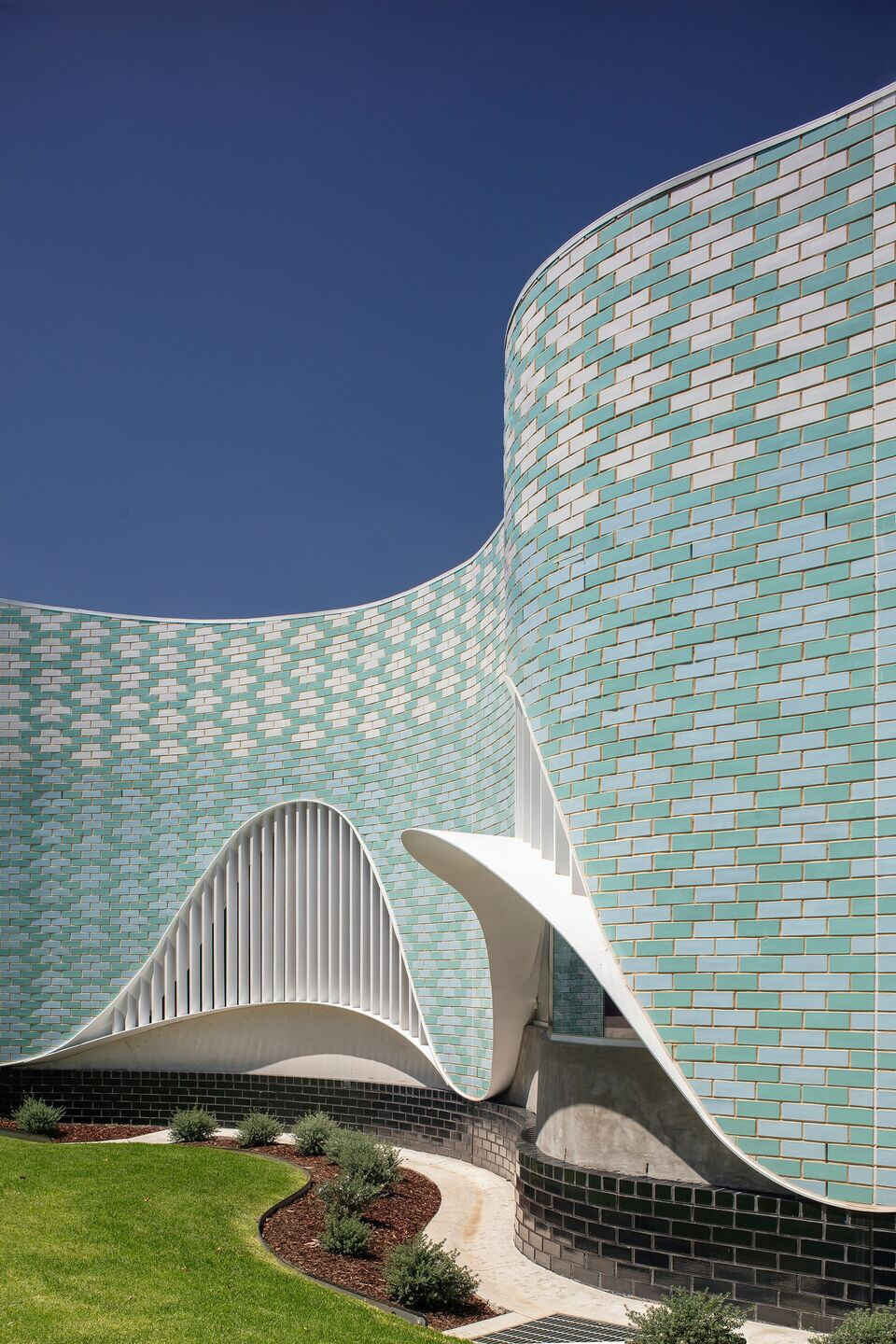 What materials did you choose and why?
Materially, the project was able to recycle of local bricks and timber, as well as existing elements such as doors, adapted with double-glazing for soundproofing. Modern blockwork replicates the typology of the sixties façade on the West-end. Coloured brickwork inspired by Kalta Minor, an incomplete Minaret in Uzbekhistan, that bore significance for the project team at MCR and the client.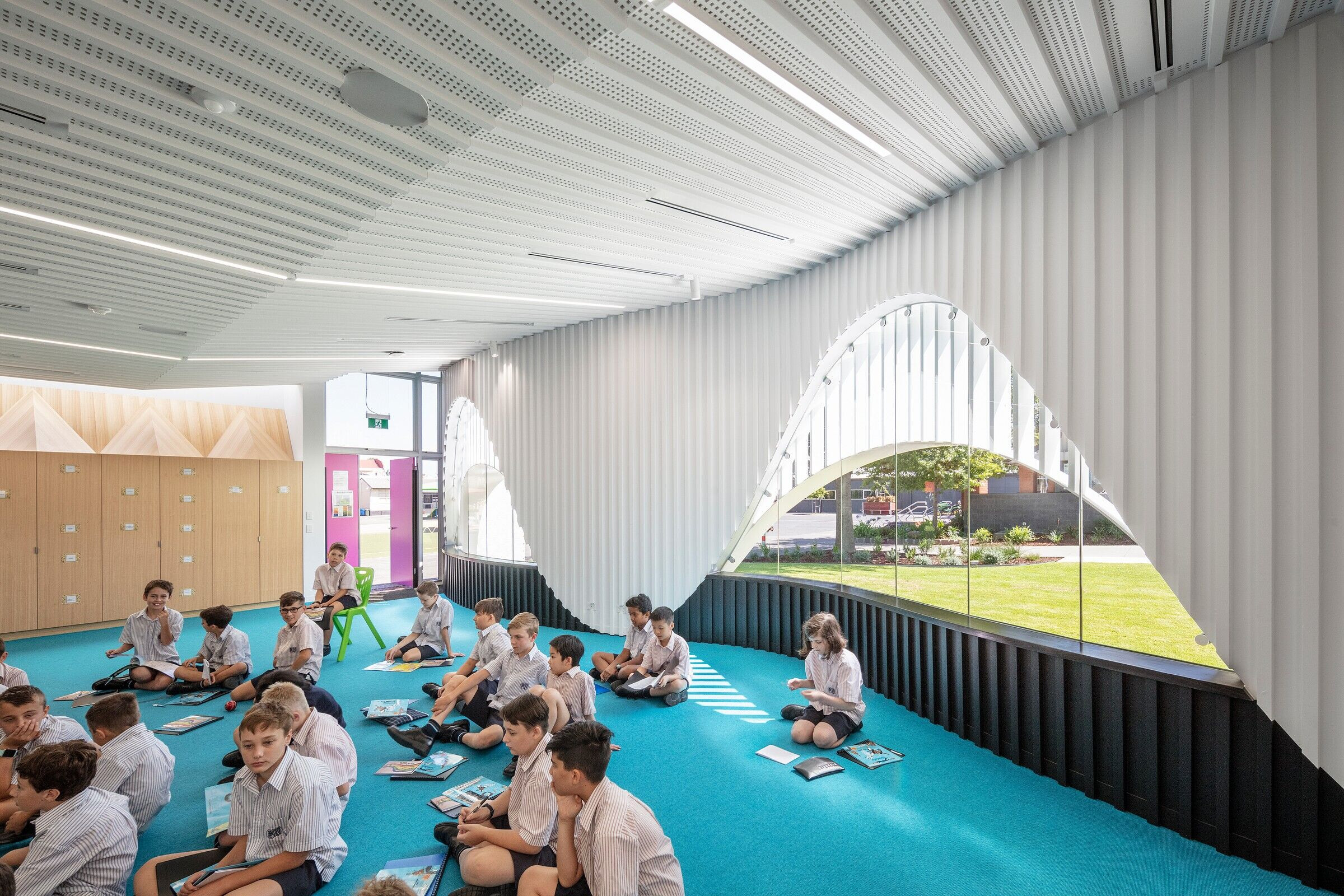 In the interior, there is attention to detail in the joinery where stained and natural plywood hint at piano keys and carefully placed upper cabinetry forming a pyramid-like facade work with skylights above, in evoking an image of light-rays beaming into the interior space. Elements of delight are generously peppered throughout the space. Such elements encompass both a careful material selection, where natural elements are echoed in local Euroa clay bricks, natural timbers, plywood and Tretford goat hair carpet, as well as in the carefully curated colour scheme where flickering blues and whites, seek to evoke the softness of the sky in its many changing lights.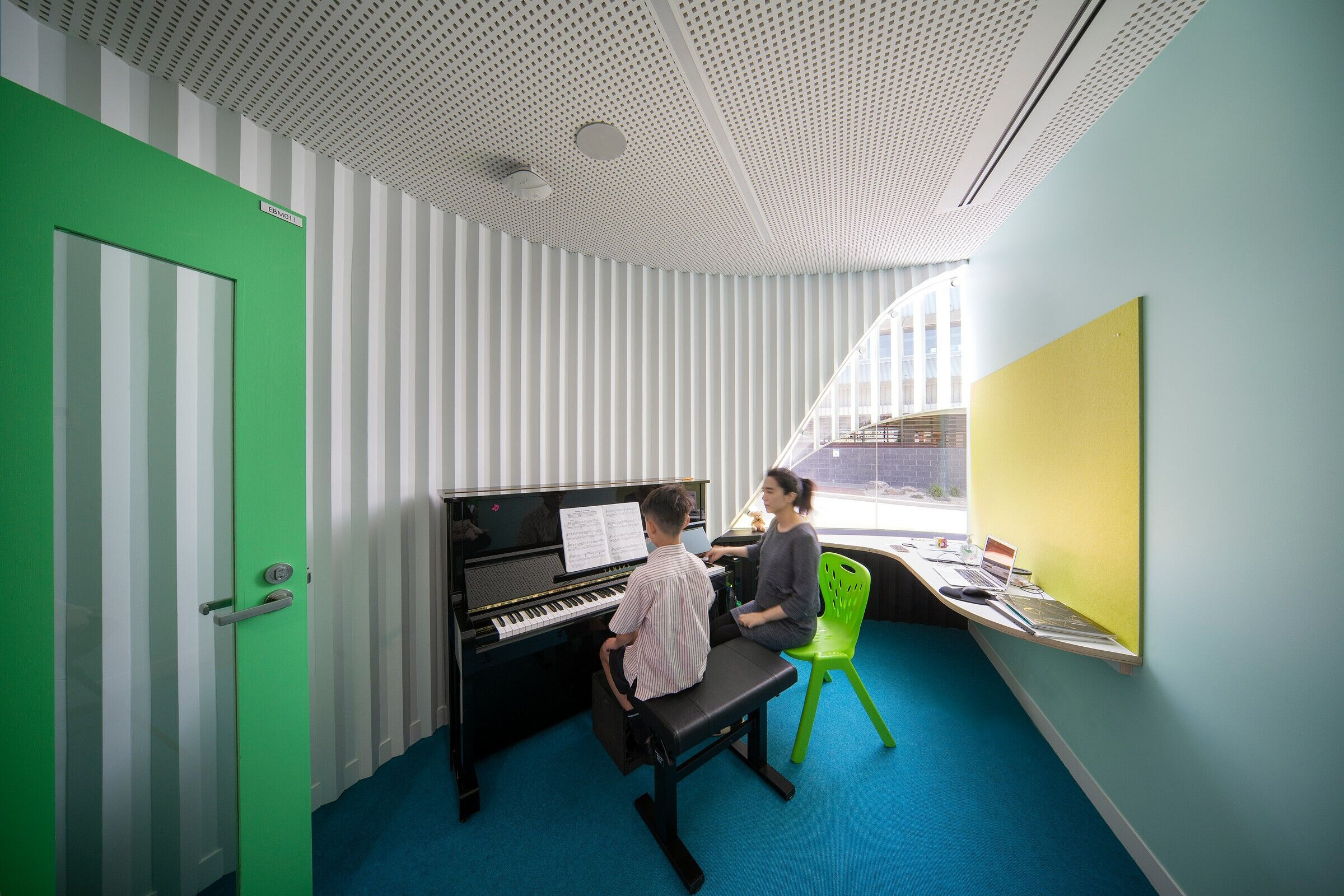 Material Used :
1. Flooring: Carpet, Escape Velour – Aisha Carpet, SUPER TUFT; Carpet, Colour Aegean 614, Linear Cord Carpet, TRETFORD ROLL; Marmoleum, Colour: Lagoon, Slip Resistant Surestep Laguna, FORBO; Timber decking, Jarrah Harwood Decking; Concrete, Brighton Light Cement, Sand Blasted Finish to Face, Brightonlite Cement.
2. Walls /ceilings (internal): Impact Plasterboard; Standard Plasterboard; Wet Plasterboard; Forbo Surestep Laguna, Gloss White Rectified Ceramic wall tiles, 300x 600mm, James Hardie Villaboard Lining; Plywood, Marie Grade Hoop Pine Veneer with Paint; Hardwood Battens; Hardwood Weatherboard; Pinboard, Light Grey Pinboard Wall Lining, Ella Panel; Pinboard, Green Pinboard Wall Lining, Ella Panel.
3. Façade Walls (external): Glazed Brick, Colours: White, Skyblue, Euroa, Glazed Brick, Euroa; Existing Brickwork, cleaned and prepared; Concrete Block, Charcoal Colour, finish: polished, BORAL; Compressed Fibre Cement Sheet; Hardwood Battens; Concerete; Rendered Cement; Solid Plate Steel.
4. Doors: Steel External Door, Designed by MCR in collaboration with Engineers, (bespoke)
5. Windows: Glass, 6mm Heat Strengthened Performatech External, 12mm Argon gas cavity, VIRDIDAN PERFORMANCE DGU; Existing repurposed windows; Curtains, hand operated curtain track with S-Fold Heading and 6283 roller gliders, Silent Gliss, TRACK; Brownout internal blinds, Internal Roller Blind System, Helioscreen HCH SA.
6. Roofing: Colorbond Roofing, Sufmist colour 'Klip Lock 700', LYSAGHT; Laminated Panels, White matte scratch-resistant, anti-fingerprint, nano-overlay technology panels; DEKO+ by Sureteco; Melamine
7. Paint: Paint colours: Vivid White, Christina, Hob Goblin, Ceramic Green, Nile Stone, Techno Pink, Water Raceway, Domino (all Dulux)