Enter the elegant and modern apartment named Ratnam Luxuria! It is aesthetically designed and developed by Ar. Ruchir Sheth and Mr. Harsh Gajjar. Nestled amid the Harni area of Vadodara city, this home was built keeping in mind the needs and convenience of the client. They insisted on using sustainable materials across the home to set a statement of "in harmony with nature"!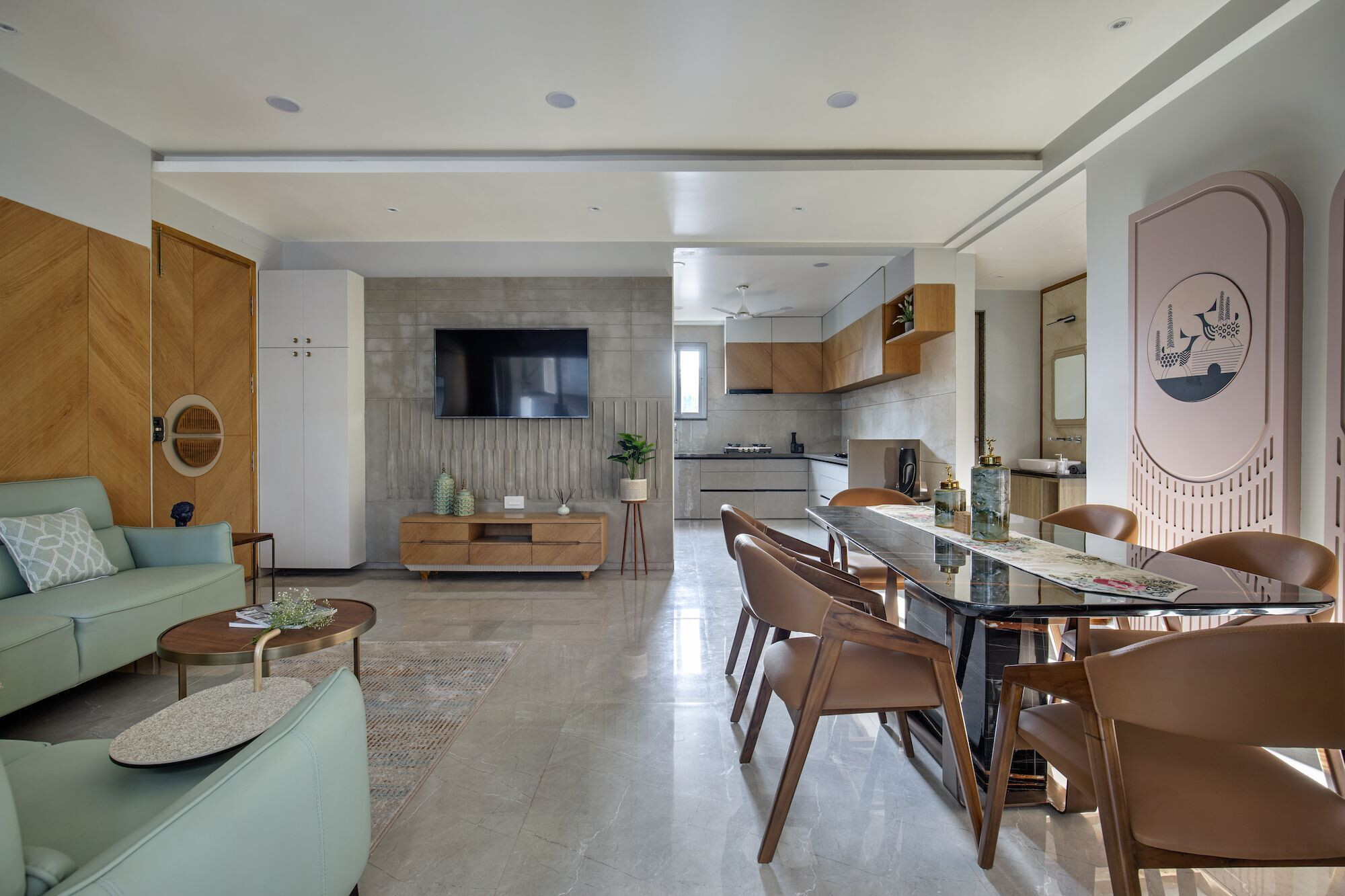 Exuding elegance
Soft sunlight sweeps in the living room from wide windows, beautifully enlightening the room naturally. There is a fine harmony between the wooden and muted-coloured painted walls and the green leather sofa in the living room. The black marble top dining table paired with brown leather chairs is perfectly placed rightly near the sofas to relish food together over long conversations.
Upon carefully looking at the walls that are made of accenting wood and concrete, there are charming customized wall paintings that subtly enhance the beauty of the home.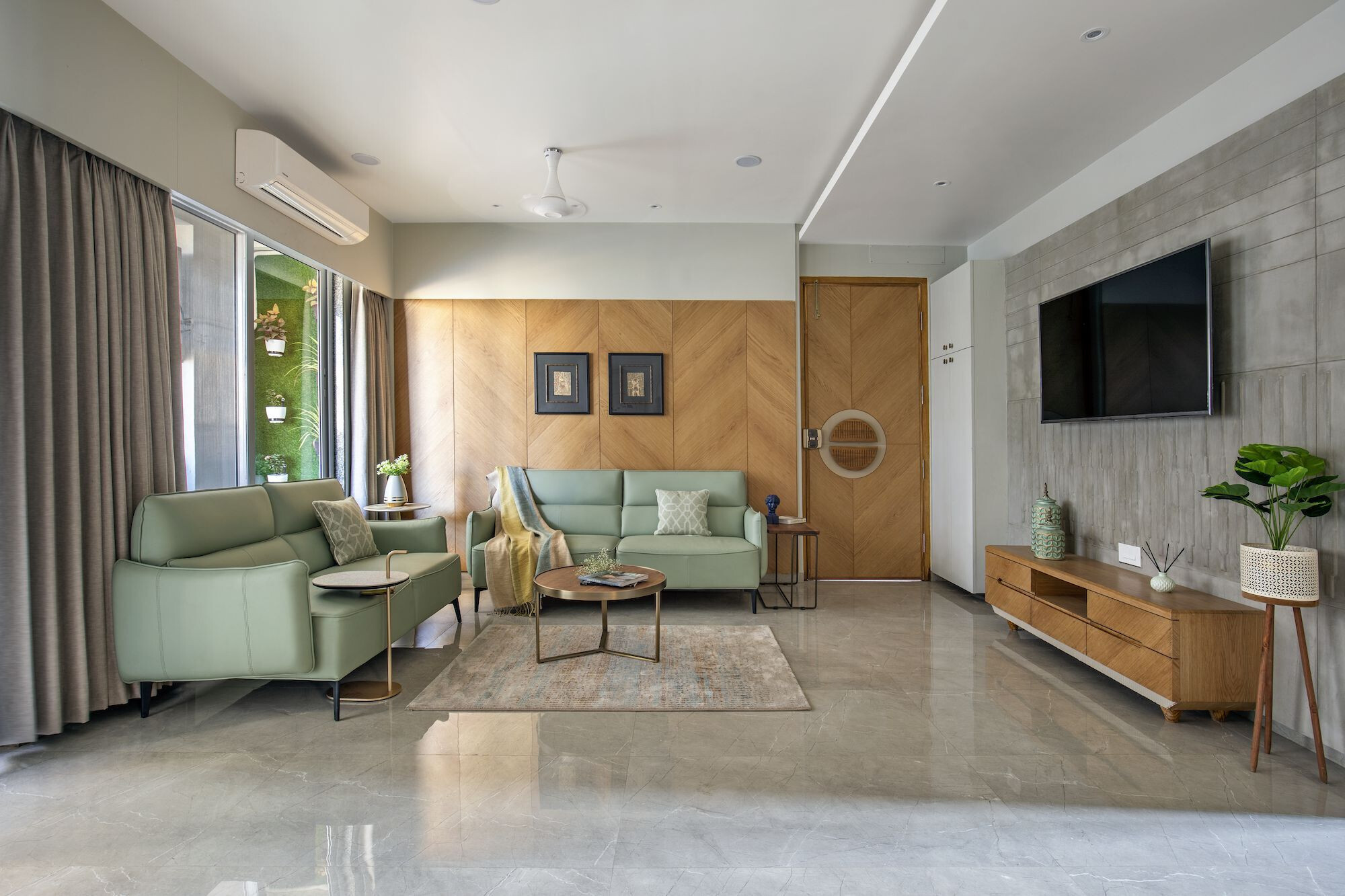 Invasion of natural light
This bedroom is furnished with marble flooring and hints of beige on the walls, a grey-wooden bed and an office desk on the other side.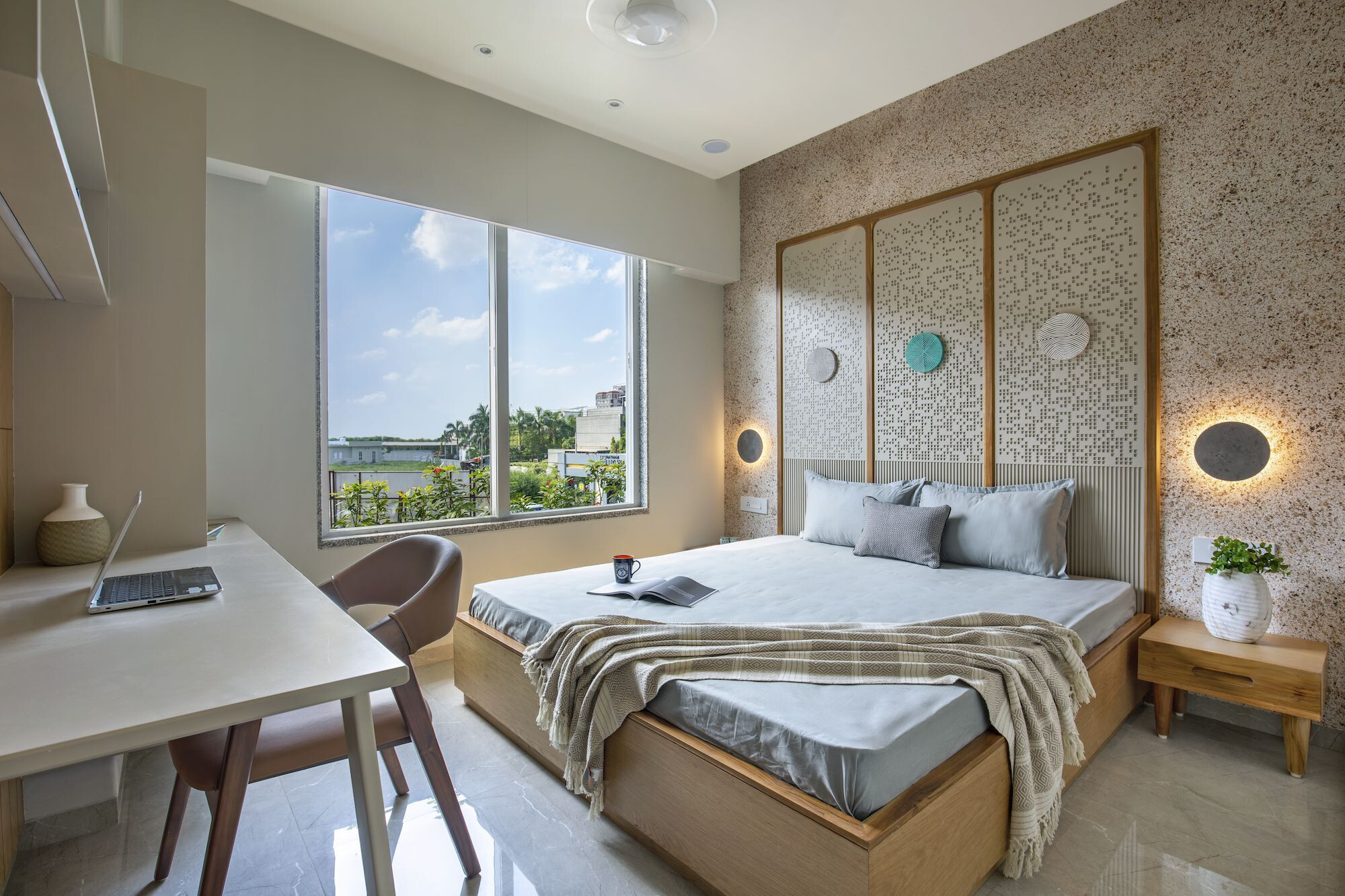 Pristine vibes and the wall art!
Featuring an impeccably designed master bedroom that exudes pristine and relaxing vibes with its clean, clutter-free and tidy ambience.
The colours used along with the upholsteries in this room lend this room a sophisticated and cosmopolitan appearance with their combination of warm and muted tones. The highlight of this room constitutes a remarkable dark sage green coloured painted back wall with customized wall art paintings, supported by a beige wall panel. On the other side of the bed, there is a wall painting and a wooden table placed in front of it that enhances the aesthetics of the room.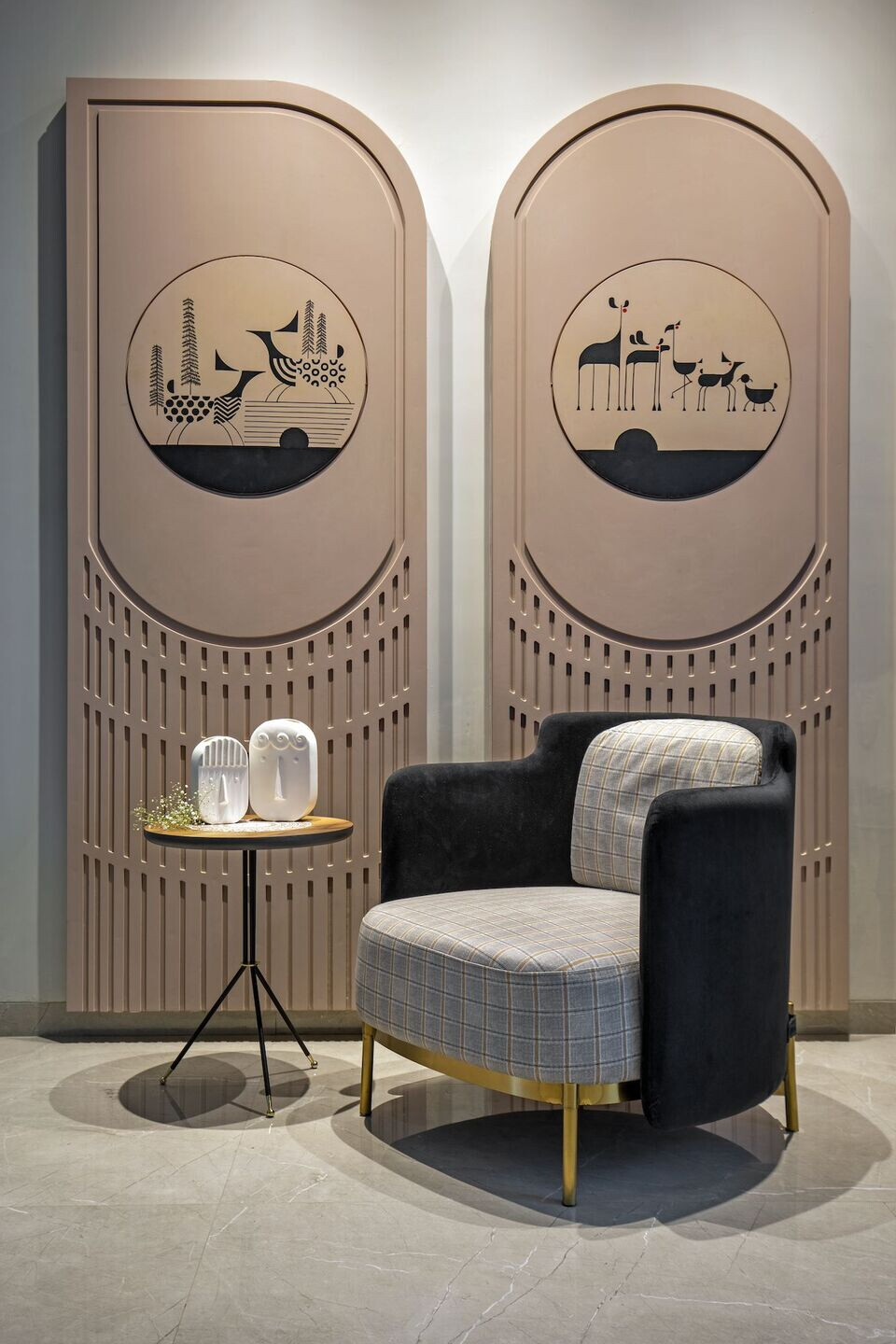 Scoop of sprinkles
Streamlining the soft and subdued flow, this bedroom is designed in a way that bestows elegance and a sense of tranquillity with its natural grey tones. The soft lightings make the ambience pleasant yet lively at the same time.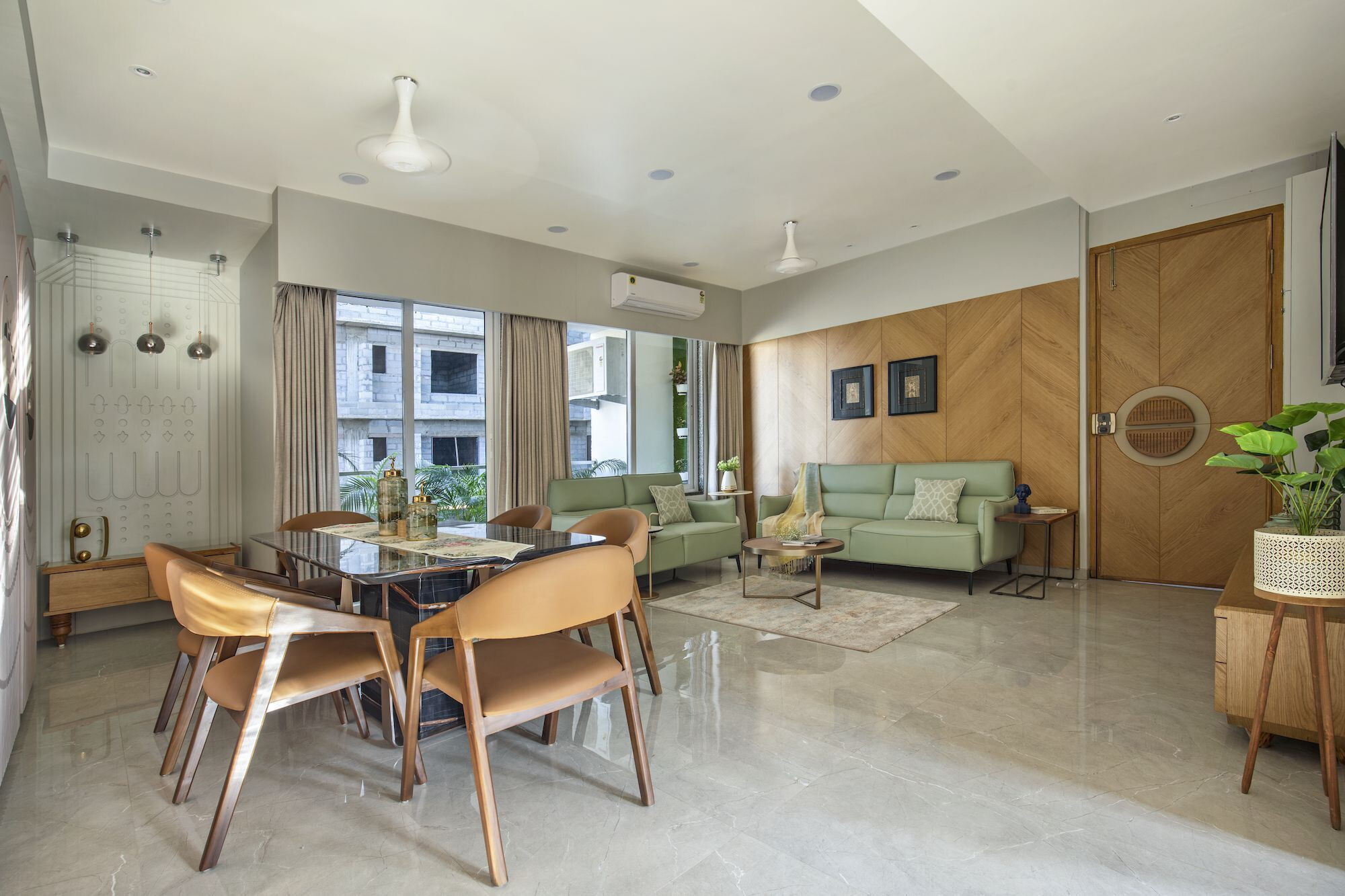 The expressive walls!
The walls in the living room and the foyer is decorated artistically with wall paintings and hanging lights, capture the eyes at a glance. The matt wooden walls and marble flooring keep the space eye-catchy and elegant.
This elegant home spells out serenity and style. The tiles are by Nexion, furnishings from D' Décor, and colour from Royal Asian Paints altogether makes this home lavish and lively!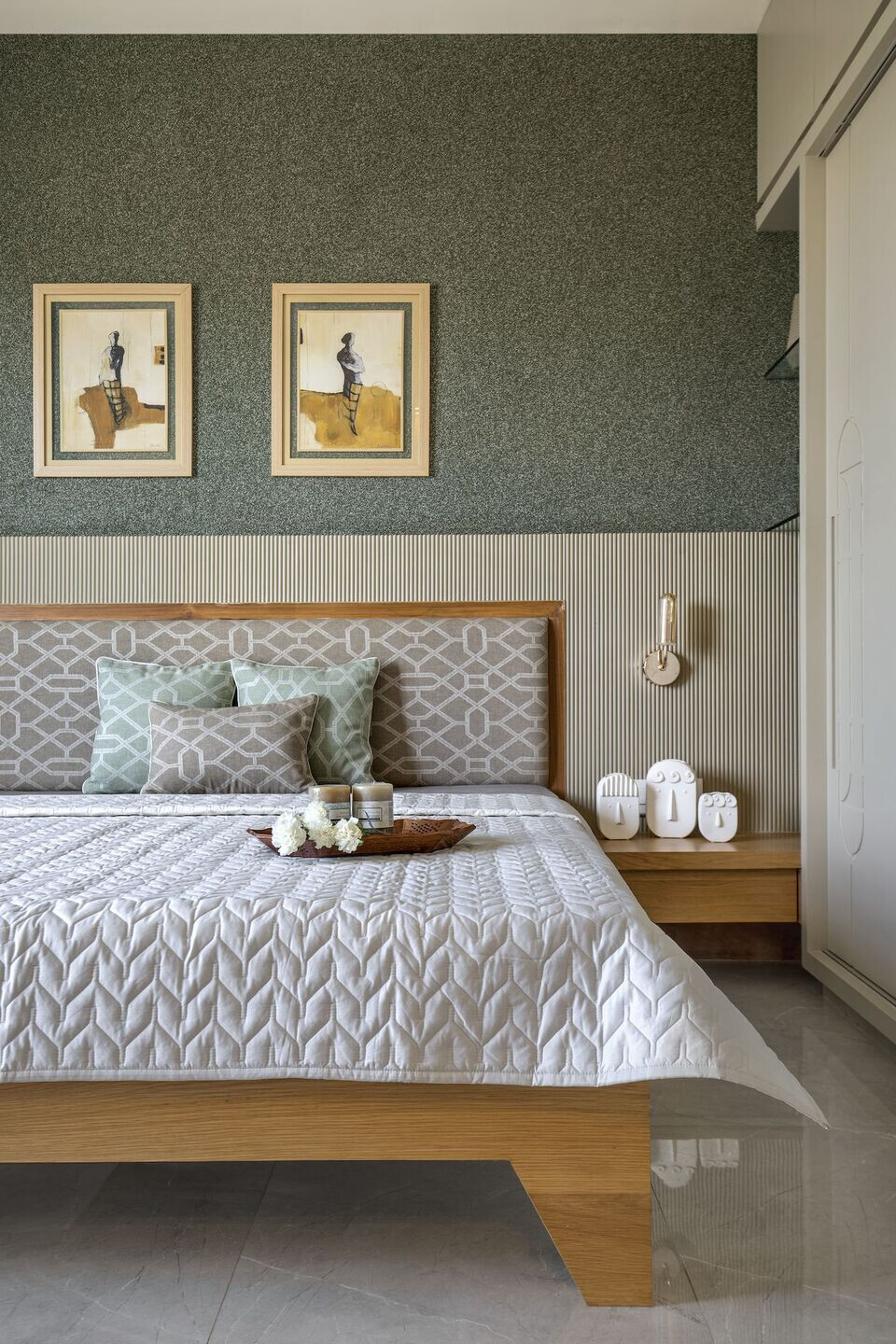 Team:
CLIENT NAME: HIREN SHAH, VIKAS PATEL
Principle Architect: Ar. RUCHIR SHETH.
Design: Harsh Gajjar
Photographer: Tejas Shah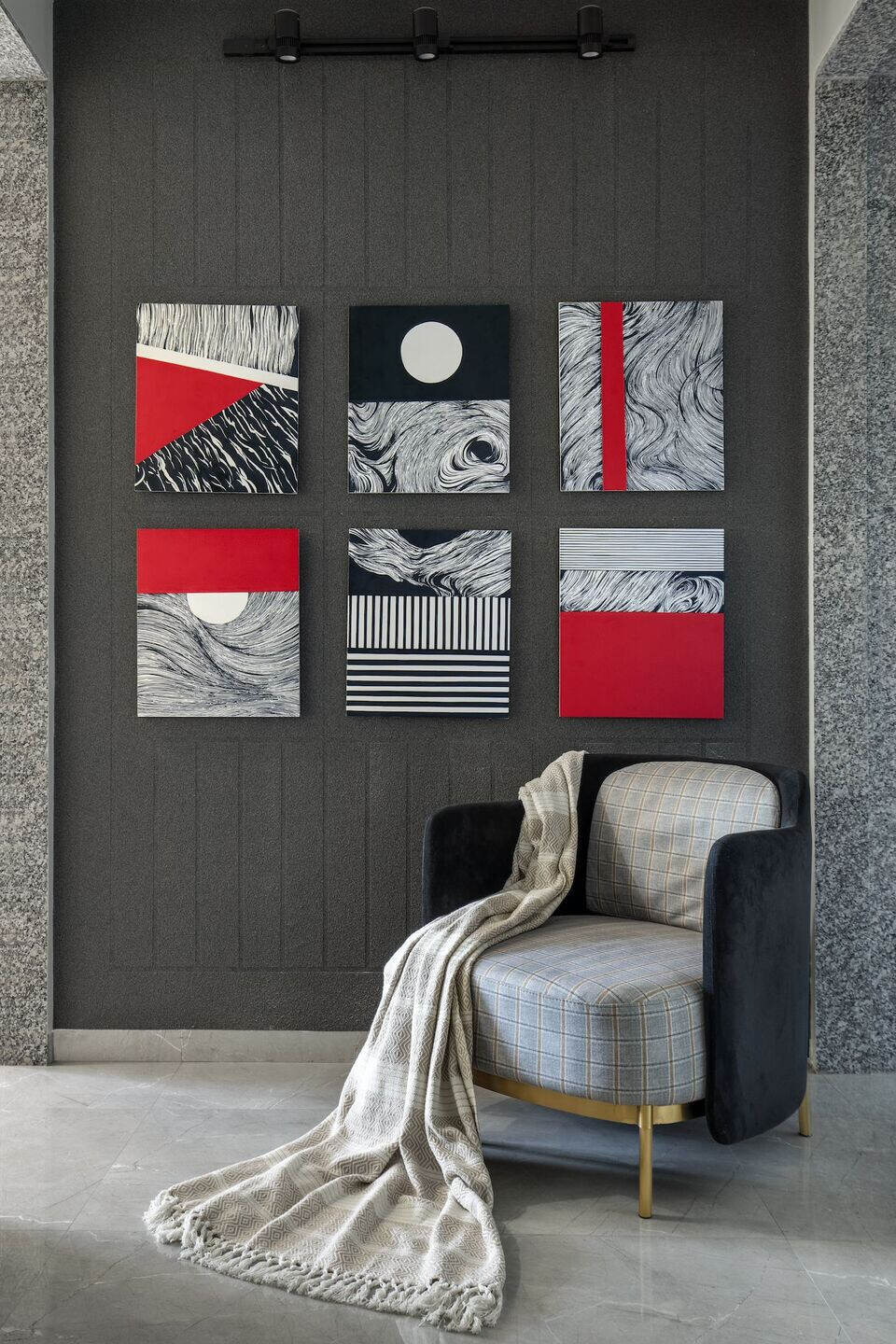 Materials Used:
VENEER, WOOD , MDF, LEATHER FINISH SOFA, FABRIC CURTAINS, POLISH,
DUCO PAINTS, CUSTOMIZED PAINTING, WALL TEXTURES, TILES FROM
"NEXION", FURNISHINGS FROM "D-DÉCOR", COLOUR FROM "ROYAL ASIAN
PAINTS"