Breathing new life into an old building
From our first meeting with the owners, it was clear what conditions their future home should meet: "It should be fresh but also unpretentious." This clear description reflected the way of life and charisma of this modest married couple. At the outset of our working together, none of us knew that we would end up breathing new life into a building created on the basis of an amazing collaboration. We were just starting to look for a suitable place where the house might stand. The clients' desire to live in solitude was fulfilled by the location and genius loci of a mill by a former pond. The decision was made after just one visit: "Here and in this house. We won't be building, but renovating."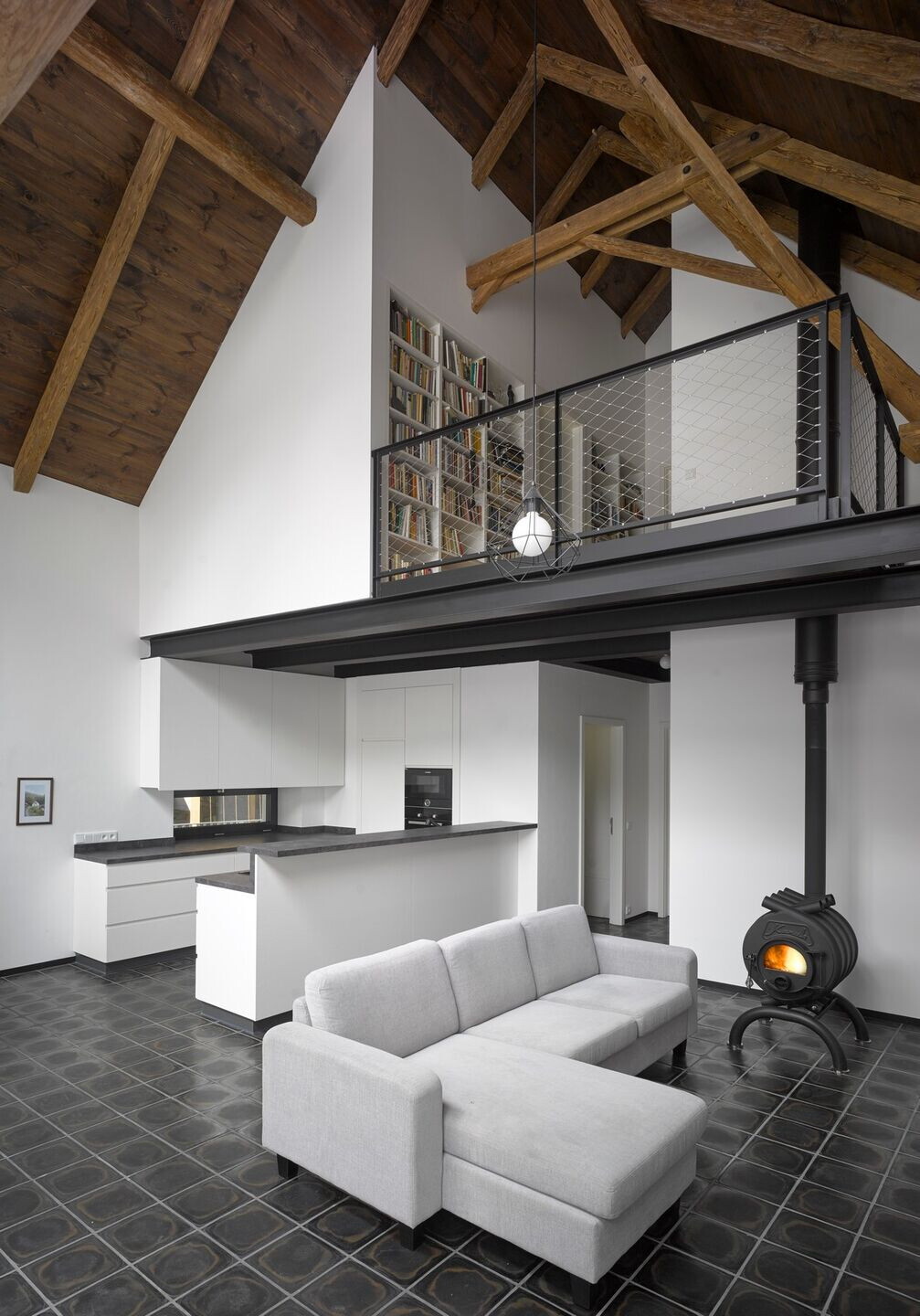 The mill was marked by age. Years without care. Dampness and the building's unfavorable layout led us to choose a radical solution: Instead of "plastic surgery," a far-reaching "transplant." Not a superficial rejuvenation, but revitalizing the entire fundamental construction in a manner that preserved the charm of the centuries.
Our main task was to get air and light into the building's innards. But since nobody wanted to disrupt the gable wall, we "amputated a part of the torso." The result was a patio inside the building's original footprint, and from here sunlight could enter the home via the glassed-in "cross-section." The main gable wall was laid bare from both sides, and the flow of fresh air reduced the constant dampness that would only increase with the pond's renewal.
The existing roof truss was taken apart, renovated, and returned to its original position. From the living room with kitchen and dining area, we can admire the work of our ancestors: By removing the ceiling, the entire space has been opened up across two floors.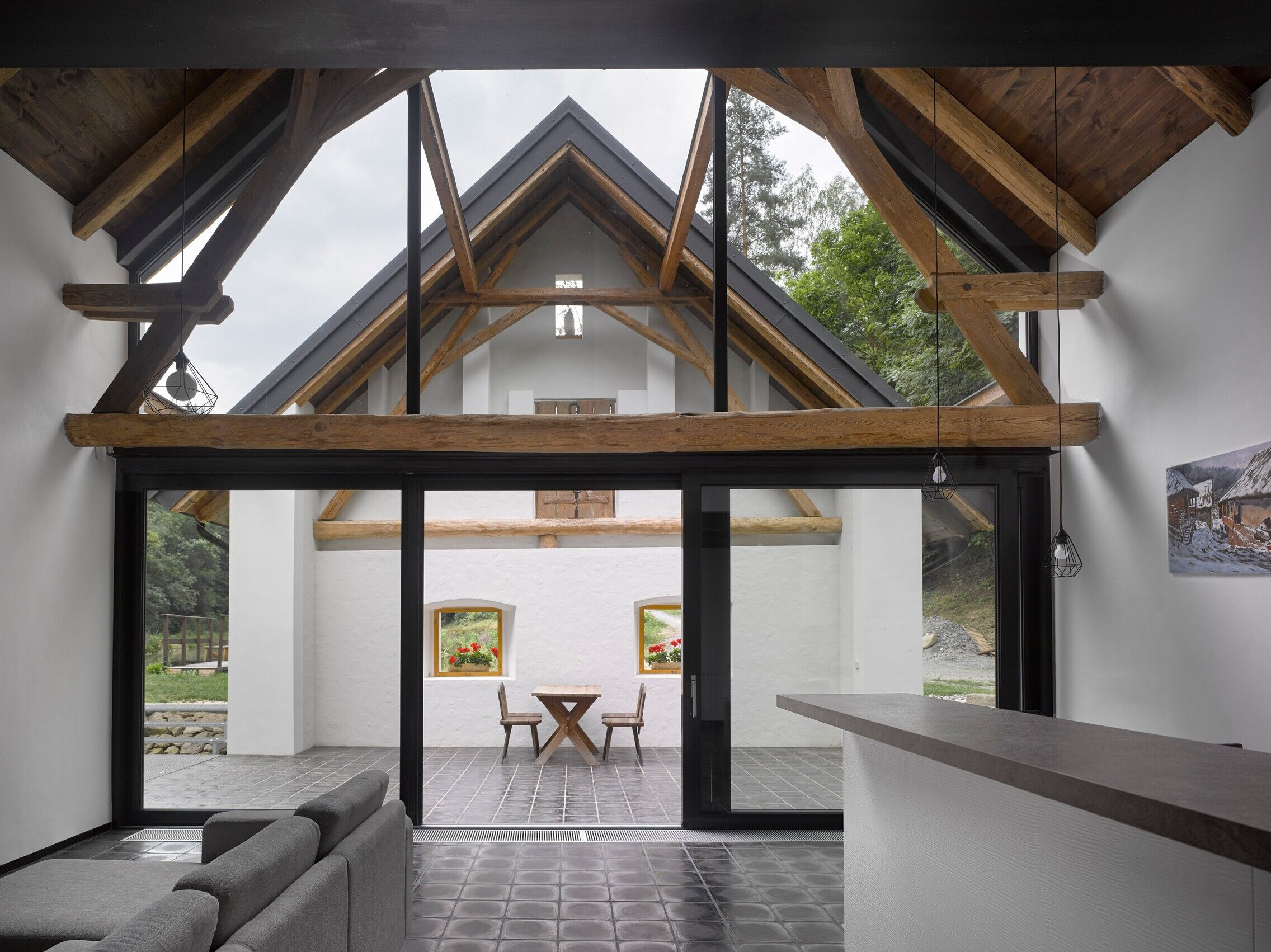 The entrance has remained in its original place, except that the original ramp could not be renovated, and so it was replaced by one made of contemporary materials. The hot-dipped galvanized support beams and metal grate fulfill their function well. The waterwheel was constructed using traditional craftsmanship. The entire ground floor including the patio is covered in basalt tiles. The renovation involved the careful and gradual renovation or replacement of the mill's various elements in order to meet the goal we had set for ourselves: to preserve the building's beauty of age.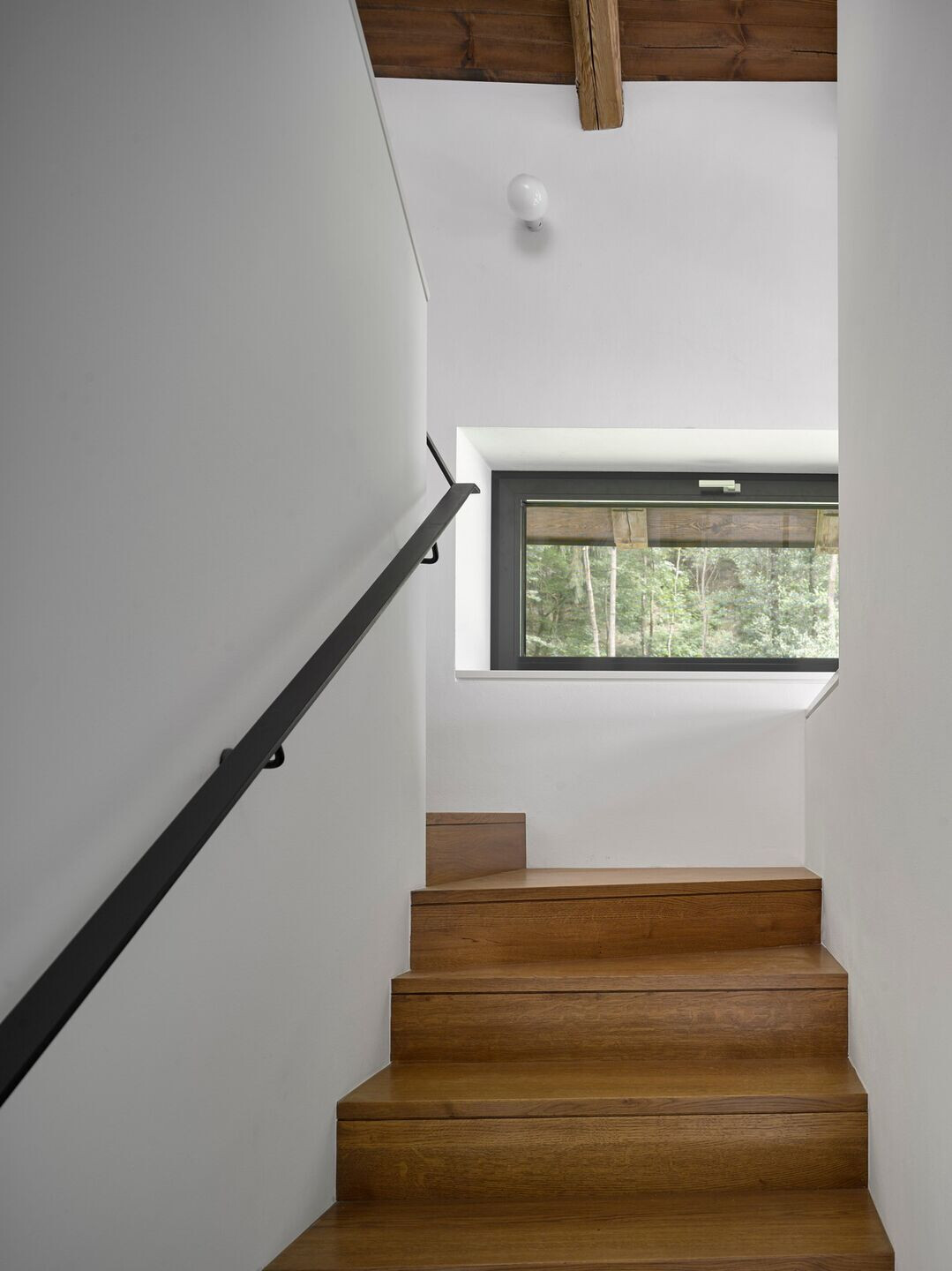 We have compared our work as architects and the work of all the participating craftsmen figuratively with the work of doctors treating their patients. As in medicine, it takes more to nurture a house back to health. This extra breath of life was when the new owners made their home here. Only then did the house find its new function, its meaning in life. The renovation produced not an exhibit of folk architecture, but a house for living in.
Team:
Architects: Stempel & Tesar architekti – Ján Stempel, Jan Jakub Tesař
Photographers: Filip Šlapal / Václav Šedý