Phase 1A is the first phase of the CAMH multi-year campus redevelopment. The master plan developed by Kearns Mancini and its joint venture partners resulted in a complete transformation of how mental healthcare is delivered in an urban setting.
Phase 1A focuses on three residential buildings and an outpatient clinic. Through consultation with CAMH, the design consortium devised Phase 1A as an Alternative Milieu program in the form of three recognizable residential buildings, linked to a commercial office-style building. Each block contains 24 patient rooms with six en-suite bedrooms on each of the four floors. Each floor functions as an 'apartment,' with six patients sharing kitchen, dining and living spaces. The design of each floor plate forms an L-shaped building plan around a landscaped courtyard at grade which is shared by the patients. The entire Phase 1A complex houses a total of seventy-two resident suites.
The units in Phase 1A are residential buildings designed specifically for patients preparing to re-integrate with society after treatment; a process vital to the rehabilitation of mental health patients. As such, the spaces and organization within each block are designed to facilitate communal integration and access to shared interior and exterior spaces. The outpatient clinic provides community and group therapy rooms for rehabilitated individuals, while the building's inpatient program caters towards people suffering from mood disorders and schizophrenia. In addition to communal spaces for treatment and consultation, an alternative milieu is created by the grouping of six clients on each of the four floors of each building. Every patient has a private bedroom and washroom with access to expansive light and air, while sharing the use of the living and kitchen areas.
Separating programmatic zones allows patients a sense of place and feeling of home; nurses and doctors entering the patient zone are received as guests providing care.
Strategic to the design process was ensuring the safety and protection of clients, staff and visitors, as well as providing varied levels of security depending on the patients' status. Each residential building is linked to a secure landscaped outdoor space within a garden court. This available access to nature, views and daylight, assists patients in their recovery, and are integral elements of a relaxed and regenerative environment that provides an opportunity for informal interaction amongst clients and staff members.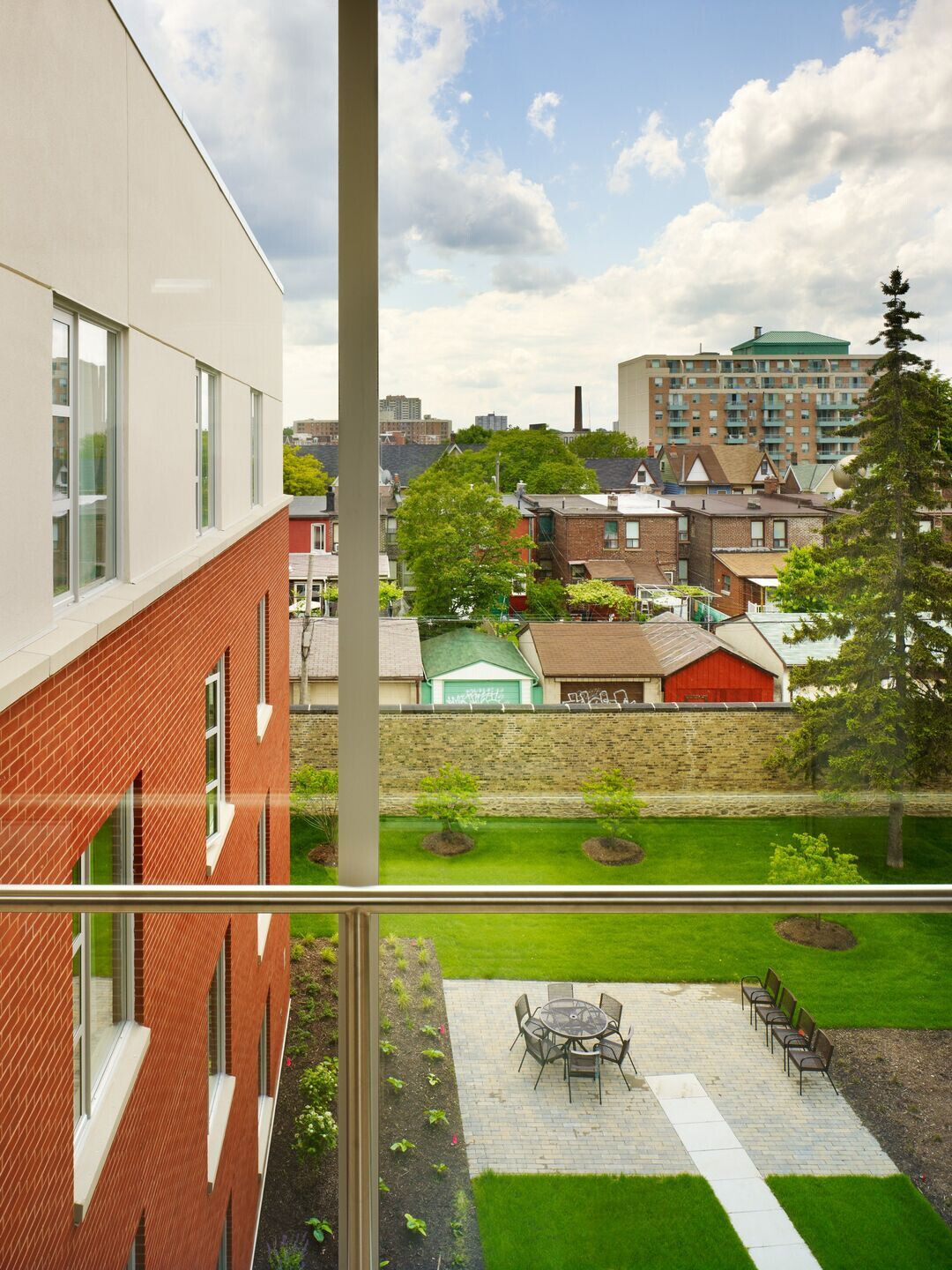 Phase 1A of The Centre for Addiction and Mental Health is the first phase of a larger urban plan for the campus. The planning decisions and hierarchy of street presence were strategically implemented to respond to the design of the future campus. Overall, the project delivers on CAMH's intent to step away from earlier approaches to mental health care conventions. The design promotes an approach that treats clients in a respectful, dignified, holistic manner within an atmosphere that normalizes mental health care and supports a recovery and a return to the community.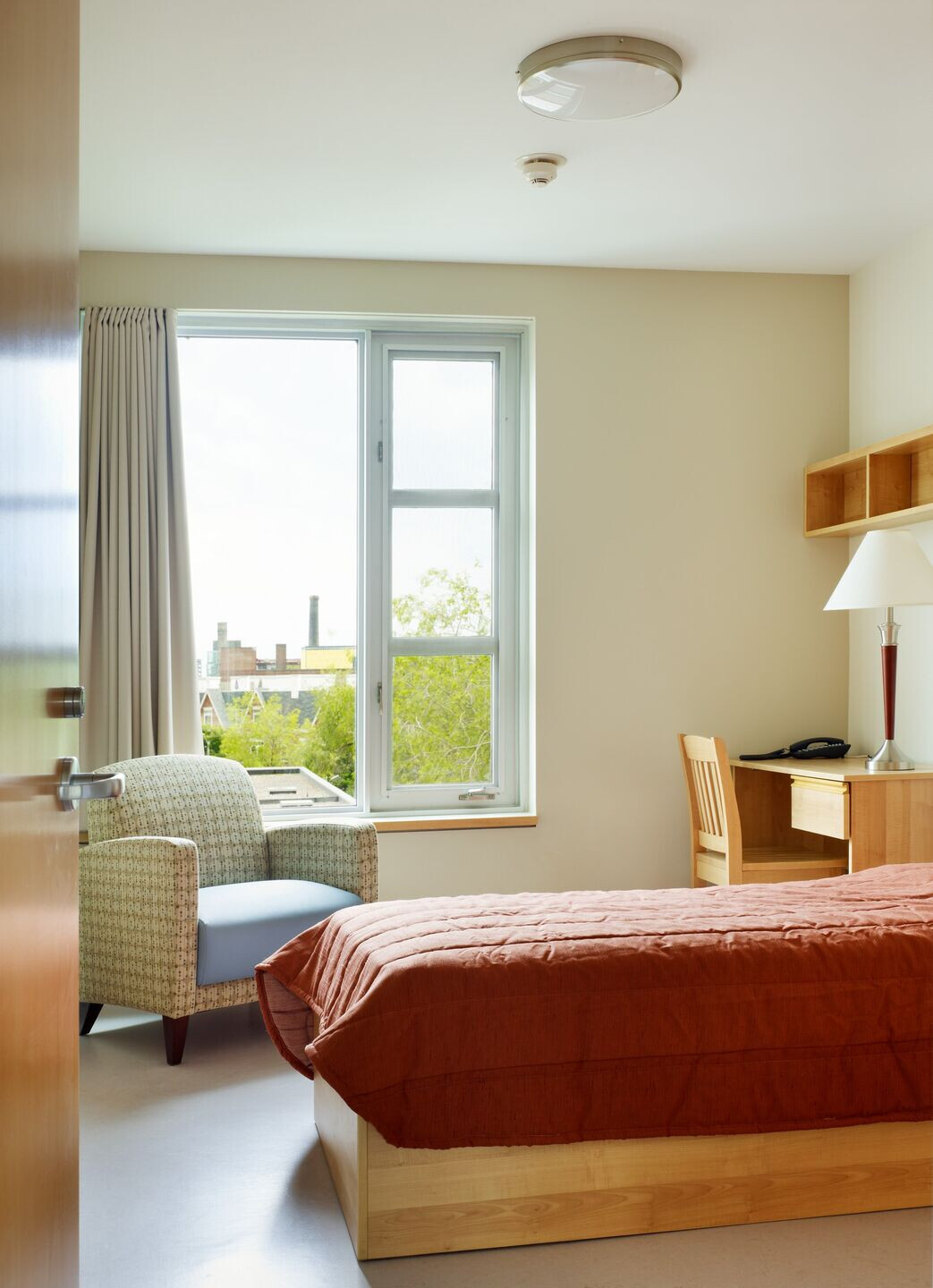 Team:
Architect: Kearns Mancini in Association with Montgomery Sisam Architects and KPMB Architects
Mechanical: Rybka Smith & Ginsler Limited
Electrical: Crossey Engineering
Structural: Raid Jones Christoffersen
Information Technology: Ehvert Technology Services
Urban Design: Urban Strategies
Traffic & Site Services: Marshall Macklin Monaghan
Functional Programmer: The RPG Partnership
Cost consultant: Marshall & Murray Inc.
Landscape Architects: Janet Rosenburg + Associates
Code Consultant: Larden Muniak Consulting Inc.
Photography: Tom Arban
Project Team: Jonathan Kearns, Peter Ng, Dan McNeil, Christine Leu