The intervention updates a house built in the 90s on the outskirts of Madrid. Originally, it consisted of a cubical volume, made of red brick with a flat tiled hipped roof. In the SW corner, a double-height oblique porch interrupted the volume.
Hundred-year-old pine trees surround the house. It seemed important to us to blend in with the surroundings. The idea of lining it with cork was the starting point. The cork blends in with the bark of other trees, guarantees durability, and improves the thermal properties of the façade. The appearance is similar to that of a stone tile, but with a warmer and lighter appearance. We decided to cover only the façades of the cube with cork, maintaining the hipped roof and leaving the brick painted black in the auxiliary constructions.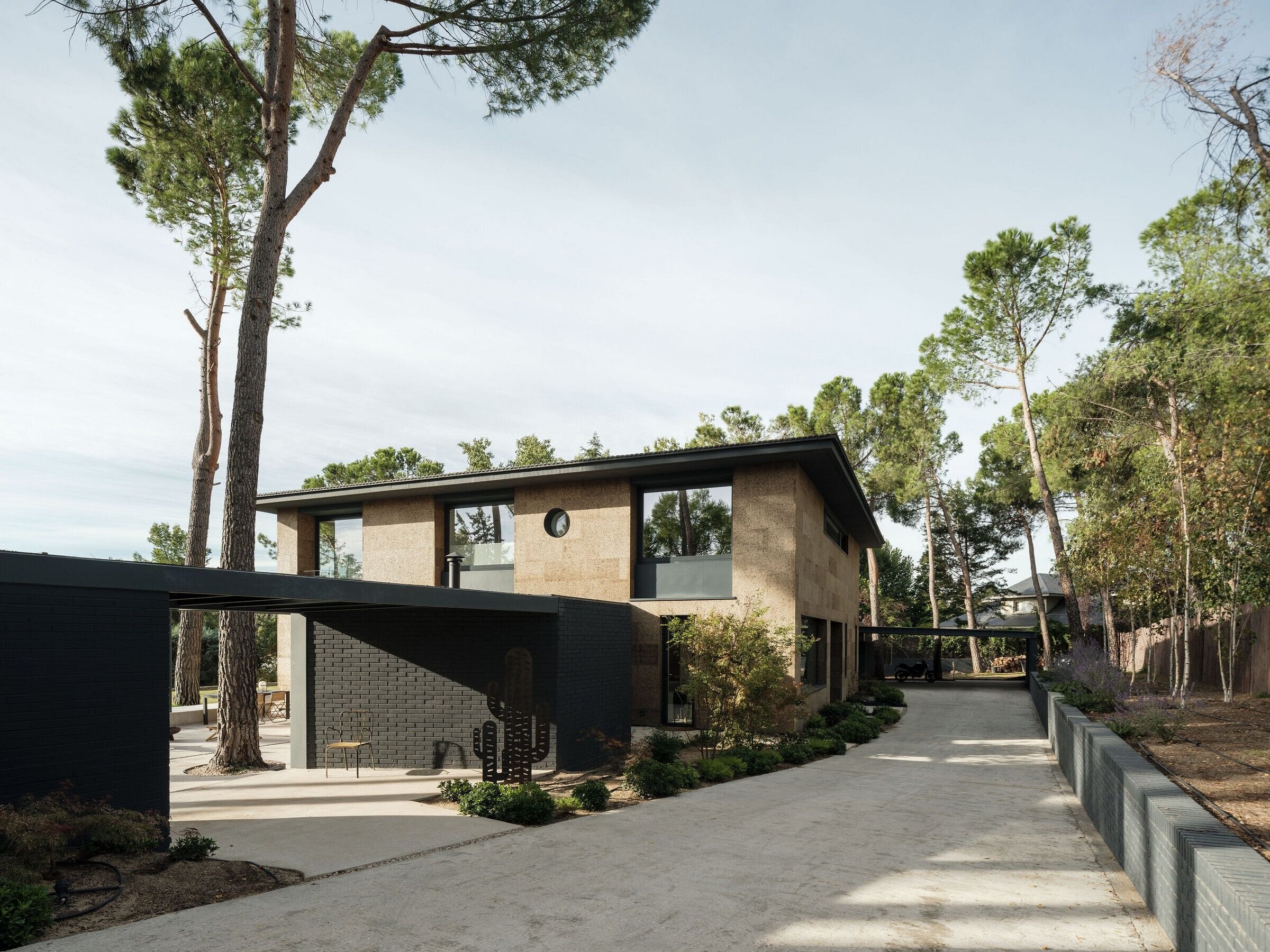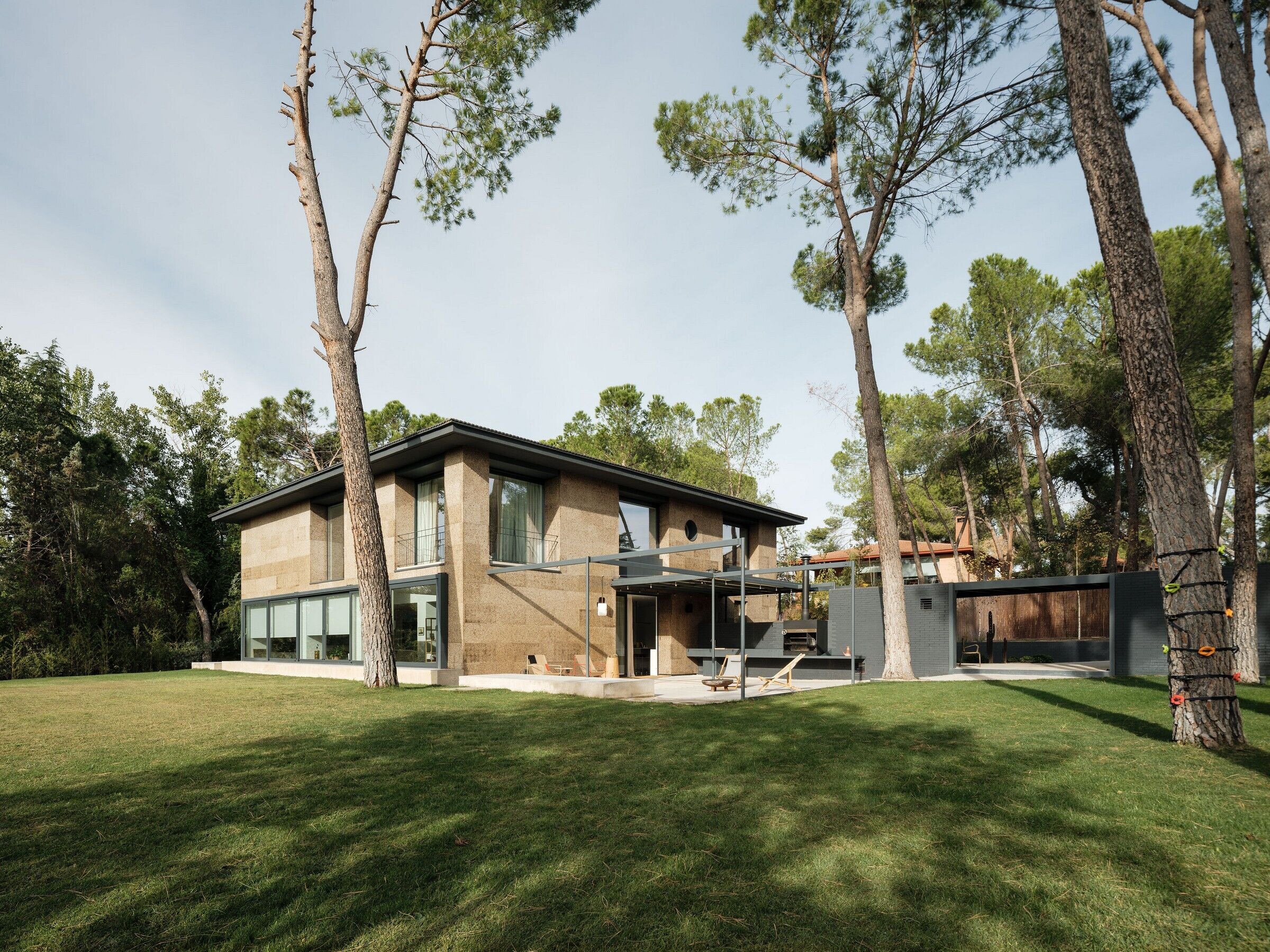 The composition of the openings in the façade respond to solar capture and protection. In the North, they are scarce, in the South abundant and protected externally, and to the East and West a sheet located at the bottom protect them from solar radiation and the lack of privacy.
A concrete bench runs along the south elevation acting as a basement, it is also visible in the interior as an ash bench and extends to the sides blurring the limits of the cube. The South window, on top of it, runs through the three main spaces of the house and connects all of them. It is an important compositional element; it gives warmth and humanize this wide space.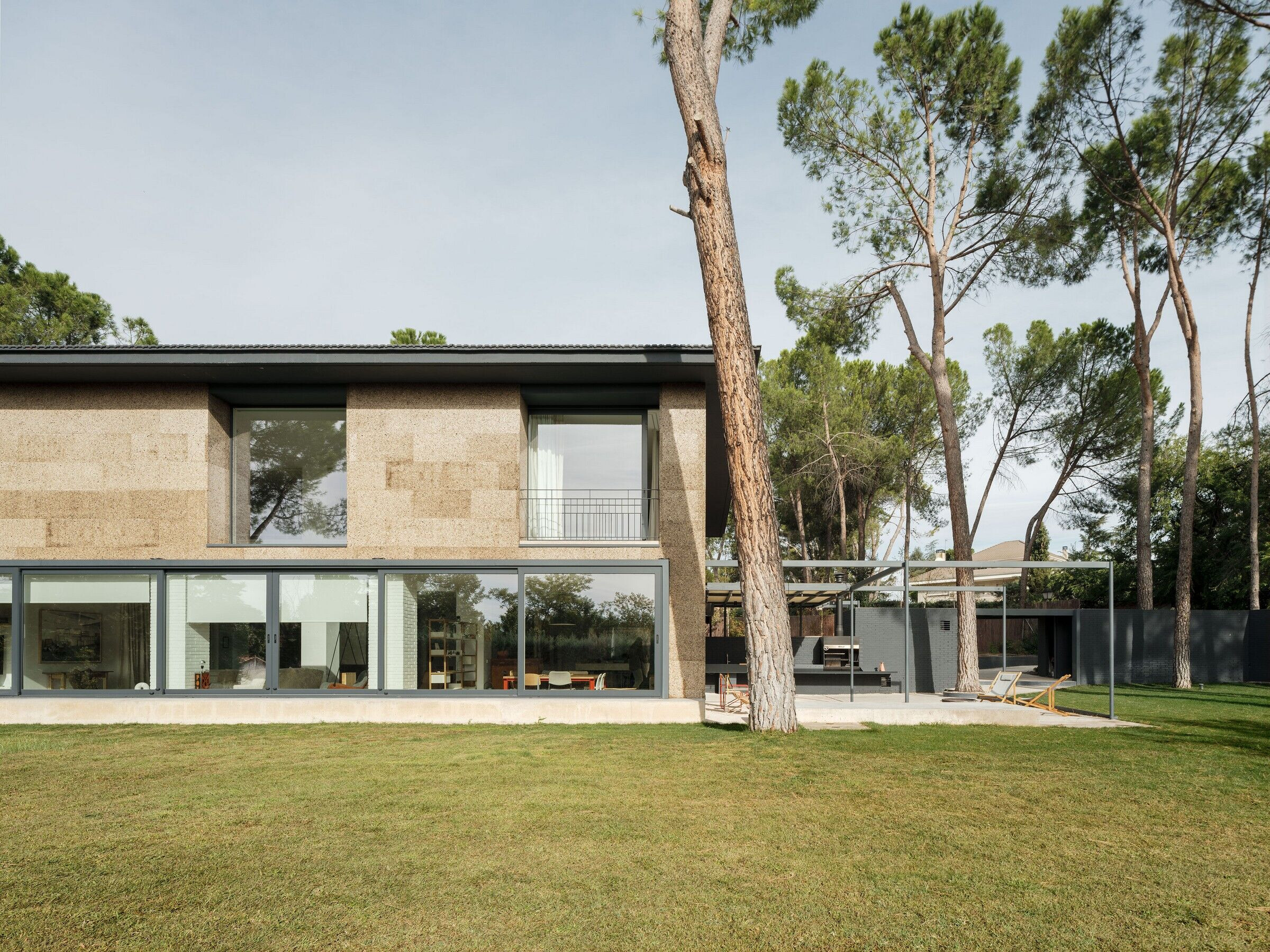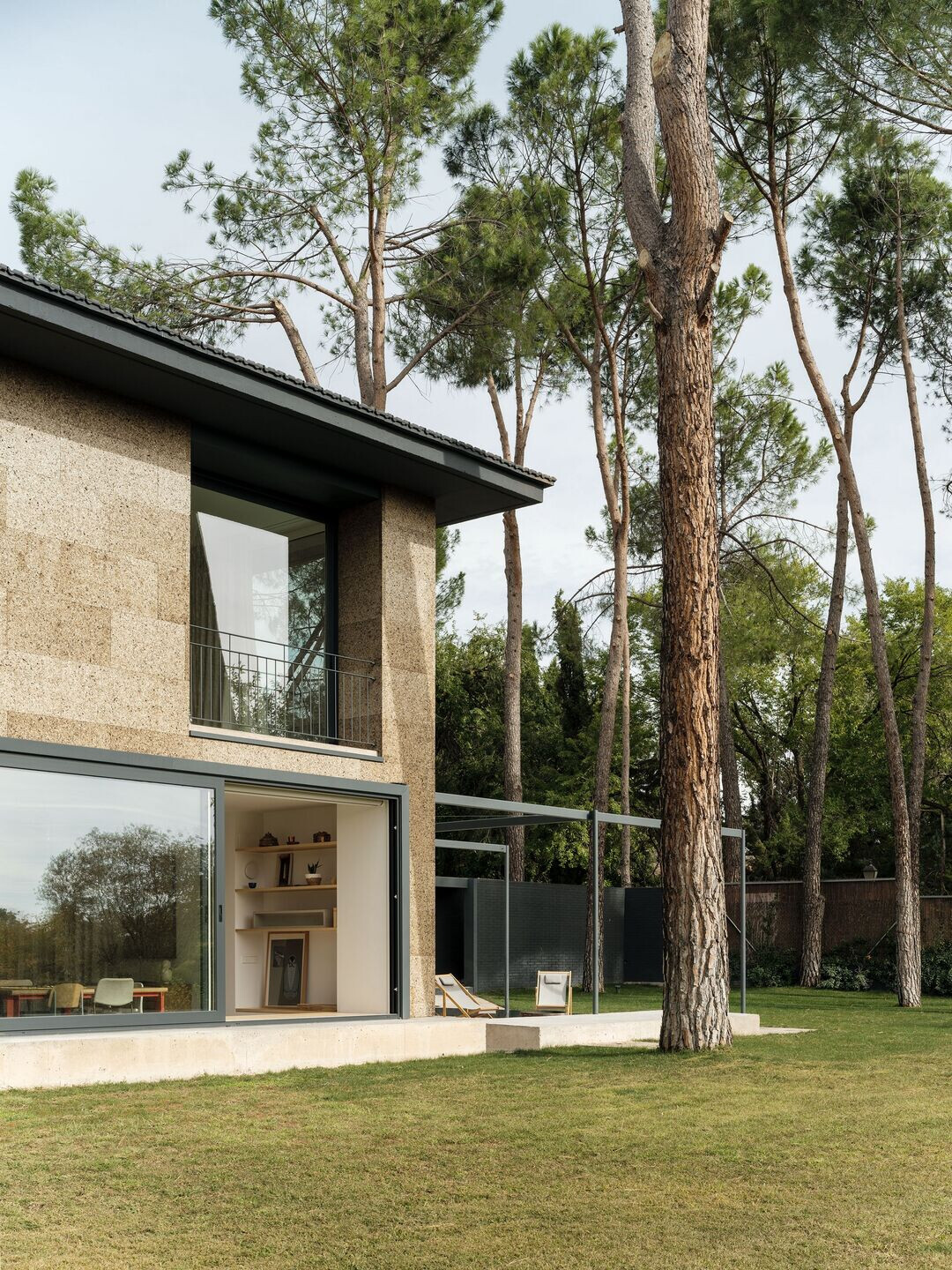 On the interior, a sliding cork door runs lengthwise and divides the entire house. On the one side are the hall, stairs, kitchen and service bedroom. On the other side, a single room in which four columns and a double-height ceiling divides the space into six quadrants. The first three, close to the sliding windows, are the dining room and living room. The other three located on the center have no defined program and function as a large corridor that connects both sides of the garden. This sliding cork door creates different relationships between the server and served spaces depending on the time of day and needs.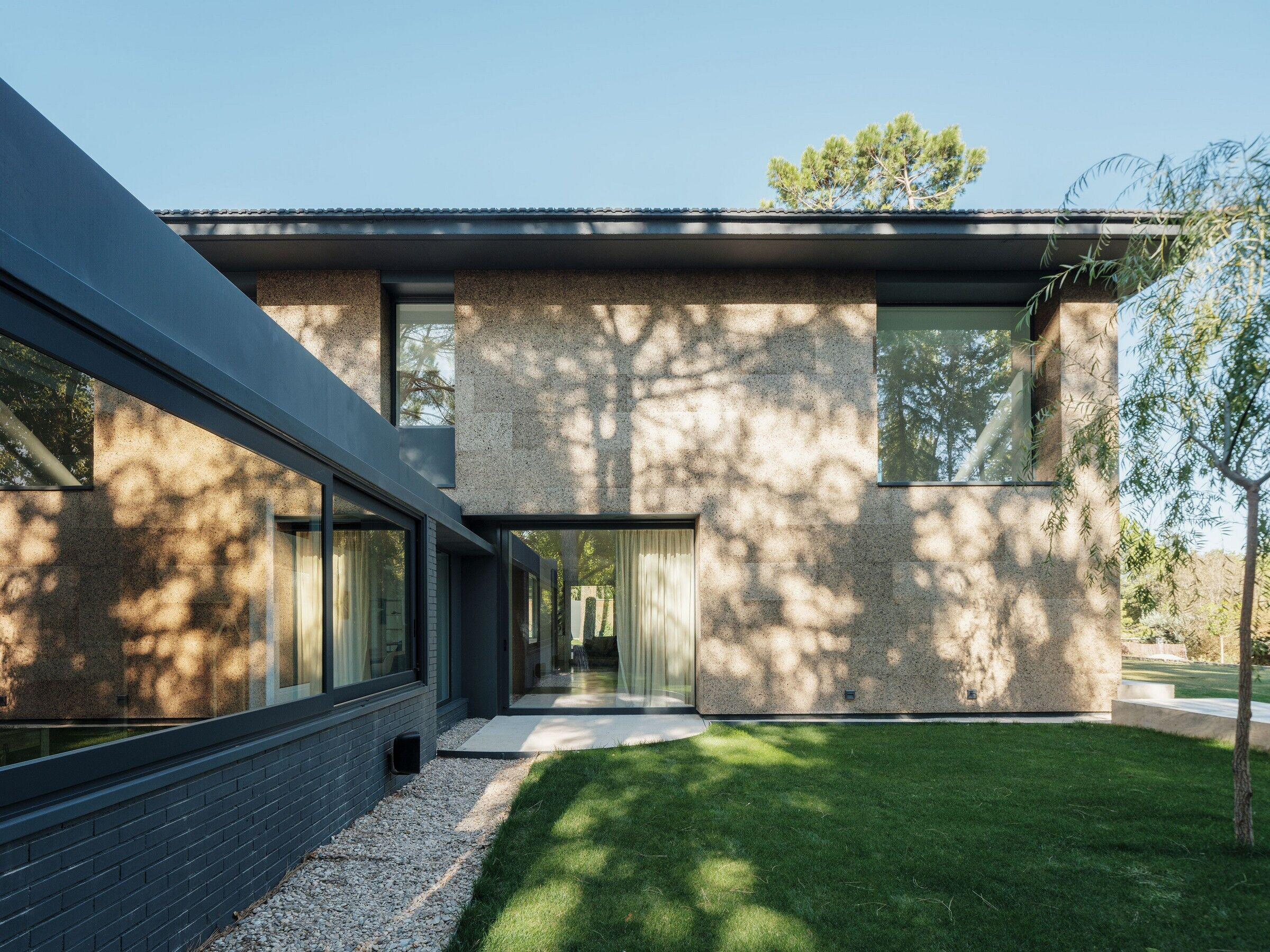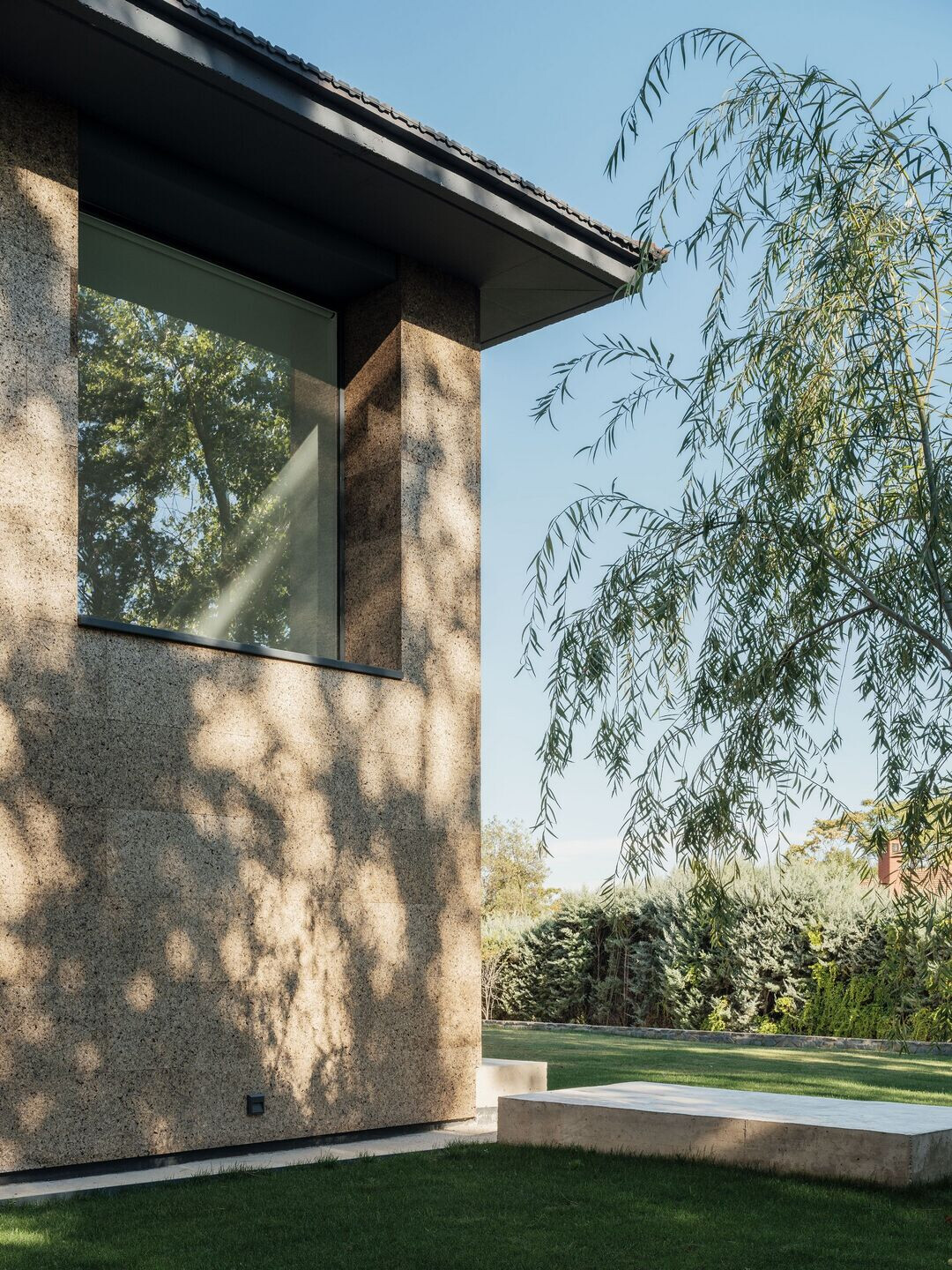 The interior combines few materials. Polished concrete floors; wooden tables, benches and countertops; stainless steel and white laminate in the kitchen; and plaster showers and bathtubs.
The stairs lead you to the hall on the upper floor, which also serves as a study, work, reading and rest room. From here, there is access to the daughter's bedrooms and to the master bedroom through a large dressing room.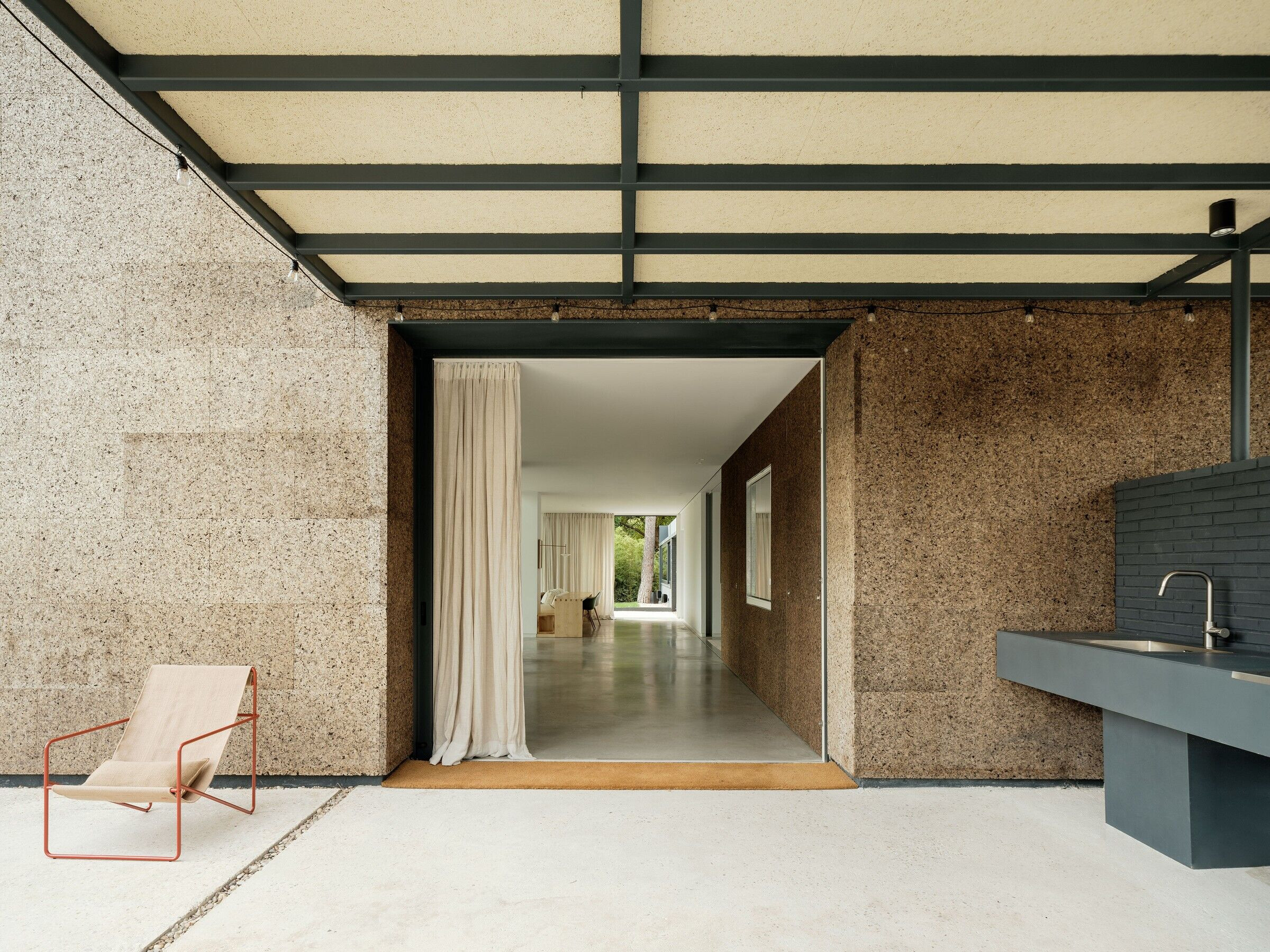 Outside, on the South East corner, the interior grid expands to the exterior forming four more quadrants embraced by the concrete bench and the brick wall. The landscaping renovation focused on the areas closed to the main facades, preserved the pre-existing esplanade of grass and pine trees and extended to the lower platform dedicated to the swimming pool.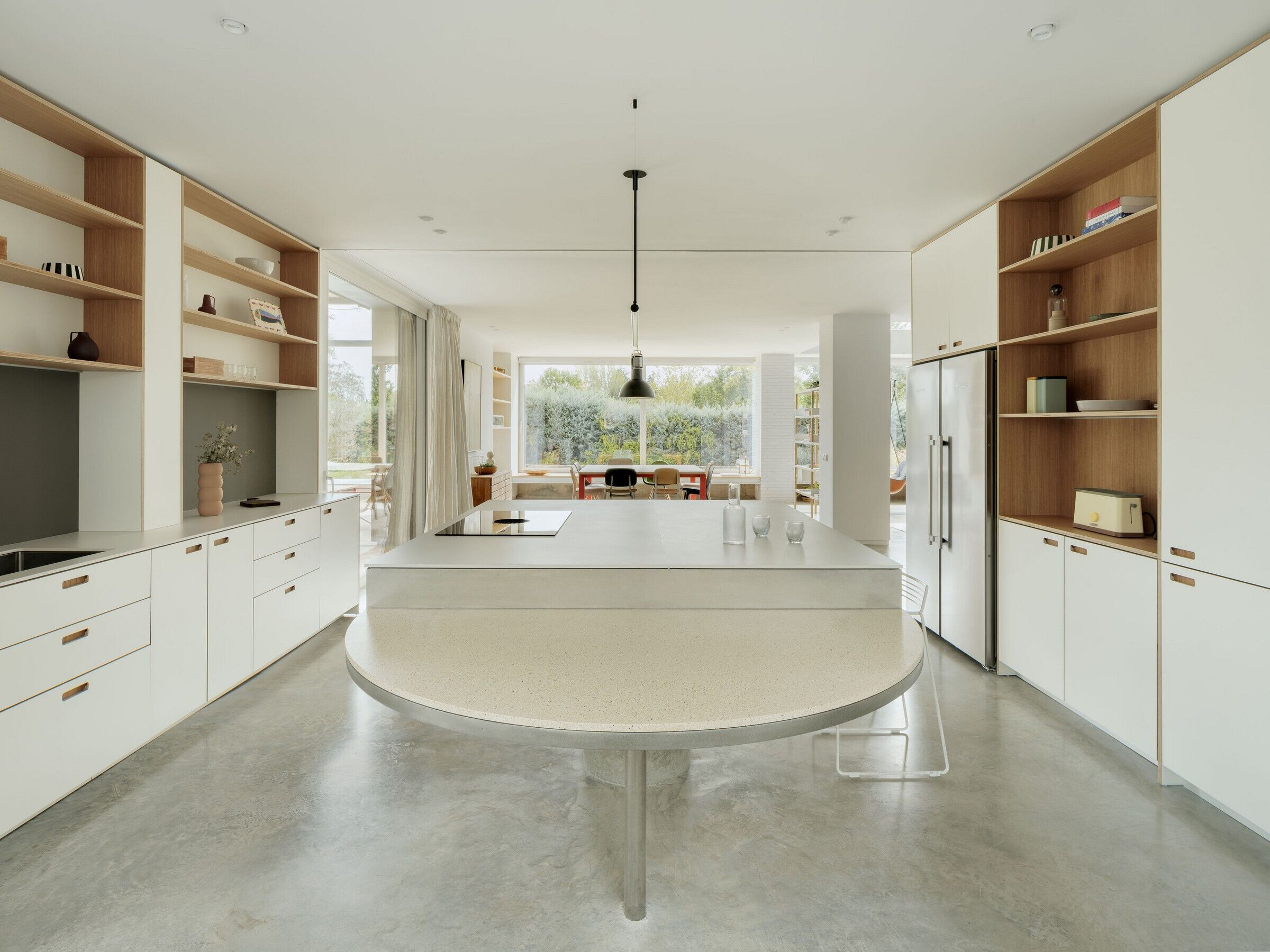 Team:
Architect: EME157
Other participants: María López / Elena María Sáenz
Photography: Luis Diaz Diaz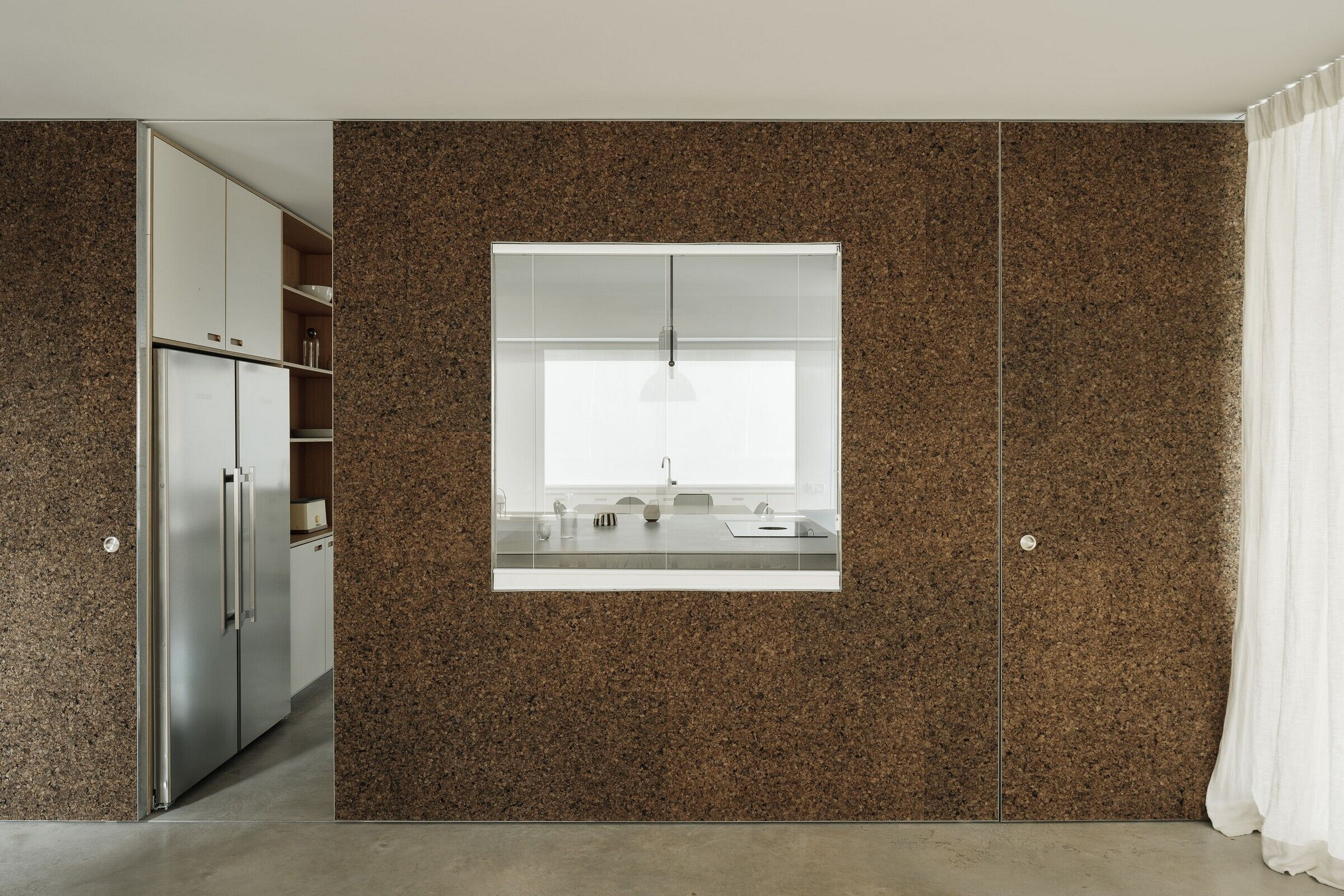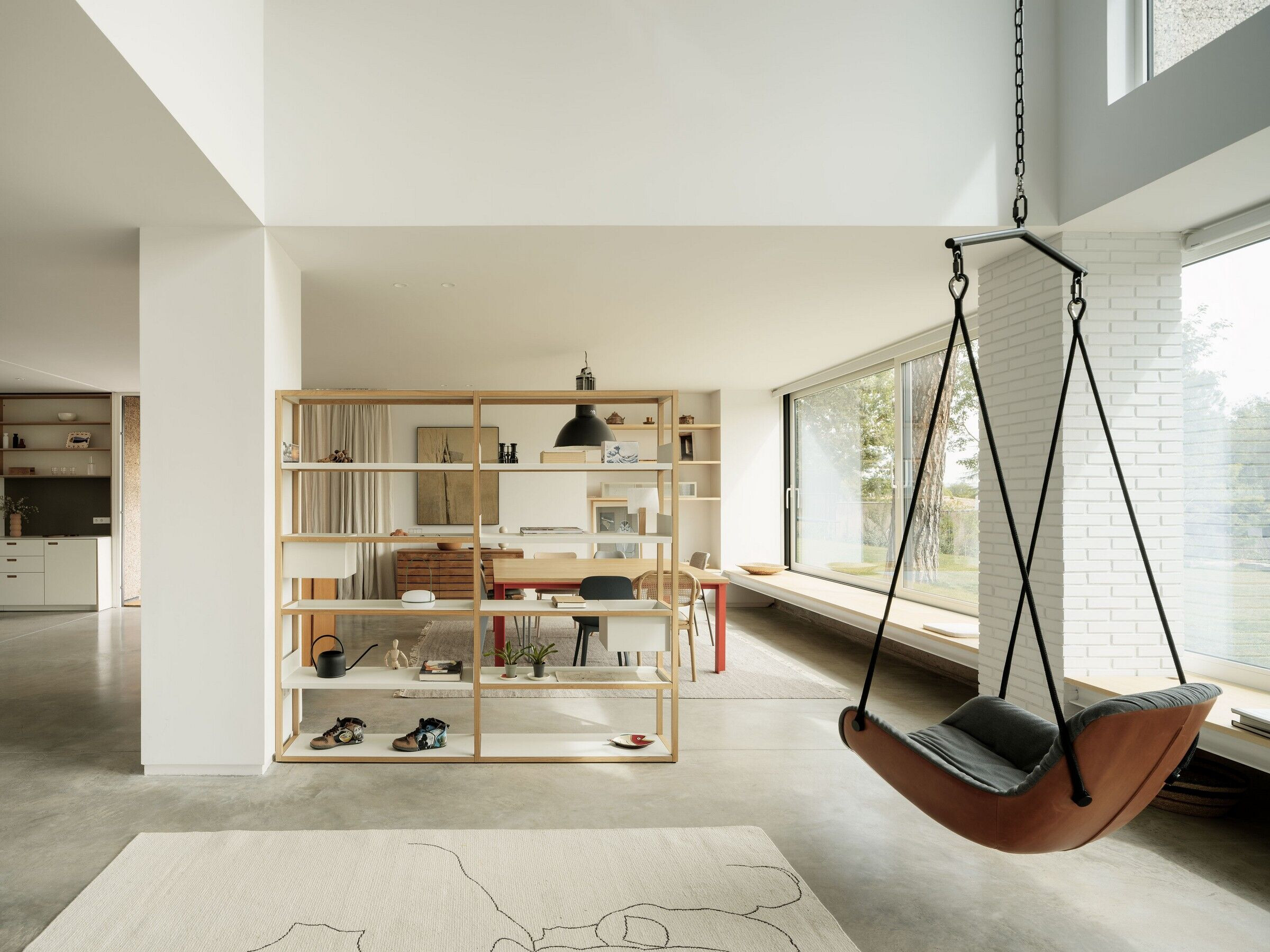 Material Used:
1. Facade cladding: Cork (Amorim Cork)
2. Flooring: Polished concrete
3. Doors: Wood
4. Windows: CORTIZO
5. Roofing: Preexisting tile
6. Interior lighting: Vibia
7. Bathrooms: ICONICO, Huguet
8. Countertop: Juan Ruiz Rivas
9. Kitchen: CUBRO