The £40m landmark West Downs Centre at the University of Winchester is home to the Digital Technologies computer and digital-related degree programmes and business and management programmes. Facilities include a drum- shaped 250-seat auditorium, art gallery, café, food hall, shop, library, social learning areas and teaching spaces.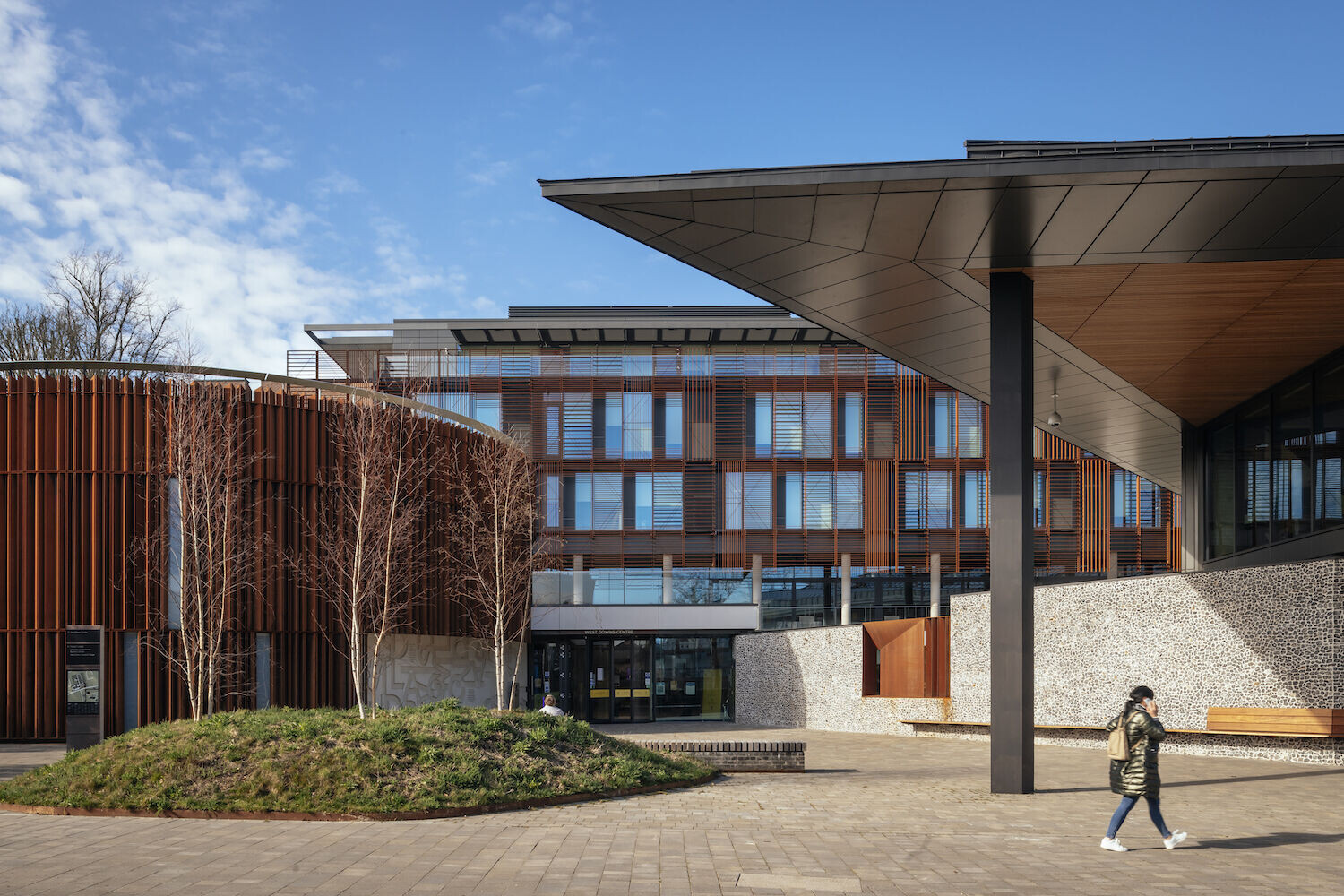 The site for the new building is alongside one of the main arterial routes into Winchester which was originally the line of a Roman road. The new building thus provides the University a new very strong visible public presence which hitherto had not been possible from their main King Alfred Campus.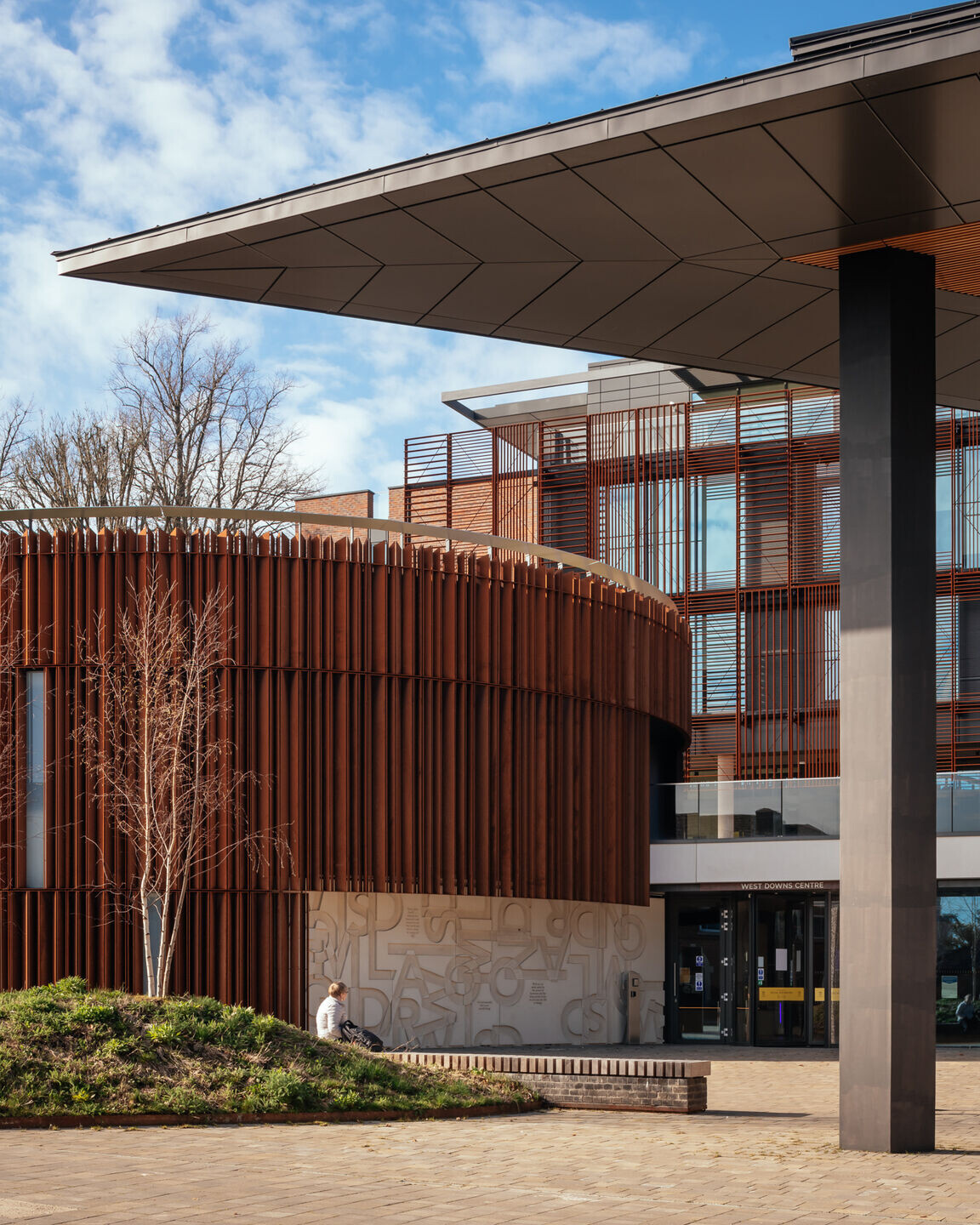 As part of the core values of the university it has been important that the building focussed on supporting the mental health and well-being of the individual and collective users. The central water garden, the gallery, vegan cafe, inclusion of artwork and the Contemplation Space are all focused on the wellbeing benefits to staff and students.
A key part of the client brief was to define a 'Contemplation Space' for all building users of faiths and non-faiths. Located at the heart of the new building, this space developed into a series of accessible shaped 'people pods' allowing all students and staff a retreat from the stresses of university life. These are organised around a flexible central room offering a place for discussion, yoga and quiet contemplation.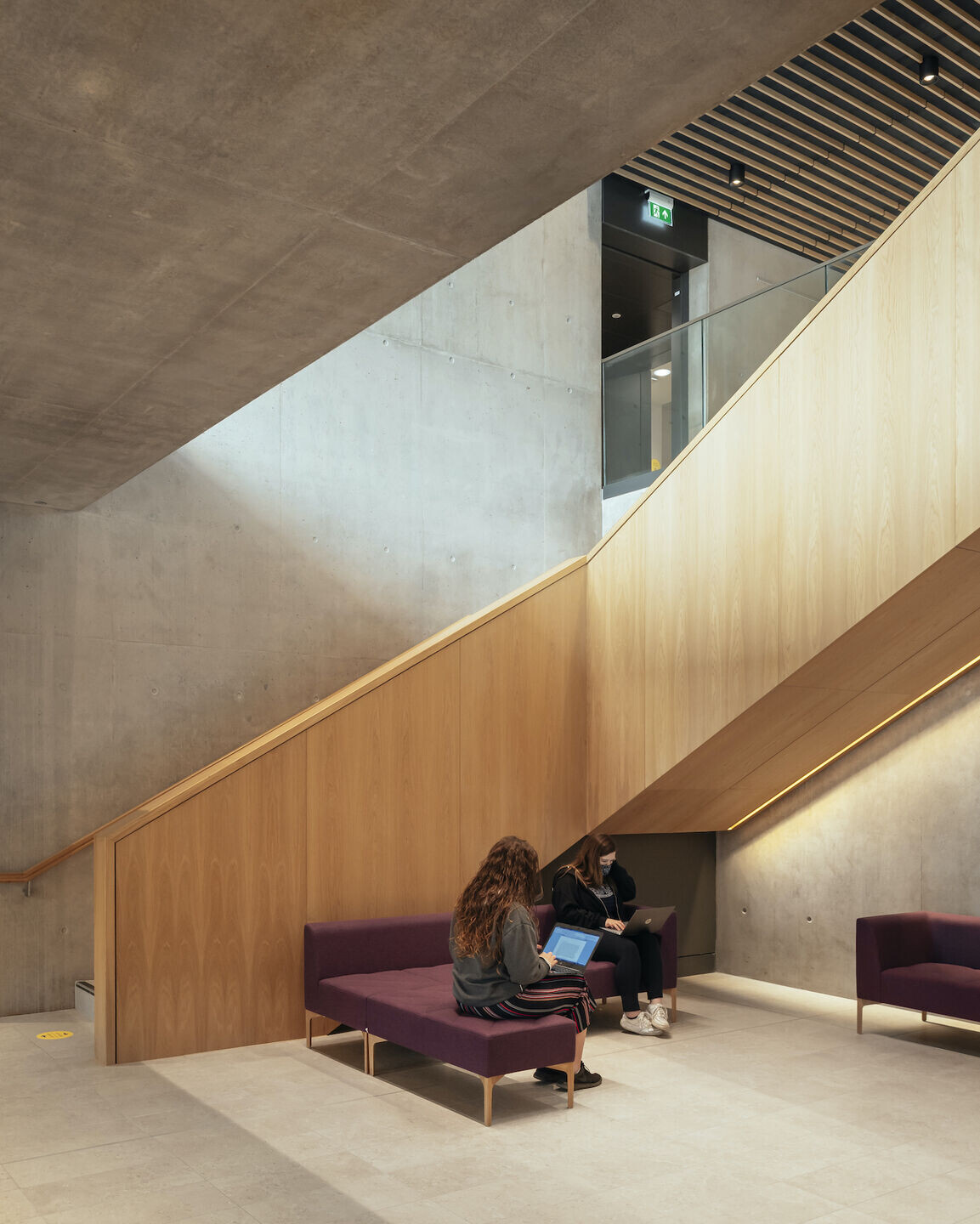 The design approach brings landscape architecture and architecture very closely together. The existing site character is enhanced through additional tree planting, hedgerows and wildflower. This re-establishes the green edge to the site, which buffers a busy main road. The building itself has been designed to support wildlife with large areas of biodiverse roof and is carefully planned to avoid disturbance to existing mature trees.
Planting is largely native with selected species as focal points or to enhance biodiversity. The organic building form embeds itself into a hollowed out site, creating surprise and interest with landform, level change and above all sensitive immersion into this leafy Winchester hillside.
The project was delivered to the construction budget, with the University funding the project in part through sustainable banking via Triodos. Constructed through the pandemic, the project was reconfigured to meet client changes in response to a changing curriculum and the effects of the Covid Pandemic on teaching and learning practices. The building was among the first university projects to be registered for WELL Certification within the UK.