1. Area: 335m2
2. City: Dalat, Vietnam
3. Year: 2022
4. Design and build: APS Concept
5. Design team : Hung Vo, Phan Thanh Dien, Duong Le, Trinh Phoi Phoi, Dao Van Hieu, Phu Le, Hung Le,…
6. Manufactures : The Box, Xingfa, Mai Hoang Paint, Ngoi Nha Viet, Moen, Hafele, Malloca, Higold, Toto, Imundex, Simon…
7. Office : 135/1/58 Nguyen Huu Canh Street - Ward 22 – Binh Thanh District - Hochiminh City
8. Website : www.apsconcept.vn
9. Photographs: Quang Tran
10. Main Concept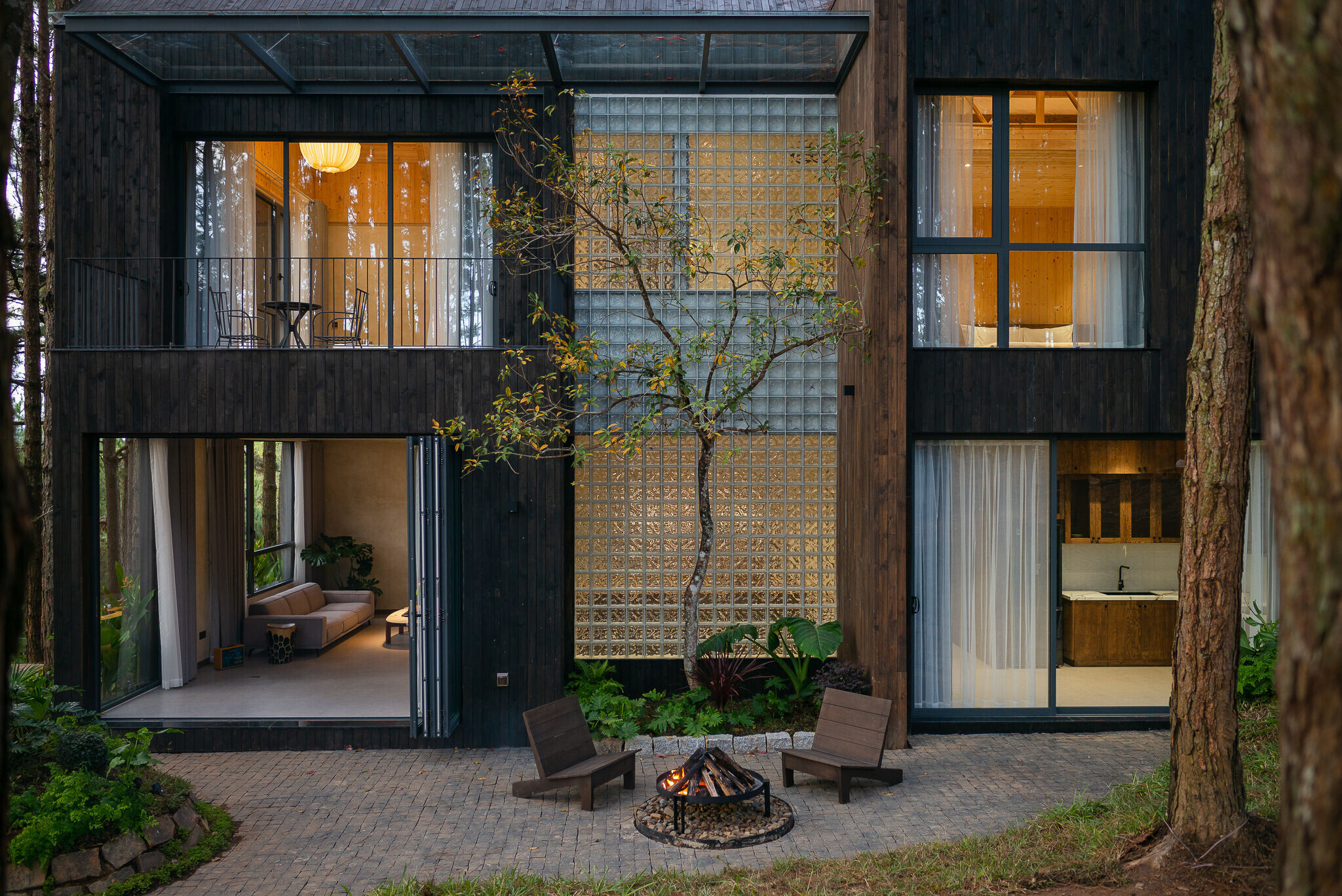 In the current background, the connection between people and nature is often lost, so the resort experience in nature is the favorite choice of urban tourists.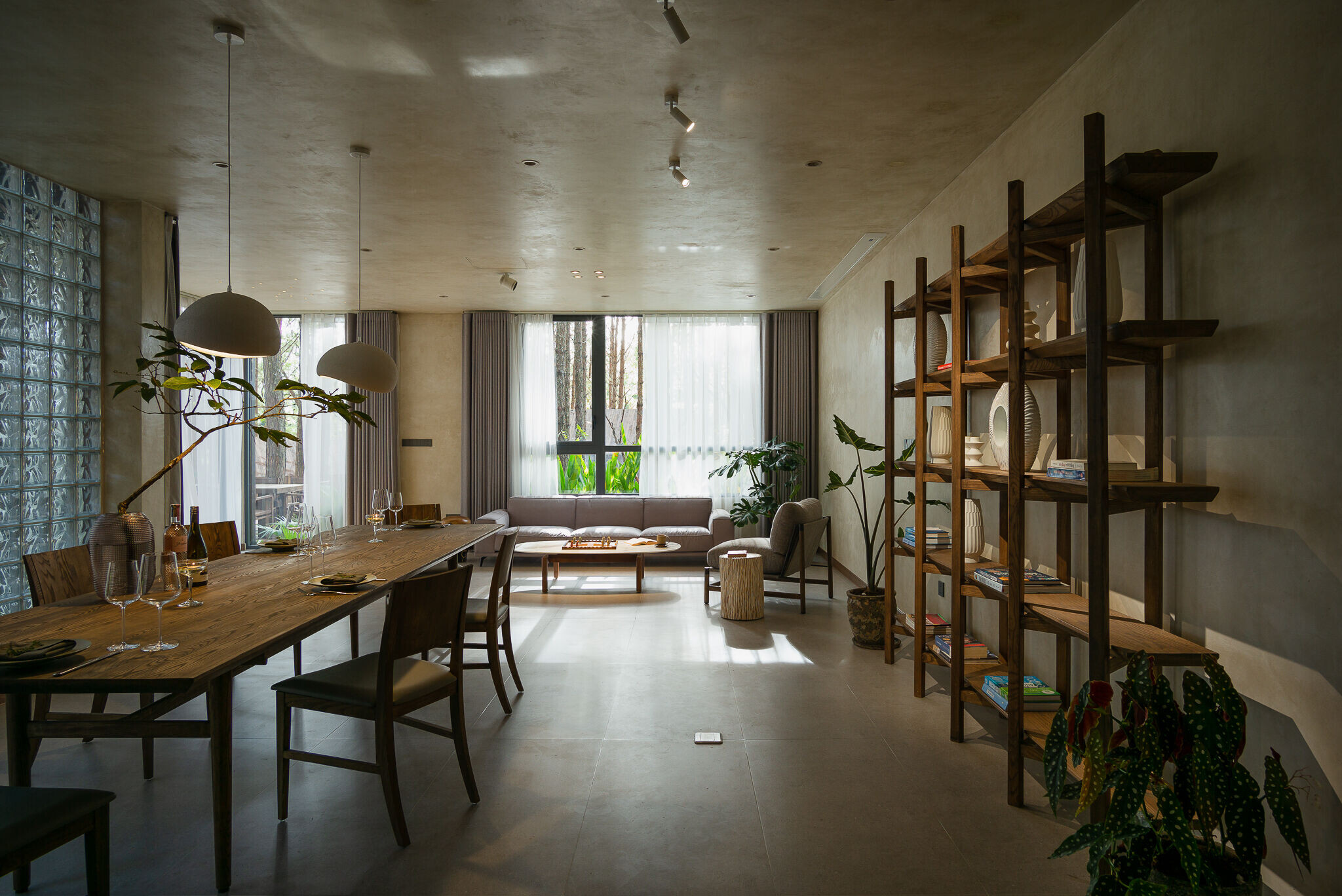 Villa of The Woods, also known as The Woods is located on a slope in the middle of a typical pine forest in Da Lat, the design team chose to place the building simply hidden in the landscape, prioritizing the natural over strange construction form because the location site itself is an interesting thing.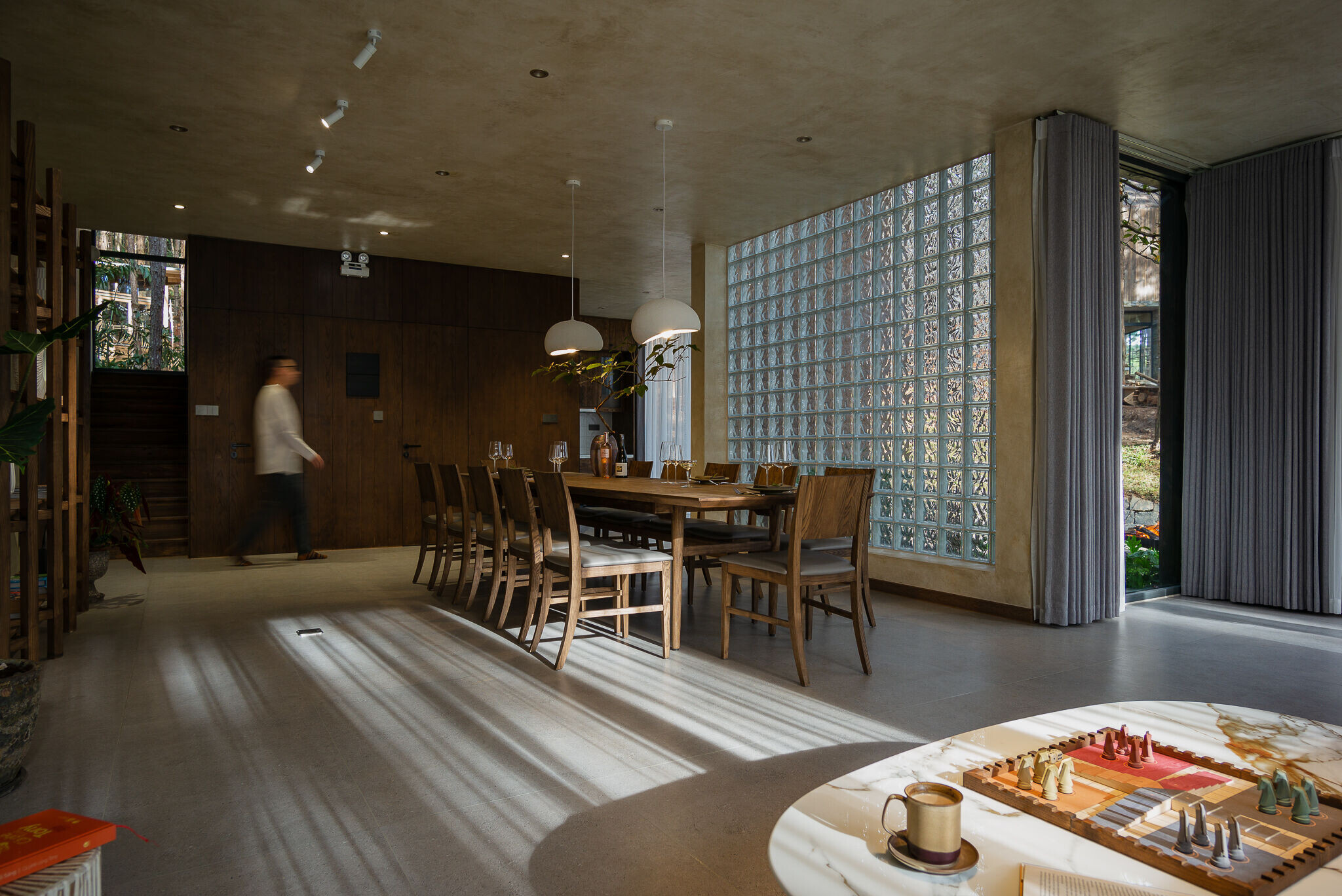 Inspired by a house that exists with nature - not separate, the house is divided into 3 main blocks, natural wood architecture with deep tones. Glass bricks are used in the middle of the two blocks to blur the gap between the interior and the exterior, making the overall house softer and more modern.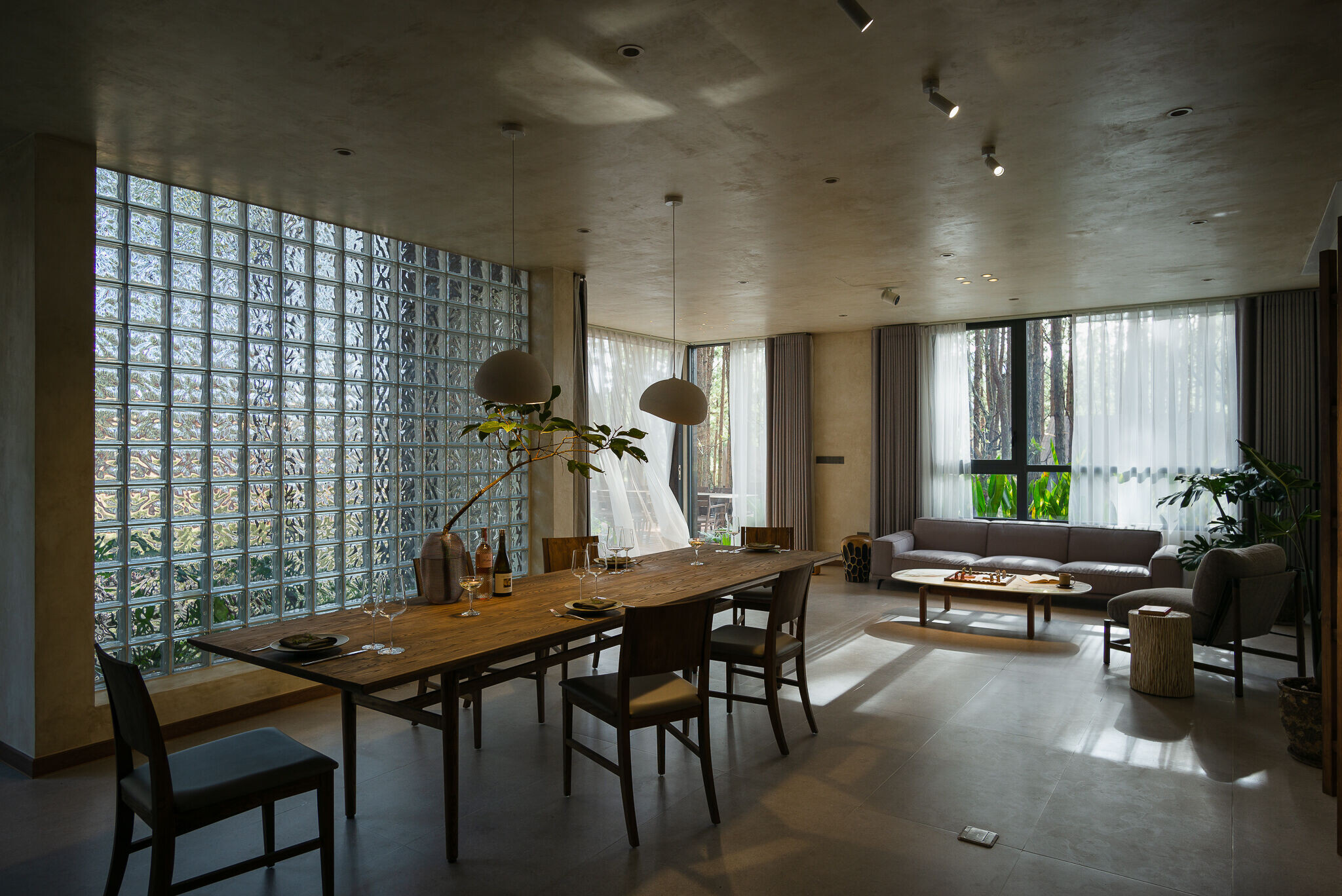 The house is divided into 3 main parts: indoor common space, outdoor living area and bedroom.
The common living space is located at the entrance with the main material being concrete creating an airy, highly interactive feeling, while the bedroom is located at the back and upstairs to ensure privacy with the main material is wood to help guests feel warm and close, all rooms are arranged to have a view overlooking the pine forest, providing a connection with the surrounding nature.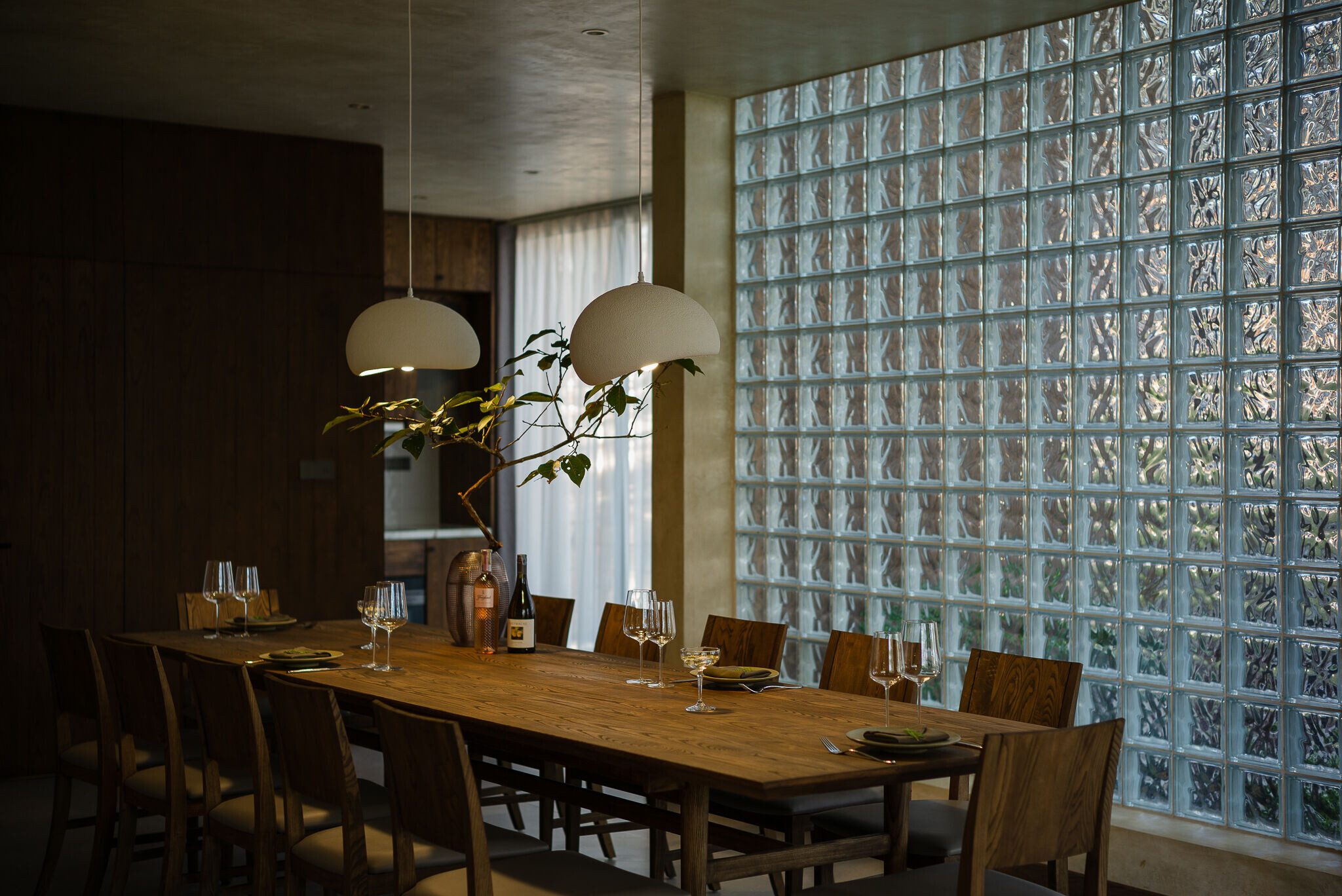 Large windows are arranged to let the sunlight in and can easily admire the scenery of the forest from many angles.
From the first floor stairs to the attic floor is covered by a large glass frame that helps to expand the view to the outside. From the attic, it is easy to connect to the terrace space - where you can see the entire pine forest.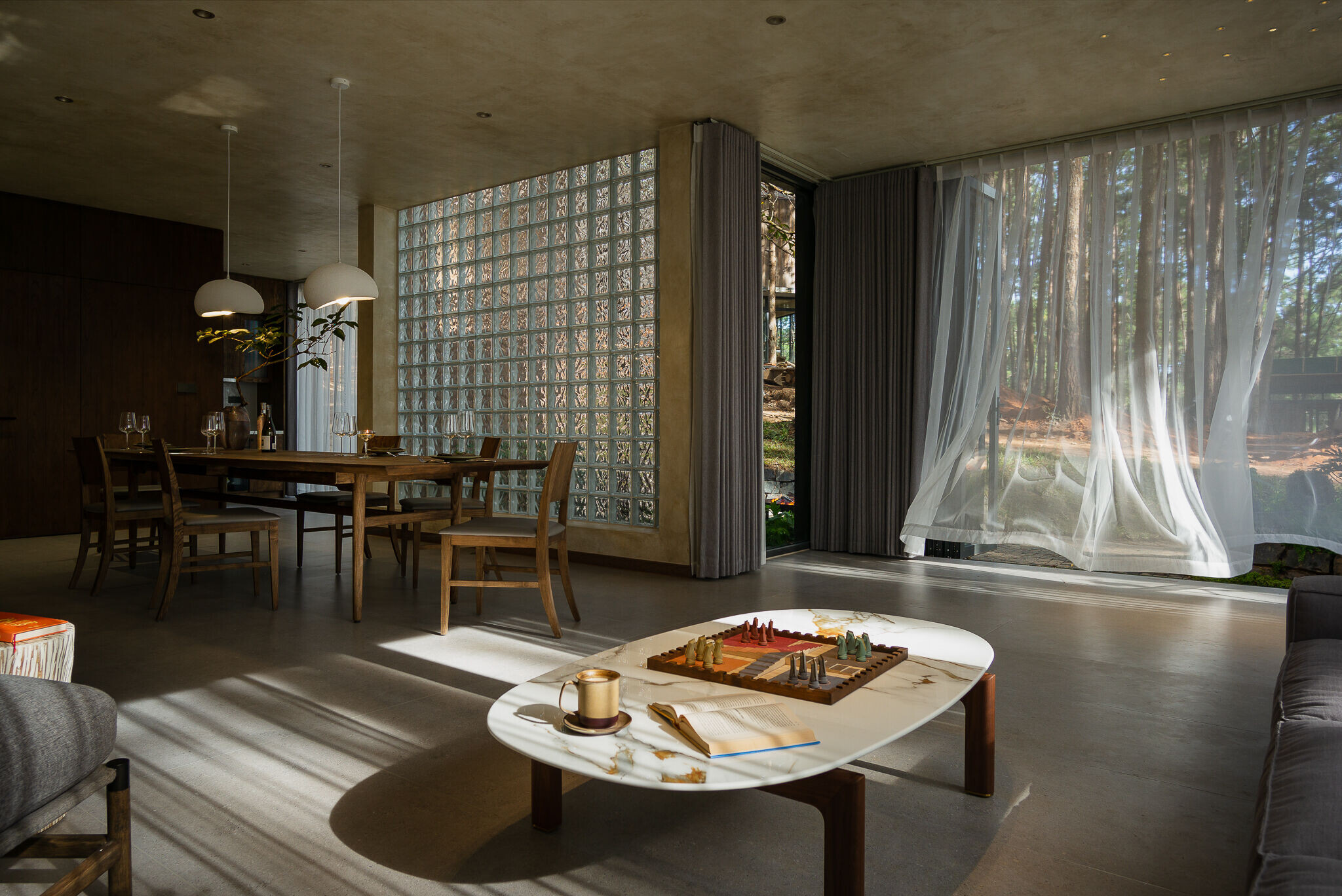 Materials from floors, walls, ceilings to tiles all use gentle, warm neutral tones. The interior is designed in a minimalist Nordic style, rustic but still modern, ensuring the comfort of a service space.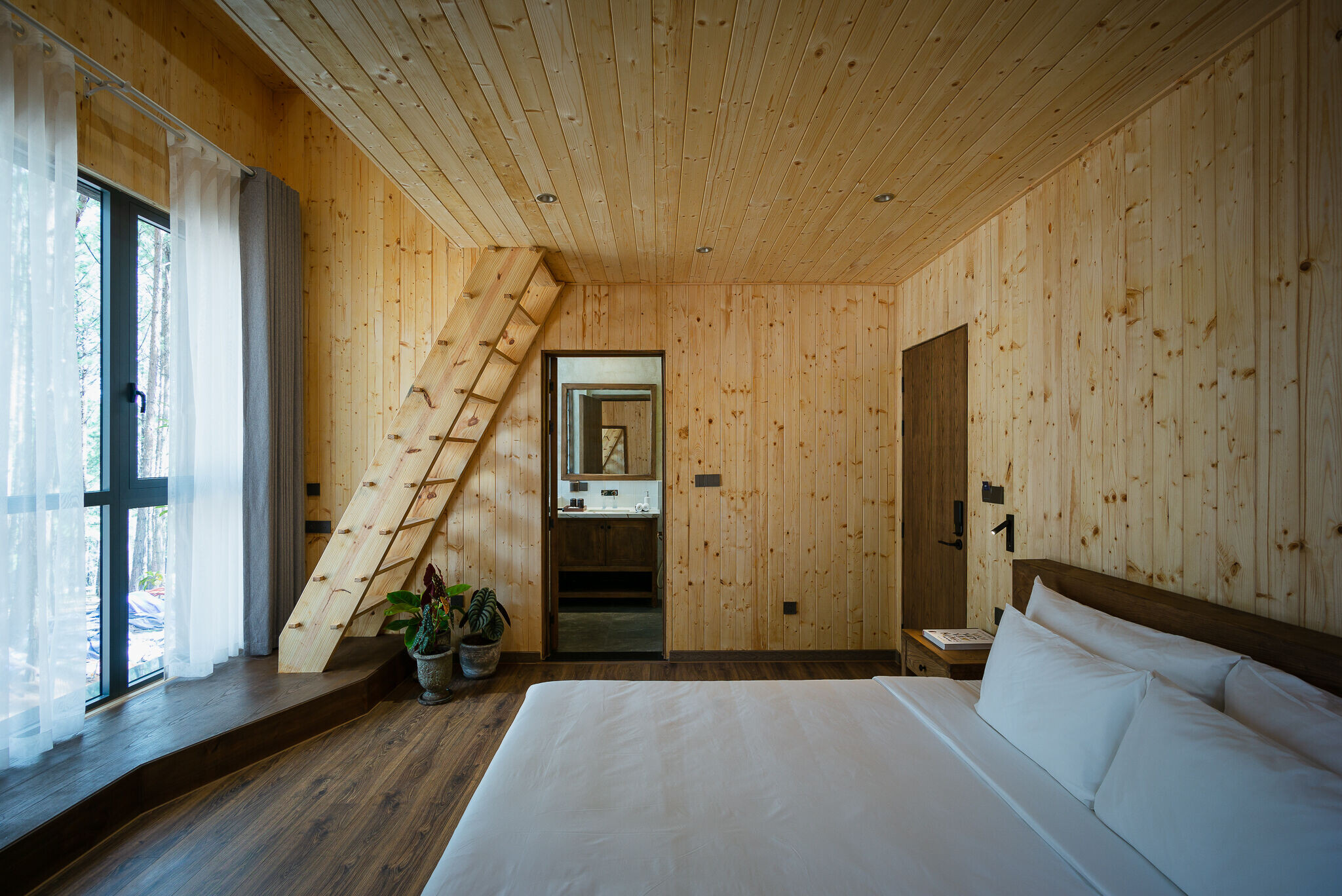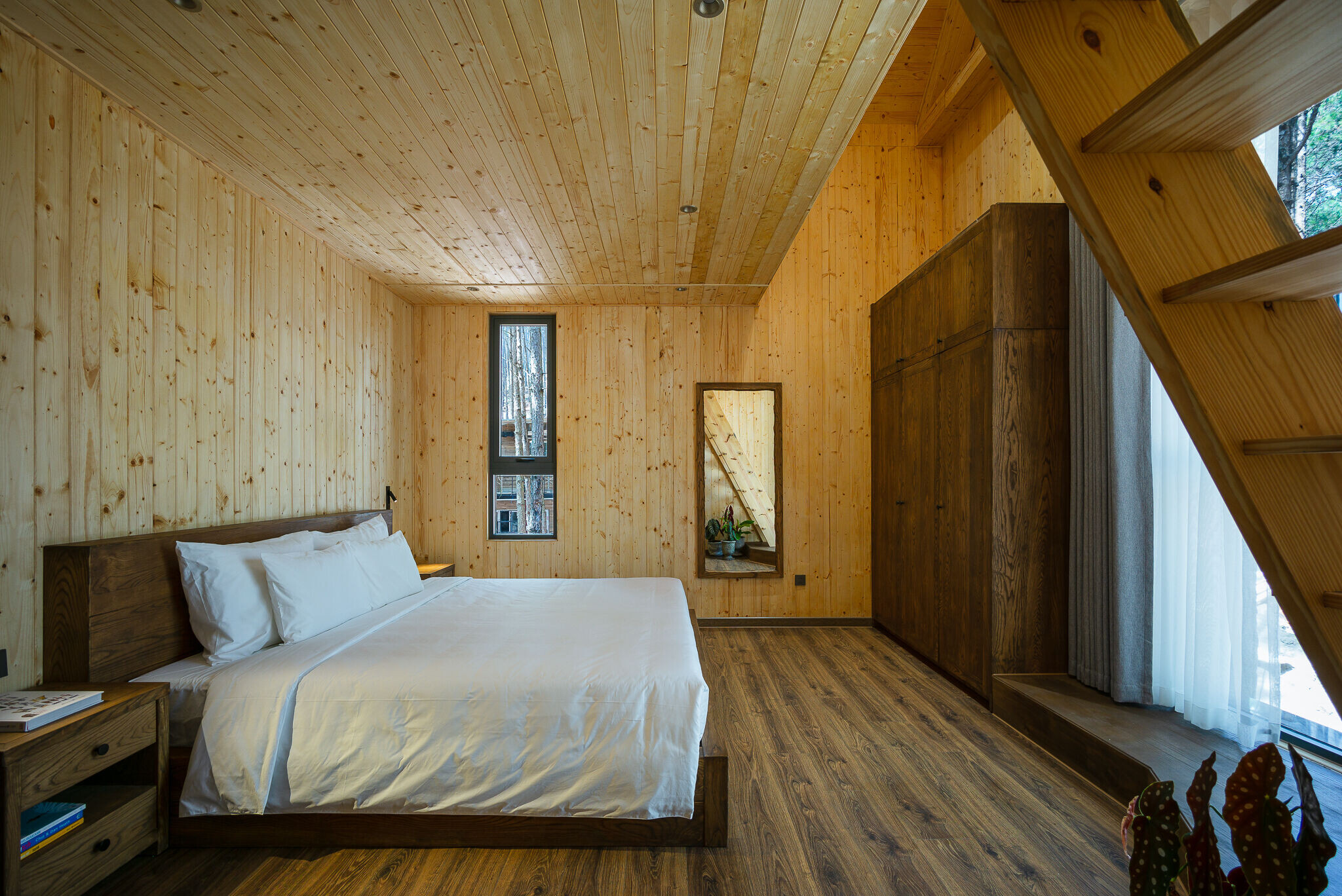 The Woods also has a spacious outdoor space with wooden floors and a large BBQ table in the middle of the pine forest - an ideal place for families with children who love to run, jump or play together by large common spaces and typical airy atmosphere.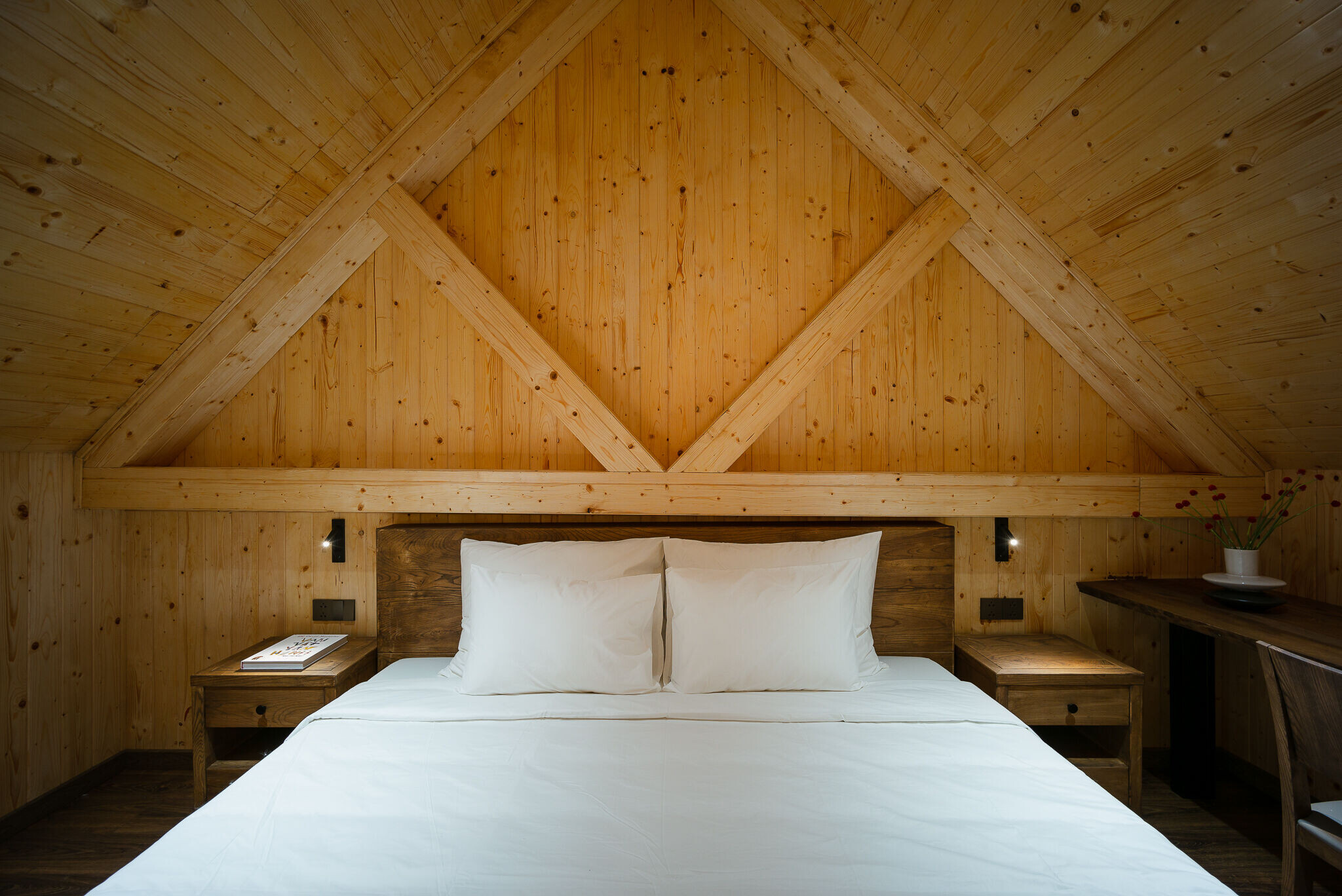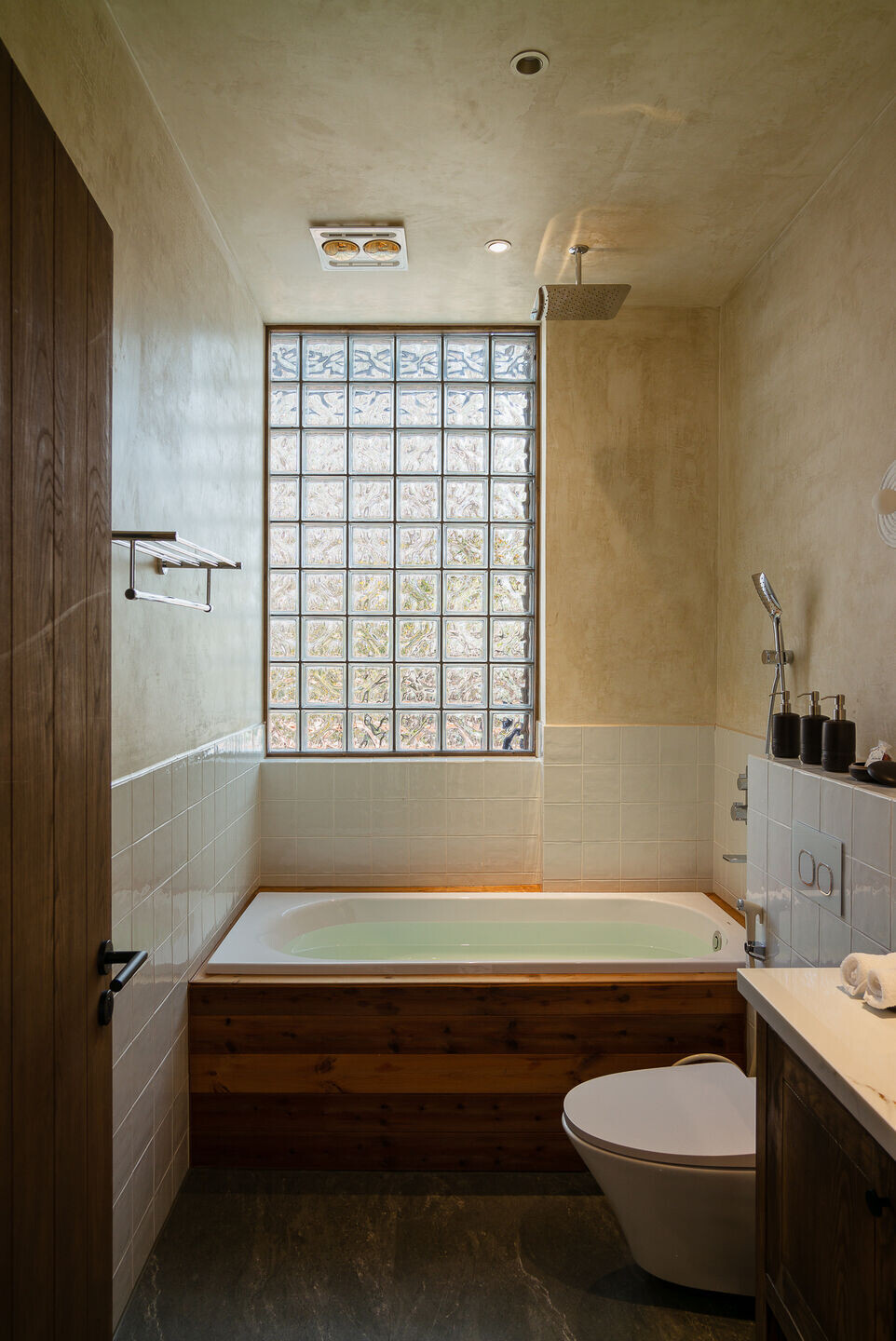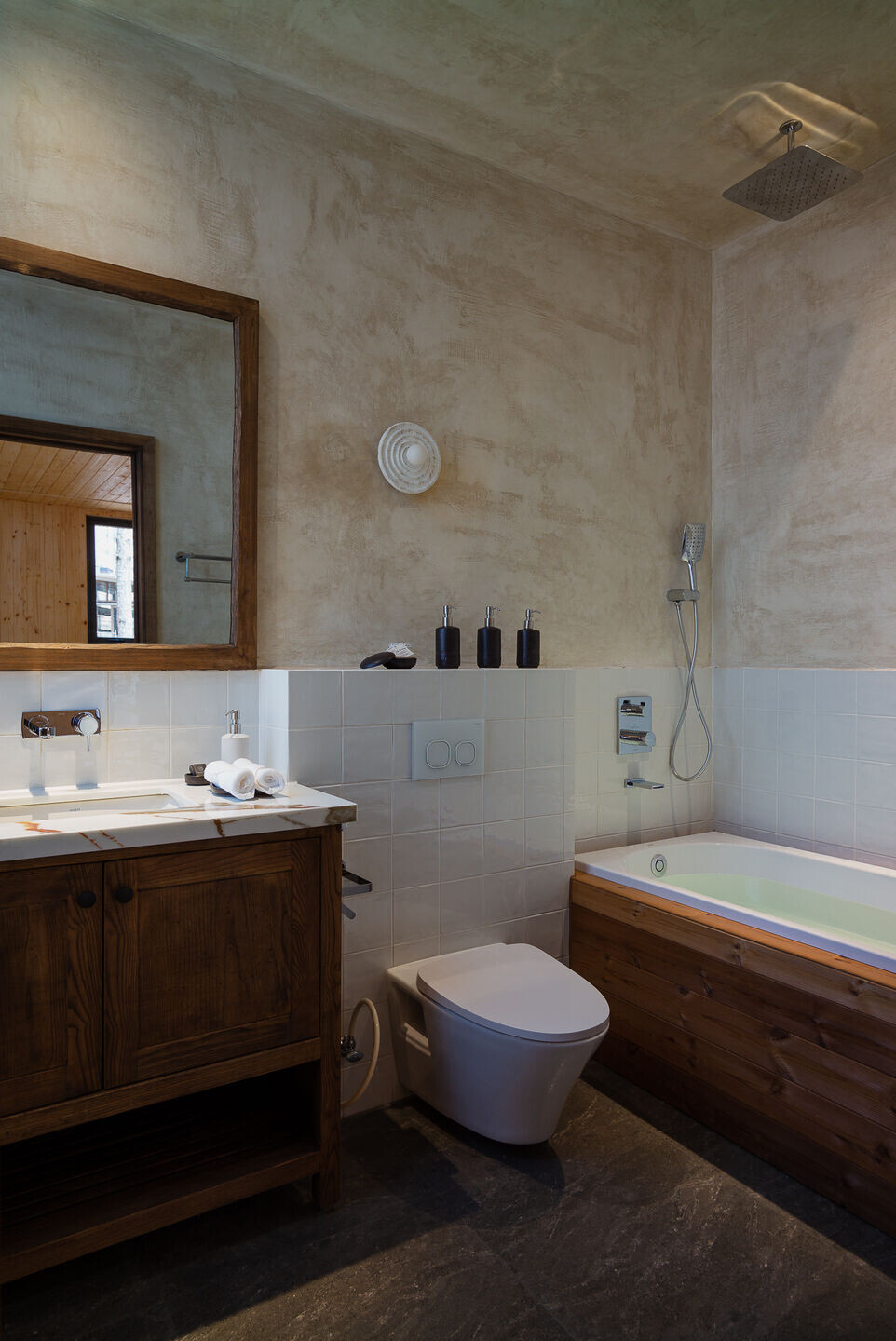 It can be said that The Woods stands out mainly for its simplicity, harmonizing the separation between nature and a construction work but still has many features of a true contemporary Forest Resort. The design team built the house as a place to return to the simplest of things, enjoying a special connection with mother nature.