It has been such a creative joy to have designed this space. From the very start the client and I established a sense of mutual respect and as we talked about making this beautiful brand new apartment feel like home for him, that relationship developed and strengthened. The initial brief included a focus on natural materials that could age beautifully over years of use, a mature aesthetic and strong preference for function and flow when entertaining. This apartment is in Manhattan's financial district and is about 1200 square feet. I made 2 structural design changes to the apartment. I added all new baseboard and crown molding to the entire apartment. Also, in the primary bedroom, I wanted to create a feature moment. So I furred out the wall at the bottom and added sconces and a marble atop to create a ledge. I also used this opportunity to add additional soundproofing here.
There were a few challenges: COVID and the supply chain delays we are all well aware of.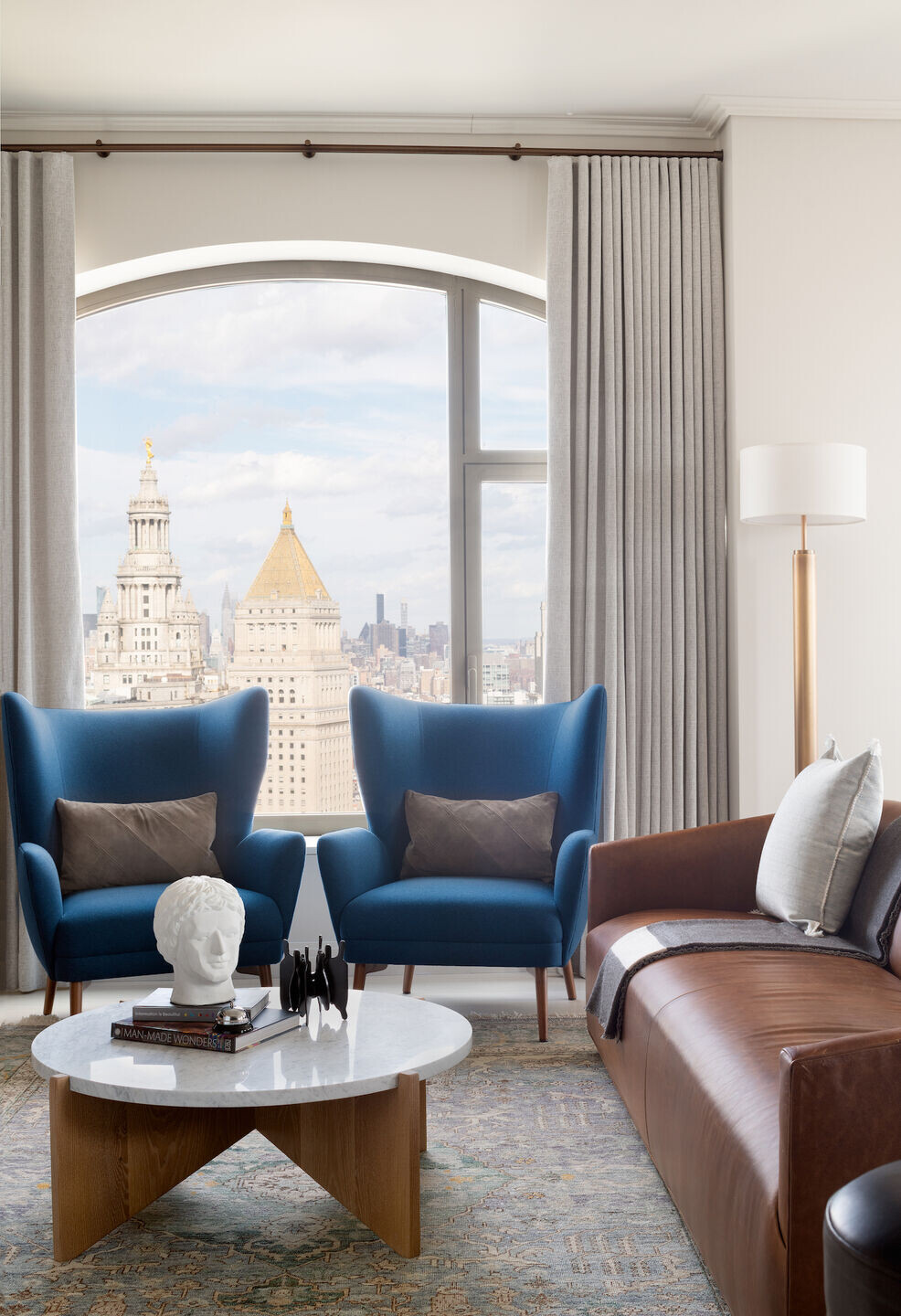 - There were a few furniture pieces that I had sourced and very close to delivery, they were simply cancelled by the vendor. The objective always was for design to take precedence over timelines. I did land up sourcing higher end pieces due to those cancellations, so it all worked out.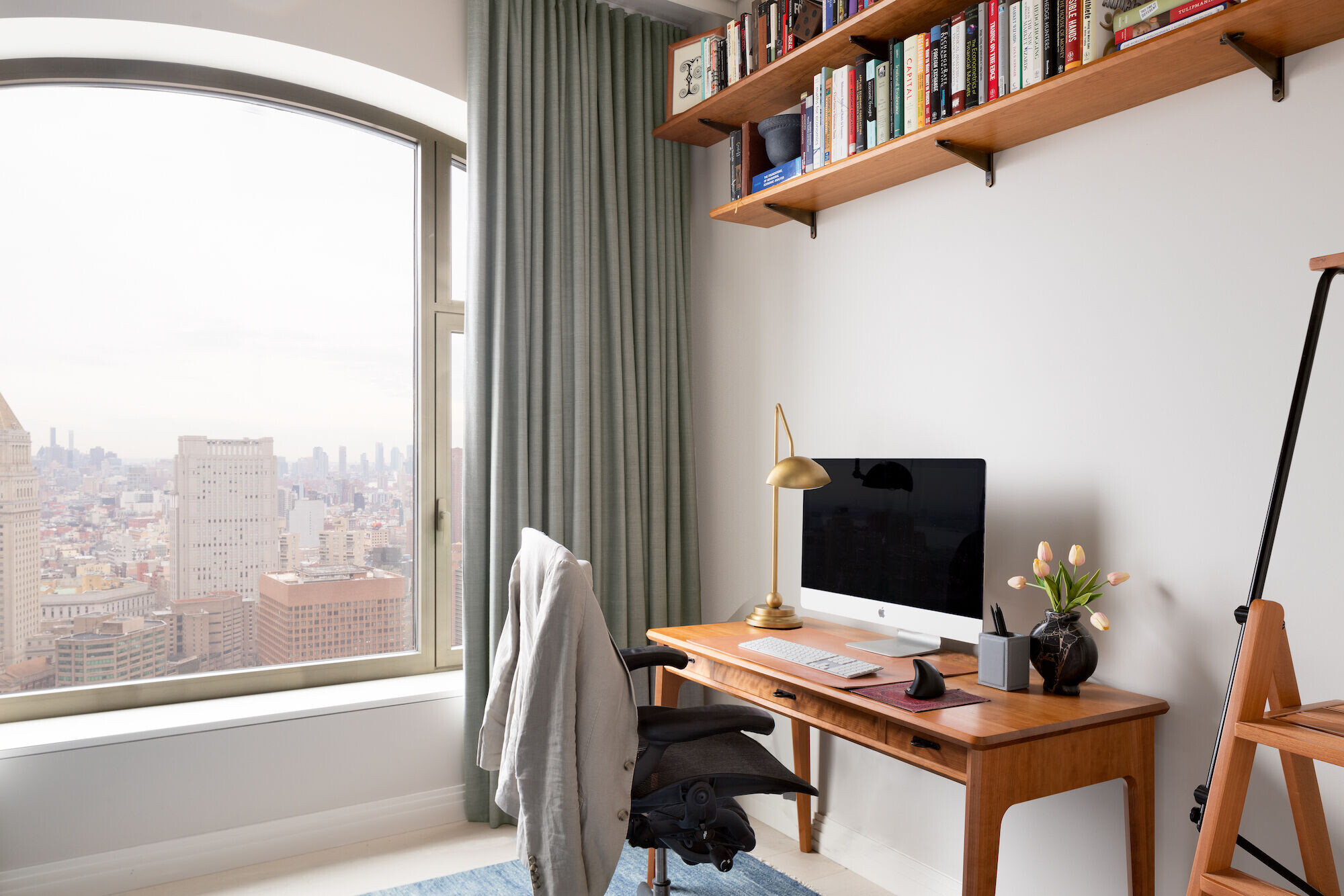 - The building was tricky and very strict with its Covid protocols and indemnification for every trade that entered. Every document had to be pre-approved and they really used to check. Mid way into the process, I developed good relationship with the building and it became smoother.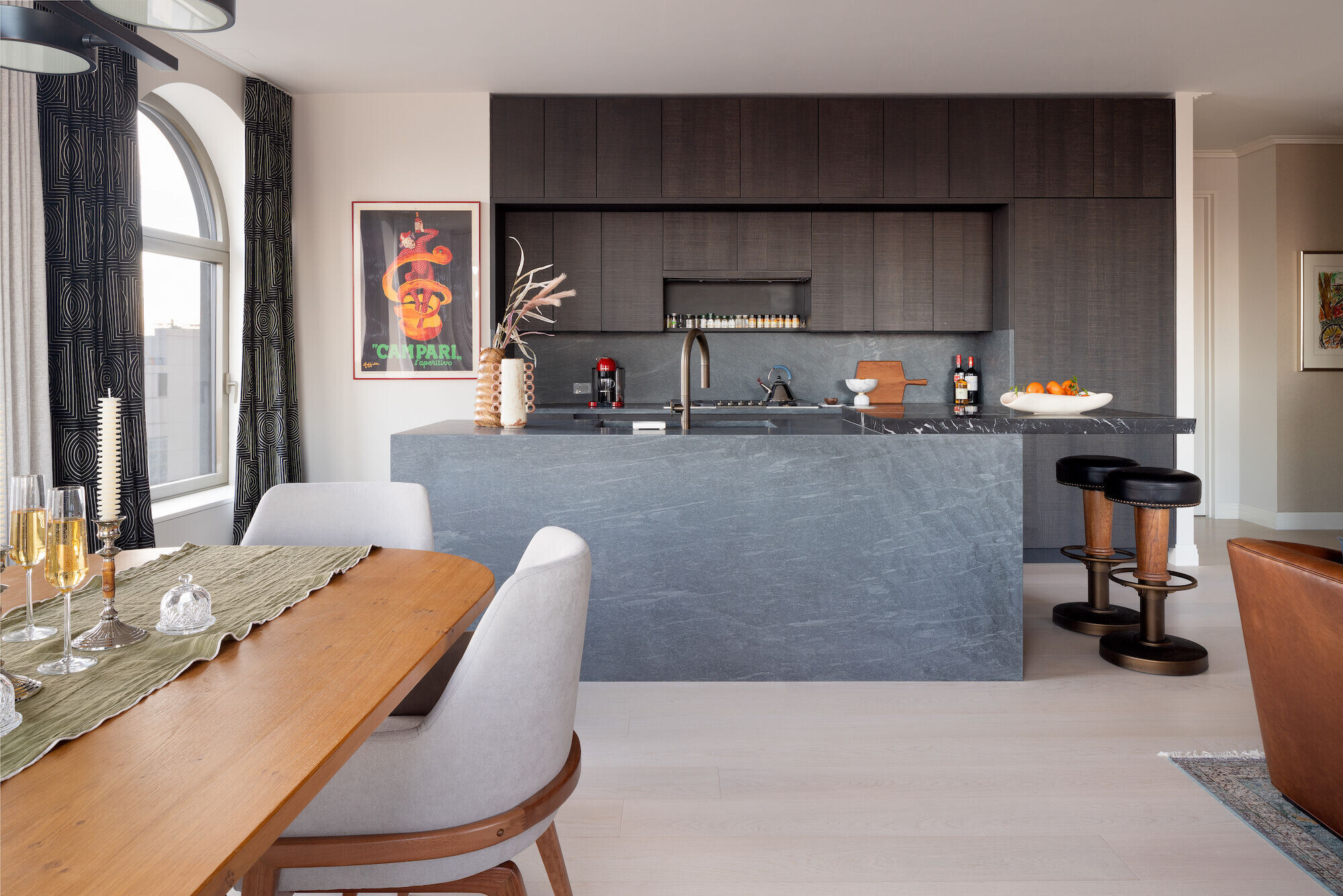 While the timelines were not rushed, as spring sunshine shined into the apartment, it became unbearable for my client to sleep. We had to rush the fabric for the drapes and fabrication and install.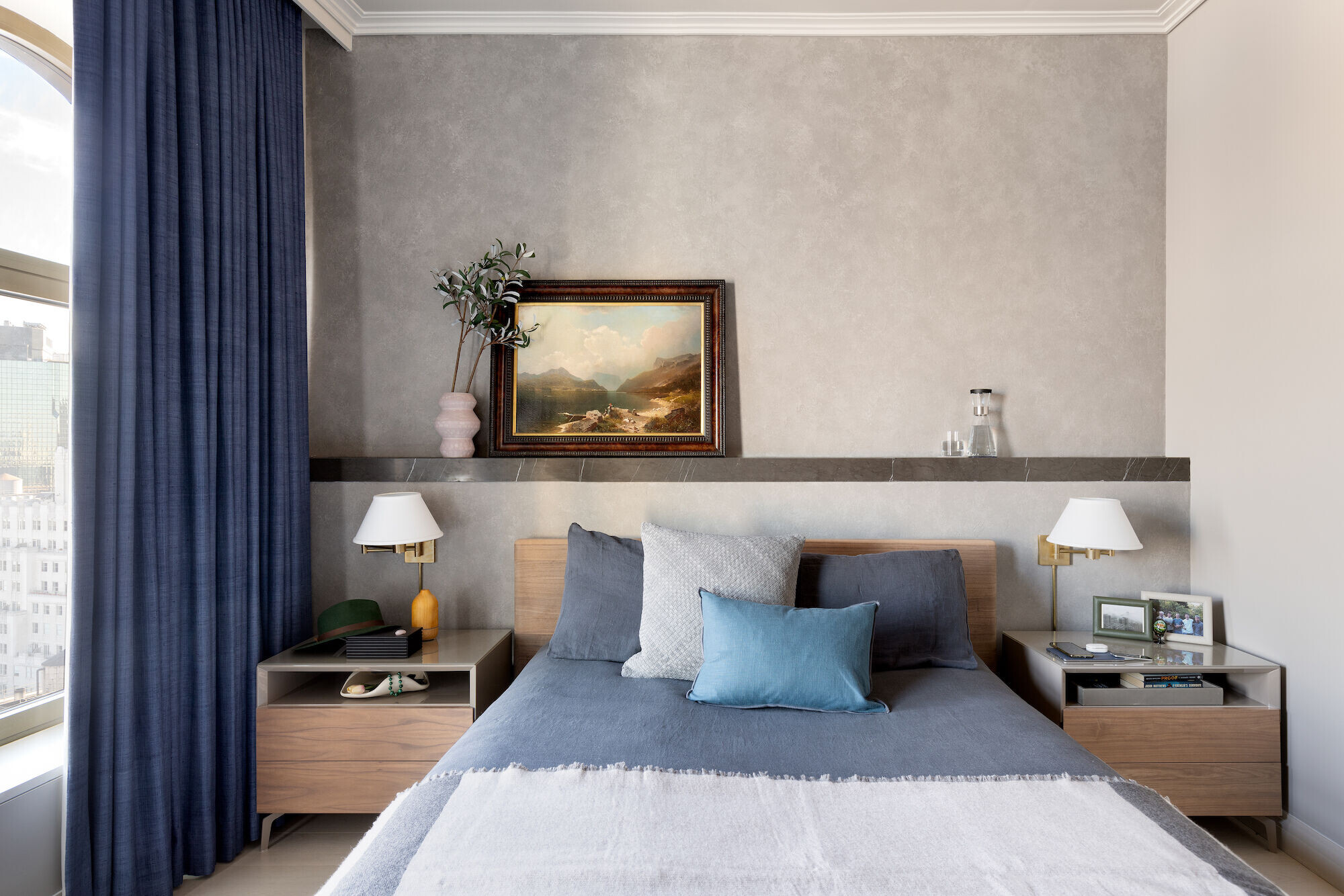 Another challenge was the actual sequence of design. I designed and sourced and ordered so there were some pieces in the house, following which we decided to file our permits and renovate leading to typical inconveniences and extra protection from the team.
The client considers himself a bit of a mature soul. He had preference for natural materials and wanted to care for his furnishings and see them patina over the years. I changed my sourcing strategy as I went about finishes and materiality. All my fabrics in this home are pure linen; all rugs are pure wool; there is natural hand applied plaster; leather where used is natural leather; marble is honed marble; and woods are mostly walnut finishes through the house. My marble and wood selections have a grey undertone to them.
I tried to keep one metal finish, antique bronze, throughout the house. This is the finish on the windows and the faucets and I wanted to mostly continue that story. We kept the color pallet neutral, tans, blues, some soft greens and greys. More than the colors the material story defined this home.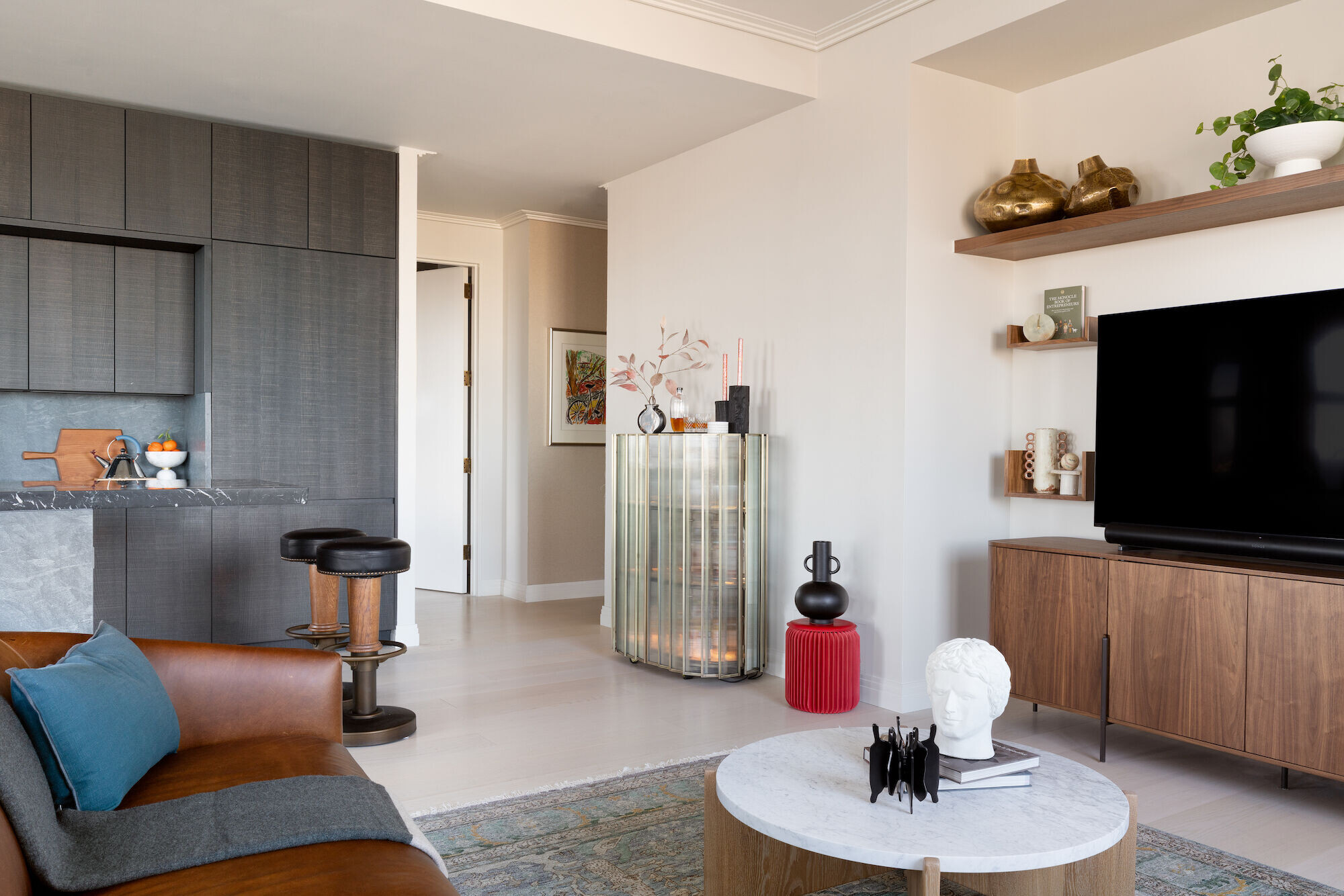 Team:
Interior Designers: DesignbyRUCHI LLC
Photographer: Daniel Wang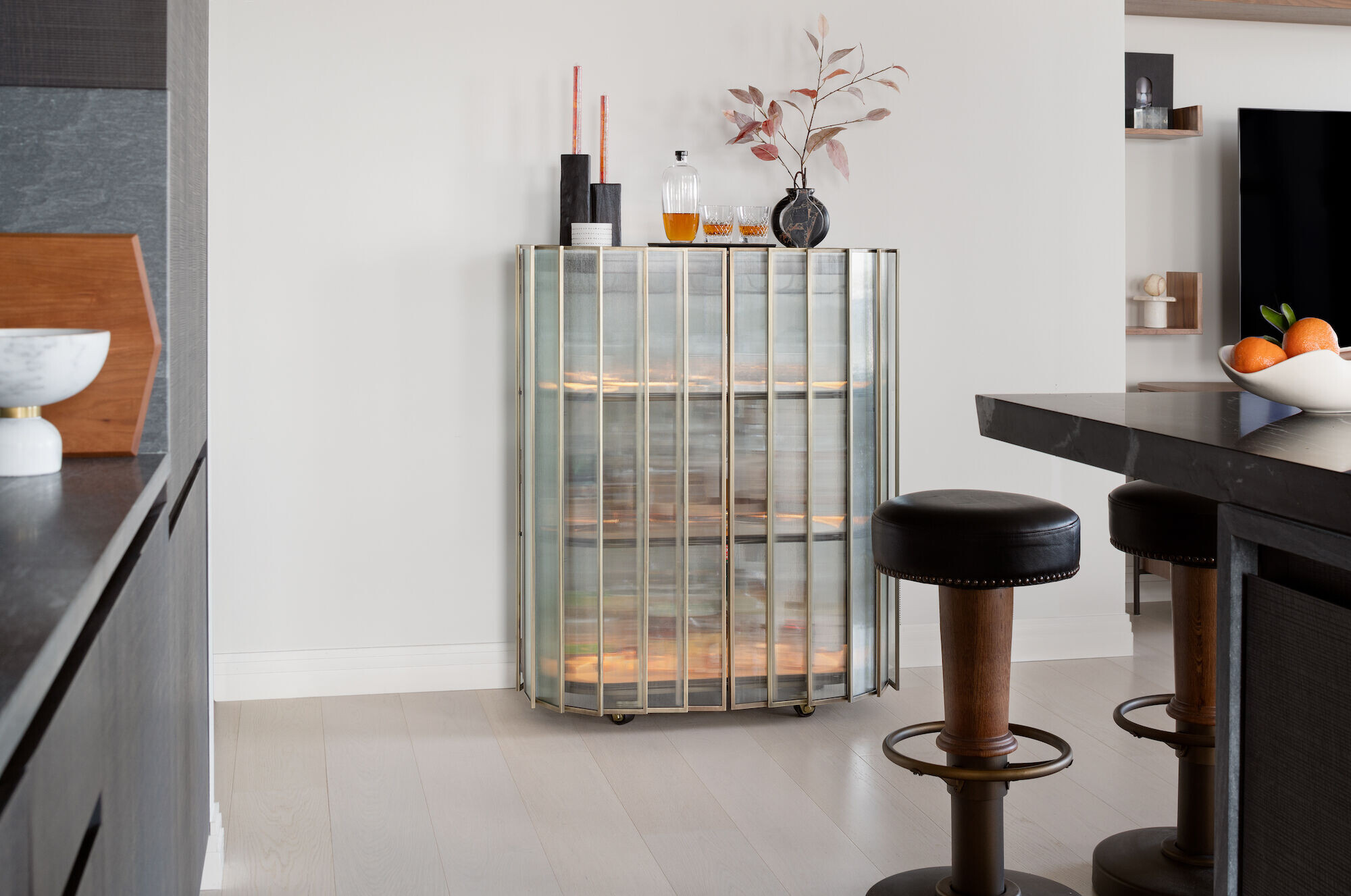 Materials Used:
Dining Chairs – Roberta Schilling
Drapery Fabric Great Room – Elitis
Drapery Fabric Kitchen – Zimmer & Rohde
Drapery Fabric Bedroom & Flex Room – Linen & Silk by Stroheim
Dining Table Styling and accessories – Soho Home
Dining Room Chandelier - Arteriors
Living Room Floor Lamp, Flex Room Table Lamp, Living Room Sofa, Kitchen Barstools, Bedroom - Throw and Pillows - RH
Living Room Wing Chairs – by Nuevo custom upholstered in wool Fabric – Dedar
Living Room Coffee table – Seer Studio
Living Room Wool Rug, Flex Room Rug – Jaipur Living
Living Room - Made Goods, Arteriors, Soho Home
Bar – Timothy Oulton
Bedroom Bed – Artisan bed from Stillfried in European Walnut finish Bedroom Rug – ABC carpet
Bedroom Nighstands and dresser – Roberta Schilling
Bedding – Linen by Parachute Home
Bedroom Feature wall Stone – Nemo Tile
Bedroom Accessories – Anthropologie, Made Goods, Arteriors, CB2
Flex Room Desk – Ridge desk in Cherry finish from Edgewood Made
Flex Room Floating shelves – In cherry wood and custom metal finish to match
windows by Edgewood Made
Flex Room Desk Chair – Aaron chair by Herman Miller
Flex Room Feature wall Blue Suede Wallpaper – Innovations
Flex Room Foyer Wool Wallpaper - Schumacher
Art Foyer Prints – by Bob Dylan
Dining Room Queen Elizabeth Art, Art Foyer Feature Art "We the People" neon Flag art – by Mark Illuminati