The Japanese word, Yūgen, means 'a profound sense of the beauty of the universe.' In response to the brand, the design sought to capture its own underground universe by embodying Japanese symbolism for the elements of the world - fire, water, earth and wind by using tactility, texture and light.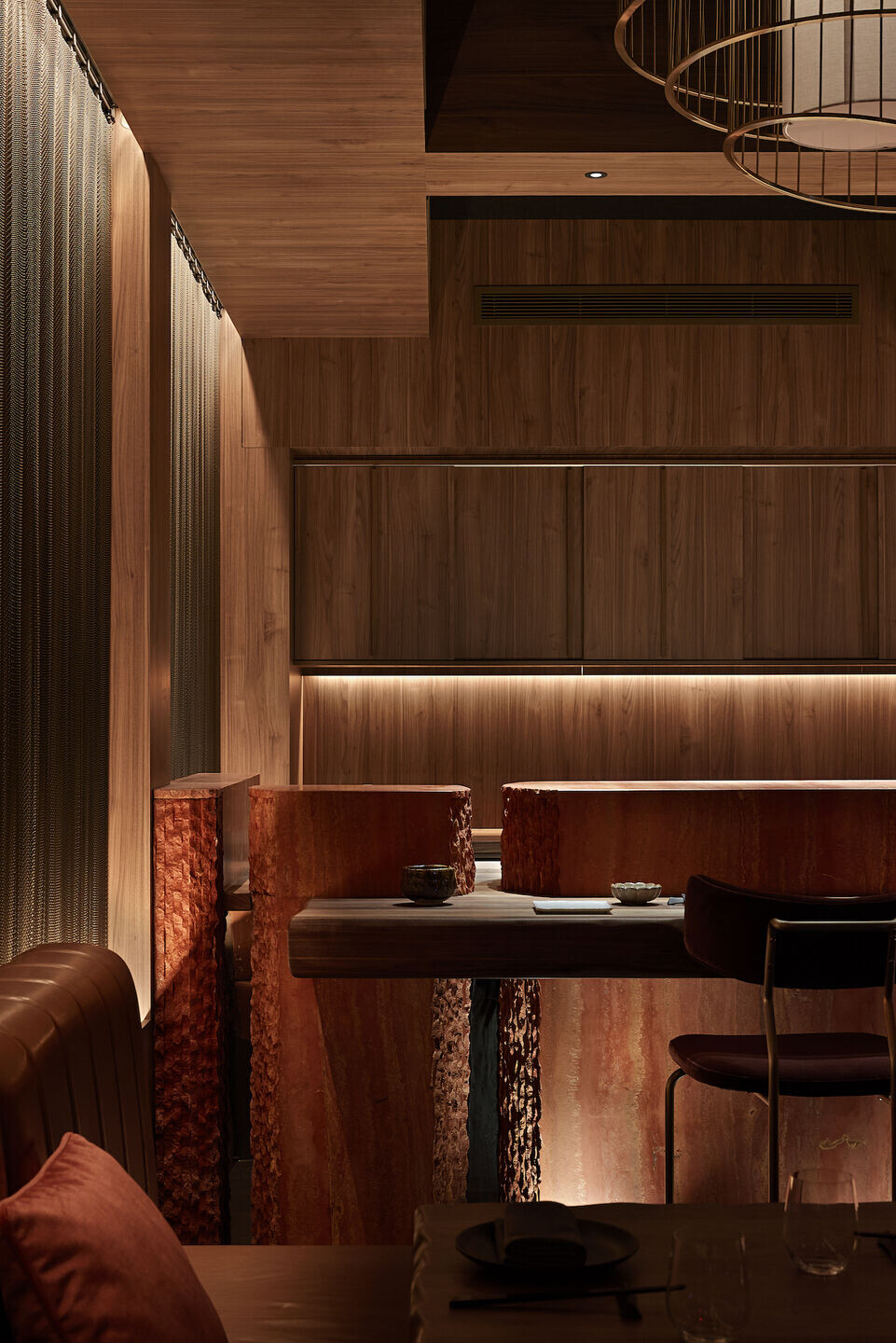 Yugen began as a two story, basement carpark. This adaptive reuse project created challenges around planning and design. Existing structural basement walls, columns and services had to be seamlessly integrated. While this heavily impacted the plan for the mezzanine level and circulation spaces it also created our greatest opportunity – a 6m tall subterranean space.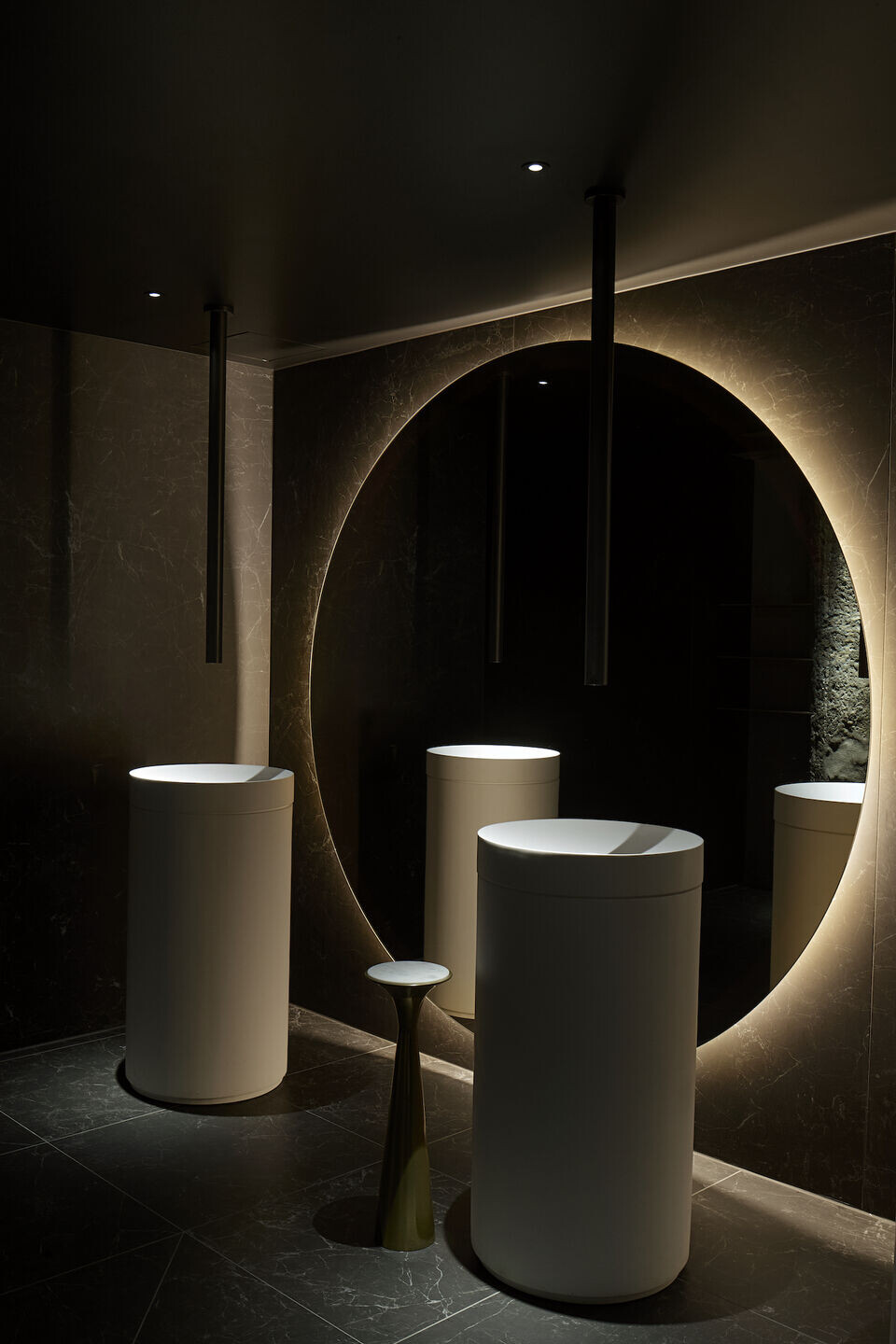 The brand name and menu had already been established, we sort to embody the concept of the universe by referring to Japanese symbolism for the elements of the world. Fire is represented through the golden lighting that engulfs the lower level cocktail bar. As guests travel down the glass lift into the basement restaurant, the intense golden light illuminates the two storey void above, glowing like an ember.
To express earth, we exposed all of the structural concrete walls, and shotcrete columns. Usually hidden, the use of lighting turned these elements into features of the space. Water is represented throughout the project, from wave-like render patterns on walls, rippling stone benches and commissioned art pieces. To capture the essence of wind, we focused on movement: curtains that sway and of course the floating chandelier that dances above the cocktail bar.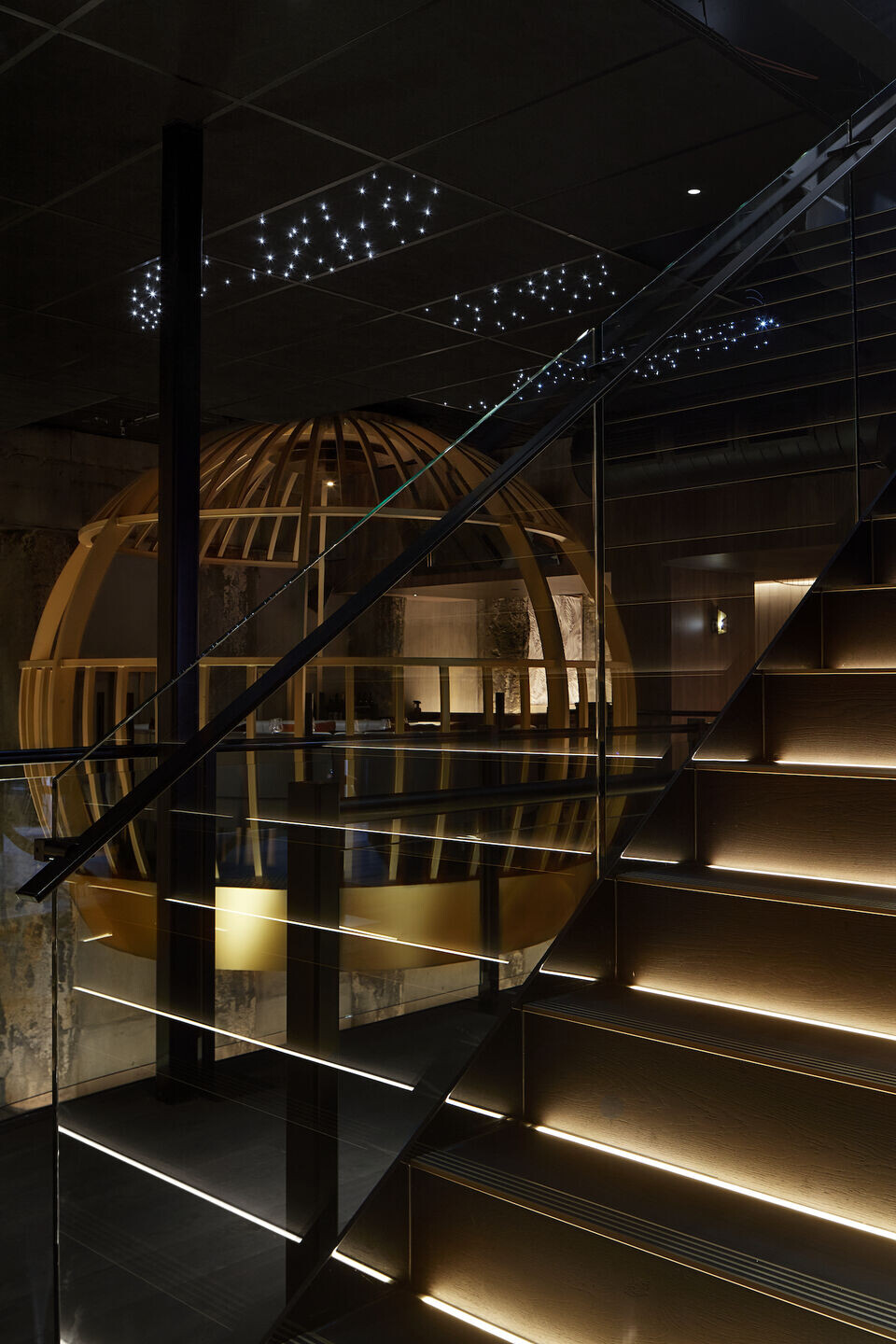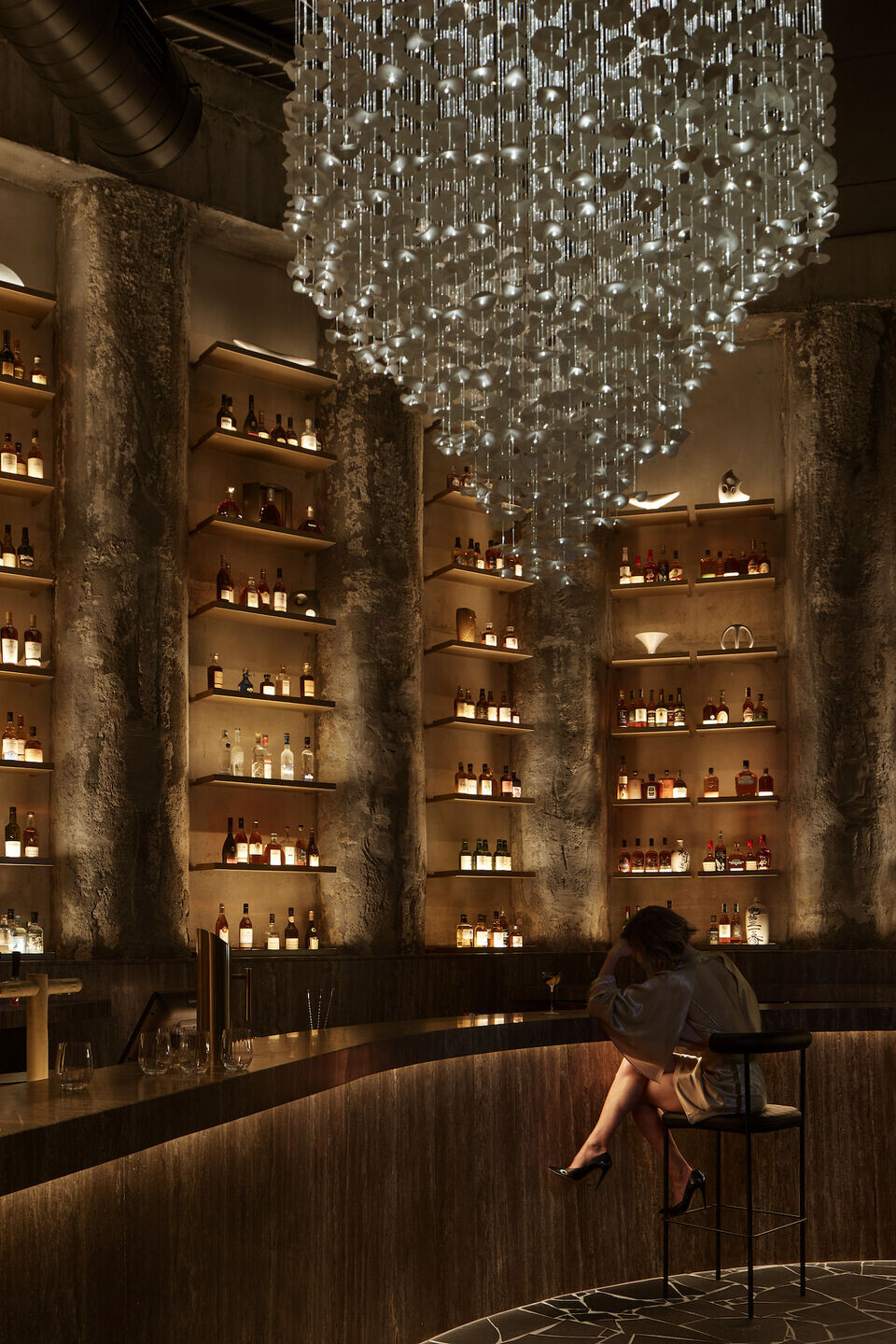 Yugen took 3 years to complete. It required incredible levels of custom detailing to meet the brief. There are 5 distinct areas within the space – the downstairs cocktail bar, the restaurant, the mezzanine Omakase bar, cantilevered gold orb and the bathrooms. Each of these spaces has its own identity while contributing to the bigger holistic experience of the space.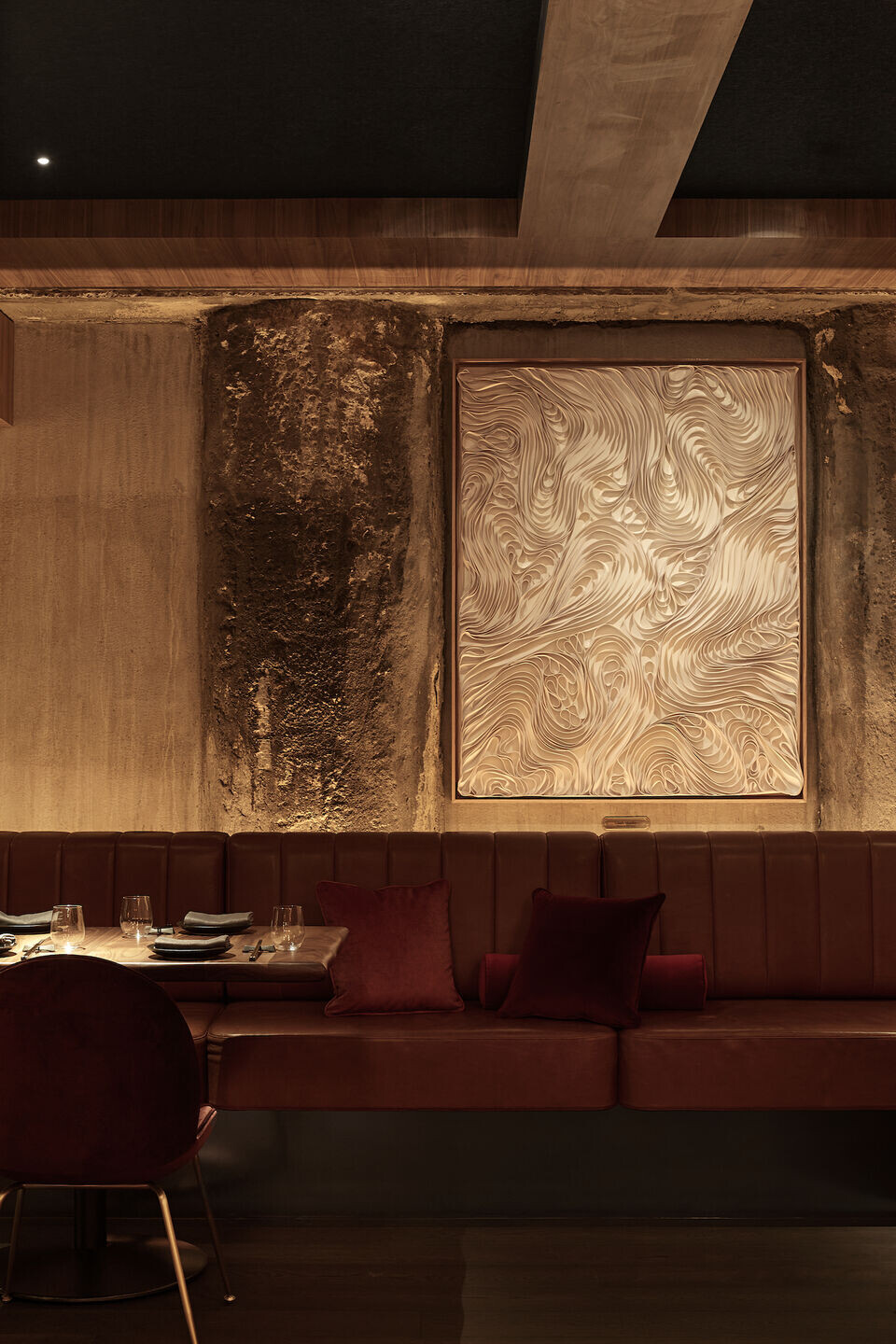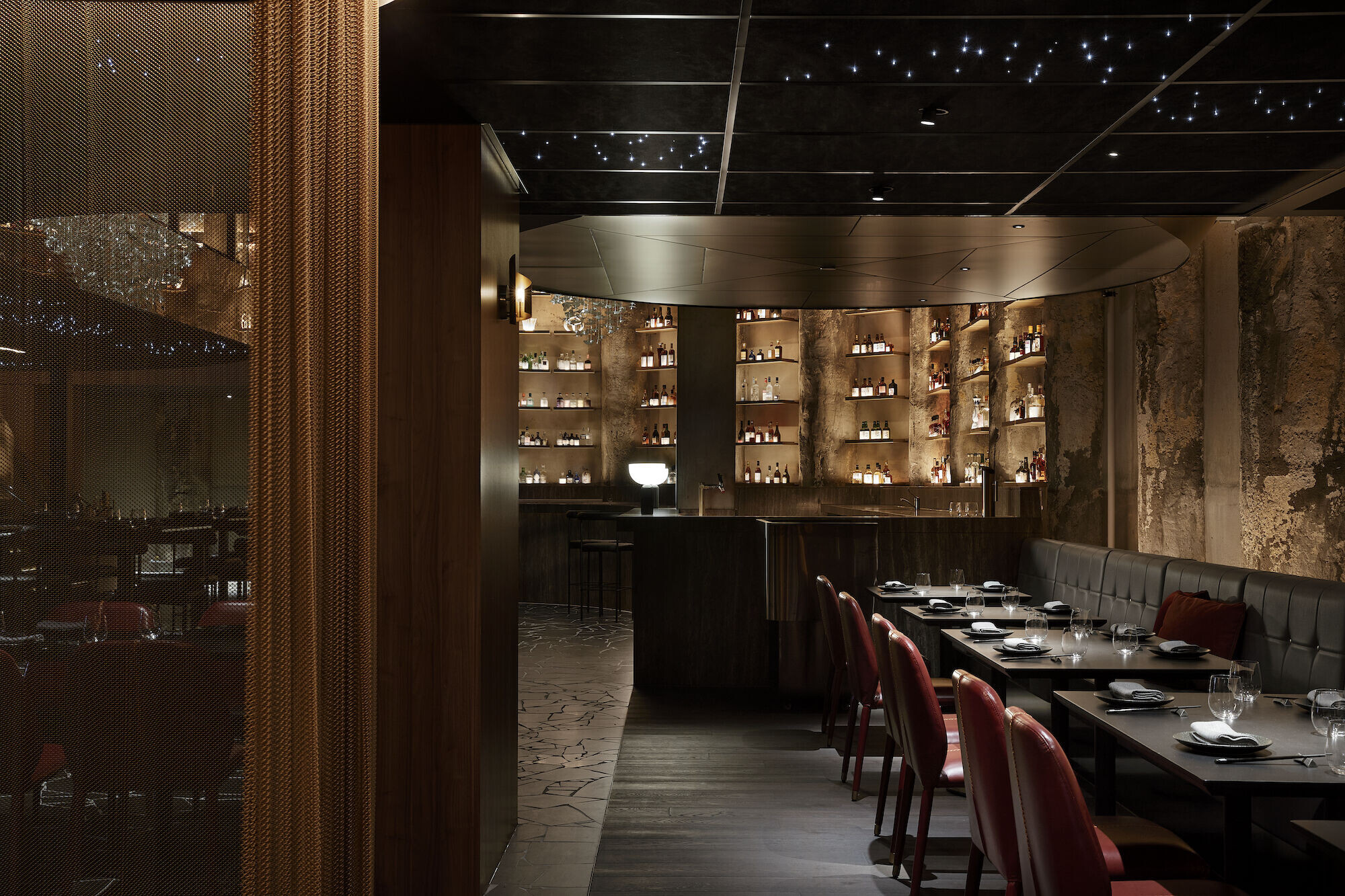 Fun Facts:
- The golden orb was imagined like a royal theatre balcony, where VIP guests can watch the night unfold.
- The Omakase bar is a specialized dining experience, it uses stone detailing and solid timber tables that customers can touch and feel, amplifying how specialized the Omakase food is.
- The chandelier was a collaboration with Artist Jennifer Conroy Smith who was briefed to embody elements of water and wind. It is composed of 2000 hand sculpted ceramic petals threaded onto side emitting glass fibre cables.
- The use of coloured lighting to transform the basement walls exercised considerable restraint. It reduced the build footprint of the project significantly and can be easily dismantled and removed at the end of the project.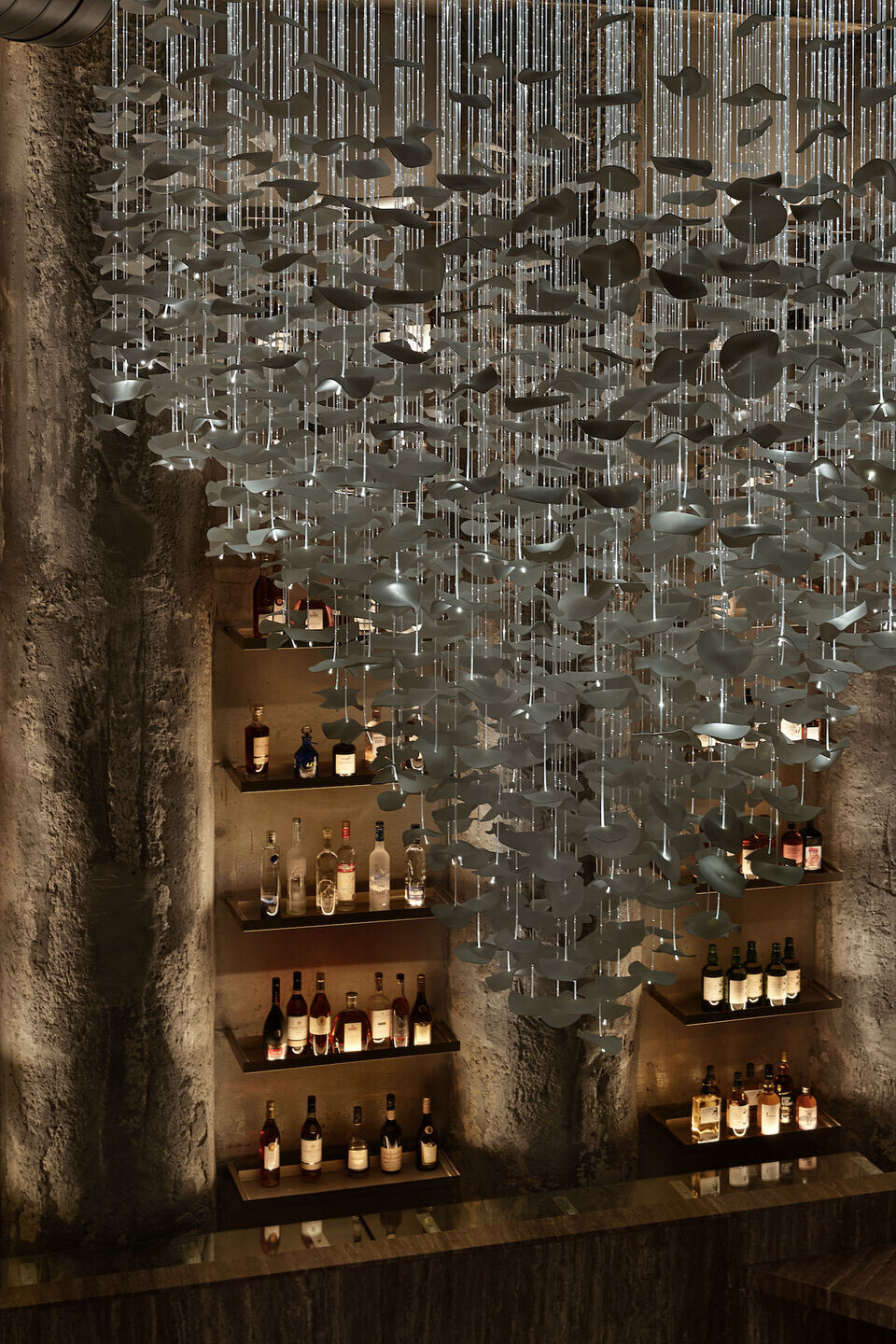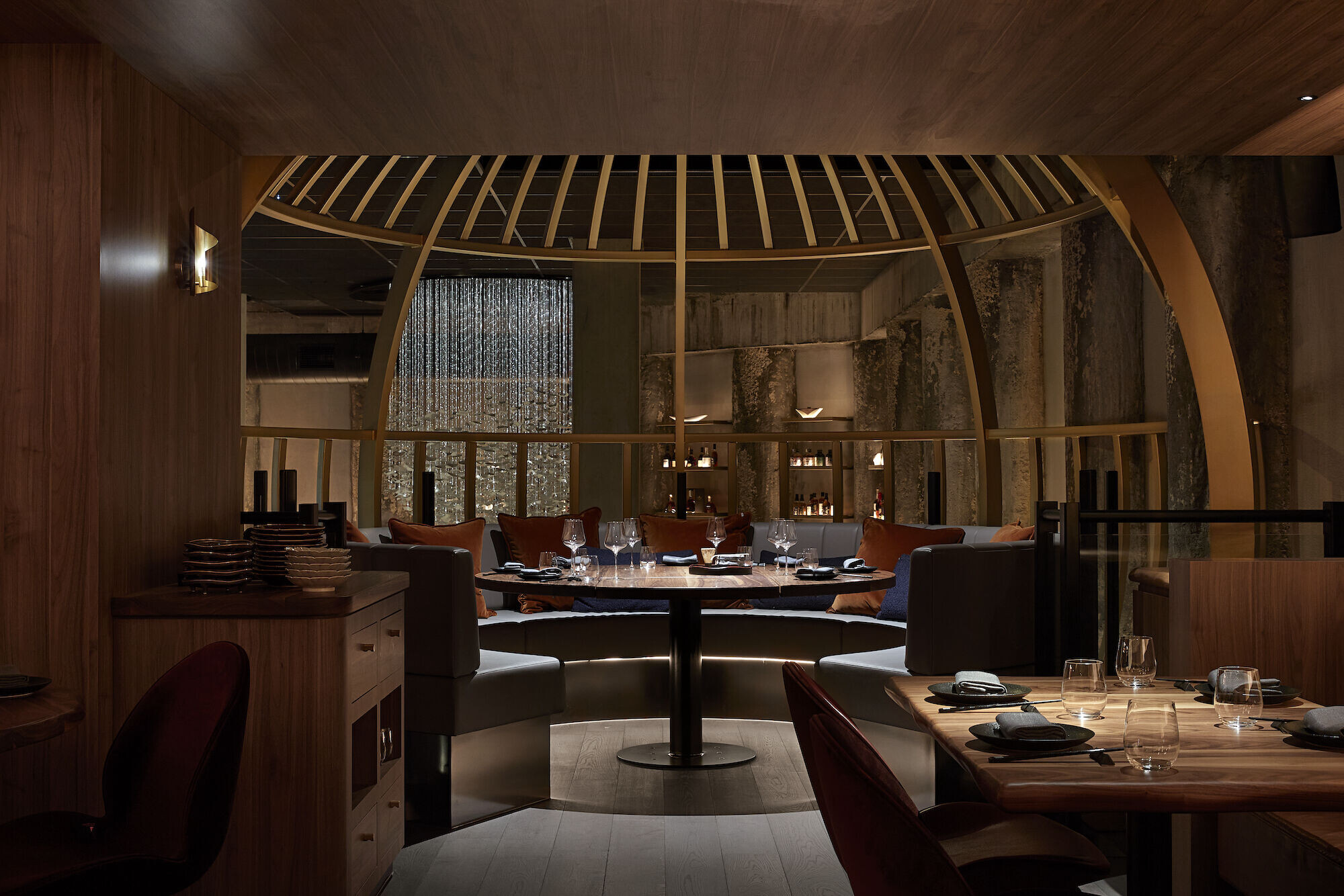 Team:
Architects: Architects EAT
Photographer: Shannon McGrath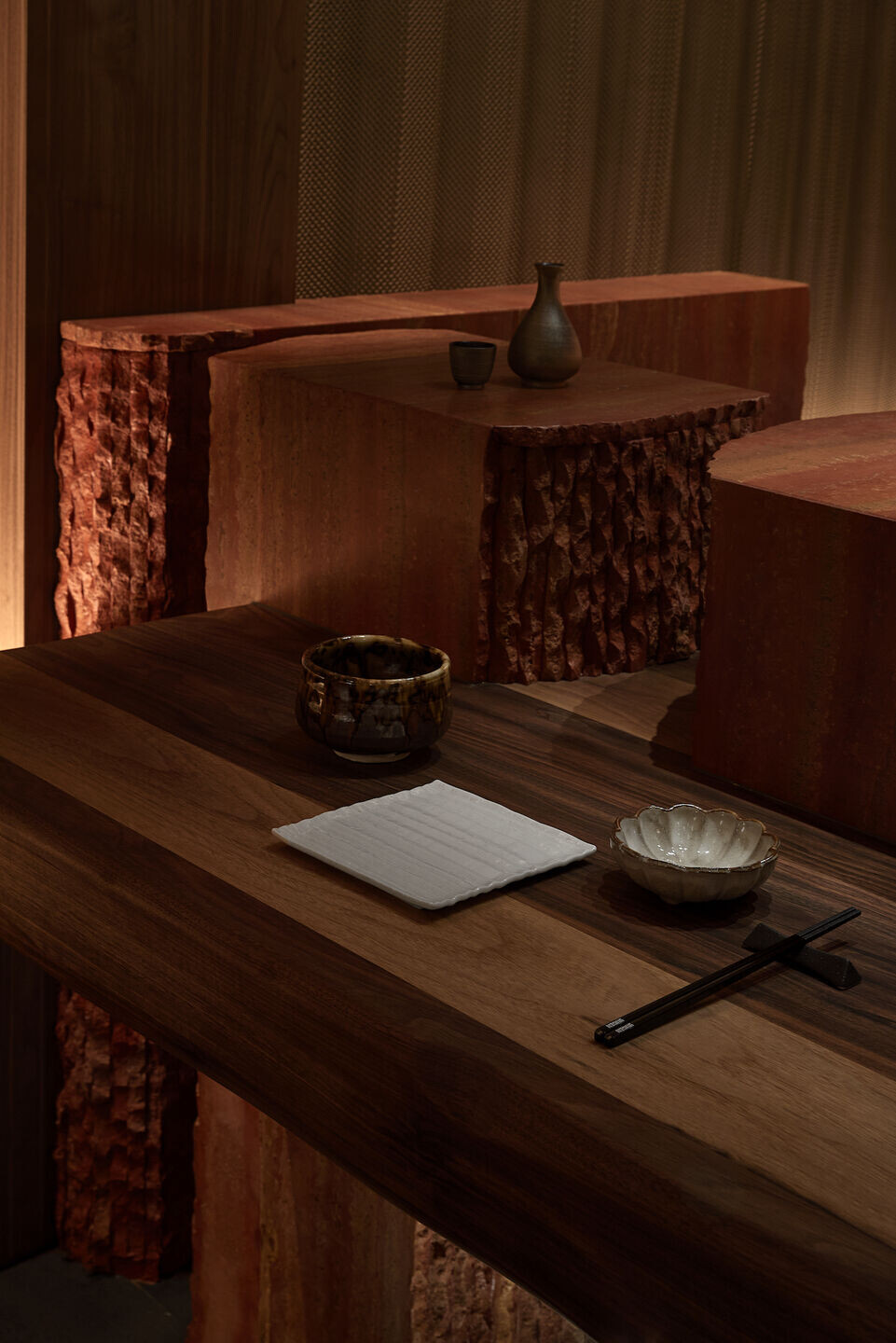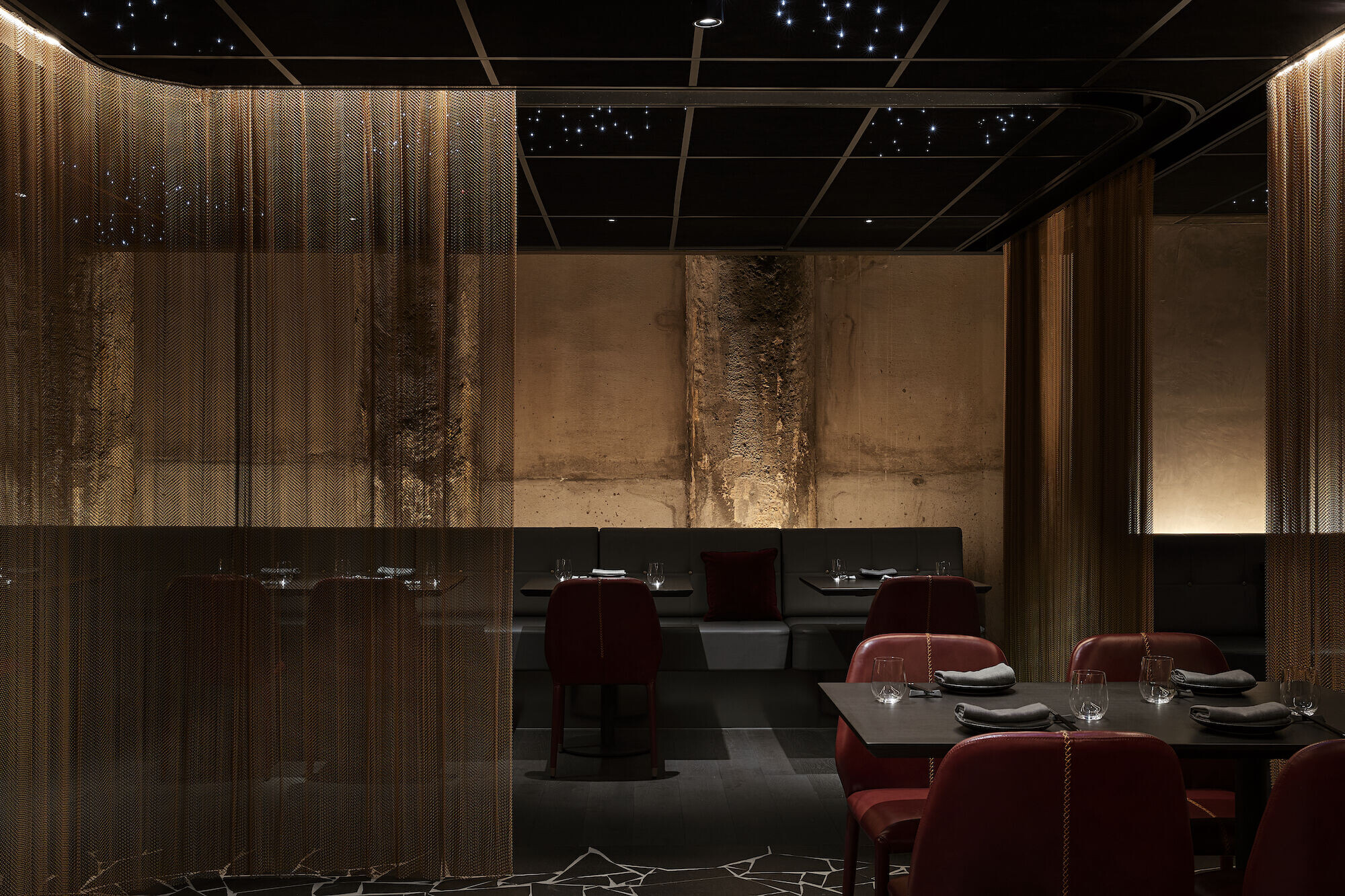 Materials Used:
LightEFX
Visual Comfort
Souzou
Brickworks
Signorino
Harvey Norman
Havwoods
Scanlan and Makers
Oskar Zieta
Ventech
NuVision Solutions