Commissioned by the Museum of Kielce Region Countryside, the 'Mausoleum of the Martyrdom of Polish Villages' in Michniów is a remembrance of the casualties in rural Polish communities during the German occupation of WWII. The segmented structure of the Mausoleum, designed by Nizio Design International, reflects the process of destruction and annihilation through the structural form. The concrete structure, which resembles the ruins of traditional wooden huts in the region, is marked with fractures, cuts, and tears which generate emotions and tension and form both open and closed parts.
The total area of the Museum is 16,200 m2 with core exhibition functions taking up approximately 1700 m2 and temporary events occupying around 275 m2.
The monolithic body consists of 11 segments. Entering the premises, the visitor first enters five closed segments. The sculptural, degraded part is open to nature, sky and landscape, changing – sometimes abruptly – as weather conditions change.
Through the glazing and rips in the structure one can see the larch crosses that surround the building.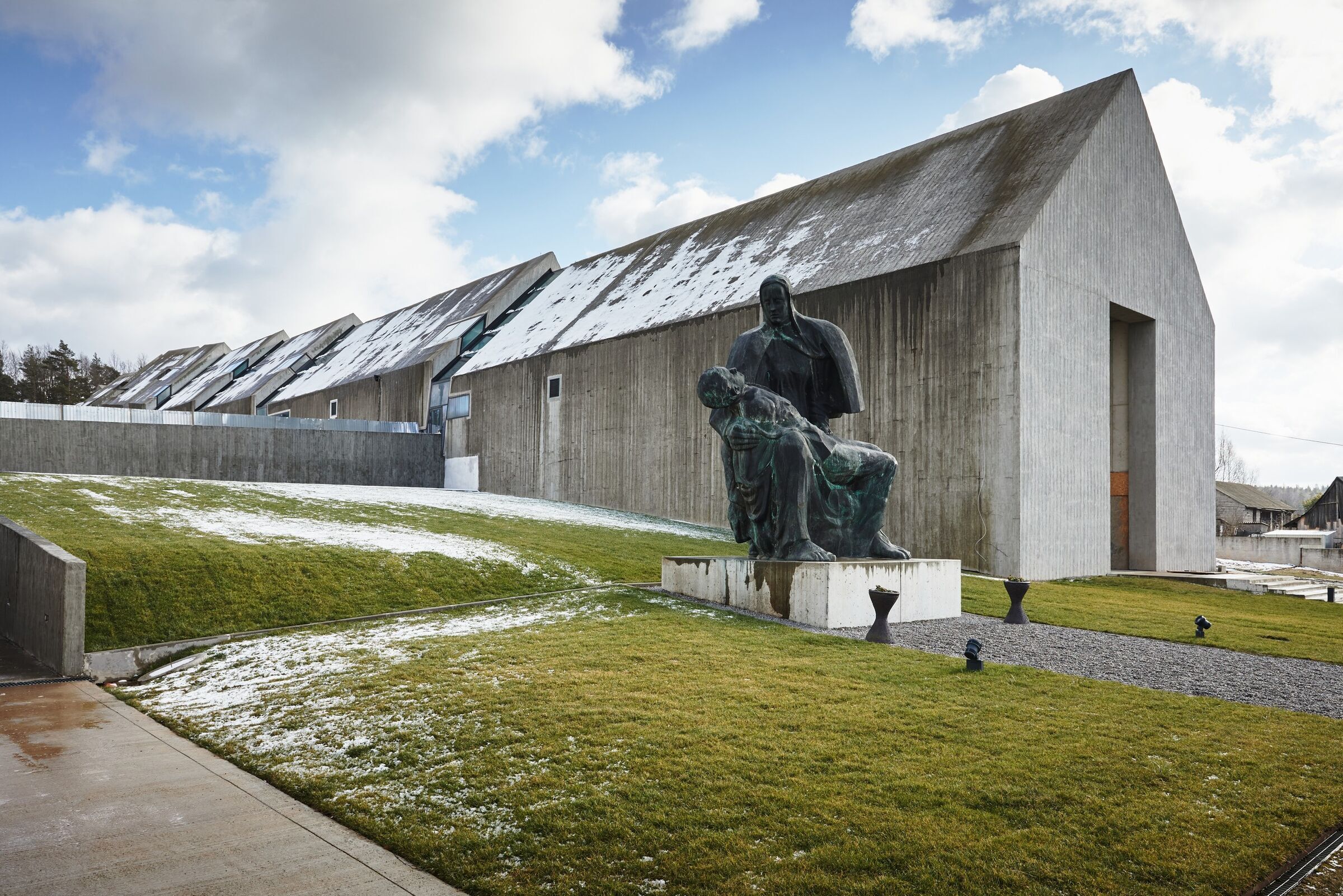 The expressive forms and architecture and progressive degradation of the structure create a unique atmosphere within the space with light reaching the interior of the building through cracks between segments. The cool and ascetic concrete of which the solid is made is imprinted with the texture of woodgrain. This concrete will develop a patina over time as the forces of nature influence the concrete's texture and colour. The wall and roof structure and the steel components bear traces of water dust and soil, integrating the building within the surrounding context.
As visitors pass through the successive parts of the building they are faced with charred ruins, as narrators tell of the effects of the pacification.
Materials that dominate the interior are concrete, wood from old huts and barns brought in from surrounding villages, and black steel.