When the doors of Billerica Memorial High School opened on the first day of the new school year, a sense of pride permeated the halls—a palpable sense of gratitude for this physical expression of the town's contemporary identity.
It's rare that a single building has the power to shift the perception of an entire community—but that was exactly our opportunity in designing the new BMHS. Billerica had quietly reinvented itself in recent years, excelling in business, robotics, drama, and athletics, so we seized the chance to design a flexible, forward-looking educational environment that matched their myriad achievements.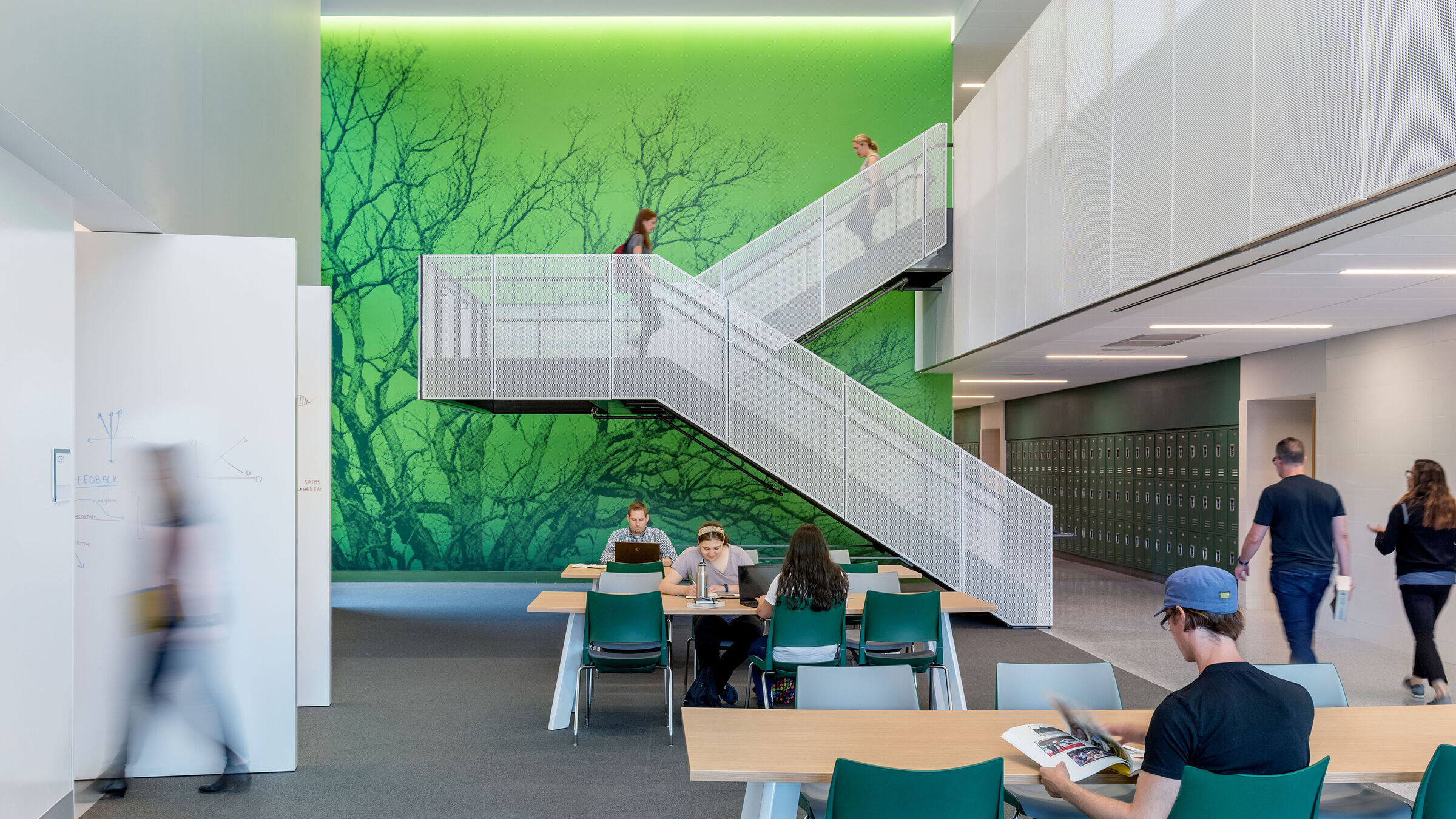 We partnered with students, staff, and community members to ensure that the town's largest civic building embodied its aspirational commitment to education while respecting its historic civic legacy. It's a concept we've called reflection with direction—honoring the past, aiming for the future—and it's woven throughout the fabric of the new building's architecture, detailing, and branding. The school demonstrates how simplicity gives rise to depth, and how we, collectively, can be re-made.
The school's neoclassical civic neighbors and late-1800s industrial context informed a design that connects distinct elements to speak a humble material language. Simple, honest materials are synthesized in inventive, three-dimensional compositions. This language stands as a metaphor for the mission of the "maker" classroom, a part of the school's guiding curriculum. Corbeled brick on the south facade takes measure of the day's light, amplifying shadows and quietly functioning as a masonry sun dial, tracking the path of the sun.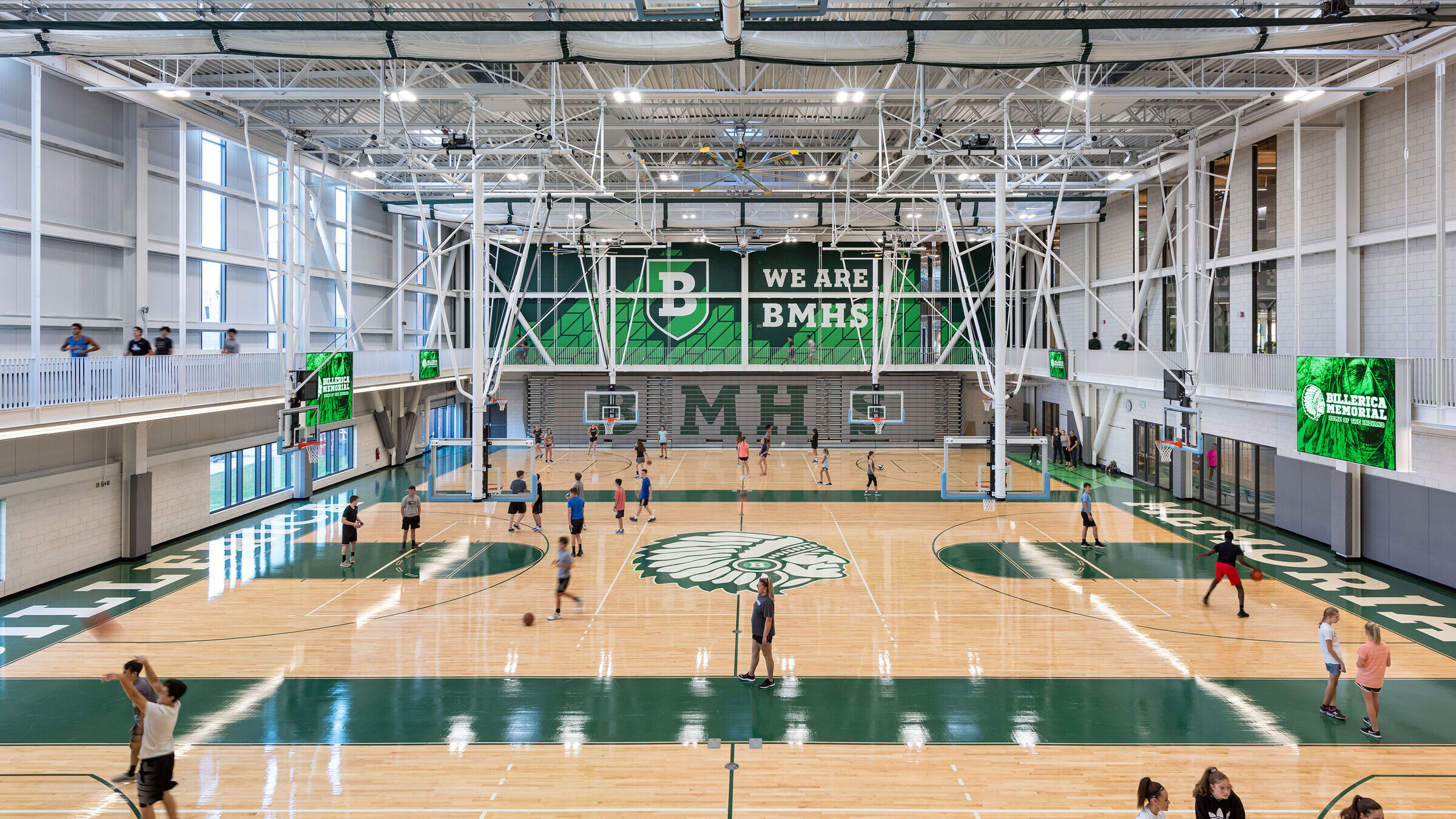 The building's elongated brick façade is organized by a repetitive frame expression. Brick is used within this frame as a wall material containing windows of varying dimension and function by stepping, corbelling, and coursing to animate the façade.
Timber takes new meaning through carbon-conscious detailing; The embodied carbon in the FSC Certified spruce timber structure offsets the equivalent of a typical school bus traveling over 460,000 miles.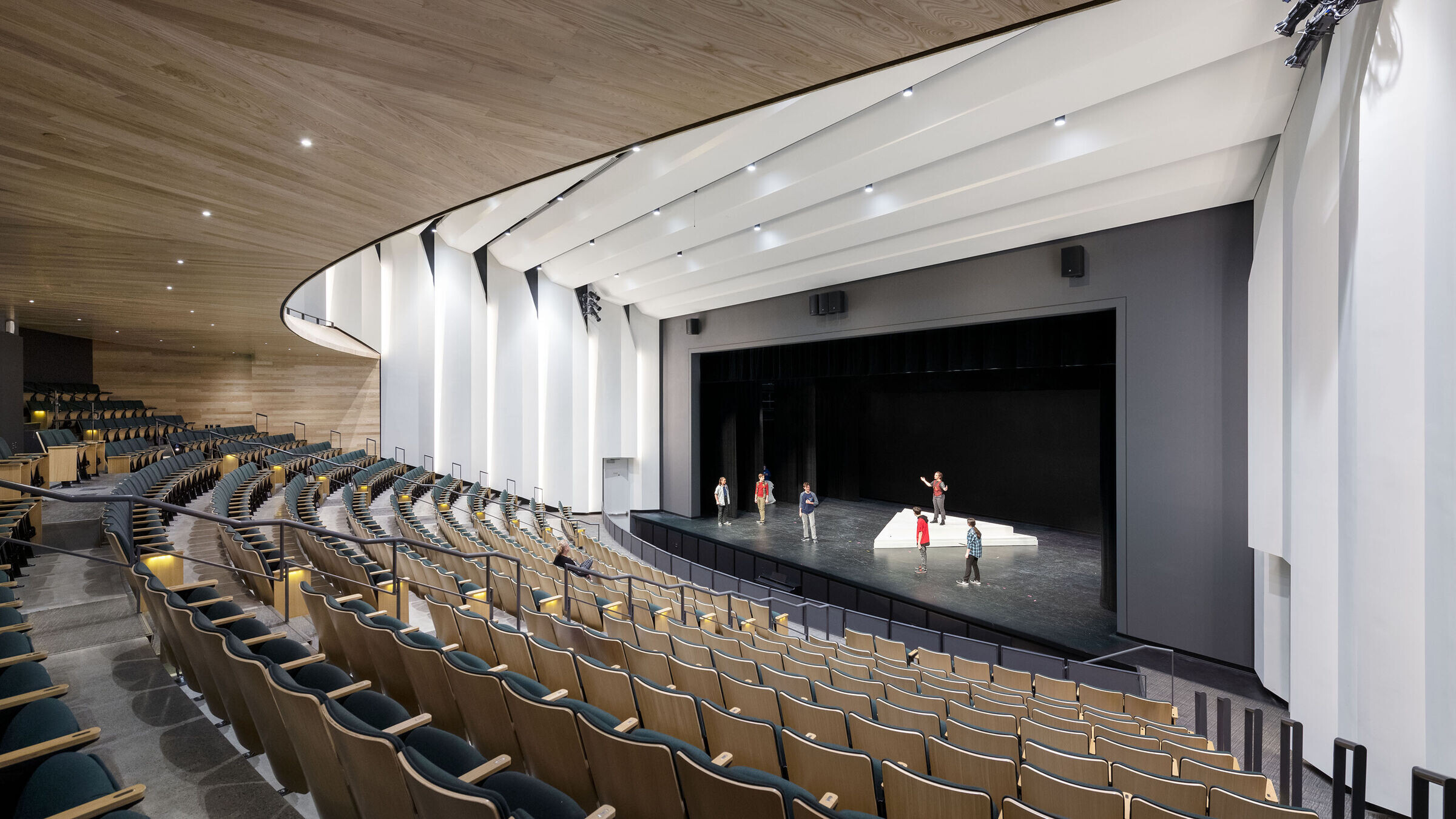 Billerica's new brand and visual identity are marked by "Reflection with Direction: Honoring the Past, Aiming for the Future."
Founded on the town's culture of humble pride, our design of the full suite of logos, colors, fonts, and graphics empowers the town to confidently represent itself in any setting.
Classroom wings support department-based teaching now, but encourage transition to interdisciplinary modalities in the future.
By colocating labs and universal classrooms around open flexible spaces, instructors in different departments are empowered to collaborate in small project-focused "town centers."
Inhabiting the prosaic and poetic, the entire interior uses daylight to capture the rhythms of academic time as the sun pushes shadow through the building.
Acoustic, life safety and flexibility in the student commons necessitated a creatively integrated daylighting solution. South facing skylight monitors pour light downwards, concealing a carefully integrated exhaust system that removes smoke in an emergency. All achieved while acoustically dampening ambient noise from the multi-story space below.