Located in Berkeley, California, this 1910 Craftsman home is owned by a young family with twins. Both parents are busy professionals and didn't have time to deal with the details associated with renovating and furnishing a home so it was essential that they find a designer who understand their aesthetic and could project manage the whole process. Whitney Riter Gelinas - who is the founder of Wit Interiors - worked hard to honor the vintage details including large windows, box ceilings, wainscotting, and a dramatic staircase, the landing of which is lit by distinctive leaded glass windows while also making the home work for this modern family. Updates included creating a pass through between the kitchen and dining room thus making the space feel more expansive while also honoring the gorgeous ceiling detail. This also allows whoever is cooking feel connected to the larger part of the home.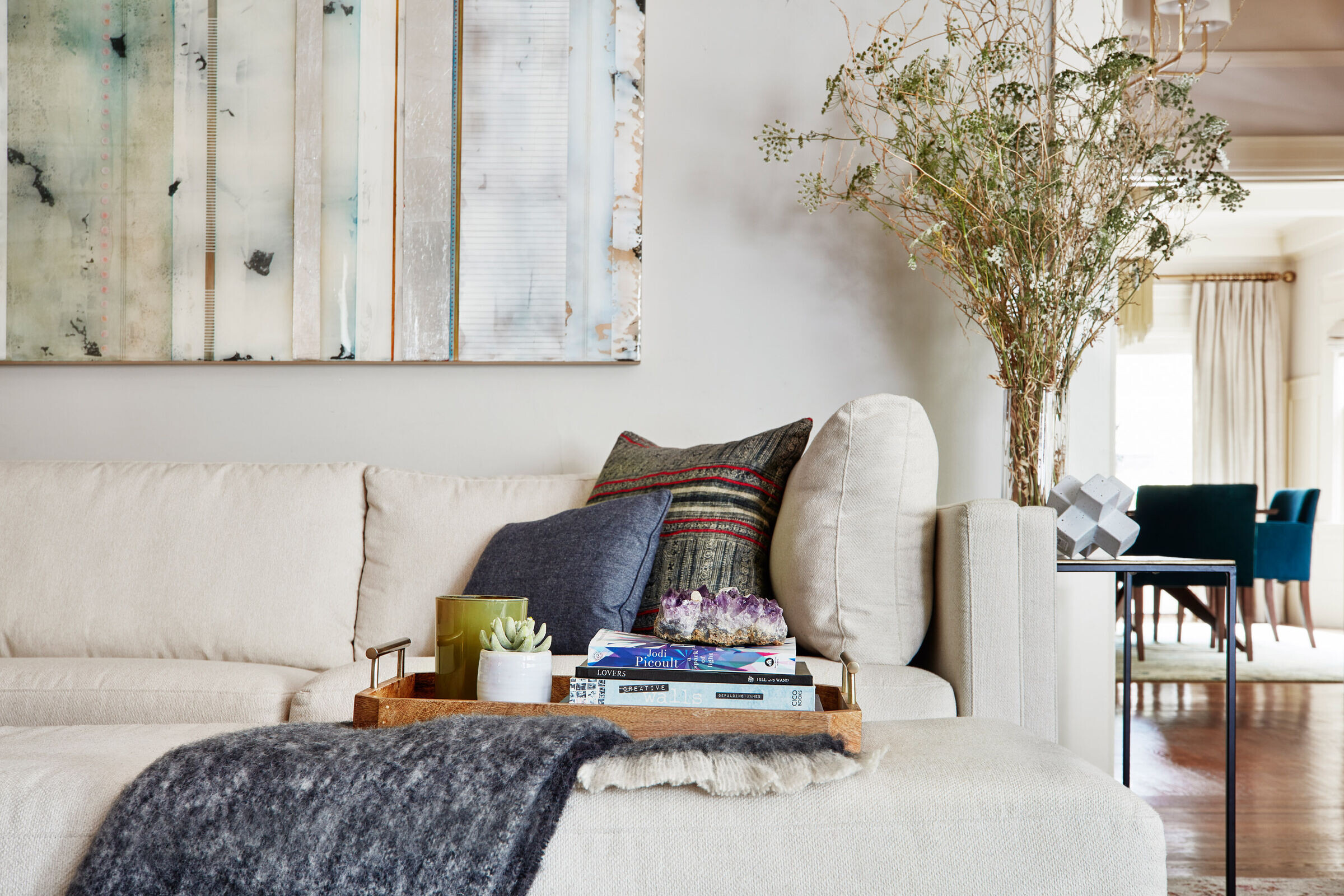 The biggest challenge:
The client obviously wanted a stylish space but weren't willing to sacrifice on durability. All the furniture had to be able to stand up to the ravages of of their twins who were three at the time. This meant stain resistant fabrics, sturdy/durable construction and being thoughtful about where to spend money. For instance the interior designer invested in a beautiful wool rug with details made from vintage sari's in the dining room knowing that while it was a higher price point it could withstand a beating and be professionally cleaned. In the playroom she went for floor tiles knowing if one of them got stained you could always switch it out for a new one without ruining the whole rug.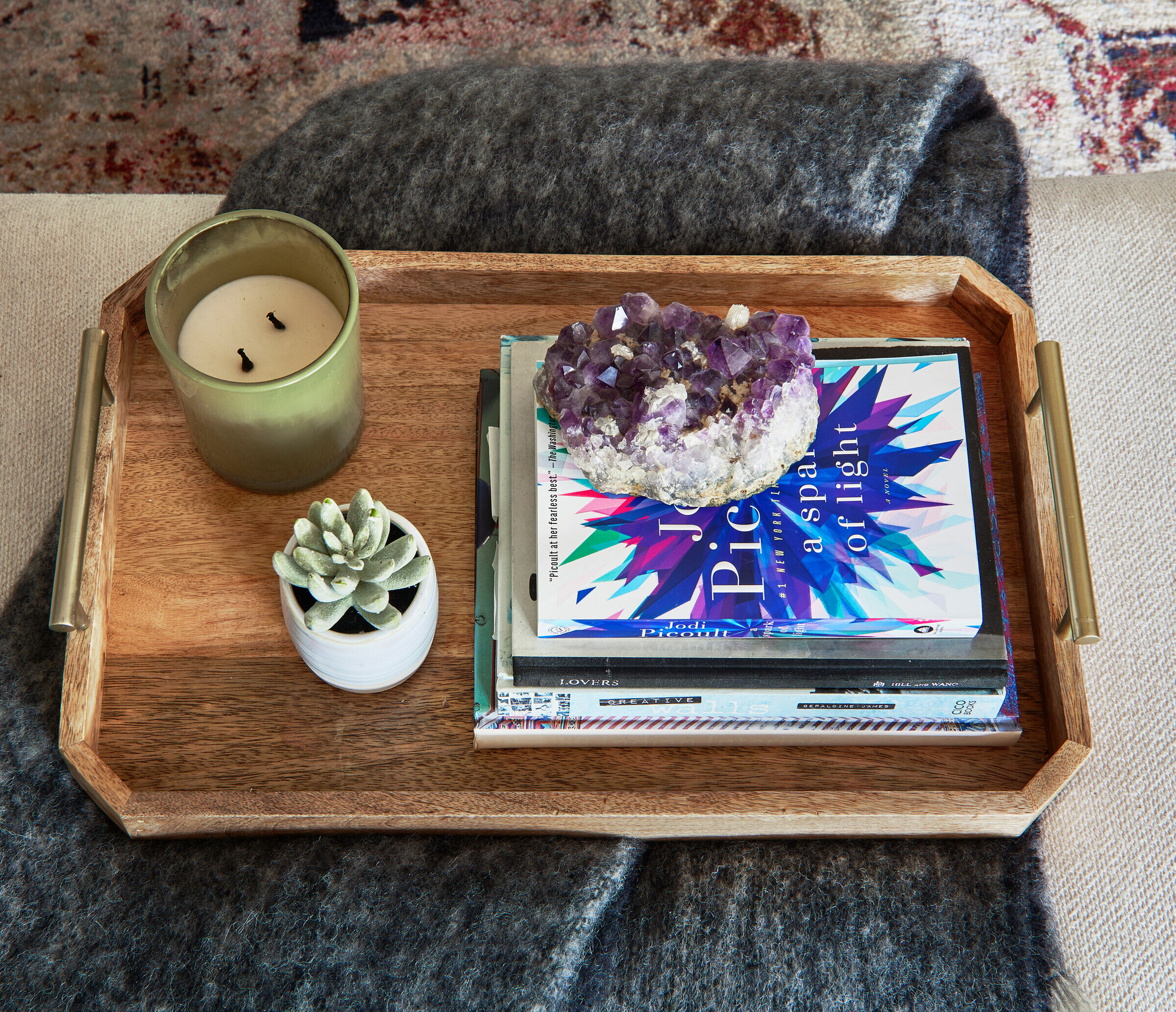 The upstairs guest bathroom was a dark space with only one window so instead of fighting it Wit Interiors decided to go with it - painting the upper walls black and surrounding the walls and shower in white subway tile. The contrast makes for a surprisingly bright space.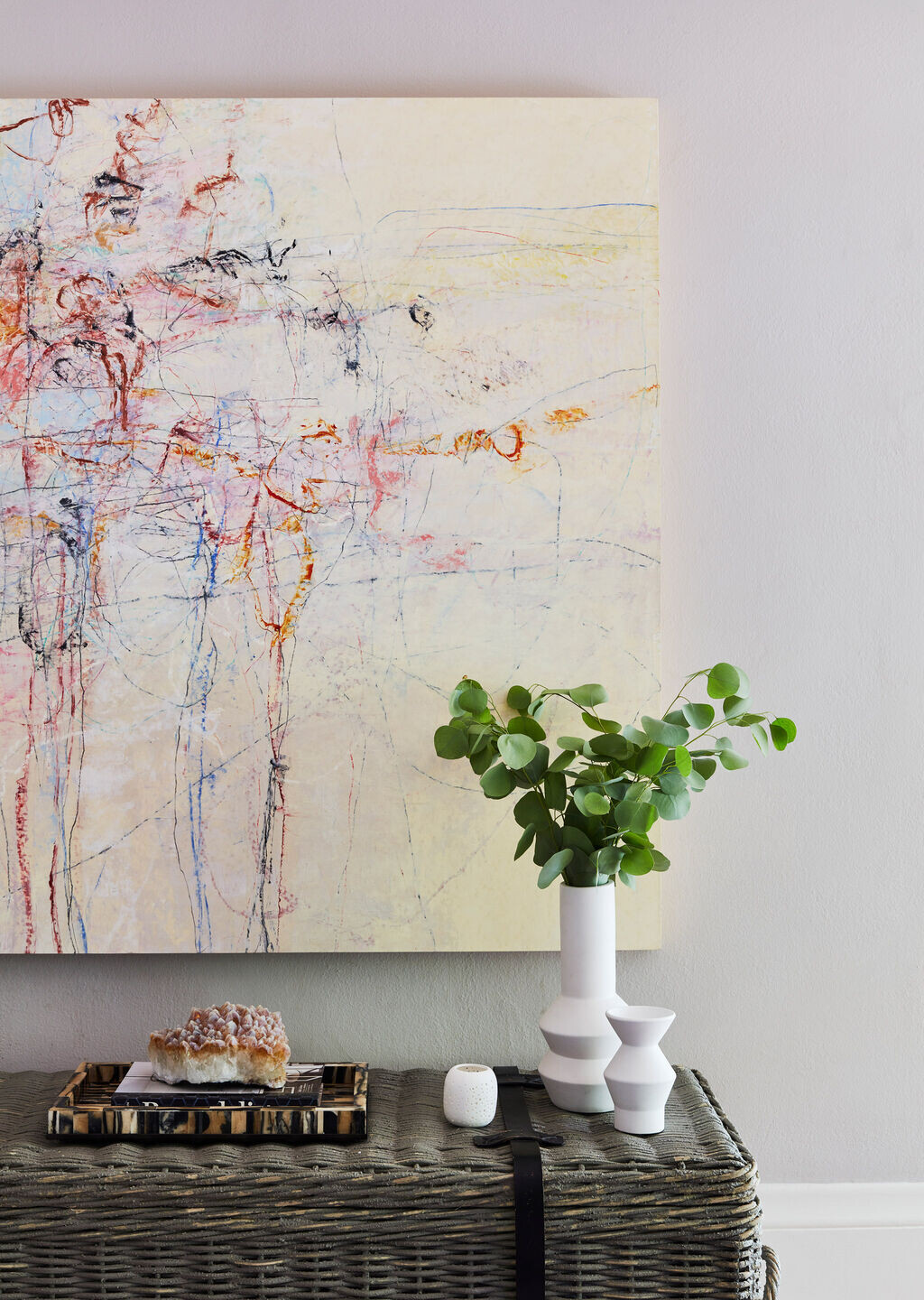 The color palette:
The neutral base is layered on with pops of color and pattern, and wallpaper is another big component. "We went big with an eskayel wallpaper in the downstairs powder room", says Whitney Riter Gelinas. "We made the somewhat controversial decision to do a white sectional in the living room because it was a performance fabric that could be washed in the machine and then layered on bold colors and patterns," she adds. It was really important the house felt welcoming and nothing was too precious. With all the vintage details it would have been really easy to create a formal space but that's not how this family lives. While the home is approachable it's fun to have a few "wow" moments for friends to discover when they come to visit such as the 1st floor powder room and dining room light fixture/rug.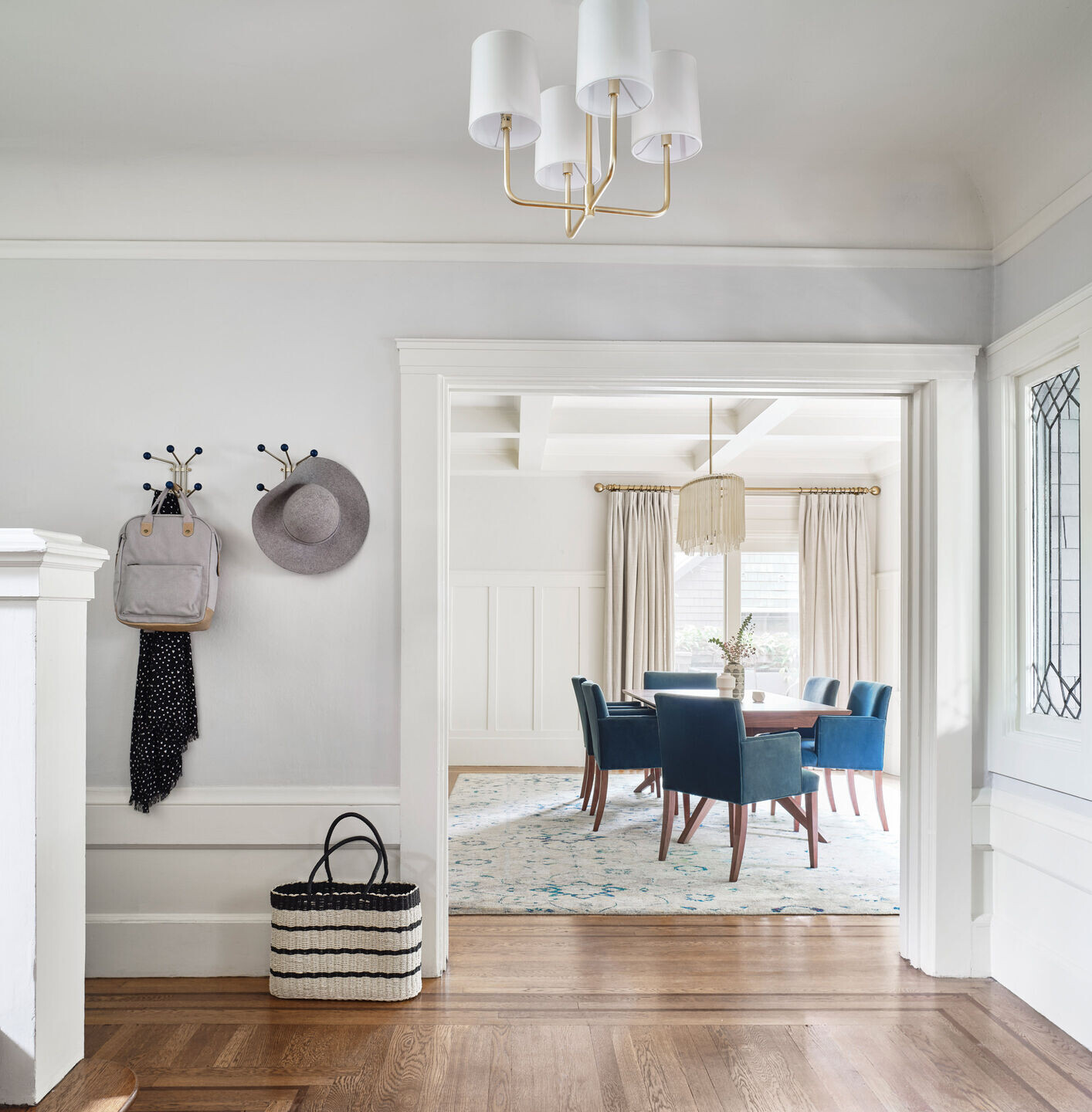 Layout of the house:
5 bedroom / 4 bath
3,431 sq. Feet
3 floors
1st floor: living room, dining and kitchen
2nd floor: main bedroom/bath, kids room/bath, playroom
3rd floor: guest bath, office and guest bedroom.
They could have put the girls in separate rooms but they like to be in the same room and this way the bedroom could be a calm place that was truly about sleeping and resting while the toys remained in the playroom.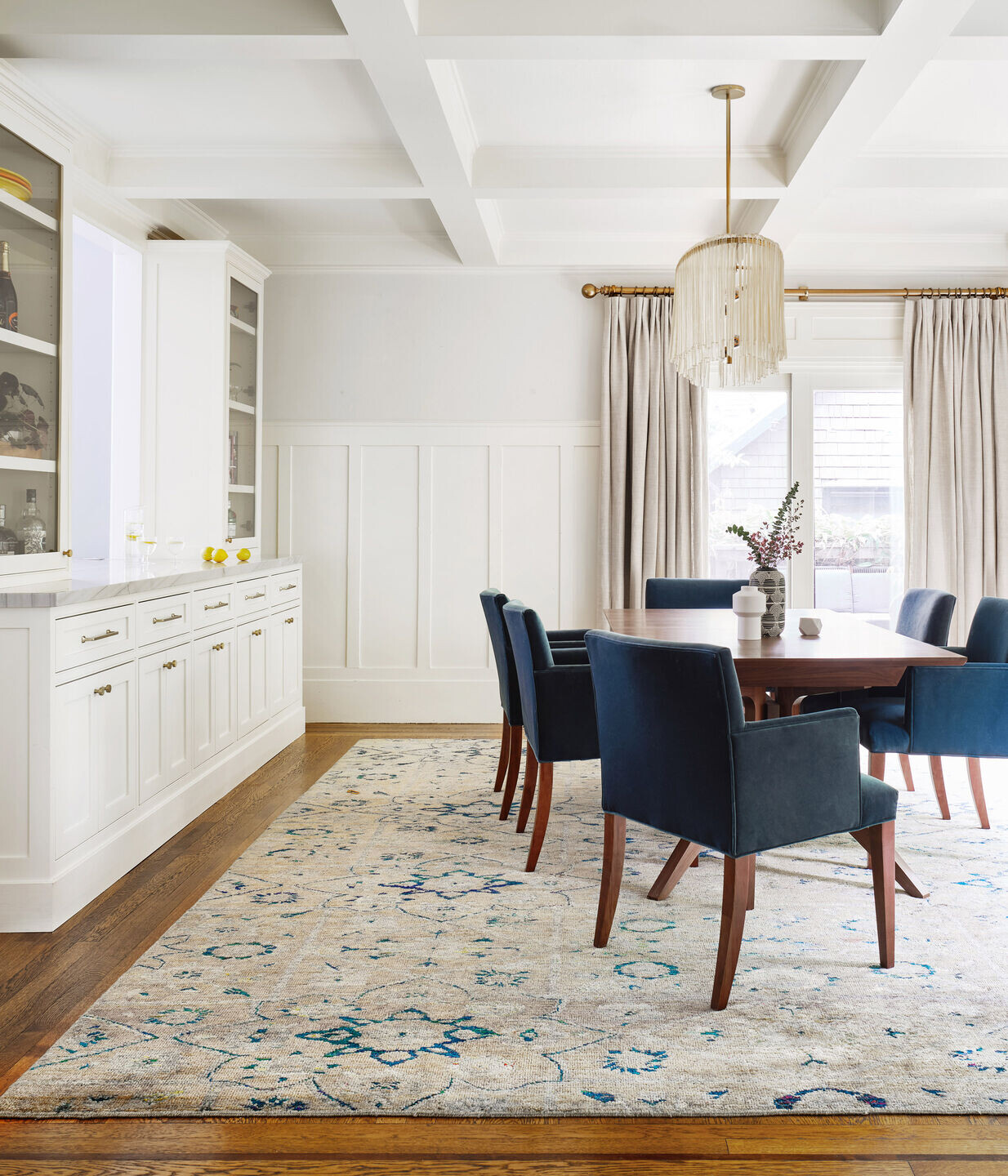 The renovation:
Wit Interiors did a gut renovation of the kitchen and installed new cabinets, tile and appliances. The team also renovated/reconfigured the master bath so it could house the Japanese soaking tub, separate shower and vanity. The white herringbone detail in the master bath is one of Whitney's favorites. "While it was a lot of work we loved that it took an otherwise ordinary white subway tile and because of the pattern the effect was extraordinary," says Whitney Riter Gelinas. "The playroom wasn't originally part of the scope aside from wanting a sofa but when I shared the idea to do the ceiling in the cheerful hygge and west day dream wallpaper and paint the bookcase blue, my client couldn't resist," Whitney Riter Gelinas confesses. "It might be one of my favorite rooms in the house."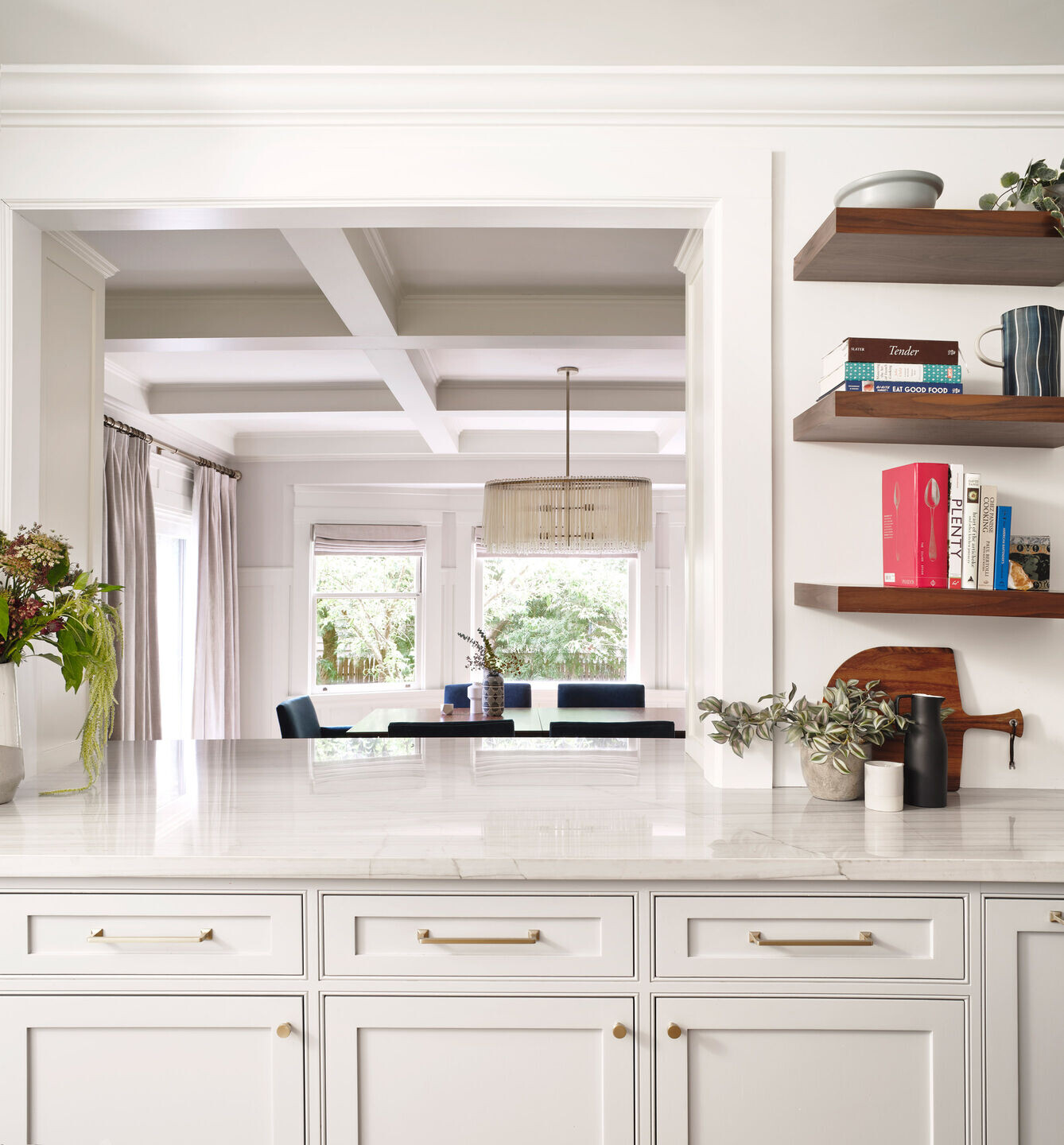 The sources of inspiration:
"The client and I created a collaborative Pinterest board where we could share ideas," says Whitney Riter Gelinas. Throughout the renovation project we were really focused on how do we honor the original character while making it functional for a modern family.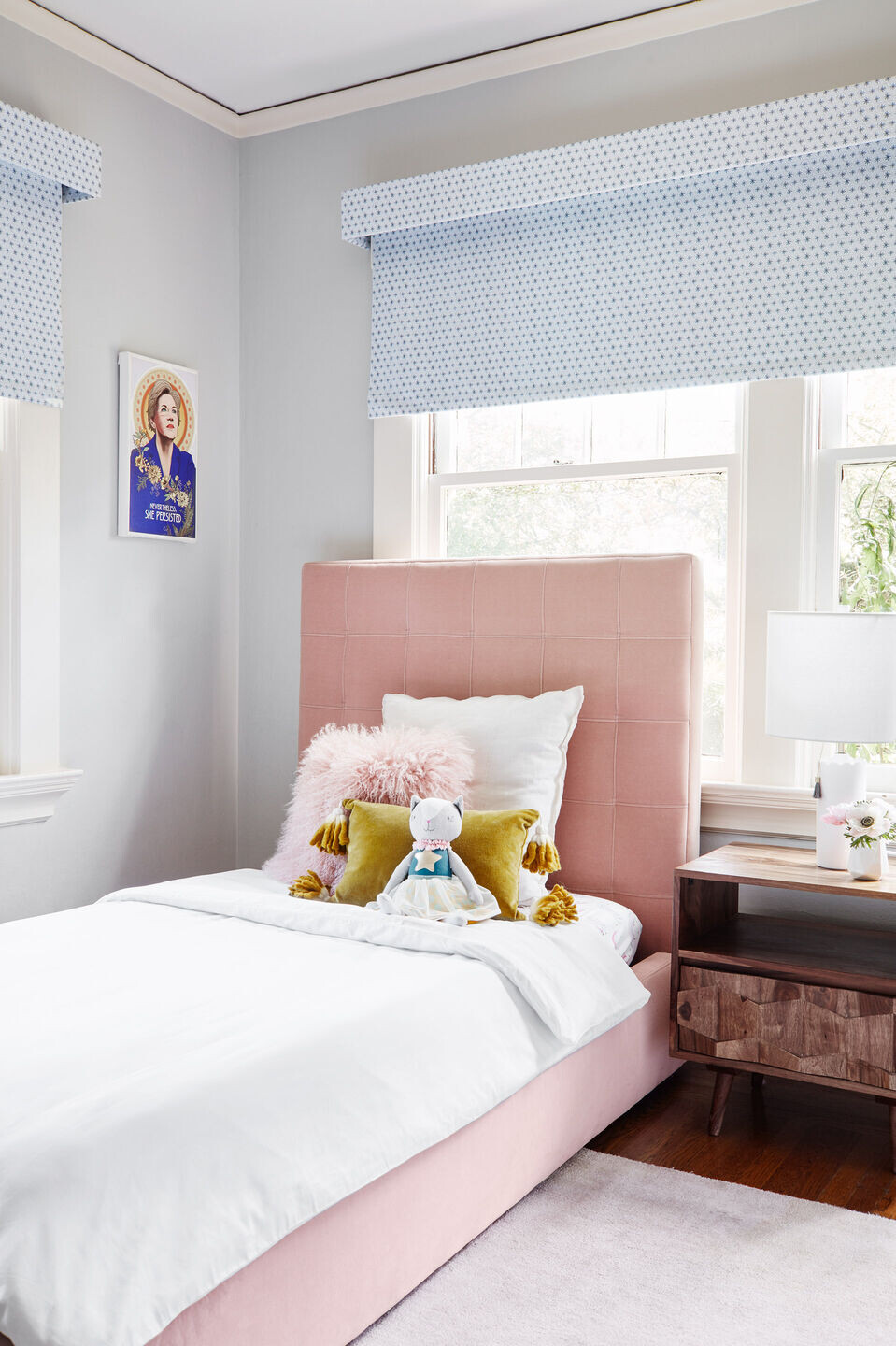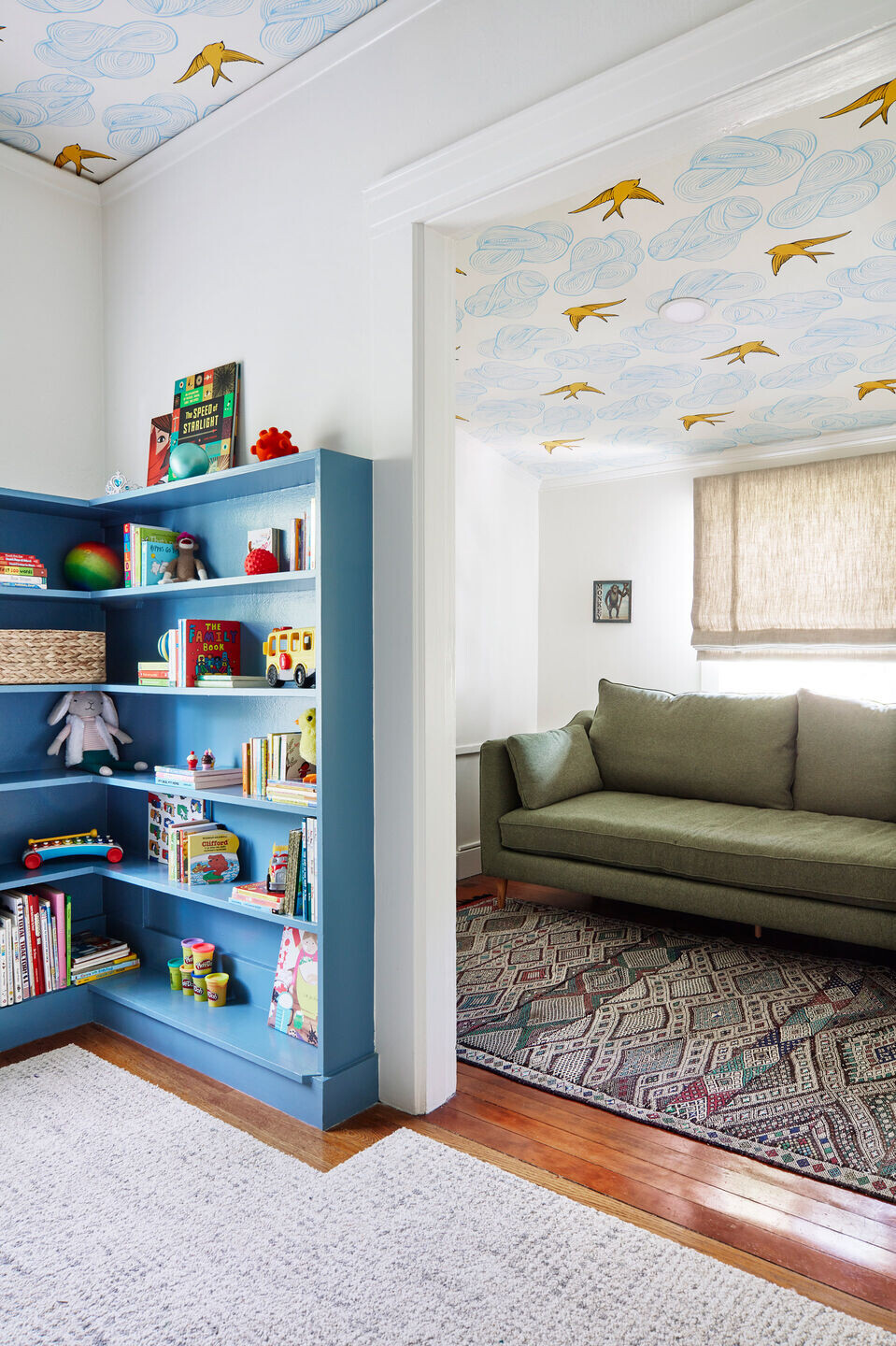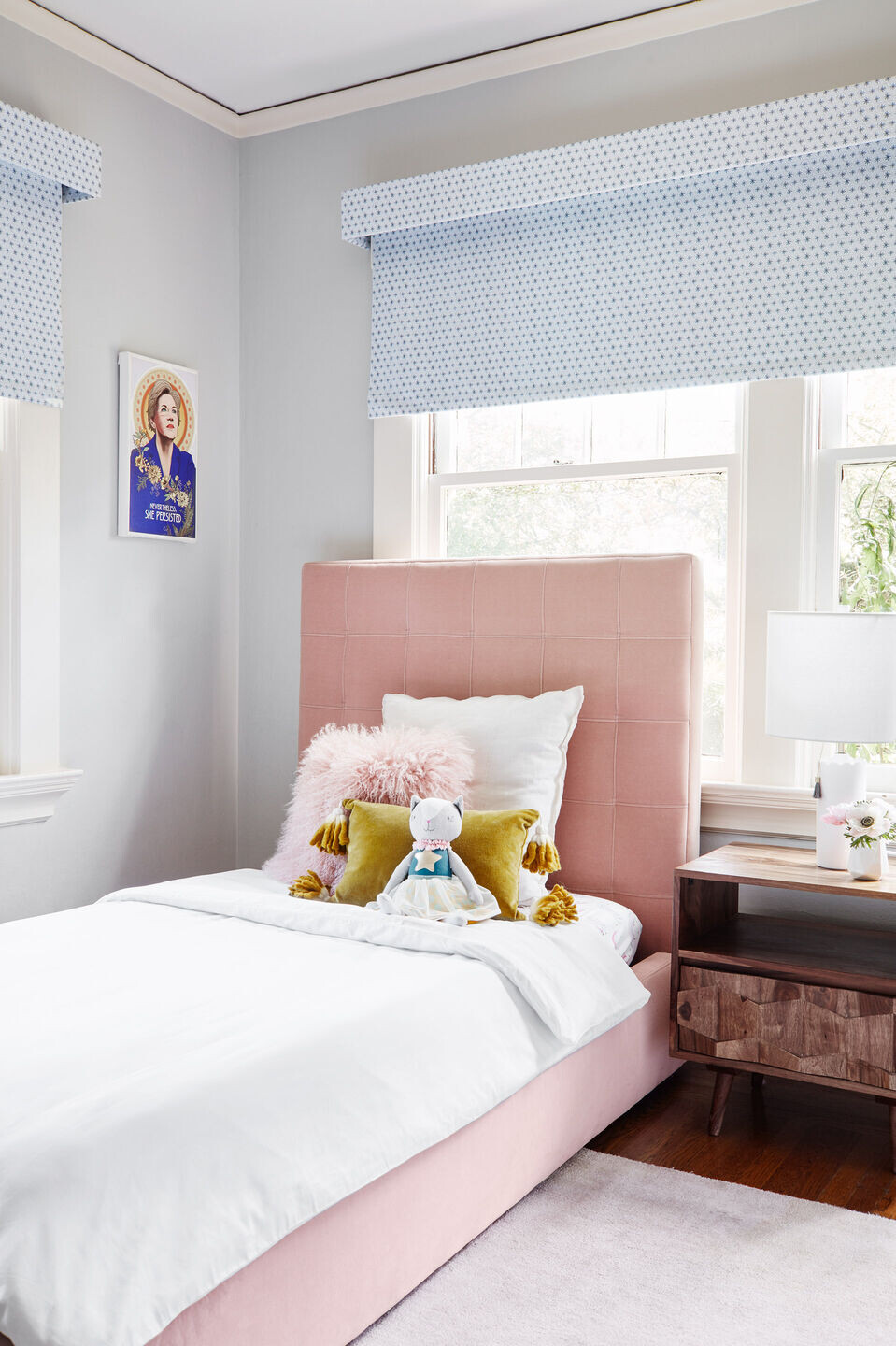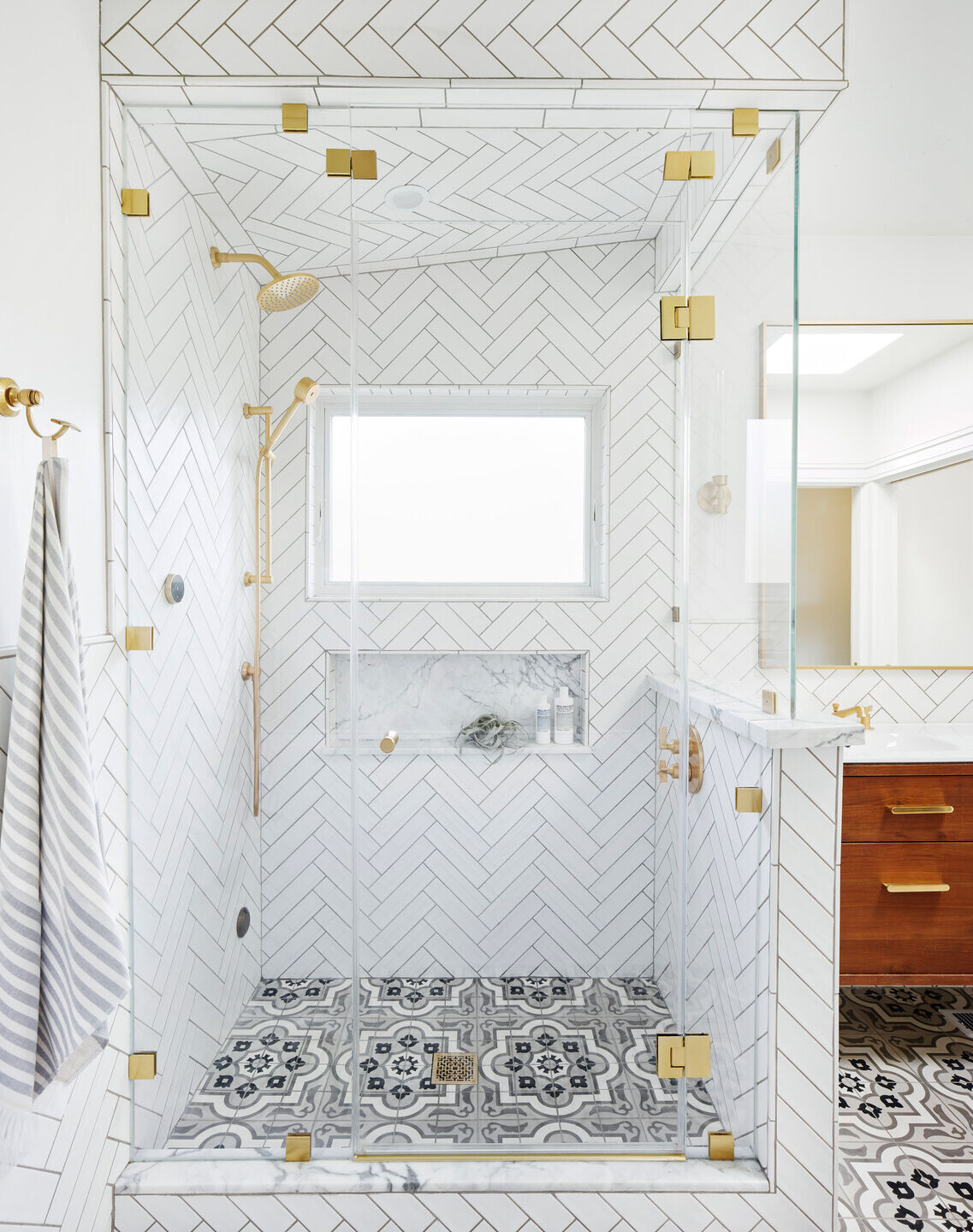 Material Used :
Living Room
Custom sofa and ottoman covered in performance fabrics.
Two chairs, satee and all pillows Cisco home.
Artwork: Over sofa Artwork provided by @arthaussanfrancisco - "The Gleaners" by Kenneth Sloan 36"x60" mixed media
Over storage console (by fourhands) John Wood, Beginning Light, 50"x50", mixed media (also provided by Arthaus)
Rug: Loloi
Entry
Hooks by school house electric
Light fixture by circa lighting - Go Lightly Small Chandelier
Dining Room
Room and Board Chairs
DWR extension table
Arteriors light fixture - Royalton Oval Chandelier
Rug made of wool and recycled sari's by The Rug Establishment. (Not shown we have a Room and Board Bench in the window that can be pulled up for additional seating when the table extends)
Kitchen
Ann Sachs tile
Custom cabinetry
Quartz countertops which give the look of marble but are much more durable and hide dirt/scratches beautifully.
Power Room
Eskayel wallpaper Style: Galileo Glass/Colorway: Shale, paint Benjamin Moore Blue Spruce, sink duravit, Delta luxe gold faucet, Shades of light Timeless Grandier Crystal Orb Chandelier, Sconce: Restoration Hardware Utilitaire Socket Double Sconce
Main Bedroom
Bed Noir Furniture
Side Table West Elm
Burke Decor Table lamp
CB2 duvet cover
Dresser - Spencer Dresser by universal furniture
Master Bath
Floor tile Cle Tile - London Apothecary Tile
White subway tile - Ceramic Tile Design - AKDO Origin Birch in matte white
Rejuvination vanity - Marquam Teak Double Vanity
All plumbing and accessories - Watermark
Kohler Cube bath
Sconces Circa lighting - Linger Wall/Bath
Kids Bedroom
Room and Board upholstered beds
Artwork - Juniper print shop - Chamomile (digital print)
Target Lamp
Dresser - universal furniture Anson Dresser
Playroom
Interior Define Caitlin sofa
Hygge & West Day Dream wallpaper
FLOR tiles - "it's snow problem"
Upstairs Guest Bath
Sazerac stitches - Double Loa Sconce with Mint Shades
Pottery Barn vanity