Concrete lighting
An overview of projects, products and exclusive articles about concrete lighting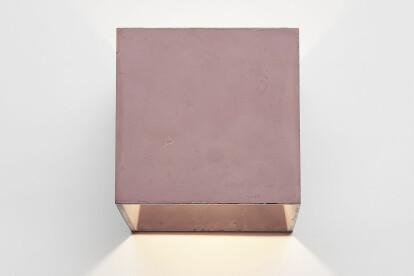 Produto • By Plato Design • Cromia colored concrete wall lamp
CROMIA is a minimalist wall lamp available in 12 different colors. Plato Design peculiar ultra-thin concrete is proposed in different colors to fit in every room. A high quality lighting is provided thanks to the internal diffuser. CROMIA lamp is designed and handmade in Italy in our workshop in Rome. We meticulously check the quality of materials to offer a unique reliable and durable product. See all available colors here. TECHNICAL SPECIFICATIONS MATERIAL: concrete, acrylic glassDIMENSIONS: 12.5 x 12.5 x 12.5 cm / 5"x5"x5"WEIGHT: 1.1 kg / 2.4 lbsBULB: G9 max 10W LED 90/250 V - 50/60 Hz / US and Canada wiring availableWIRING: hardwiredUSE: for indoor use only Light bulb not included. We recommend to use a G9 LED bulb.
Mais
Projeto • By Simple. Architecture • Apartamentos
The apartment is located in a residential building dating back to 1954, in the old part of Lozenets district in Sofia's city center. The client's will is to renovate it while keeping its typical spirit. The apartment consists in few spaces: living room, kitchen, bedroom, bathroom, toilet, entrance hall, and corridor. Its east-west orientation allows it to collect the sunlight the whole day.The original composition of the apartment is kept intact. The only major change is the removing of the wall that separates the living room from the kitchen. Thus, the space becomes bigger and creates a sense of spaciousness both in the long and narrow living room and in the small kitchen. All structural elements that step into the space such as columns, b...
Mais
Produto • By Prolicht • SIGN DIVA
Classic illumination that sets new standards. The round, seamlessly welded surface lights make a discreetly elegant impression but set unique accents in any space. In playing with various sizes and classic or unconventional arrangements, SIGN becomes a formative architectural element.SIGN is available in a number of different sizes and it can be installed in ceilings using any mounting type from trimless, recessed, surface mounted to suspended. The SIGN DIVA suspended range can be installed with a central wire suspension or a central rod system. With a well-engineered and patented swivelling system, PROLICHT has enlarged the entire collection with a new masterpiece: the SIGN DIVA DANCER PLAY. This new range features a unique adjustment syst...
Mais