Customised lighting
An overview of projects, products and exclusive articles about customised lighting
Projeto • By Ango • Centros de Exposições
Maison et Objet Paris é um importante evento internacional de arte e design, que gera interação criativa e oportunidades de negócios entre a comunidade mundial de arte, design e estilo de vida. O show é uma fonte inesgotável de inspiração com criadores e marcas de todo o mundo se juntando para formar um mix único. Ango se juntou à Maison et Objet, Paris quase todos os anos desde 2010 e também à Maison et Objet, Singapura em 2014 e 2015, muitas vezes lançando novos designs e apresentando suas criações de iluminação exclusivas.
Mais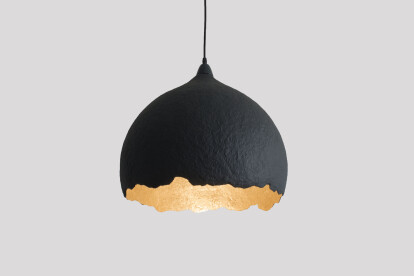 Produto • By Yalanzhi Objects • Pendant lamp Malva 60 C
Diametre: 600mm Weight: 2kg Surface color: black Inside color: gold Number of light: 1 Cord colour: black Bulb base: 1*E27 (max 30W) *upon your request, the lamp can be painted in any color from our palette
Mais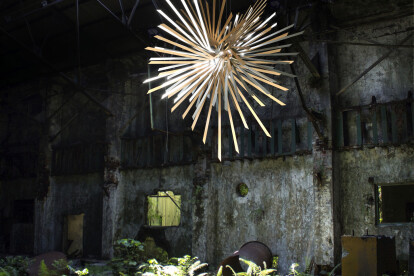 Produto • By Yellow Goat Design • Implosion
It might resemble the sparks from metal grinder but the spark here is not coming from a grinding wheel. Instead it is a burst of renewal frozen in time. Shades of metallic aluminum blades are positioned in a precise angle with each other, lit up by LED bipins between.
Mais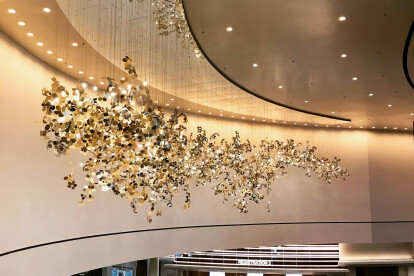 Produto • By Yellow Goat Design • Arboreal
'Arboreal' or 'living in trees' is a signature sculptural light of Yellow Goat Design bringing the beauty and harmony of the natural environment into intimate, bespoke and luxurious contemporary design interiors. A stylish light for commercial retail, hotel lighting and casino spaces, Arboreal casts a unique mix of prickled light and shadow around a room in leaf-like patterns, emulating filtered sunlight cast from the native Australian Eucalypt. Featuring thick clumping foliage cut from satin and mirror polished gold and silver aluminium sheet suspended en-masse in clusters using brass rods (optional) and lit by LED, this decorative, large-scale custom chandelier brings the outdoors indoors and accentuates the moveme...
Mais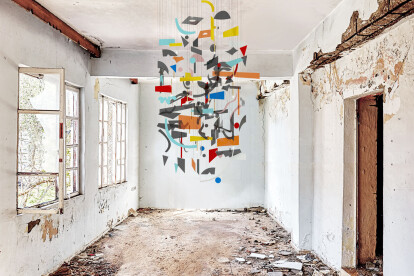 Produto • By Yellow Goat Design • The Cut Outs
If you could cut out the brightly colored shapes found in the city and collect them all in one place, this is what you might end up with. Bits of windows, signages, metalworks, block of tiles. This is a collection of a future cityscape, in the most abstract way.
Mais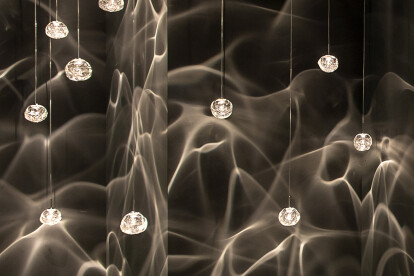 Produto • By Scholle-Deubzer • DROPS
We blow and sculpt DROPS with our own hands, freestyle at the glass-furnace.Each one has it's own individual shape.An LED ist placed inside through a specially developed, sophisticated system.2,5 W / 150 LUMEN / 2700 K dimmableDROP are available as a singleor as an installation of 3, 5 or 7 pieces.For bigger numbers please contact us for an individual solution.
Mais
Produto • By Serip • Folio Collection
Like a fragment of a whole, the Folio Collection has the intensity of a still moment directly withdrawn from nature. The natural form reflects the arbitrary composition of patterns in a complex set of reflections and contrasts resulting in a sense of an enchanted environment.
Mais
Produto • By Prolicht • SIGN DIVA
Classic illumination that sets new standards. The round, seamlessly welded surface lights make a discreetly elegant impression but set unique accents in any space. In playing with various sizes and classic or unconventional arrangements, SIGN becomes a formative architectural element.SIGN is available in a number of different sizes and it can be installed in ceilings using any mounting type from trimless, recessed, surface mounted to suspended. The SIGN DIVA suspended range can be installed with a central wire suspension or a central rod system. With a well-engineered and patented swivelling system, PROLICHT has enlarged the entire collection with a new masterpiece: the SIGN DIVA DANCER PLAY. This new range features a unique adjustment syst...
Mais
Produto • By Prolicht • SUPER-G
THE ILLUSION OF MOTIONDynamic, buoyant, powerful - SUPER-G brings movement to light design. Inspired by the experience of high velocity, the avantgarde luminaires captivate with their liveliness and extraordinary freedom of design.The SUPER-G lamps are composed of individual parts that can be seamlessly and infinitely arranged together. Straight connecting pieces in various lenghts, curves in different radii, corners and intersections can be combined in a limitless number of sequences. Due to its free alignment, SUPER-G can be optimally adjusted to any architectural dimensions or assembled to create individual shapes.The lamps are available in a recessed, surface-mounted or suspended version, as well as in two track widths (65 and 150 mm) a...
Mais