Fresh air
An overview of projects, products and exclusive articles about fresh air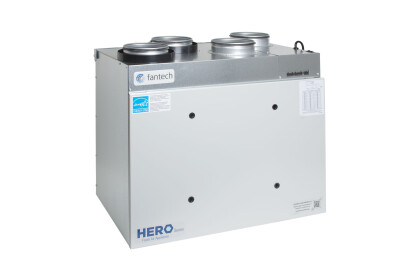 Produto • By Fantech • HERO® Fresh Air Appliance
While natural infiltration of fresh air through gaps and cracks in the building envelope offers a certain amount of fresh air, with most new homes this amount of air just is not sufficient. Properly sealed homes require mechanical ventilation to remove excess moisture, odors, and contaminants while providing fresh air for occupants and enhancing comfort. The HERO fresh air appliance provides a controlled way of ventilating a home. It works continuously to supply fresh, filtered air into the building while removing the equal amount of moist, stale air. Up to 80% of the heat in the extract air is recovered by the heat exchanger and used to heat the fresh air coming from outside. In summer, the energy of extract air transfers to cool the warm...
Mais
Projeto • By Mitsubishi Electric Trane HVAC US • Casas Particulares
Each year, The New American Home (TNAH), sponsored by the National Association of Home Builders, debuts at the annual International Builders' Show and showcases the latest innovations and efficiency advancements in homebuilding. Systems and materials are specified with the intent of achieving green building certifications. TNAH 2020 is a 6,428-square-foot high-performance luxury home overlooking the Las Vegas strip from the nearby Ascaya community in Henderson, Nevada.A hybrid ducted and ductless Zoned Comfort Solutions® system from Mitsubishi Electric efficiently conditions 10 comfort zones within the home. Zoning allows units to be turned off or set to energy saving levels in rooms infrequently used. This operation ensures the u...
Mais