Pvc flooring
An overview of projects, products and exclusive articles about pvc flooring
Produto • By Polygroup • RAISED ACCESS FLOOR GAMAFLOR PAC FINISHED HPV LIDER
The LIDER heterogeneous antistatic vinyl covering for raised access floor is considered the most resistant floor covering to intense traffic of the market thanks to its new and improved technology and exclusive and innovative designs. Greater resistance to heavy traffic, lower maintenance cost and ease of recovery make this system suitable for all types of areas of use. Vinyl is manufactured through high pressure with multi-layer and PVT protection technology system which protect for life colour pattern and improve the product in terms of abrasion resistance, sound impact and absorption capacity. HPV LIDER is the most suitable floor covering to obtain a raised access floor systems finished with antistatic vinyl as it comes in 610×610...
Mais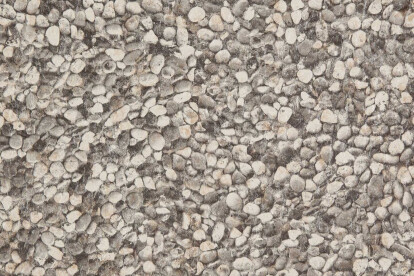 Produto • By Duradek • Duradek Ultra Legacy Pebble Series
Duradek Ultra PVC membrane is an outdoor flooring system that provides an attractive, finished walking surface and roof grade waterproofing in a single-ply, single product solution. (meets IBC and IRC requirements as both a pedestrian traffic surface and a classified roofing membrane). Duradek is designed for strength, stability and slip-resistance with built-in UV and mildew inhibitors and fire retardants. Duradek can be used immediately after installation with no drying or curing time required. It is installed only by trained applicators and comes with an industry leading 15-year warranty.
Mais
Projeto • By petrjanda/brainwork • Apartamentos
The loft is situated on the 8th floor of a former Baťa shoe factory building in Zlín, overlooking the green heart of the town. Its design aims to integrate the town's image into the space of the apartment. The design approach contradicts the usual loft-making procedure, which emphasizes industrial materials in the interior, by transforming the space into an abstract composition with the industrial aspect presented through the view of the surrounding area, framed by the Zlín skyscraper and the valley. The inner space features the gradual opening of the individual epicentres of the apartment. Its open space allows the separation of the social and private parts by using multi-level differentiation, rather than sharp divides. The interior is de...
Mais
Projeto • By Lukstudio • Centros Culturais
For U Concept Gallery The West bund in Shanghai is a neighbourhood known for its art museums, riverfront broadwalk and recreational greenbelt, it's not surprising to find here a continuous growth in residents and visitors who look for family activities and socio-cultural events. With the increasing flows come marketplaces like the Sunny Walk, an open mall that caters to local commercial and community needs. Given the opportunity to design a gallery in this shopping compound for U Concept Gallery, a brand that combines cultural, educational and commercial programs in one location, Lukstudio have created a folded arcade to channel the surrounding civic energies into a semi-public retail experience. Having an open atrium on one...
Mais
Projeto • By Sarit Shani Hay Studio • Berçários
A unique educational center by interior designer Sarit Shani Hay was recently opened in Kfar Shemaryahu. Covering 2,400 m², it spans a cluster of six kindergartens, a play commons, and an empowerment center which provides psychological services to children of the community. The design program was intended to create a compound of six kindergartens for children aged 3-6, where each functions as an independent unit with its own identity, and together they form an educational space offering a friendly, informal environment. The design theme was inspired by the location of the compound and the history of "Kfar Shemaryahu", originally an agricultural settlement, hence the agricultural motifs at the core of the concept. The compound's title, "The...
Mais
Projeto • By YOOLOPP architecture&design • Escritórios
ProgrammeAlum Eshet Ltd. is a company that develops and manufactures aluminum profile systems for over 30 years. because of a significant rise of staff, the company decided to relocate its marketing department to a new office compound, which will be used as the company's new official representative head office.Another central requirement for this space was to accommodate a sizeable boardroom which would be large enough to host seminars that the company runs occasionally for professionals in the field, and would also accommodate the day to day board meetings.The project's goal for us, was to create a space which, although physically separated from the current factory, would be representative and act as the company's 'face' to visitors a...
Mais
Projeto • By Avenier Cornejo architectes • Lojas
The social housing apartments at 179 rue Saint‐Maur are located on the site of a former well known space for over thirty years: the "Nine Billiards". The unhealthy conditions of the structure forced a demolition and reconstruction of the building, which contest was won by Avenier Cornejo for the Siemp. Each element of the finished project contributes to reinterpret the dense and complex "faubourien" fabric in order to blend in while assuming a fantasy and originality that shows the real identity of the project. The building takes advantage of the narrow plot to develop into a volume in L, compact and efficient, of six stories high. It deftly connects to its near and distant environment. The front façade integrate...
Mais
Projeto • By THE CROSSBOUNDARIES • Lojas
"CUTTING EDGE"a 390 sq.ft of space is a state of Art, Unisex boutique Salon. As the name suggests, "CUTTING EDGE" is an angularly premeditated one of its kind salon in Vadodara, India. Cutting Edge is a rejoinder to an entirely unique concept complemented within a stringent time schedule of 30 days. However, the entire project was executed within 27 days, adding 3 days to its commercial commencement. Our strategy was to project the small space with colossal list of client's requirement in a way to attain a blend free flowing elements without any hindrance. Strict budget was another constraint, which THE CROSSBOUNDARIES overcame with a savings of 18%. The reception desk at the entrance is emphasised with a pocket of fresh planter...
Mais
Projeto • By OHLAB • Restaurantes
Sala de Despiece is the new gastronomic space that OHLAB has designed for the restaurateur Sr. Bonet in Madrid. Sr. Bonet's culinary proposal for Sala de Despiece is a simple and efficient formula that highlights the cooking raw material, always of the best quality. The preparation is simple yet impeccable and with an original touch. For this reason the cook's team references are found in the best fish markets, slaughterhouses and cattle breeders and those have also been the references when creating the place. The location in Ponzano Street, one of the classical routes of Madrid's tapeo, made that the space would be proposed without formal tables but for a casual and standing up kind of tasting experience. The project starts with a ma...
Mais
Projeto • By D'HOUNDT + BAJART architects & associates • Restaurantes
A small building, at the confluence of the strange and the familiar A. Preamble "Guy at Nightclub: You look like a clown in thatstupid jacket. Sailor: This is a snakeskin jacket! And for me it's a symbol of myindividuality, and mybelief… in personalfreedom. Guy at Nightclub: jerk. Sailor: C'mere." Wild at heart – 1990 – David Lynch B. A unifying and fun building The urban challenge was to create a frame edge structuring this corner plot whose boundaries are based on low hosted terraced buildings, at the Marx Dormoy and Léon Blum streets.At the corner, theschool restaurant's parapetascendsgently, creating a bow that hides the restaurant's technical equipment (centralair handlingand heat pump) while freeing the ground floor....
Mais
Produto • By Forbo Flooring Systems • Allura Flex
LVT Loose lay tiles and planks PVC flooring, Allura flex is suitable for high traffic areas with its 2 versions : 0,55 and 1 mm of wearlayer, unique on the market. With its loose lay installation (with tackifier), Allura flex makes easier the installation, removal, or replacement of the tiles. With an acoustic efficiency of 14 dB, new Allura flex collection includes now a unique format : Herringbone 20 x 120 cm. This new format combines the warmth of wood with the authenticity of a format which gives strength and high quality looking to your spaces.
Mais
Projeto • By Zoom TPU • Hospitais
The main distinction of Acıbadem Maslak Hospital is its versatile association with the area of future`s trade center on the direction of city expansion where several cultural and social facilities are located. Besides its proximity to the city center and easy transportation facilities including the subway station nearby and connected with an underway to hospital, another major characteristic is its position almost in the city forest facing the 37,500 m2 hospital with capacity of 190 beds and 12 operation theaters is built on 13000 m2 land. There are three Cathlabs, two Endoscopy Intervention rooms, 25 ICU beds and a conference hall with 120 seats. Radiotherapy department has 3 Linear Accelerators, 1 Cyber Knife and 1 Bracytheraphy. Softenin...
Mais