Scenography
Os mais recentes projetos, produtos e artigos exclusivos
Projeto • By Schenker Salvi Weber Architekten ZT GmbH • Showrooms
Tea & Talk   Intimate atmosphere for gentle conversations within the hustle and bustle of Vienna Contemporary. A calm spot at Vienna's art fair!   An inside and an outside: Cardboard shingles cover the house, an atmospheric light and a pleasant c...
Mais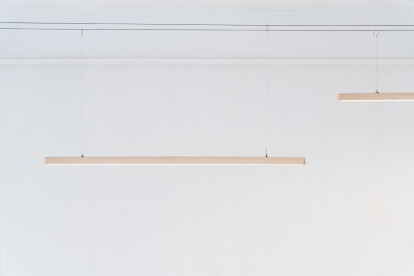 Produto • By smarin • Fantasticks
The Fantasticks are a set of wooden lights to suspend.They are available in three dimensions and form light lineswith which it is possible to draw in the spaceorganized patterns or random mobilesfor each installation, a special composition.Suitable f...
Mais
Projeto • By ATELIER BRÜCKNER • Exposições
The main topic of the exhibition in Berchtesgaden is the highest vertical of the Eastern Alps. It is a virtual line of 2300 m from the bottom of the Königssee to the peak of the Watzmann. The accessible and interactive landscape panorama leads t...
Mais
Projeto • By DIN interiorismo • Escritórios
The stage answers to a great team's operation basic needs. DIN interiorismo's vast experience in space design, allowed to find the adequate formula to solve technological and image needs from this project.
Mais